Are you getting wedding ready? Whether you're the bride, a bridesmaid or you're a special guest attending a long-waited wedding, these are the wedding flower trends that are gaining popularity in 2022. After years of not being able to attend events, this year's weddings are coming in strong and these flower trends know it. Don't miss out!
7 Wedding Flower Trends That Are in for 2022
Flowers are the perfect way to breathe life, color, and energy into your wedding day, especially if you've been waiting a long time for the moment to arrive. From boutonnieres and bridal bouquets to attention-grabbing ceremony backdrops, below are 7 wedding flower trends that are in for 2022 according to floral designers and professionals. Take a sneak peek and be the first to find out.
1. Cascading Wedding Bouquets
This wedding bouquet style which was popular in the 80s and 90s has made a great comeback and floral designers are here for it. Featuring gorgeous blooms tightly arranged at the top of the bouquet and sharpen down into an asymmetrical shape, cascading bouquets will feature an updated, garden-inspired look, using long greenery branches, vines, and pastel flowers with the goal of adding more life, color, and differentiated texture. According to floral professionals, some of the flowers that will look perfectly combined in this type of bouquet are phalaenopsis orchids, clematis, jasmine, and roses.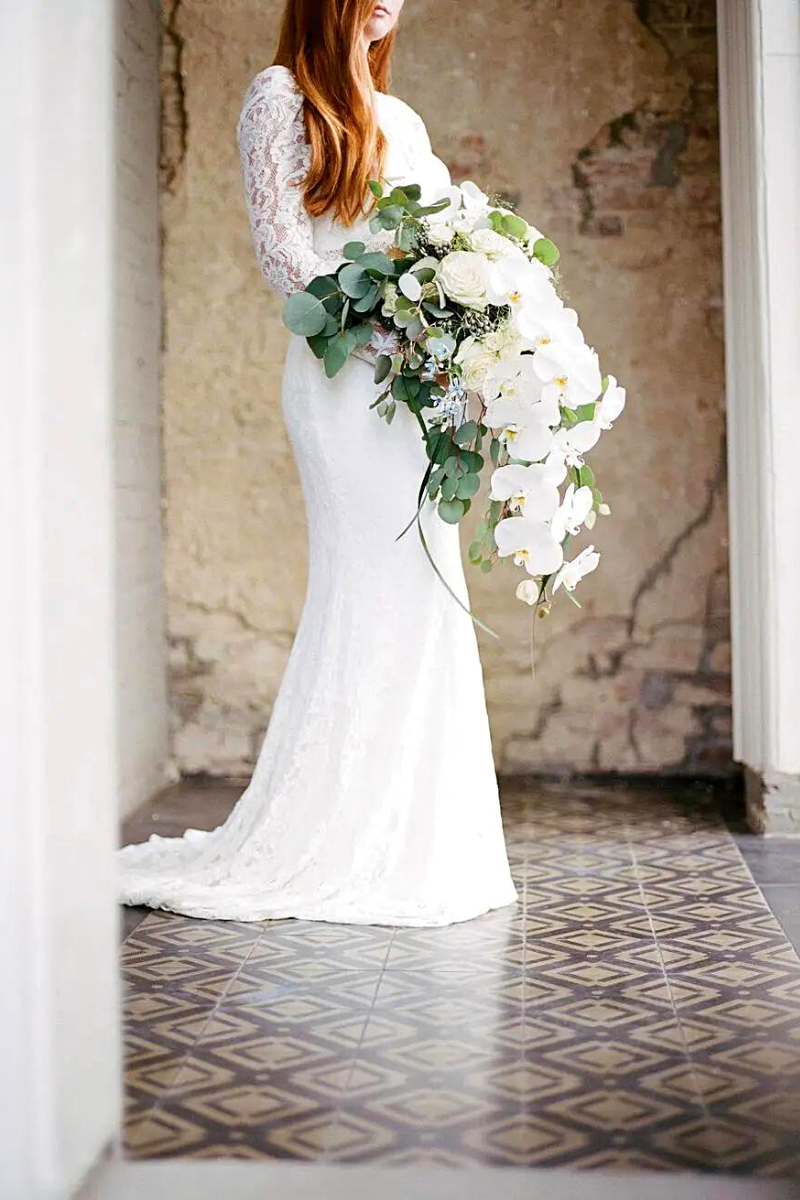 2. Purple-Colored Palette
Did you hear about Pantone's color of the year? That's right, Very Peri and purple eye-catching colors are coming in hot in the second half of 2022. Weddings are seen to be decorated with jaw-dropping hues of purples, including berry-like colors all the way to lavender shades. The ranges of purple colors bring a touch of energy and vibrancy to any wedding flower arrangement, a reason why this wedding flower trend is definitely an in for 2022.
3. Dried Foliage and Florals
Are you a boho-chic, or beachy vibes trend-follower? Then this wedding flower trend of dried grasses and florals is the one for you. The perfect type of foliage does exist and you're staring right at it. Pampas grass is one trendy floral accent composed of fluffy brown grass. Although it has gained great popularity used as wedding decoration, there are other types of foliages coming in strong in 2022.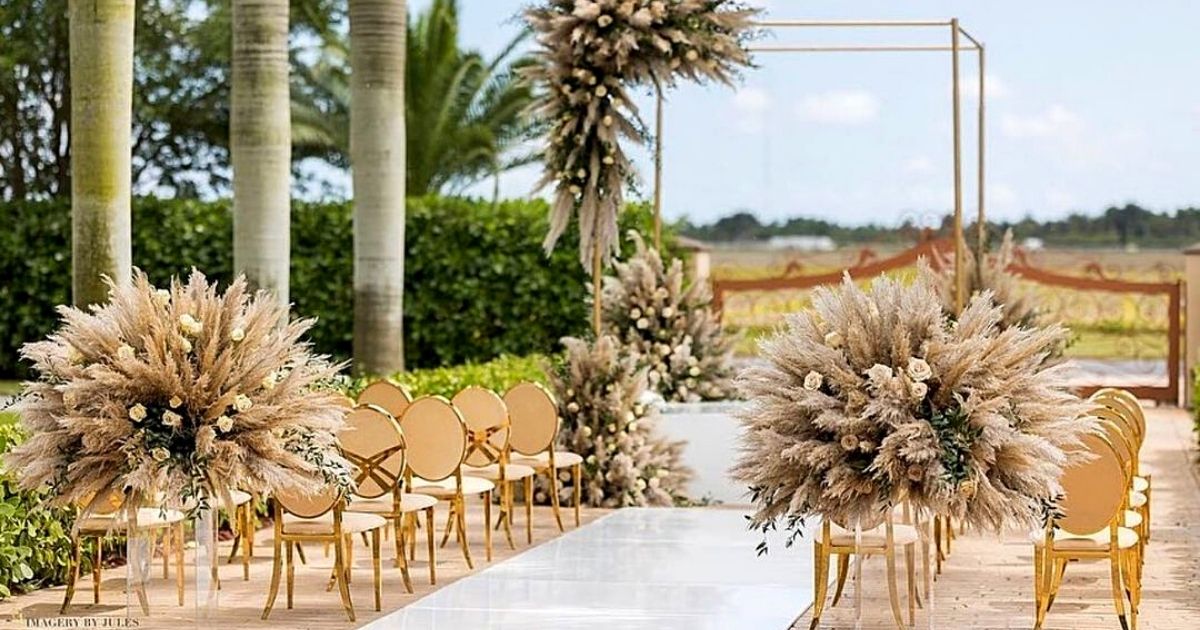 4. Back to Basics
Although some prefer a luxurious wedding decoration, simplicity is also back in 2022 and basic flower trends are ready to conquer your dream wedding. Simple and basic floral designs will definitely be a flower trend that is in for 2022. Going back to basics will include streamlined color palettes, smaller floral arrangements, and timeless flowers being exposed. If you're not into oversized arrangements and bouquets, roses, calla lilies, and sweet peas are some of this year's favorites to carry in a small flower arrangement.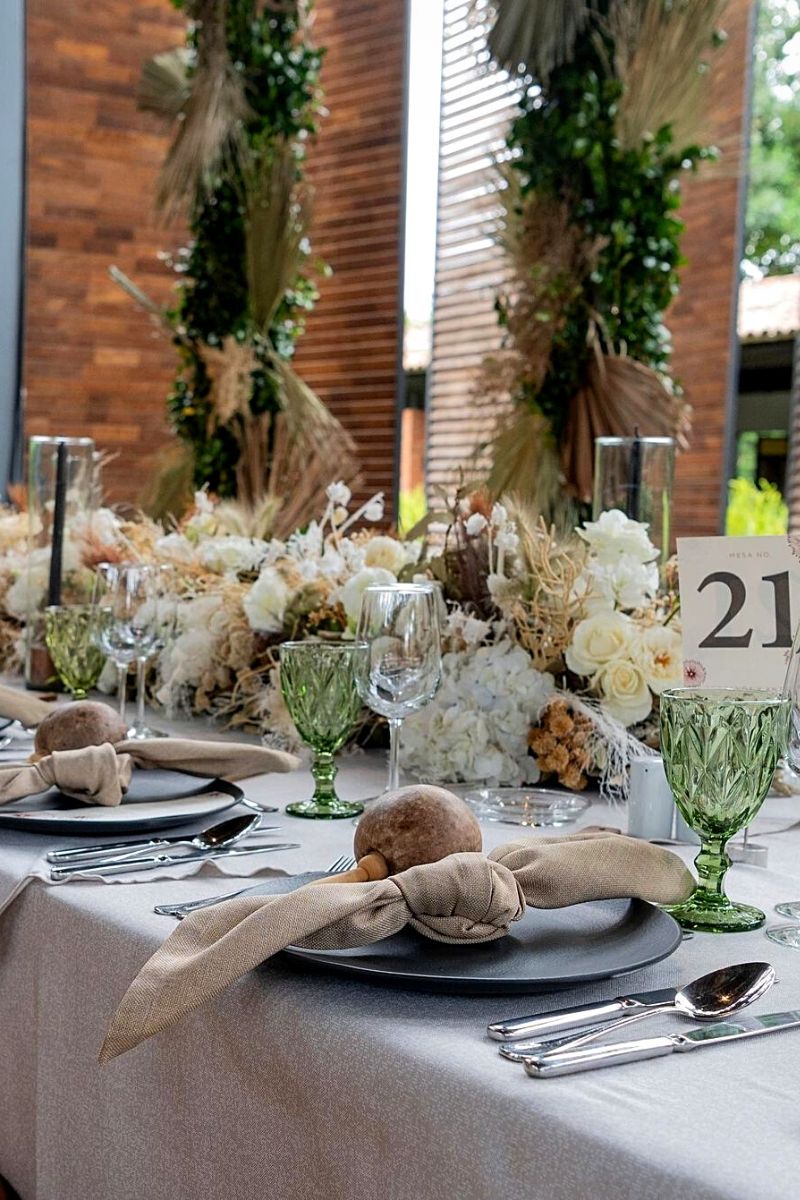 5. Cloud-Like Decorations
Dreamy, cloud-like paradise anyone? With this flower trend for 2022, you can certainly achieve the dreamiest weddings of all time, as confirmed by floral professionals. Delicate yet exquisite cloudlike arrangements that hang from the venue's ceiling or float across floors and tables are another flower trend that is all in for 2022. Arrangements featuring baby's breath, or gypsophila, is the go-to for these types of arrangements.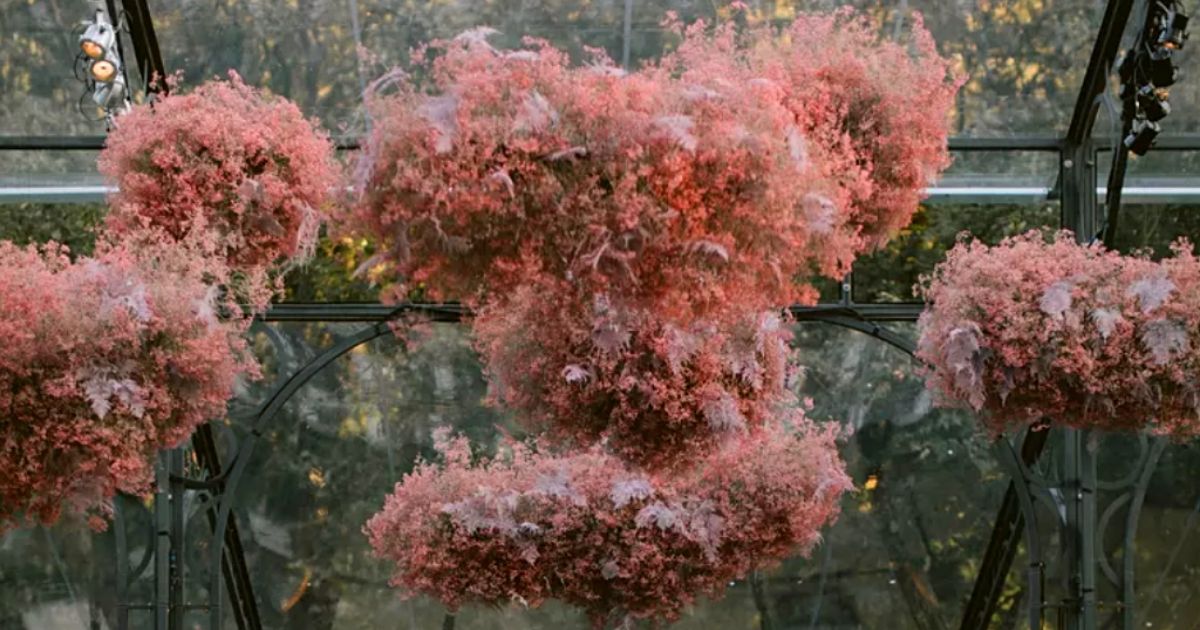 6. Fluorescent Pastels
Pastel colors are this year's wedding's best friends. Floral professionals mention there will always be a time and place for soft blush pastel-colored blooms. This year, the flower trend that is all in will include a multi-color palette that includes not just one or two pastels, but several of them. The end result? A toned-down, rainbow-inspired effect that's full of whimsical magic, without being extremely bold. Color palettes include buttery yellows, pale pinks, peachy tones, and soft blue hues.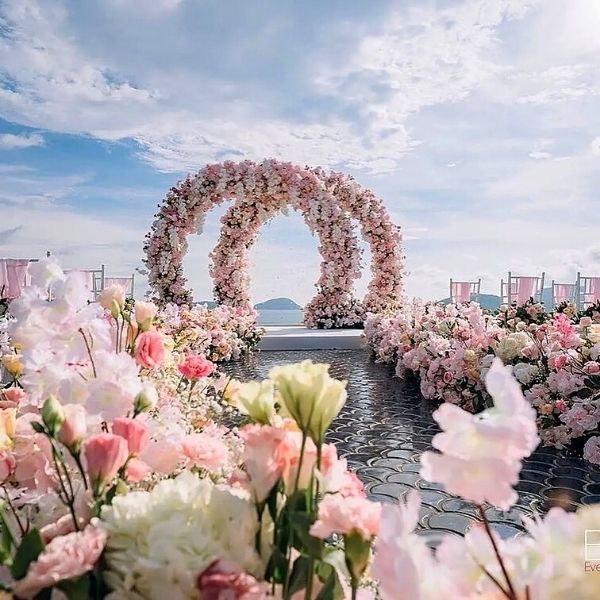 7. Floral Aisles Is the New Confetti
Using flowers on the ground to decorate your aisle is a stunning idea. Wanna know why? The blooms you choose will actually look like breathtaking confetti both in your venue's aisles or table centerpieces. The tradition of lining your wedding ceremony aisle with flower petals is also a flower trend that is in for 2022. Adding clusters of fresh flower petals at venue entryways, around the edge of your dance floor, at the base of a staircase, or trailing along a pathway is a beautiful way to personalize your wedding space. Ready to say I do to floral aisles?