It's the dream of every floral designer: a flower that stands out in a work of art, that is easy to work with, and is as strong and long-lasting as you dare to imagine. Santini Maverick Sunny from breeder Floritec has all this. Bring some sunshine to your bouquet with this new and expressive deep sunny colored pompon santini.
Santini Maverick Sunny
Wouldn't it be great to cheer up your clients with a flower that still looks great after two weeks in a vase? Still upright, always colorful, unfaded. Santini Maverick Sunny puts your mind at ease.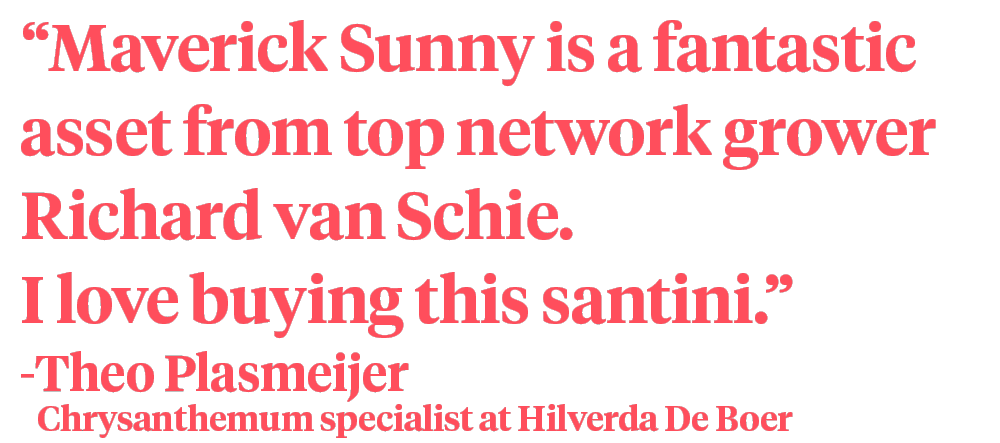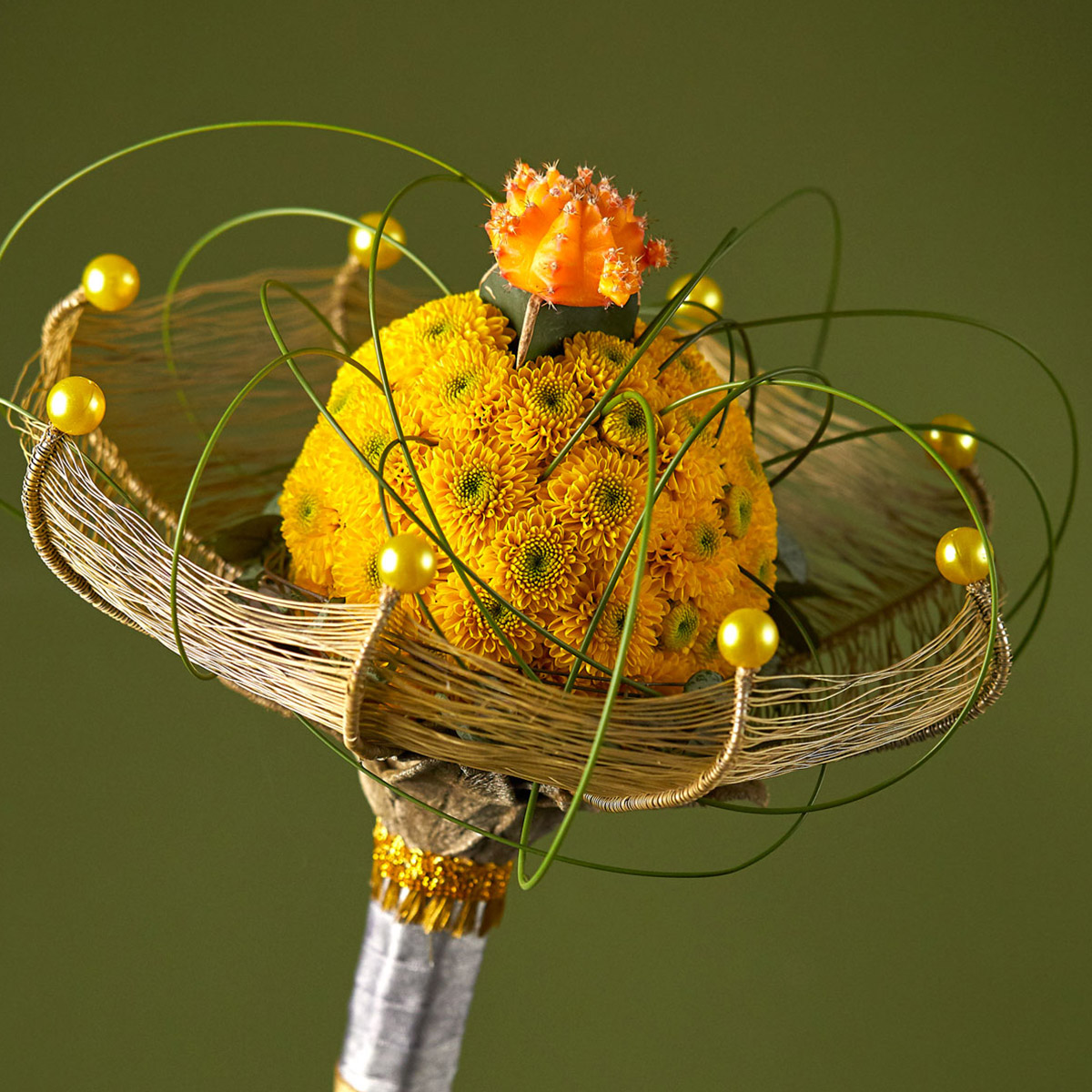 The bright petals surrounding the fresh green heart have proven themselves extensively in the greenhouses of specialized santini grower Richard van Schie before setting foot on the international flower markets. What you see is what you get: a sturdy flower with excellent year-round quality and stunning long vase life. The sunny color stays sunny, the green heart stays fresh green as well.
The Trader's Opinion
With over 35 years of experience as a flower buyer, and a recognized expert in chrysanthemums, Theo Plasmeijer of global trader Hilverda De Boer knows where to get the best santinis as well. No wonder he was one of the first to get a taste of this sunny-colored beauty.
This is what Theo says about Maverick Sunny:
"Maverick Sunny is a fantastic asset from top network grower Richard van Schie. I love buying this santini."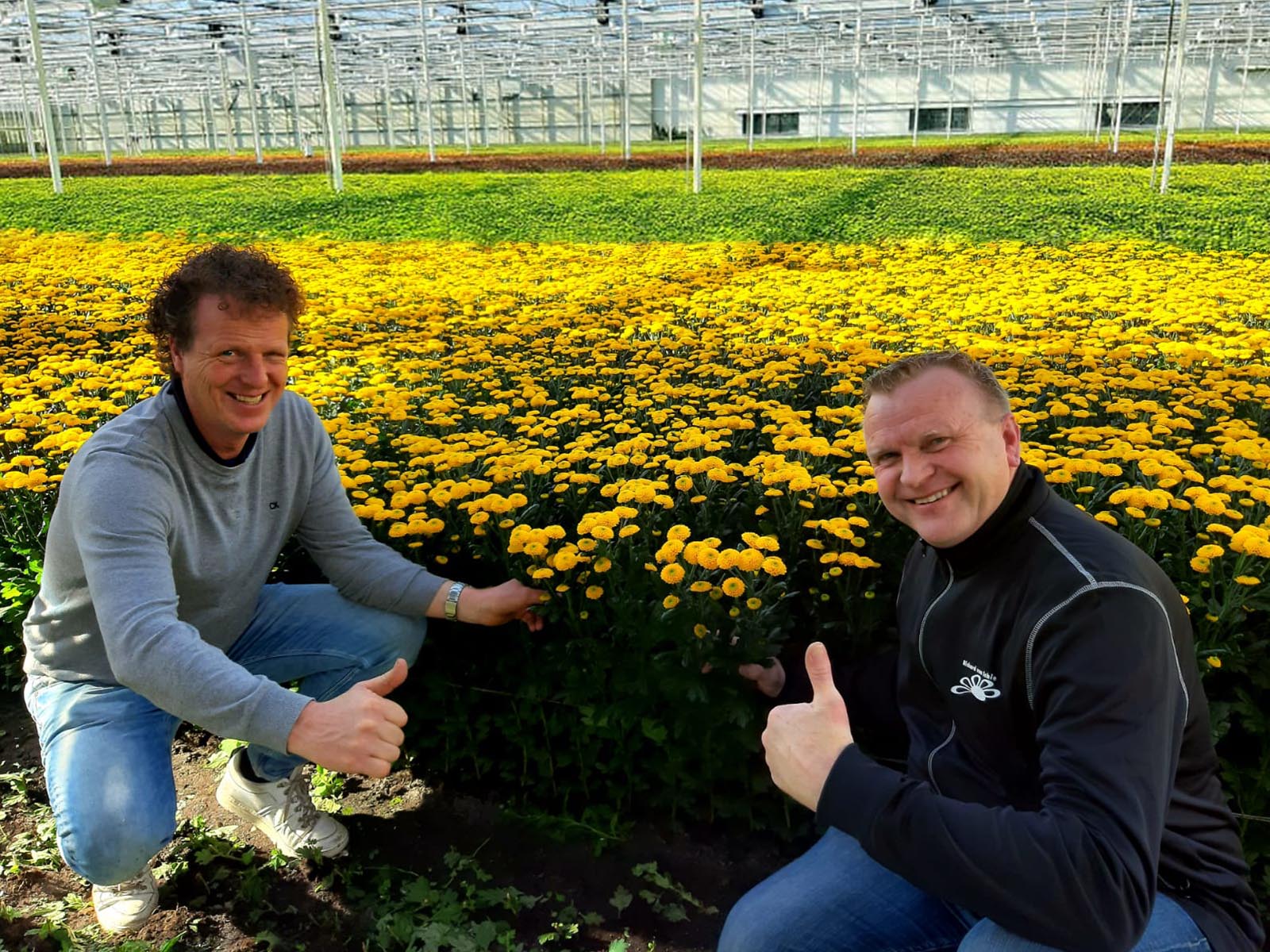 Meet the Maverick Family
Floritec is developing a full range of Maverick colors, all scoring high on strength and uniformity. These characteristics make this pompon santini the perfect choice for growers.
Richard van Schie introduced Santini Maverick White in 2021. This one is now grown by two growers, Richard van Schie and Van Steekelenburg, and is already widely available and embraced by markets worldwide.
The next color will be Maverick Orange, expected in fall 2022 with Richard van Schie. This color will be perfect for an Indian Summer. And, of course, it's a typical autumn and Halloween tint. Keep an eye on that one!