These pictures were inspired just by a creative flow-state, so the end result was not particularly planned. In the beginning, we tried to photograph indoors, but it didn't work out the way we wanted. The feeling wasn't there. But as soon as we got outside where the frozen shore was located, there it was; sunset creating that roughly beautiful atmosphere on the horizon. We nailed it!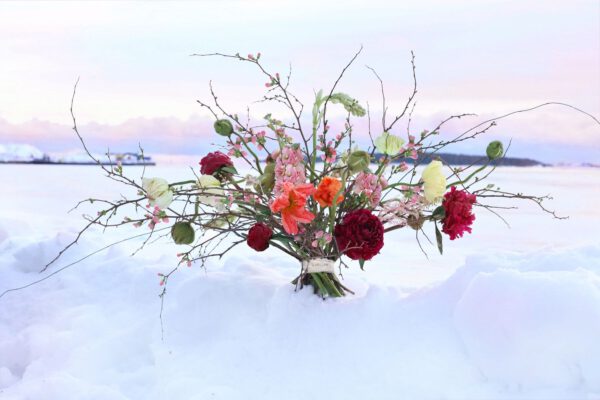 My Creative Flow-state, the Frozen Shore and the Sunset
The bouquet itself is twisting and transparent where colors are beautifully highlighted with a pastel-blue dress and peachy skyline in the background. We were so inspired by the colors of nature. This project had the best team since we all enjoyed being creative.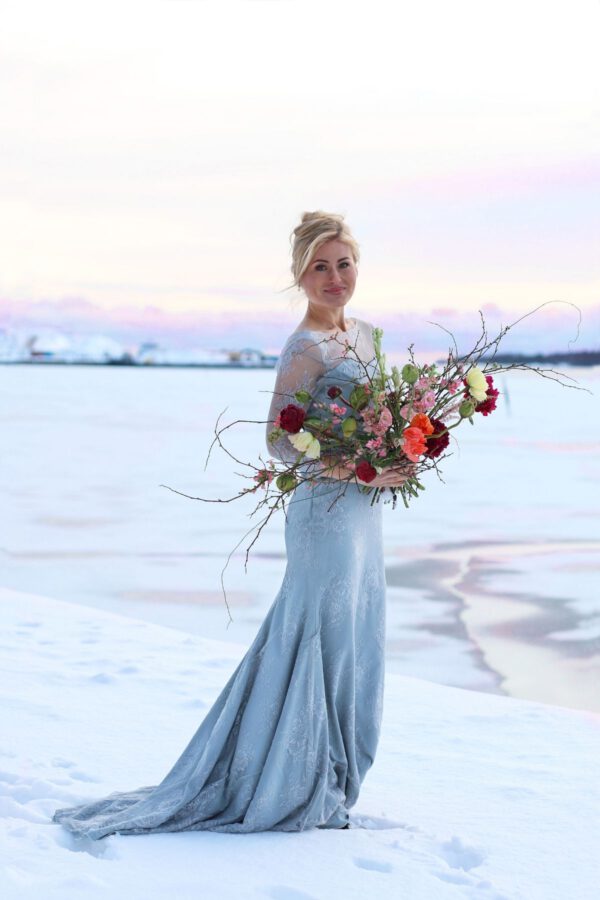 Here Is More About Me
I was born in Estonia, which at that time was part of the Soviet Union, in a small city called Tartu. Childhood summertime passed at my grandmother´s place in southern Estonia. It was a whole different world back there. Most everything was self-grown as you couldn´t get much from the village shop. Nature was beautiful, forests were pure. One could drink water from a streamlet. People spoke with Võru accent and lived in log houses.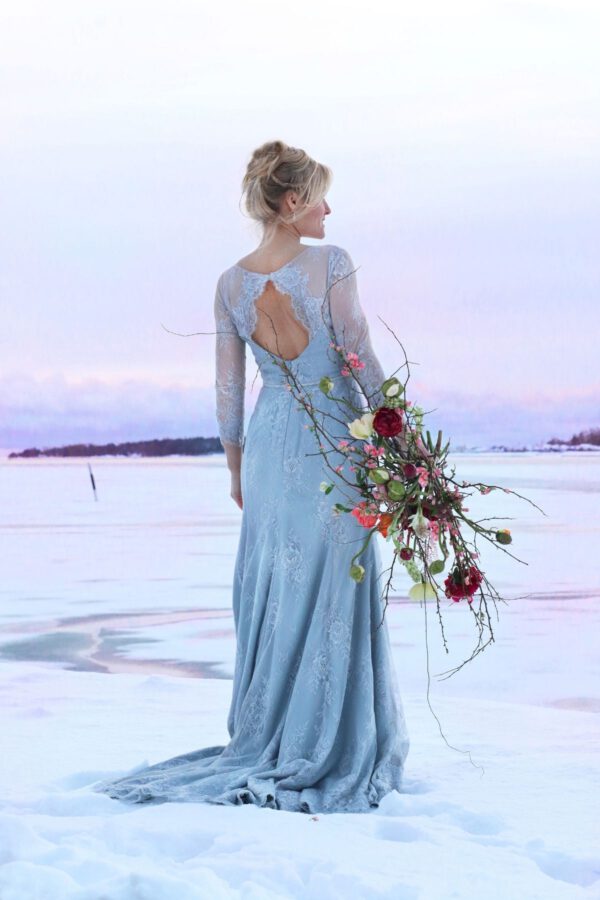 Grandma knew a lot about how to utilize the riches of nature. I was a nature´s child who wondered about the beauty of nature. I wandered here and there and picked daisies and meadow flowers and put them in the vase. My flower-art hobby began 16 years ago as I went to study to master school in Finland, Estonia´s neighboring country. To this day I´ve been excited about flower arrangement and it gives me vitality and works as a kind of therapy as well. I´ve learned that the best source of inspiration for the artist is nature itself. So this shoot was realized because of this creative flow-state, the frozen shore, and the sunset. And especially because of this awesome team.
Thanks to photographer Raili Sapelson, model Diana Sõrmus, and dressmaker Aurora Raiskinen