Huize Frankendael
Huize Frankendael in the Watergraafsmeer is the only remaining country estate in Amsterdam. It was built at the end of the 17th century. The Watergraafsmeer was reclaimed in 1629. In the course of the seventeenth and eighteenth centuries, more than forty homesteads and country estates were built, of which only Huize Frankendael still exists. It is unknown when the Frankendael house was built, but the year 1695 is mentioned. The builder named the estate after the German town of Frankenthal. In 1778 the well-known Amsterdam architect Jacob Otten Husly designed the entrance gate. Huis Frankendael is located at the eastern end of the park with the same name, which extends over 18 hectares. Now Huis Frankendael is open to the public on Sundays and has a cultural program.
Bridal Styled Shoot
I was dreaming of doing a beautiful bridal styled shoot in this wonderful location ever since I saw these glamorous images of Ariella Chezar's master class taken by wonderful American wedding photographer Corbin Gurkin. The sunroom there is just breathtaking: turquoise walls, lots of natural light, a true "room with a view" atmosphere. These images literally haunted me for some time. I hoped someday I will get a chance to work there, to make my floral statement in this unique place.
Monarch Flowers
When Monarch Flowers, the leading Dutch ranunculus grower, approached me with an idea to decorate their business lunch in spring 2020, I saw it as an opportunity to suggest this magnificent location for the event. The grower liked the location very much. We were planning to do the lunch first and after that to work in the evening on a bridal shoot.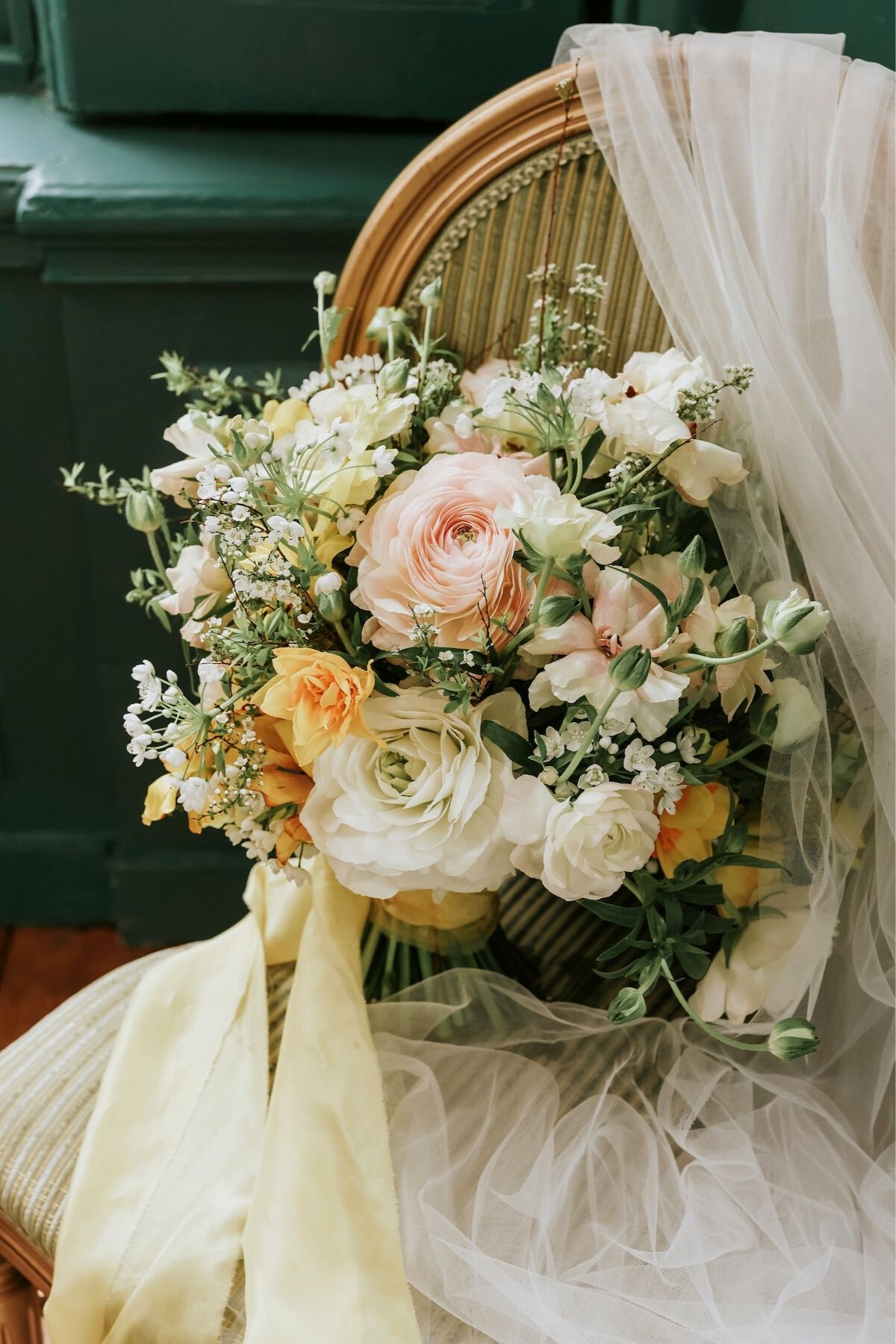 But,....the Pandemic
We were so much looking forward to it, but unfortunately the pandemics changed our planes dramatically. We had to cancel and reschedule the lunch to 2021. This time also without much luck, as events were still not allowed in spring 2021. Ranunculus season is very short - from the end of February until the end of April. We were so disappointed, but at the same time we wanted to make at least the styled shoot happen. We asked Huize Frankendael for a permission to do a styled shoot first, hoping that in the spring 2022 we definitely will do the business lunch for Monarch Flowers. The permission was granted and the ambitious production began.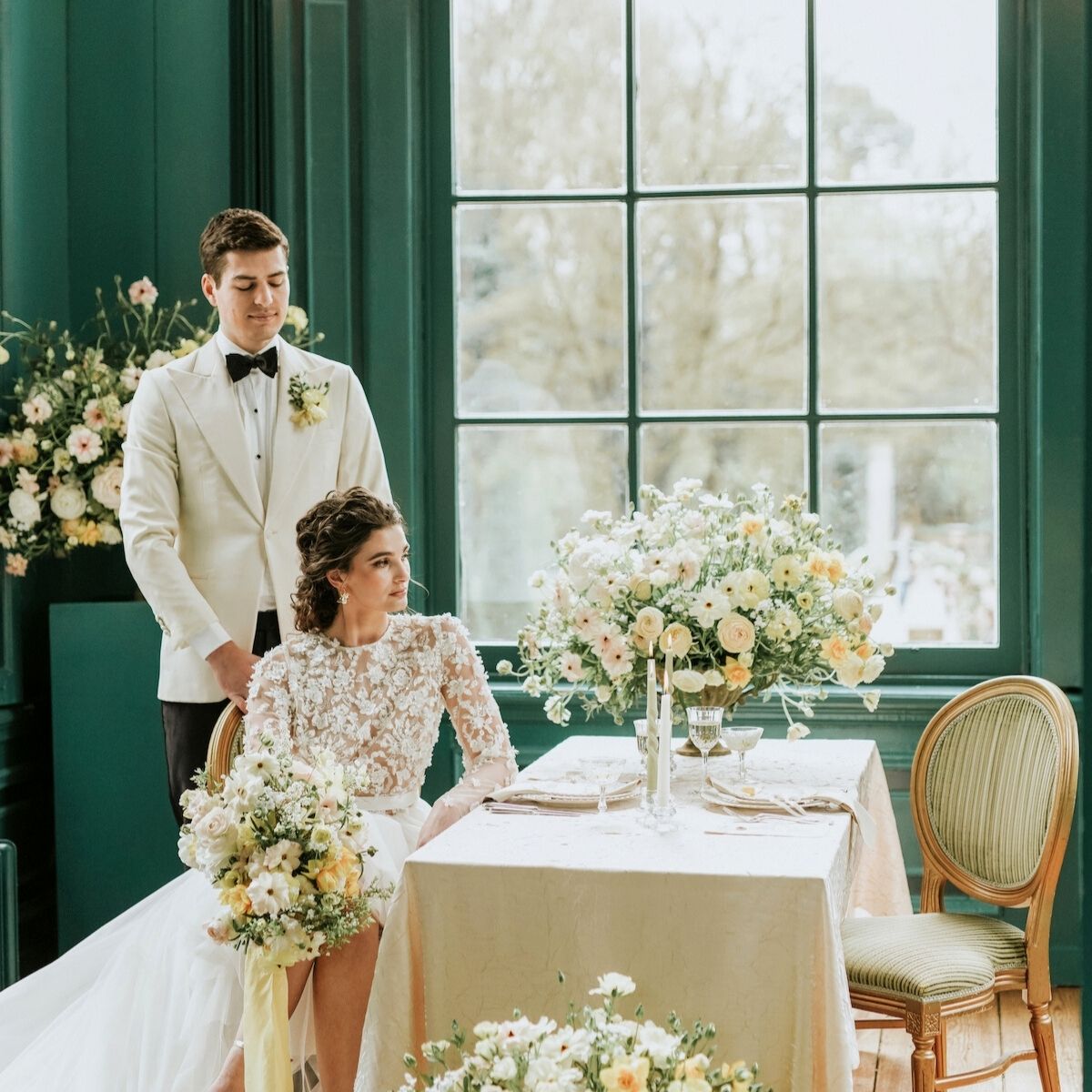 The Sunroom
Me and my team were so lucky to work on floral arrangements in the centuries old coach house named after the former city architect of Amsterdam Ben Merkelbach. We were provided with a sea of the most beautiful ranunculus and Japanese ranunculus, which we transformed in elegant airy floral arrangements for all 3 salons. The sunroom was my favorite. I've chosen a striking colour scheme: yellow, white, green with touches of blush for this room. It worked so well together with the turquoise walls, the contrast insured an expressive colour pallet, very trendy in bridal floristry this year. Illuminating yellow is a Panton colour of the year. Our hue of Japanese Ranunculus variety was very near this colour. We worked on these lovely floral pieces together with my assistant Katrin, who helped me a great deal to implement my ideas in the best possible way. The result is a delight to the eye.
Pictures from Buusra Catras
I'm very happy to share with you these beautiful images taken by a talented German wedding photographer Buusra Catras from Buushiigraphy. She did such a great artistic work. Each image radiates her talent, strong composition, skillful work with colour.
A Team Effort
Of course our models, a real couple Sanne and Lucas, were just unbelievably beautiful. Add to it an excellent styling&planning by Emilva from Sanne Weddings, breathtaking dress by one of the finest Amsterdam based fashion designers Edwin Oudshoorn, chic white smoking by New Tailor, impeccable makeup by Olena & Uliana, the best quality flowers provided by Monarch Flowers and Green Work International plus a state of the art stationary and a handmade silk ribbon by Naomi from Pen to Paper and you'll get an excellent production, a true team work & synergy, that helped us to achieve it all together. Huge thanks to our assistants Feyza, Celi, Katrin, Nata, Quynh and all kind people from Huize Frankendael. We were very lucky to work a wonderful Japanese cinematographer Eori Wakakuwa on this project who made this romantic short film for us. Thank you Eori!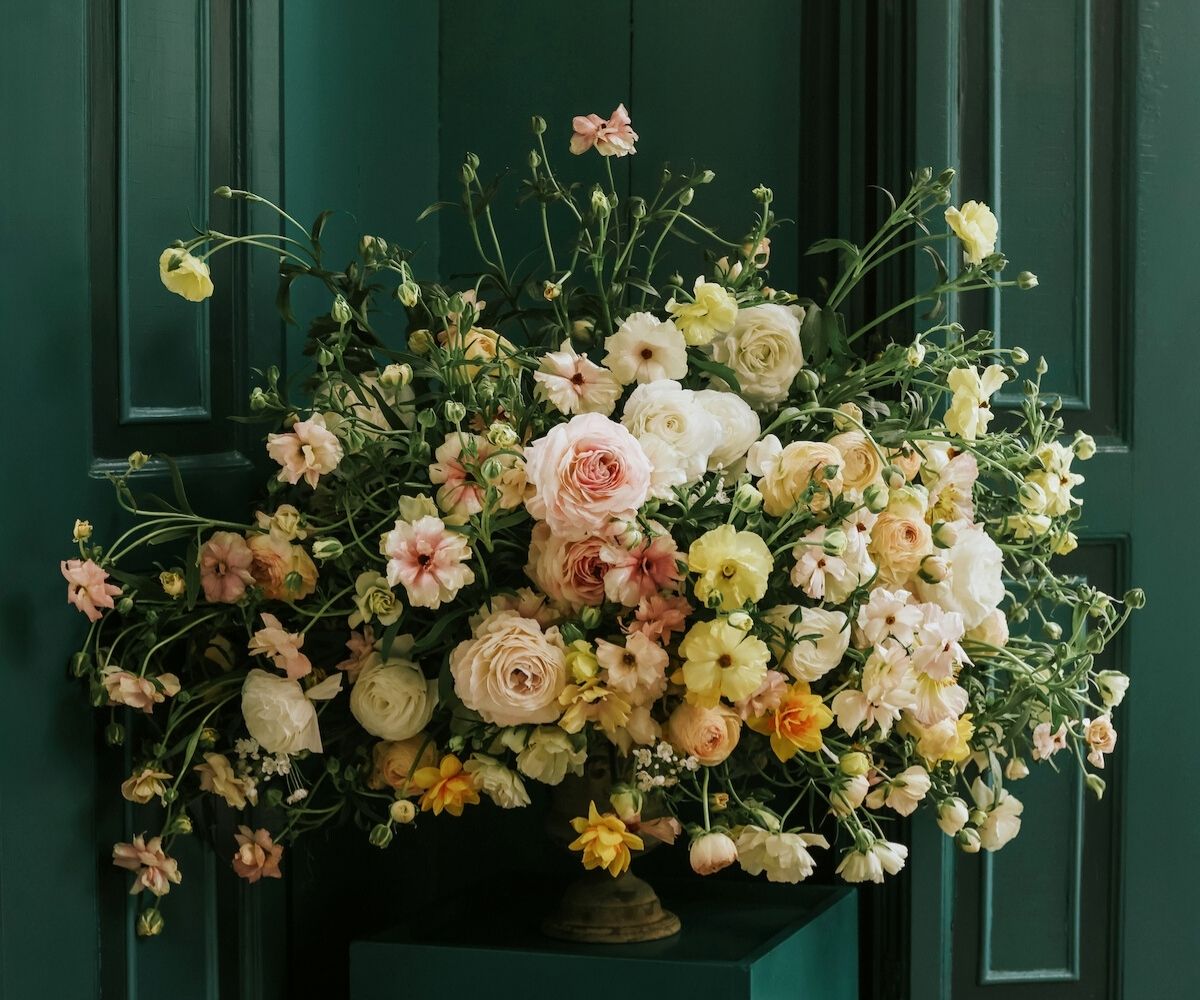 Credits:
Photography: Büsra Catras, Buushiigraphy, @buushiigraphy Idea & Production: Katya Hutter, @katyahutterfloraldesign Planning & Styling: Emilva Tervoort, Santé Weddings, @sante_weddings Floral Design: Katya Hutter Floral Design, @katyahutterfloraldesign Location: Huize Frankendael Amsterdam, @huize_frankendael Models: Sanne & Lucas, @sanne.georgette, @lucascelant Make-up and Hair: Elen Cherednikova,@olenatvorcha, Uliana Matkovska, @makeup_ulianamatkovska Dresses: Atelier Edwin Oudshoorn Bridal, @atelieredwinoudshoornbridal Suit: New Tailor Amsterdam, @newtailor Flowers: Monarch Flowers, @monarchflowers, Green Works, @green_works_international Stationary & Silk Ribbons: Pen to Paper, @pentopaper.nl Cinematography: Eori Wakakuwa @eoriwakakuwa Assistants: Photographer: Feyza Nur Korkmaz, Floral Designer: Katrin Sircu, Celi Carreras, Nata Bisschop, Wedding Planner: Quynh Pham