My name is Nancy van der Zalm and I am 18 years I am following the Flower, Green, and Styling level 3 education at
Helicon Opleidingen
in 's-Hertogenbosch, Netherlands. I am very happy with this training and will then continue my studies at level 4. When I have completed that course, I will probably do 2 other studies at a college level to specialize in the flower design profession.
Nice to Challenge Myself
As a 7-year-old child, I already knew that I wanted to get into the flower business and work with natural materials. So I started striving a lot for that goal and now I finally started doing the training and I still find it, now 11 years later, very nice to be creative with natural materials and to challenge myself in it. I did an internship at various places and I also work in a flower shop in Kerkdriel. I think it would be very nice to do an internship abroad to get to know the culture and to dress up weddings and events there. I think this is very nice because you can also see how florists work in another culture. So, if you read this...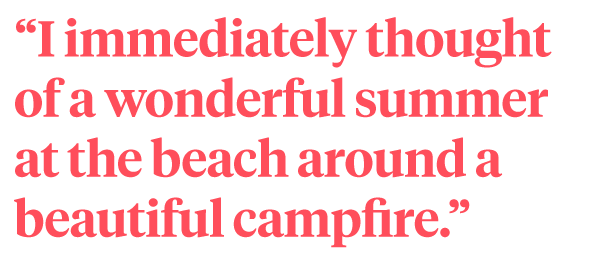 The Cubana Summerhouse Assignment
For this assignment, I had the opportunity to work with a new rose variety. Both a real and a fun challenge, because it is specifically about this rose. I got the
rose Cubana Summerhouse
from
Decofresh
. This is a rose with two colors, red and yellow. When I heard the name of the rose, I immediately thought of a wonderful summer at the beach around a beautiful campfire. I thought of the campfire because the rose has a nice transition from yellow to red, just like the fire.
A Cozy Campfire
In this design, I depict a cozy campfire where you can sit around with friends on summer evenings and roast marshmallows. In doing so, I show the rose clearly by using it as the fire of the campfire. I also use brighter materials to better visualize the rose and the campfire, such as the freesia Serrada, which clarifies the yellow color of the fire and releases a nice fresh summer scent. Limonium sinensis Lela Diamond displays the tiny sparks of the tiny iron particles that oxidize in the air. In addition, I also incorporated the pulsatilla vulgaris Alba in between to show the danger of fire. With this flower, I always have the feeling that if you touch it, this can be painful. I chose the chrysanthemum because the color of these flowers matches the color of the sand on the beach very well. My goal is that this arrangement will make you want to roast your own marshmallows over the colorful fire and in the meantime dream away with
rose Cubana Summerhouse
.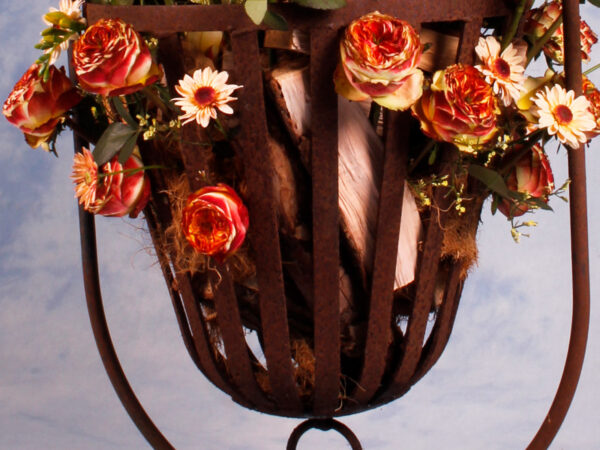 Check out My Instagram
If you want to see more of me and my work, check out my Instagram. Nancy van der Zalm Instagram:
nancyvdzalm_flowers
Co-creation:
Practical support/advice: Coby van Otterdijk. Styling & photography: Elfi Voermans. Textual guidance/editing: Ruud Teutelink