When I first received Red Taccazi+ roses I conditioned them using Quick Deep @Floralife Oasis giving the flowers instant hydration. Those beautiful roses last five weeks!!! I was so impressed by the beauty and quality of this Dümmen Orange rose variety. Let's make a difference by using Red Tacazzi+ roses for my beautiful and confident model.

Choosing Red Tacazzi+ Roses
The roses are amazing. No thorns! Strong stems! Endless arrangement possibilities ❤️. For me at least, it means a lot they are thornless. It's not that time-consuming to clean them and have them in water. And because the stems are not getting damaged while cleaning, there are fewer bacteria in the water. That results in long vase life. By choosing Red Tacazzi+ roses you won't have any regrets.

Red Tacazzi+ Roses Are Just Perfect For Any Occasion
On Valentine's Day, they represent Love. And Warmth, and Romance, and everything you want them to be...
But they can represent Love all year round with celebrations of birthdays, congratulations, love, and happiness. And they are gorgeous to do an inspirational photo shoot. That's what I decided to do when I saw the beauty of these Red Taccazi+ roses.
What Does the Color Red Symbolize?
And what about wearing red? Wearing a red color does not say you want attention. It says you are not afraid of being seen. Red is confidence.
Red roses have captured the minds and hearts of lovers across the globe for generations. Giving a single stem or bunch of red roses is the perfect way to say, "I love you" when words are not enough. For this inspirational shoot, wearing this red rose headpiece makes the model shine with self-love and confidence.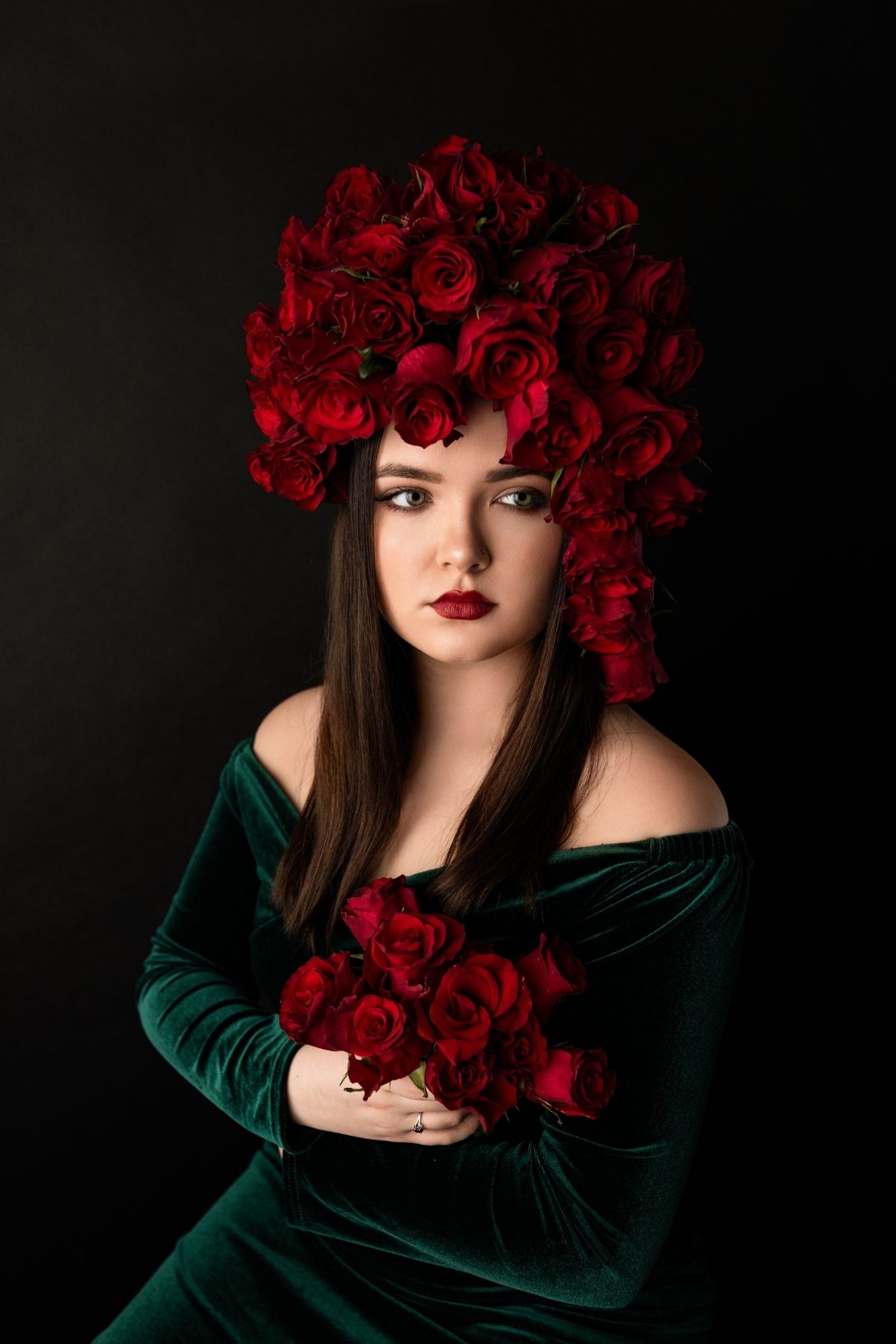 Choosing Red Taccazi+ roses from breeder Dümmen Orange and grower Holla Roses symbolizes your self-love and confidence, telling everybody: I want to be visible and adored. Red roses - just like you - should be visible and adored all the time.