Together with my clients, I also like to pay attention to social projects in Russia. We keep an eye on social developments in all our work, but in special projects, we also regularly focus attention on people, activities, or developments that are not always in the spotlight. This is my story of how chrysanthemums color an orphanage in Russia.
St. Peterburg
Recently we were able to delight an orphanage in St. Peterburg with the splendor of chrysanthemums. To encourage children and their carers, and also to involve the children in working with and enjoying flowers.

Dutch Chrysanthemums Color an Orphanage
Dutch chrysanthemums were available, and the Dutch consulate-general in St. Petersburg also participated in this project. On the first day of school, in Russia it is always September 1, many children bring a bouquet for their teacher. For their first day of school, the children received a cheerful bag with pens, writing pads, and bottles. And they received explanations from professional florists about making bouquets for their teachers and making flower arrangements.
Pumpkin Vases
There were no suitable vases available in the orphanage. How to make flower arrangements? The director of florist school
Magenta
, Elena Dmitrieva, came up with a solution that really appealed to the children: pumpkins were prepared with oases to put flowers in! 15 children took part in the masterclass and that produced very surprising results. In the first place, we saw children who had entered the room somewhat shyly blossom into cheerful florists in the making. Happy and proud of the work they had done.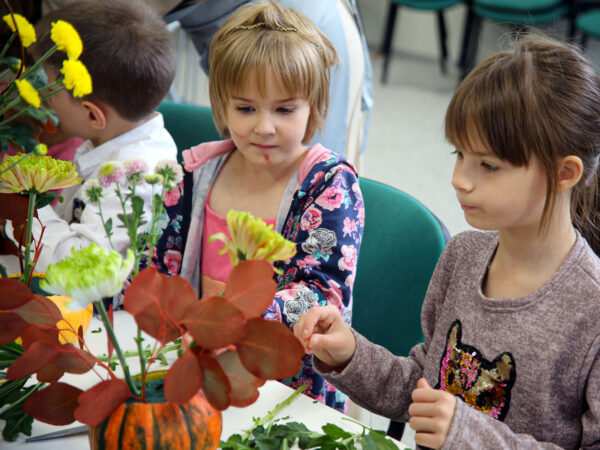 The beautiful combination of chrysanthemums with pumpkins was beautifully expressed. In addition to the pumpkins, the accessories used such as twigs with berries, apples, and greenery in combination with the colorful and varied chrysanthemums also brought a nice and beautiful autumn atmosphere into the house. A double surprise for the adults present, who saw enthusiastic and involved children become acquainted with chrysanthemums, and who saw creative combinations of materials arise. For the children who could not participate in the masterclass, the employees of the florist school made colorful bouquets to put them in the spotlight as well.
Teach the Ancient Flower Culture
Educational projects like this one teach children who don't have the chance to learn from parents something about Russian culture, the ancient flower culture in this case. I am proud to be able to realize these kinds of projects together with clients and partners such as
JustChrys
and
7Flowers St. Petersburg
.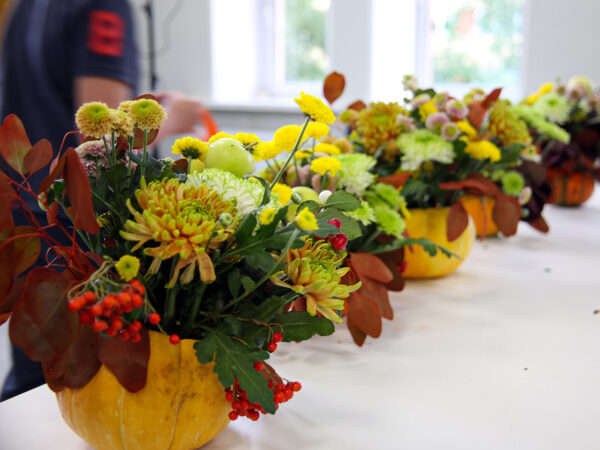 Watch the Film
Watch the 1-minute film about this project:
This charitable project was organized for the Center for the Promotion of Family Education N13 in St. Petersburg. Special credit to 7 Flowers St. Petersburg, Just Chrys, and Floristic school "Magenta".
⠀