Dried flowers are so woven into the DNA of my flower designs, that I can't live without them. To work with dried flowers only, on the other hand, still remains a challenge. Still, for this installation, I was really looking forward to going big! An installation that embraced me in the middle of the corona lockdown. A warm hug made of mostly soft materials was the message I wanted to convey.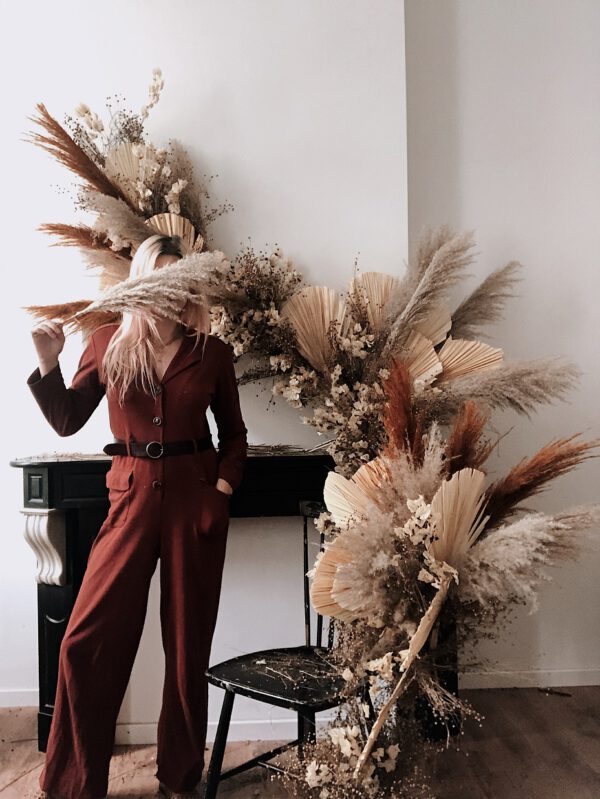 The Use of Materials
A design of dried flowers can often look disordered due to the lack of focus flowers. Because of this, I decided to embrace the abundance of texture for this installation. The combination of textures of both the dried bougainvillea and the dried flax of Greenflor provides a tremendous textural experience. These dried flowers are two of my favorite materials to use as a filler for an installation. The combination of the two is varied enough and you don't see it used as much as for example bromine or dried gypsophila.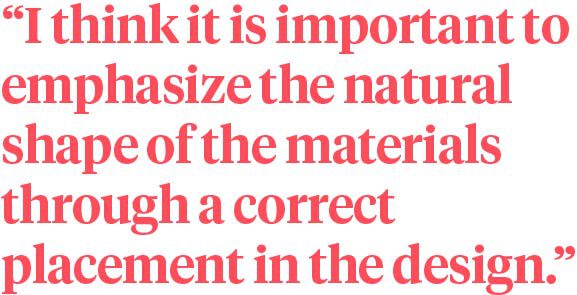 I think it is important to emphasize the natural shape of the materials as much as possible through a correct placement in the design. I placed palm leaves with a round shape in the curves of the installation to emphasize them even more. Due to their large size, they also provide a resting point for your eye. The same goes for the pointed but fluffy pampas that emphasize the same lines of the installation. This is the reason that I love to work with large materials. They immediately make an impact on the lines that you create with a flower installation. You can guide the eyes of the viewer of your flower arrangement very nice. Something I really enjoy playing with!
Color Palette
Something I also really appreciate about dried flowers is their greyed-out hues so that everything seems to fall into a beautiful color palette. The painted variants such as the rust-colored pampas give an extra warm punch that I love. This way it stays warm and soft but also prevents it from getting monotonous. With dried flowers, I usually choose a color palette of completely natural materials with their brownish tones and then 1 or 2 dyed materials that match the ambiance of the design.
The symbolism of the Shape
I made this installation during a period when Belgium was under a fairly strict lockdown. Flowers were scarce at the time, so dried flowers were the ultimate creative resource. Certainly, all the soft fluffy materials were extra symbolic of the situation I was in. Making the installation was a warm hug to myself, which nobody was allowed to – physically - give at the time. A beautiful memory from a fairly intense period of time.
The design was made possible by the featured dried flowers of Greenflor.