Throughout this world, grasses occupy a significant part of the biomass. And for good reason: the monumental family of grasses (or poaceae) represents 24% of the plant cover of the planet. Very diversified, it is strong of about 12000 species, arranged in 780 genera. Adaptive diversity has led them to colonize all continents, including Antarctica! This is a story about the green rebels of this world.

Rebellious Grasses

Whether it is bamboo, wheat, pampas grass, or rice, grasses have been able to forge close ties with people. In many cultures, grasses are respected, even elevated to the rank of deities. It is the most consumed family of plants on the planet. Excuse me?! It is, therefore, quite natural that floral professionals give them a place of choice in their creations.

From Invasive to Landscaping to Floral Design

Often considered invasive, grasses have often been driven out of our gardens. However, it is in crevices, tar, or rock that they show their incredible life force. The return to favor of grasses began in the world of landscaping and landscape architects, but floristry soon followed.
Even if at the beginning the choice was restricted to a few varieties such as panicum, the offer quickly expanded: chasmanthium, setaria, miscanthus, etc. They are a significant creative ally in the current trend, whether dried or fresh. The pampa acts as the indeterminable queen of grasses, but many more modest princesses seduce us with their slender charm. They are rich in textures and colors and allow us to twirl between contemporary and bucolic.
A Supporting Role
Alas, the starlets are often relegated to the supporting role, a bit like a hot extra that we dare not put in the foreground, for fear that she steals the show from more traditional actresses. But shouldn't they have already won their floral Oscar? It is a fact that without them, some compositions would not have the same panache and would not carry us away as much.
Authenticity and Nature
Customers are increasingly demanding authenticity and nature. Grasses allow us to meet this growing demand. The production of these young ladies is not very greedy and is most often done on the ground. The energy necessary for the production of the grasses' ears is also natural because open-field production provides ideal solar radiation for these slender plants.
A Whole New Dimension
Beyond ecological considerations, grasses instantly transform a composition or a bouquet. They bring them a whole new dimension: bucolic, contemporary, baroque, … Grasses slip into all floral styles and desacralize certain flowers that are a little frozen.
I always have a special connection with these greens. They are an integral part of my life and the countryside landscapes in which I grew up. As a child, I already played "hen or rooster" with my little brother Alex and my little sister Solène. A childish game: all you have to do is pull on the ears of grasses while betting on the final shape that the seeds will take between your fingers: hen when the shape is round and of course rooster if the shape is shaggy.
The large meadows of the Jura also shape my gastronomic landscape. They are the basis of the food of the cows, which will give the milk which, in expert hands, will become the very famous Jura cheeses.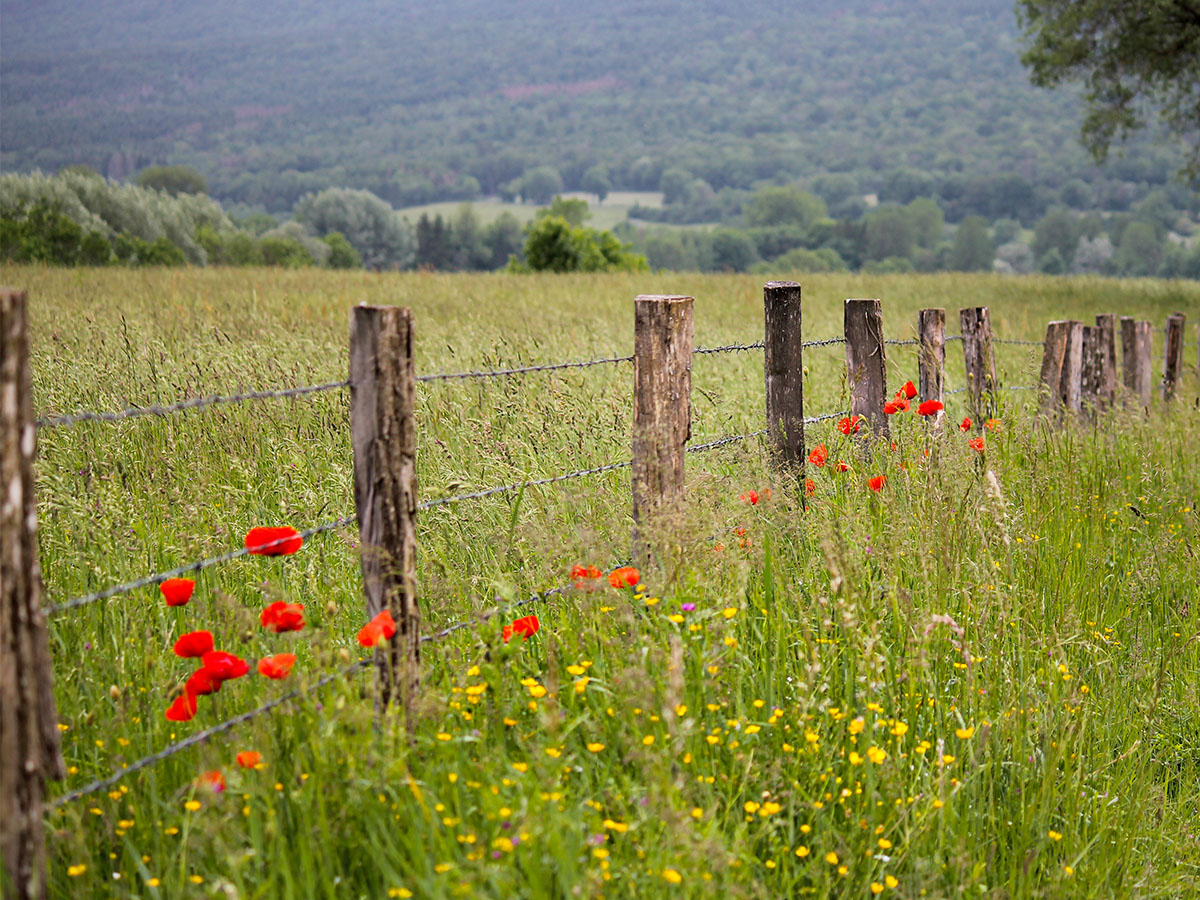 A Jewel Covered in Jewels
Another vision comes to me spontaneously, it is the delicate spring rose which pearls on the ears, as if the young lady had chosen to put on her most beautiful adornment: a jewel covered in jewels. It accompanies humanity since the dawn of time so despite their discretion, let's push them to the front of the stage and write them a beautiful scenario so that finally, their names are written in gold letters on the poster of a film, which for sure, will tell a great story!