Het Wilgenbroek is a famous Belgian nursery specialized in Helleborus. Every year during the month of February they organize a Helleborus month with exhibitions, seminars, walking tours... Highlight of this event is the Helleborus Award. Although under the difficult circumstances of COVID-19, the seventh edition of the Helleborus Award was very successful with more than 25 participants.
Tineke Van Paemel – Het Wilgenbroek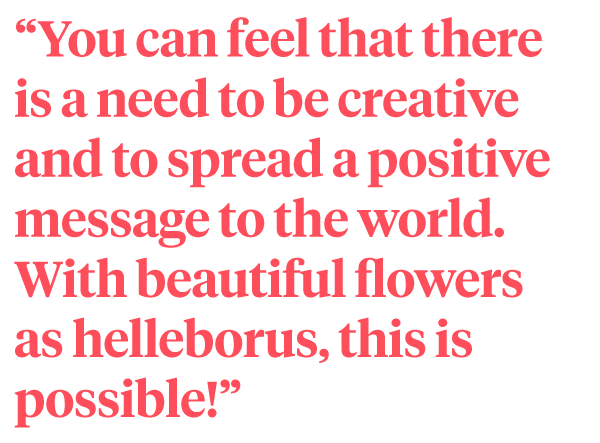 For the first time, also students in floral art participated in the competition in a separate category. For all participants, it was a great opportunity to push boundaries and to wake up their creativity. We discovered a lot of nice work, good ideas, new techniques … This is a random collection, the winners you can find further in this blog.
As a member of the jury, I am happy to present to you the WINNERS!
Professional Florists
Gold goes to BENOIT VANDENDRIESSCHE
Benoit is a young floral designer. He is born in the horticultural sector as his parents have a garden center. After his floral design studies at the Technical Horticultural School of Kortrijk (B), he started to work at the floral design studio of the famous floral artist Geert Pattyn. In a few months, he will take the challenge to participate in the family business. Benoit made a beautiful design with blossoming willow twigs surrounding pink Helleborus.
Silver goes to KATIA GILMET
Katia is working as a freelance florist in Floral Styling. She studied at the Florademy in Belgium where she has got lessons from famous floral designers such as Geert Pattyn, Moniek Vanden Berghe, Marc Derudder, Tomas De Bruyne, Rob Plattel … She participated in several exhibitions: Fleuramour Alden Biesen, Winter Moments Bruges, and the Castle of Beloeil. Her work is published in several publications: In Love, Fleur Creatif, International Floral Art. Katia made a pure design with only shells and Helleborus orientalis flowers. The little light inside gave her work a touch of mystery.
Bronze goes to YVES MOERMAN
Yves is a freelance floral designer. He studied at the Green Academy in Belgium and got inspired by Geert Pattyn, Moniek Vanden Berghe, Rita Van Gansbeke, Marc Derudder, Tomas Debruyne … He participated in several exhibitions: Fleuramour, Wintermoments … and assisted Tomas De Bruyne in a lot of big installations all over the world. Yves is a master of techniques. His design for the Helleborus Award is an example of refined work: fans made of hundreds of fine twigs slightly decorated with white and yellow Helleborus.
Facebook page
of Het Wilgenbroek and in one of the next editions of Fleur Creatif! If you want to participate in the next edition of the Helleborus Award, please contact us!