Dried Flowers Are Good for Your Business
A bunch of dry flowers with a long shelf life and a perpetuation of the product. And that at the time of an economic crisis. Is it a coincidence? Dried flowers are not the first thing you think of to brighten someone up, right? Yes, I state that dried flowers are good for your business.

It Was Never Attractive to Me
The old-fashioned image does not benefit the product. It's really just a strange invention; something that actually gives us the shivers as a florist. After all, we have always strived to deliver as fresh as possible, to ensure that every flower buds, the scent meets you and also the transience touches you. Fresh flowers only stay in your house for a short period, so enjoying them is, of course, a must. You throw away dried, dead, or floppy flowers. Everyone knows them, that dusty triangular arrangement of dried palm leaves and a single coconut on a skewer. It was never attractive to me, I had never seen this as something I would want at all.
Those Damn Dried Flowers
Our beloved flowers are now dried specimens, which have an awfully long vase life. Yes, say, critical florists, bad for the business. And yes, that's right. Those damn dried flowers last longer than our beloved fresh varieties. But is the product really comparable? Shouldn't we start seeing it as a completely different product? And is it bad for your business? After all, this is already a trend, something that is so widely promoted on Instagram by many beloved colleagues. Wouldn't it be stupid not to ride on this train of success?
Reinvent the Old-fashioned Trend
How can you offer it and get it appreciated? How do you reinvent the old-fashioned trend? This is where the challenge lies: giving a new look to past success. And then get it to the consumer via Instagram advertising! Good idea, I think. As Holland's Best Flower Stylist in dried flowers, is that trade destruction? To be honest, at first, I had relatively little guilt. In fact, in times of crisis, you have to change your mind. When COVID-19 hit us with a completely different life, it became important that you rearrange your own life. You start thinking about what can I do, and what opportunities there are in the floriculture industry. Dried flowers!! Drying the flowers that we were not allowed to trade was, of course, the challenge, after we had so much surplus.
In Love with Dried Flowers
I just came back cold from India in mid-March, where I had just designed a beautiful wedding and had a photoshoot. There I had processed Dutch dried flowers and also fresh flowers. Like a teenager, I fell in love with everything that had to do with dried flowers. The big difference with fresh flowers is that you can bend dried flowers into whatever shapes you want and - important - that they don't need water to stay beautiful. And you can glue them very easily, for example. I had fallen hopelessly in love with the many applications of the dried and preserved products. I also dreamed of mega-sized buildings in India. When I returned to the Netherlands by plane, I was amazed at the impact that corona already had on our country. I called every client because I had to say that unfortunately all planned activities were being postponed. Borders closed and I saw my business go up in smoke, like so many others. India went into lockdown and the misery was complete there.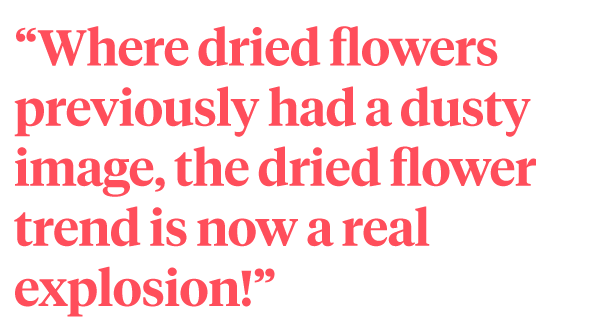 Lovíy (Previously: 'Altijd Speciaal')
I felt empty and thought, "Damn, if I don't do something now, I'll go crazy. I remember well it was Easter and I was bored checking on Instagram looking for something that would cheer me up. And there it was… dried flowers! A sponsored ad of 'Altijd Speciaal' Dried Flowers. 'Altijd Speciaal' is Dutch for 'Aways Special'. Nowadays, this company has changed its name to Loviy, which sounds more international.
They were looking for a flower binder, and I thought, "Why not?" So in good spirits, I sent a nice email, and a week later I worked in this young company. Admittedly I was overqualified, but I had so much faith in these young entrepreneurs that I felt I had to do it. In addition, sitting at home was not an option for me. I wanted to progress and grow! And this company has potential. I saw an environment where there was still a lot of work on branding and content making, an atmosphere where COVID-19 did not exist, and where the energy was splashing. This was a company that had only existed for six months.
The owners are also standing out. Carmen de Bruin, 25 years old, and her brother Danny de Bruin of 23, had a brilliant plan to start a dry bouquet webshop, and with great success! They had spotted the trend and knew from their irresistible passion that they had to take action exactly now. You understand that made me happy. In Carmen, I see myself, young and ambitious, great plans, and someone who can think big and dares to do business, without limits. I wanted nothing more than to help, and with my knowledge, we got a little further. After two months I was already part of the management and not much later I signed my permanent contract and I was the brand manager of this company of the future.
European Market Leader
We are currently the European market leader and supply directly to consumers. But for us this is not enough; from September our dry bouquets will also be available in most luxury retailers. We want to be able to offer dried flowers everywhere, but with absolutely one main rule: it has to be Altijd Speciaal, so Always Special!! You can find this Always Special feeling on the website and socials. As soon as we were allowed to fly again, we went to beautiful Málaga, Spain, for a photoshoot. I also wanted Carmen to be the face of her own company and that's what we did; a luxurious appearance with passion and color, occasionally rebellious. I wanted to pull the dried flowers out of their old image with one blow. With all due respect to the do-it-yourself-homeworkers, running a thriving e-commerce business is really a different story. We only work with 'Champions League' level partners. That gives you the power to conquer the world. Once again this is always our big challenge, but love and attention to detail remain! Each bouquet is double-checked. I also see bouquets from colleagues in disgust, I think the retail bouquets are a shame. Why is there no focus on quality, even then it is possible to make and sell a price-conscious variant? We have done this, and with success!
Each Bouquet Is Hand Tied
Our bouquets are characterized by composition and binding techniques. This means that each bouquet is tied by hand by a flower binder. And you can see that in the result. In my career, I have seen many e-commerce companies fail when it comes to sending bouquets, loveless bouquets that find their way into the vase. I believe that you will not make it in the end. It is always the love for the product that saves you and helps to keep the fun in the first place and also have satisfied customers. That's what you do it for! Are you not happy with our bouquet? then you can return it. Are dried flowers old-fashioned? For grannies with bad taste? I don't think so. Where dried flowers previously had a dusty image, the dried flower trend is now a real explosion! Everyone must have dried flowers! We have a wide range of colorful dry bouquets. Our luxurious appearance gives you an expectation of what it can mean for you, our dried flowers give happiness. That is why our motto is: "We sell happiness". During COVID-19 this was a great invention. We benefited from all the people who had gone to work from home and wanted something to brighten things up. The positive thing was that you can enjoy dried flowers for a long time, so they were well worth your money, even if the purchase is slightly more expensive.
Top Designer and Electric Rebel
Carmen de Bruin is a top designer who really knows the product. She only goes for quality and chooses the most special dried flowers, but especially her combinations are very special. Every time she knows how to surprise the consumer with her eye-catching creations. Not so long ago she had a small studio, but now she has a ten-person team that also pursues her dreams. We have managed to capture her personality and style in a new trend: Electric Rebel. It is a colorful style that is characterized by the use of prints, surprising elements, but above all the feeling!
What's Next?
The dried flower trend will be dead in 2 years. And what do you do then! What's next? That is already thinking about how you can continue to meet the needs of your customers. After all, with an e-commerce company, you can see exactly who your customers are. Our target is simple, we want to make our customers happy! We are determined to make it a great international success. Who is helping?