Students from Helicon Education in 's Hertogenbosch freely design with roses from Decofresh. In this blog, Isa Buijnsters tells how her mother's wedding dress inspired her to make this design with rose Chapeau.
To Convert a Customer's Wishes
My name is Isa Buijnsters and I live in Bavel, a village near Breda, Netherlands. At the moment I follow the Flower, Green, and Styling education at Helicon in Den Bosch, and I am in year 2 of the level 3 training. Although I was very unsure about the training I wanted to do at the time, I am now especially happy with my choice for this. I am learning a lot about making all kinds of flower arrangements, new techniques, and how to convert a customer's wishes into suitable flower arrangements.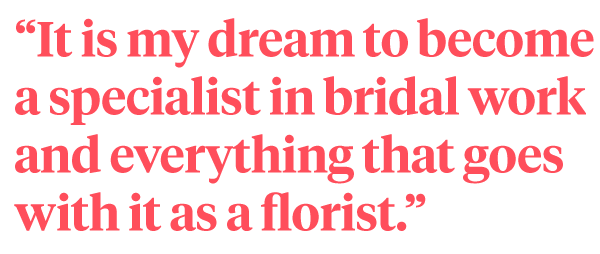 A Bit Scary
When the teachers of our school told me about this assignment, I had some doubts. Although I found it a bit scary to do this assignment in addition to all the assignments I am already doing for school, I went for it anyway. And I'm very happy with that now. It was a fun project because we were free to do what we could make with the Decofresh roses. I certainly don't regret taking part.
My Mother's Wedding Dress
The flower that I was allowed to use is the rose Chapeau. A rose with lots of colors - red, pink and yellow. A large sturdy rose that I think you can do a lot with as a florist. I chose to do bridal work. That's really my thing. In the photo, you see me in my mother's wedding dress. The dress fits me quite well and my mom really enjoyed seeing me in the dress too. My parents recently had been married for 23 years, so it seemed special to me to take my parents' wedding day as the starting point for this fun project.
My Bridal Bouquet
The bridal bouquet I made with rose Chapeau is very compact and round-tied. I had never made such a bridal bouquet before, and it was a real challenge. In addition to the bridal bouquet, I made a head wreath for the bride. I like it when the flowers return in several places, also with the bride herself. It makes it more of a whole. I also made two bouquets for the bridesmaids. In the flower arrangements, I made a combination with pink gypsophila. The color pink is a beautiful color between the fiery roses and provides padding and refined detail. I chose olive green for the finish because it has a chic look and it provides a playful effect in the otherwise tightly bound bridal bouquet.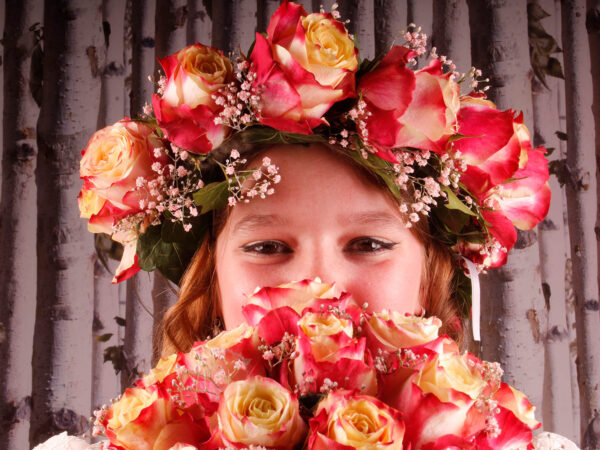 My Dream
It is my dream to become a specialist in bridal work and everything that goes with it as a florist. Dressing up weddings seems absolutely amazing to me. Consult carefully with the customers about their wishes, view the possibilities of the location, and ensure a total decoration, a romantic fairytale world. I am still looking for an internship company for next year. So I'm placing a call here. Are you or do you know a nice florist who does a lot in the field of bridal work, then I would like to get in touch with you. I think it would be great to take care of the perfect day for a bridal couple together.
Check out My Instagram
If you want to see more of me and my work, check out my Instagram. Isa Buijnsters Instagram: flowers_by_isa Co-creation: Practical support/advice: Coby van Otterdijk. Styling & photography: Elfi Voermans. Textual guidance/editing: Ruud Teutelink