Red Lands Roses
asked me to let my inspiration go wild on their two spray rose varieties
Mansfield Park
and
Julieta
. Immediately, they reminded me of how I like picking fresh roses from my own garden.
Fresh Roses From My Garden
A basket under your arm, pruning shears in your hand, and the urge to glean the flowers of your garden. This is how I thought of this bouquet.
Spontaneous Picking for a Bouquet at Home
It is the generosity that they give off that inspired me with this flowered basket with the mix of
spray roses Mansfield Park
and
Julieta
. In these two varieties, there is a spectrum of colors that evolves over the days: pink tones, honey, apricot, rosé, and pale pink. Sometimes we even see straw yellow, ivory, and mother-of-pearl. These are living roses that know how to evolve in bloom, that's what I liked about them.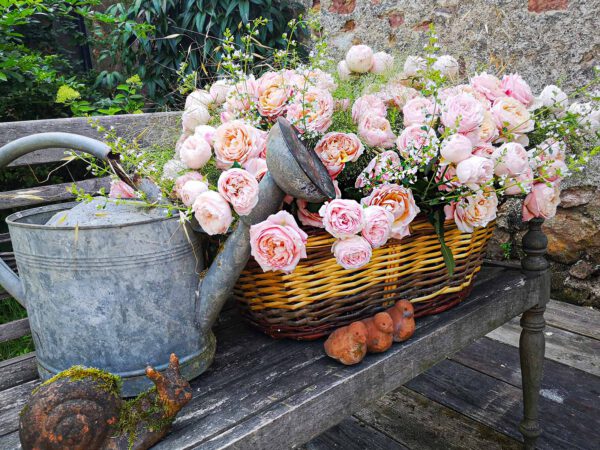 Spice It Up
I mixed them with the blur of the panicum fountain and the stipa gigantea with a few twigs of calamintha nepeta to spice it up. Altogether, this design is really a treat of roses!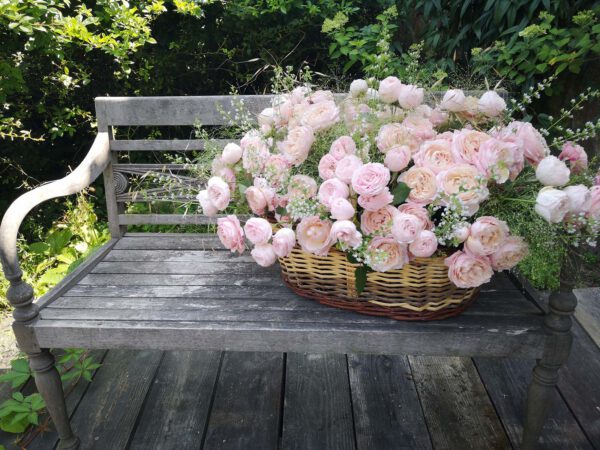 Check more of my work for Red Lands Roses and more on my Instagram @catherinejoyauxcorselli.