Celebrate All Parts of the Plant
In the ancient Japanese floral art called ikebana, we celebrate all parts of the plant: leaves, fruits, roots, bark, and of course flowers. In my Scorched Earth arrangements, I deliberately minimized the use of flowers to let other members of the team shine!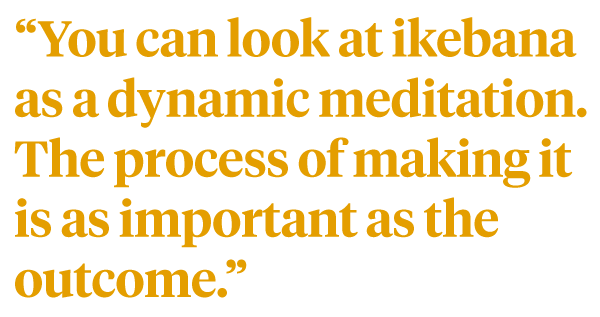 Pure Delight
Isn't the quince fruit gorgeous and worth celebrating? It is so powerful and sculptural. The fragrance of this fruit was as lovely as the one of freesia: so delicate and fresh. Having it both at the same time in my studio was pure delight.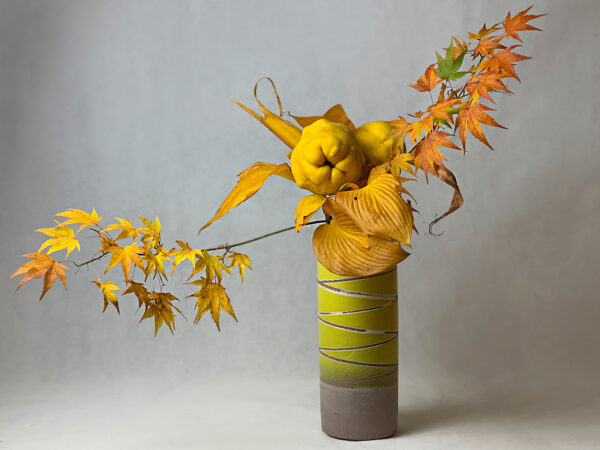 Sing the Song of Autumn
Branches with leaves are worth being shown on their own. Those lines and colors going from golden to orange sing the song of autumn. And then there is a single green leaf that looks like the last "Goodbye" of the summer. Using naturally fading leaves, or those that were "worked on" by insects is another way of experiencing the impermanence of life and the beauty of imperfection. There is poetry in nature that we could see if we slow down.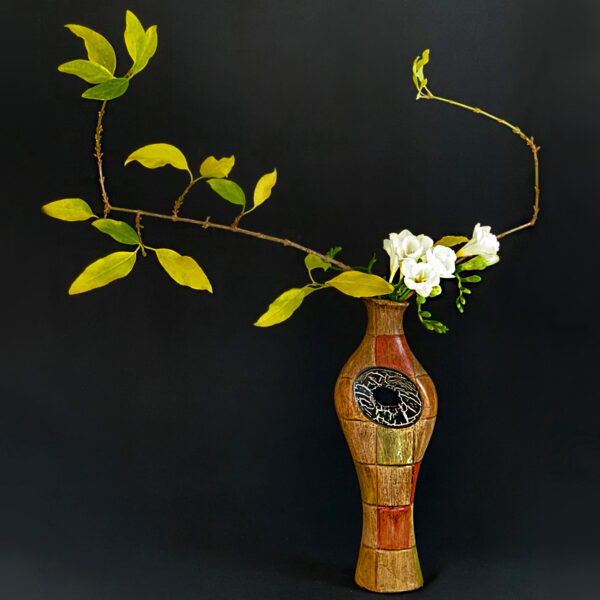 I Can See a Dance
In the lines of forsythia branches, I can see a dance, something like the traditional Indian Kathak or Flamenco. I feel that there is no need to have too many flowers in this arrangement. They are here just to give the necessary strength to the movement of the branches, but they do not take away the attention. Even those leaves, that have fallen off the tree got a chance to shine one last time in the "Flowing and overflowing" theme arrangement.
A Dynamic Meditation
You can look at ikebana as a dynamic meditation. The process of making it is as important as the outcome. I am sure many floral artists experience the same state of flow when working on their arrangements as we do in ikebana. If you are interested to find out more about ikebana and to experience it for yourself, I would be happy to invite you to one of the upcoming demonstrations in Zoom.
Check my profile page to get in touch with me
, or visit
ikebanaweb
for students /
ikebanapro
for professionals.