When I received these gorgeous Red Tacazzi+ roses from breeder Dümmen Orange and grower Holla Roses, I had tons of inspiration. But at the same time, my head was taken by many worries about everything going on in our world. You know, when you sometimes have the feeling your head is going to explode? Well, mine was exploding from all, as well creative as stressy. Trying to escape to another world, can help to get it all together again. So did I create an elegant lady with these Red Tacazzi+ roses. Or an alien? Or both?
An Elegant Lady With Red Tacazzi+ Roses or an Alien?
So I decided to go with the flow and put my emotions out there. The past, present, and future in one design. It is a metamorphosis between classic and modern, between old style and new style... A mannequin on which I tailored a classic, elegant tulle skirt and blouse, to which I created an alien head, made of natural Black Tie leaves. All my emotions and worries came together in this design: an elegant lady or an alien?
Did You Know Red Tacazzi+ Is Super Fragrant?
To this unique combination of classic and modern, of past, present, and future, we added these amazing
Red Tacazzi+ roses
. Super fragrant! The Red Tacazzi+ rose is nowadays a special rose, because this is one of the few roses that still subtly carries the original rose scent and has virtually no thorns. Wonderful!

No matter what, red roses will always be in fashion. For any outfit. For any generation. For any lover. For any true love. This rose is a clear addition to any wholesaler collection. When you see red roses, you know for sure that it is love.
High-Altitude Rose
Rose Red Tacazzi+ is a red, large somewhat fringed bloom, well suited for the African high-altitude climate. The bud height is about 4.5 cm, the stems are almost thornless. All Tacazzi+ varieties are known for their excellent vase life.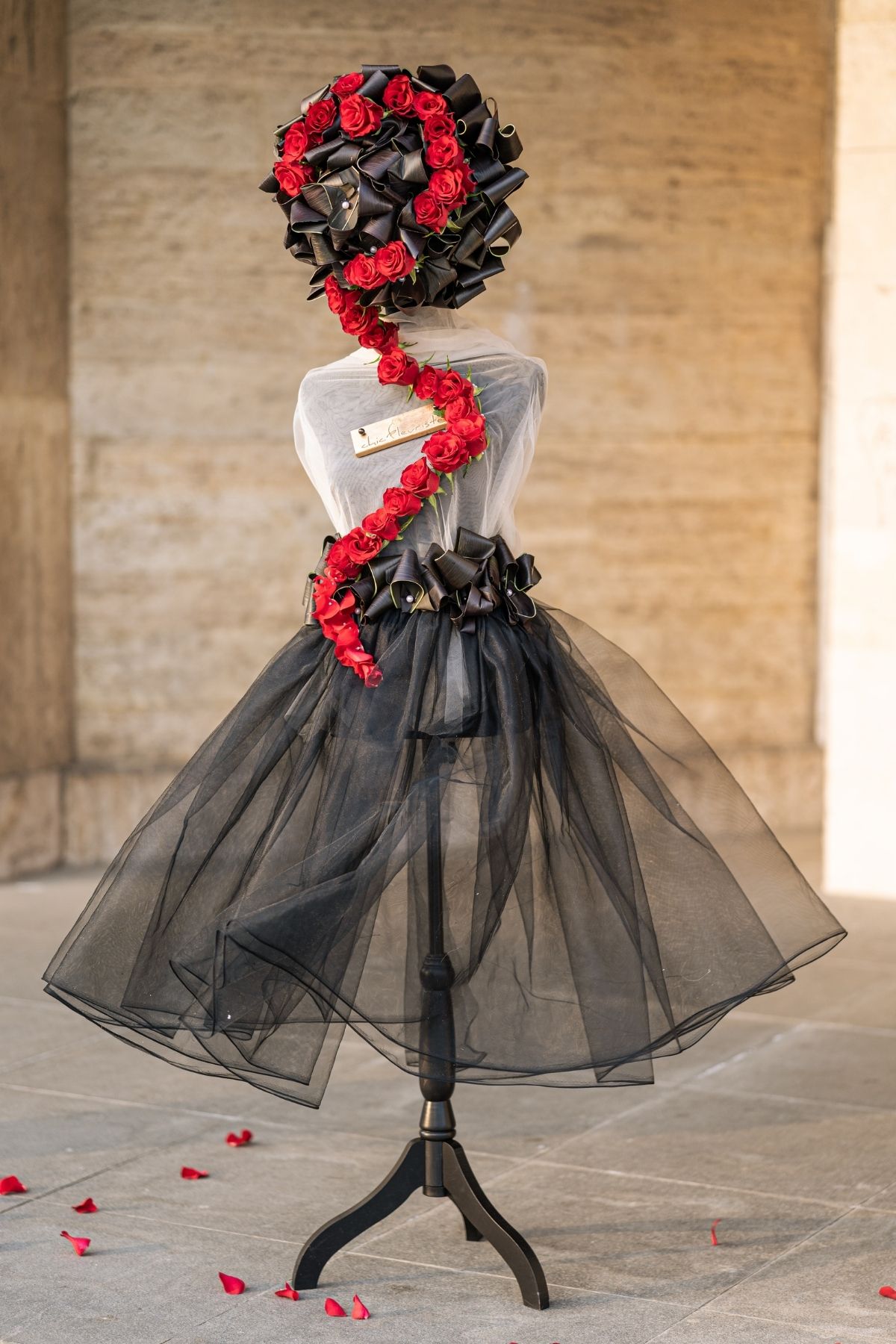 Design, dress, and flowers: Laura Draghici from Chic Fleuriste. Photos by Marius Petre Photography (@fotomariuspetre).