Kiku Matsuri (Chrysanthemum Festival) at the Japanese Garden of Hasselt in Belgium
I had the privilege to create an Ikenobo Ikebana arrangement at the Korokan at the Kiku Matsuri in Hasselt. (A Korokan is Japanese for Ceremony House).
Haiku in Bloom
This year's theme is 'Haiku in bloom'. A Haiku is a Japanese poem according to some principles. The following Haiku captured my attention
Liggend in de wind Hoor ik de takken ruisen De wereld waait weg
By Herman Van Rompaey Free translated:
Ikenobo Ikebana and the Importance of the Wind
The wind, the whistling of the branches, and foliages touch me deeply since my childhood. This elusive feel makes me happy, evokes melancholy to something unknown, and brings me into a higher sphere. For Ikenobo Ikebana 'the wind' is very important as it suggests the dynamism of life, the unforeseen, the transient. With the haiku above in mind, strolling through my garden, the winter-flowering honeysuckle (Lonicera fragrantissima) seduced me. As we had to prune this plant one day or another anyway, now it felt like the right time to do so. 😊 The weathered branches, bend by the wind, gave me the right feeling of a time that is passing by.
A New Soul
I did not start from a predefined design, the arrangement did grow step by step. Positioning the first honeysuckle branch was the start of a search for contrast and balance. A new introduction. Once the next plant material was added to the arrangement, space was redefined and a new tension has arisen. So, slowly contrasts emerged between transparency and fulness, between past, present, and future, between dark and light, … The chrysanthemum 'Fuego' was placed close to the branches to allow them to been blown away together. In Ikebana we try to give the flowers, branches, and foliage's a new soul. We look carefully at how plant materials will be best expressed respecting their proper nature.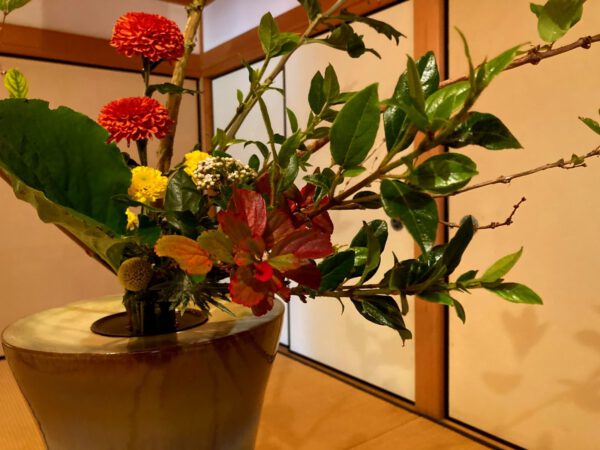 Yin Yang
For this arrangement, I have chosen a style within the Ikenobo school, that finds its origins in the flower offerings to Buddha. This style of arrangement is called a 'Rikka', or 'standing flower style'. The traditional form originally expressed the beauty of the landscape. This arrangement is a contemporary form of Rikka and is characterized by movement and asymmetry. The style is recognizable by its bunch of stems that sprout from the water surface before the foliage. Branches or flowers go their own way in the space to create an arrangement.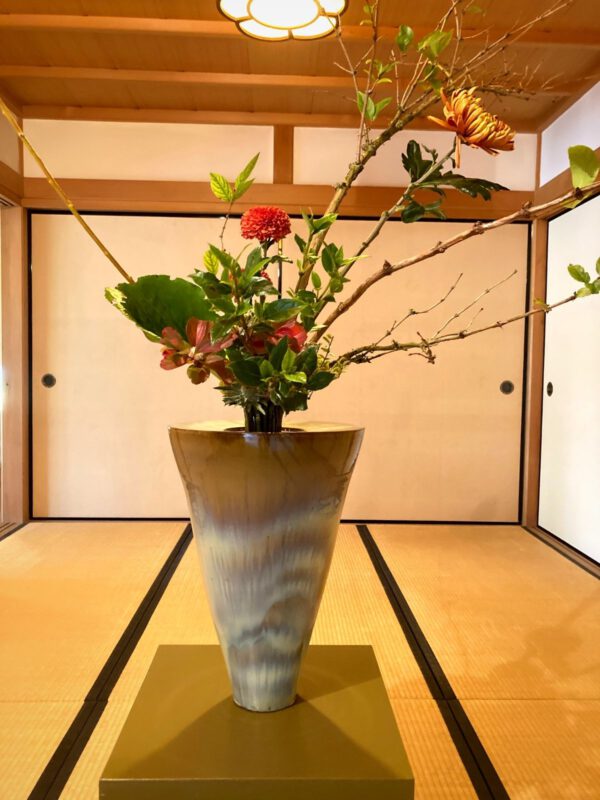 Space (including voids), the lines, as well as the contrast between 'in', and 'yo' (or yin and yang), are very important to achieve the ultimate goal;  to create a harmonious arrangement. In Ikebana (which translates as 'the path of the flowers'), the act of arranging plant material is more important than the final composition. Of course, I always hope as well, that the arrangement appeals to the visitor in one way or another.