You'd be forgiven for thinking you were in Provence, but tucked in the rolling green hills of north Kent, for a month in the summer, a haze of deep violet announces Castle Farm Lavender. And it's a show-stopping sight.
Grown for their relaxing and healing essential oils, the lavender fields at Castle Farm produce some of the UK's highest-grade English Lavender Oil, which is sold globally to perfumers, fragrances, and aromatherapists.
But – it's not all Insta-photos and feeling relaxed! There is a true skill to growing this spectacular plant in such abundance, and to the high standards of the floristry and perfume industries. Plus, it's very labor intensive – imagine hand-weeding over 100 acres to ensure visitors get that picture-perfect shot!
Lavender Farm in Kent
On this fourth-generation family farm in Kent, the summer days start early – walking up between the magnificent purple rows and hand-cutting fresh Lavender bunches for despatch or drying. Over 30,000 bunches are hand cut every year!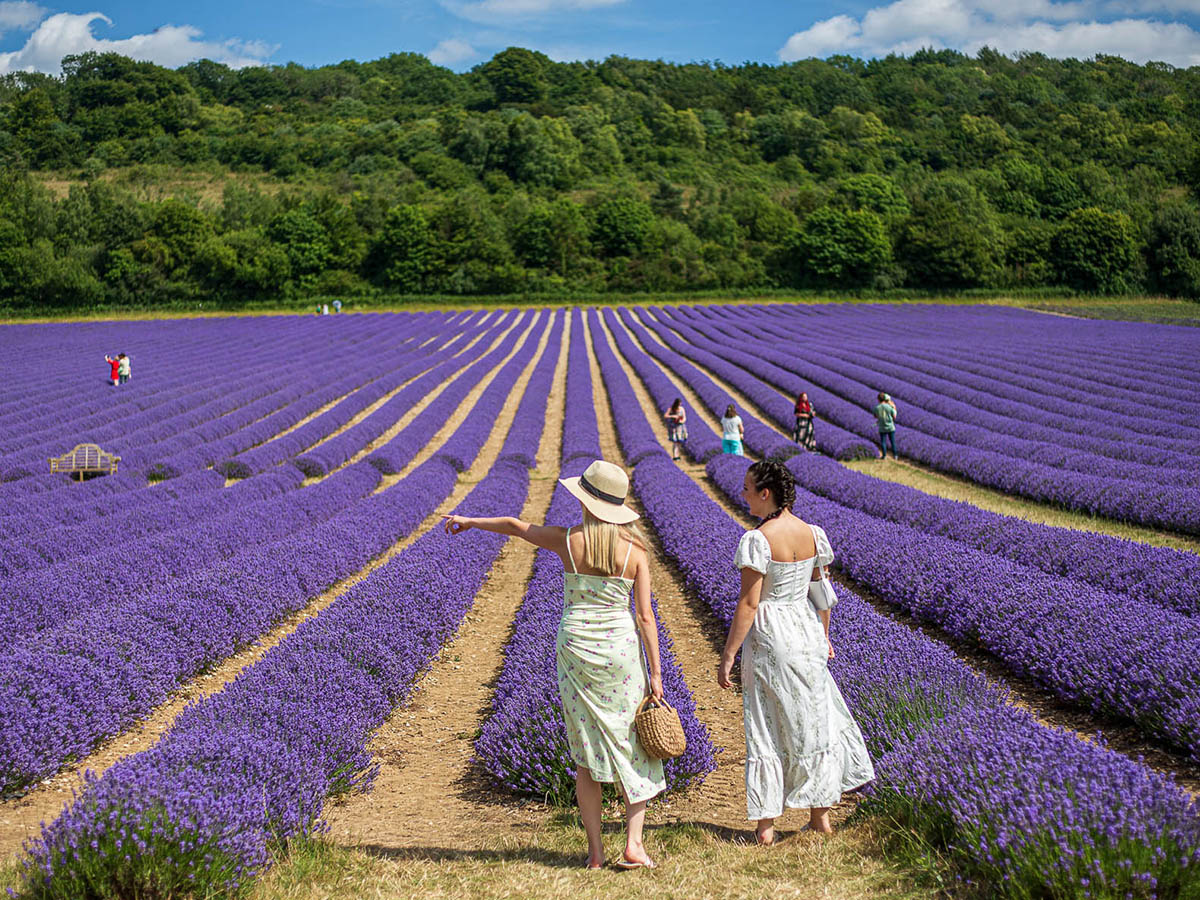 The Alexander family grows four varieties of Lavender. The first to be harvested, in late June, is Lavandula Angustifolia Folgate. Grown for bunches and for oil, this is a deep blue variety that holds its color when dried in the farms' specialist hot air kilns. Once dried, these beautiful bundles are despatched throughout the UK to florists for interior decoration, events, weddings, or even Lavender recipes and cocktails!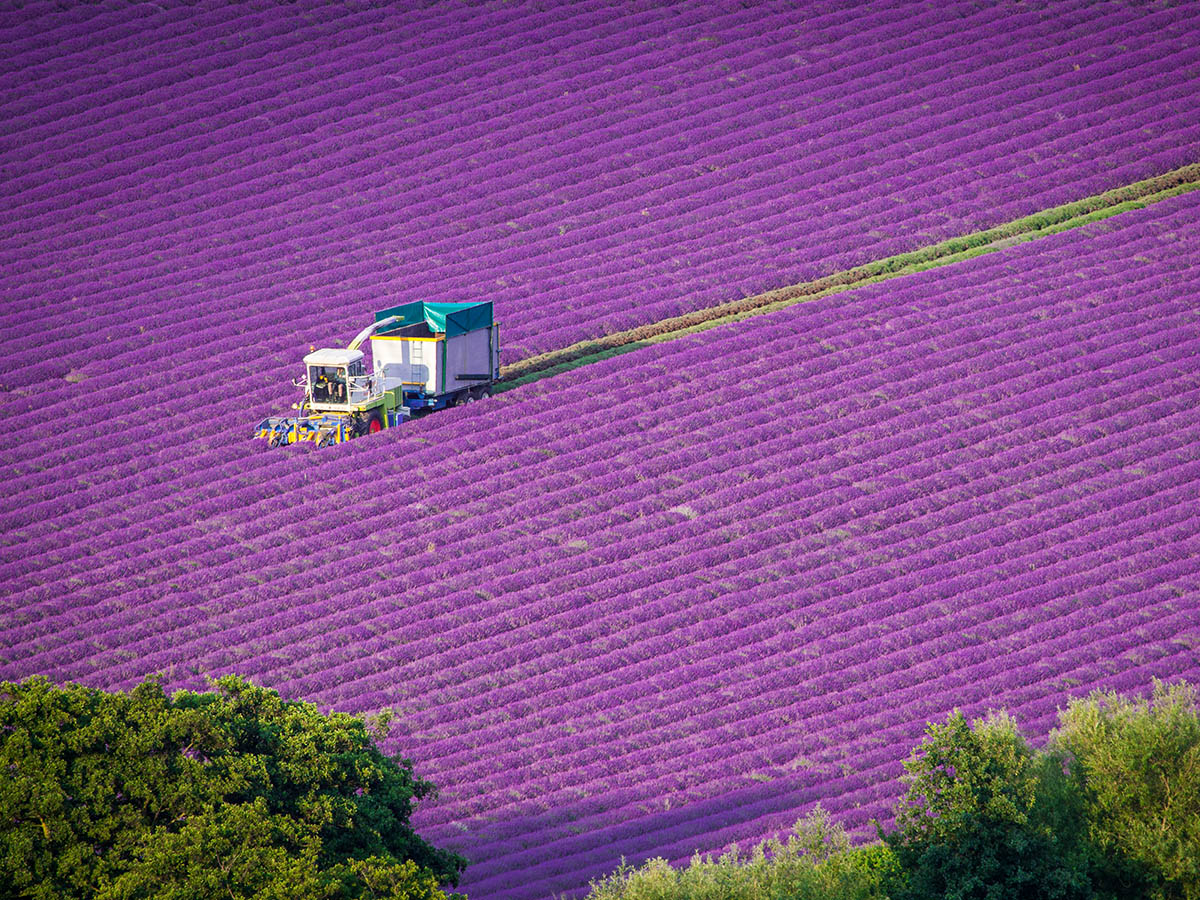 A key tip from Lavender farmer Caroline Alexander is:
"Lavender needs to be cut for bunches at a very specific time. If too early, the stems will droop – and if too late, the petals will have discolored and the buds will shred off the stems when dried. We often have only two or three weeks of prime bunch-cutting time – all weather dependent. Sometimes it's as specific as only cutting the side of the Lavender hedge which faces the sun – leaving the other side to 'ripen' for a few more days before it's at the perfect stage. It's quite a science!"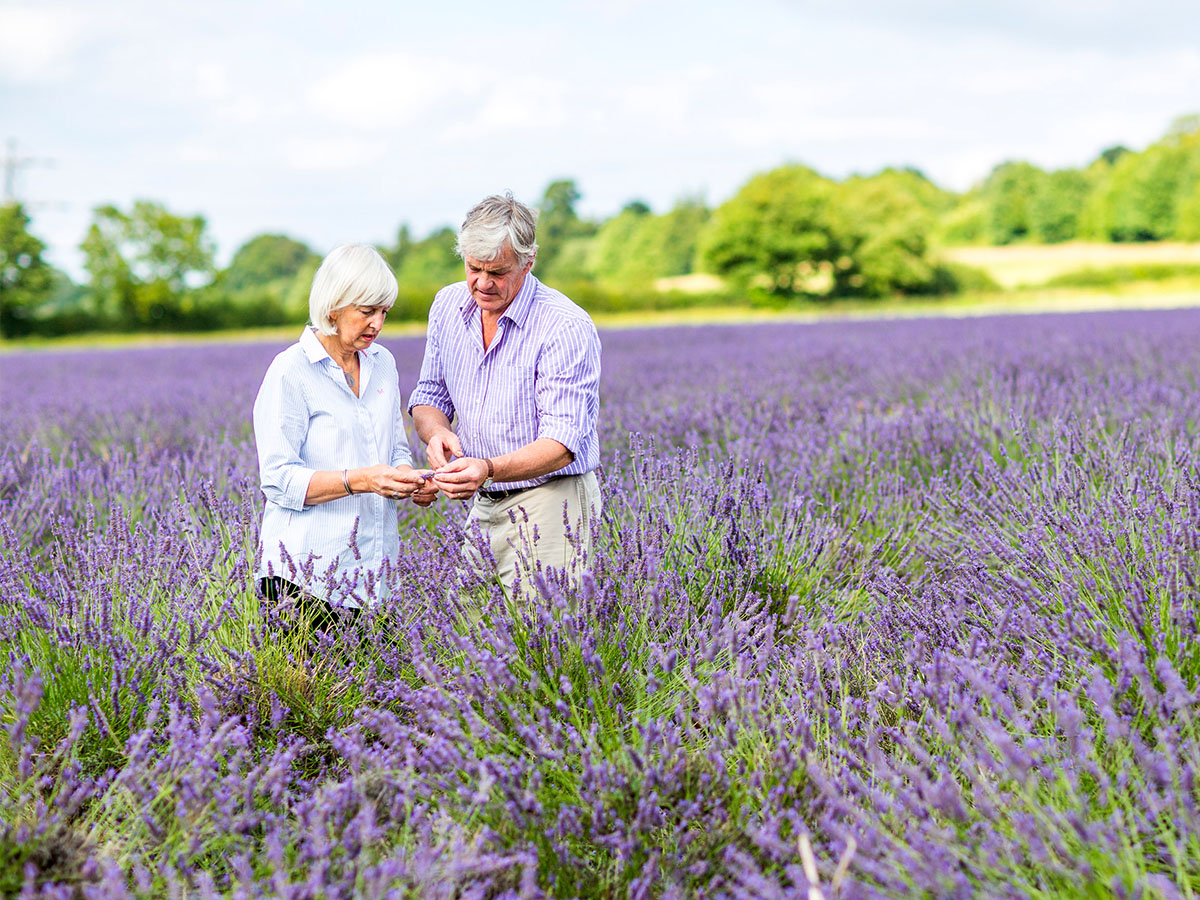 Dried Lavender
The dried Lavender bunches, join the collection of other dried grasses and flowers, plus Hop Bines available from Castle Farm – and the expertise and quality of drying are well noted, with the farm having five consecutive Gold Medals from the prestigious RHS Chelsea Flower Show under its belt.
The majority of the 100 acres of Lavender that the Alexander Family grow are harvested for essential oil. The highly scented Lavandula Angustifolia Maillette, sourced in France from a specialist plant breeder and perfumer, is the second variety to be harvested and produces a high-grade lavender oil.
"It's popular for aromatherapy," says Caroline, "plus it has an excellent profile for cosmetic and pharmaceutical use. Lavender has always been valued for its antiseptic properties. It is also the oil used in our unique 'Sleepy Scent' which encourages a deeper and more peaceful sleep – combining the two powerfully relaxing oils of Lavender and Hops."
Castle Farm has been involved in field trials over many years to develop an exclusive new variety, tailored to the farm's chalky soil. It is now heralded as one of the smoothest and most honeyed Lavender Essential Oils from England – Lavandula Angustifolia Ladybird. This glorious variety is also the backdrop to the farm's famous Lavender Picnic events – where visitors bring their own picnics to enjoy as they wander up and down the rows during the flowering season in mid-July.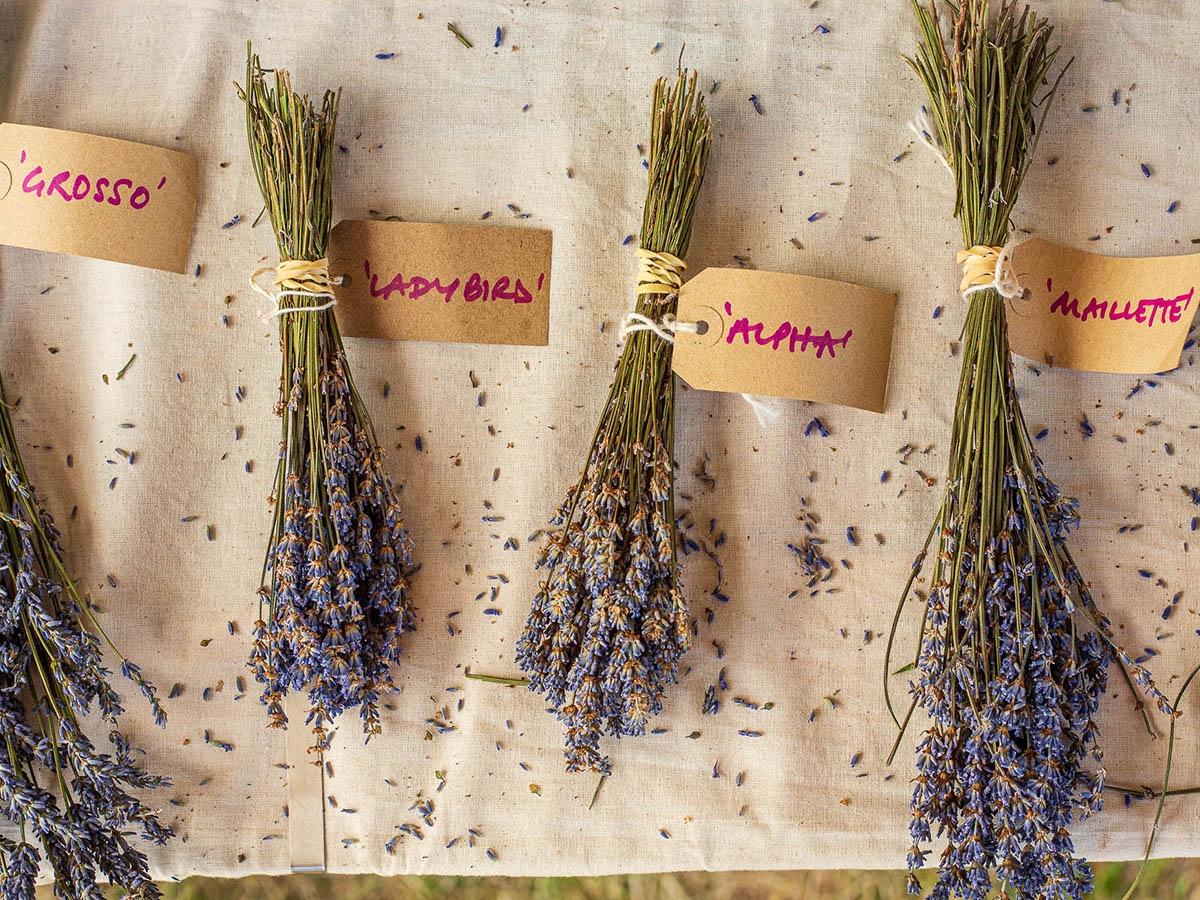 Filling the Lavender Bags
The final variety to be harvested on the farm, in early August, is Lavandula x intermedia Grosso, the type most commonly grown in Provence and used everywhere for filling 'lavender bags'. A sturdy plant with branched stems, it has more flower heads and double the oil content of the single-stemmed angustifolias.
"This is the scent that most people associate with lavender" says Caroline, "but it's not actually true lavender. It's lavandin, a hybrid cross." Whereas true lavender is relaxing and soothing, lavandin is stimulating and energizing, thanks to the camphor content in its oil. "It's therefore perfect as an insect repellent and very popular in candles, potpourri, and remedies for blocked noses or aching muscles,' she says, 'but it's not one to use in the bath at night."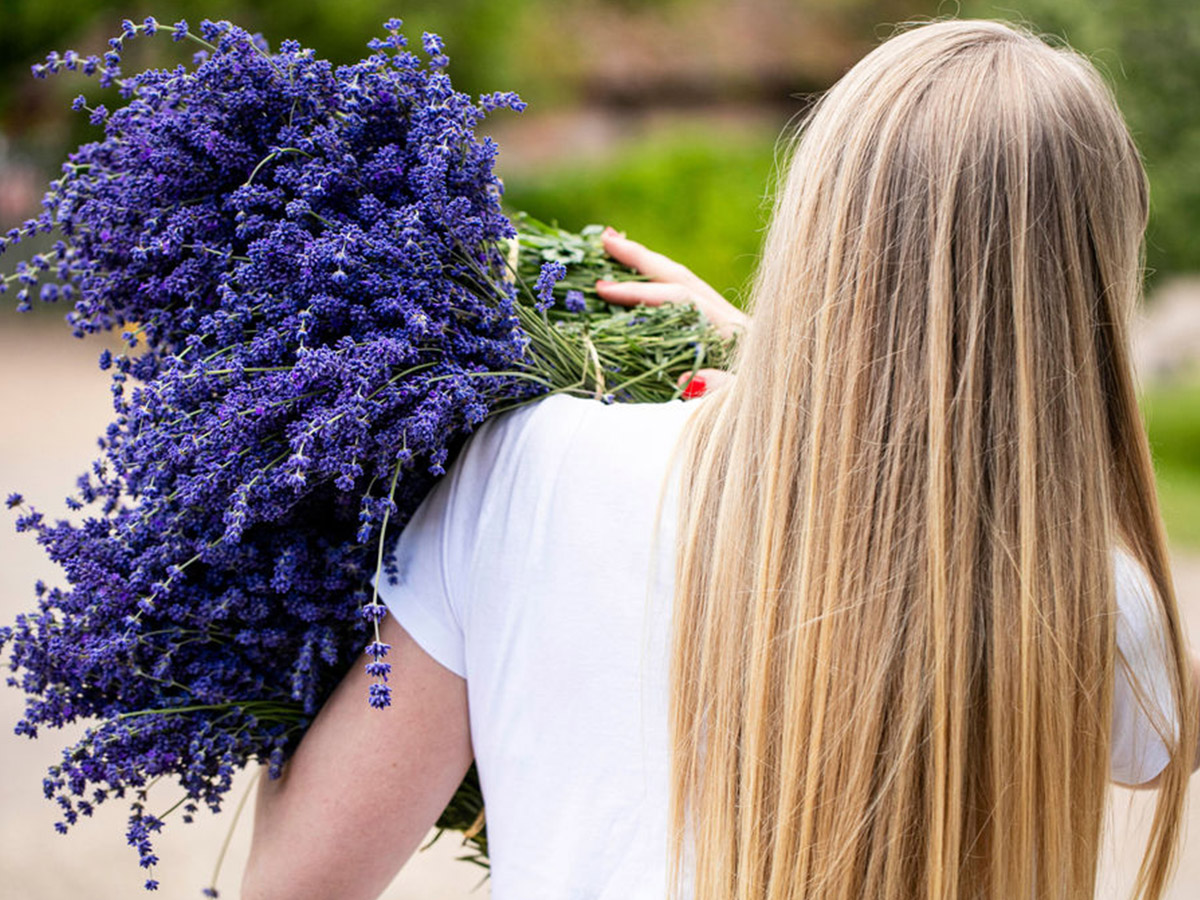 Harvesting Lavender
When the oil content is at its highest, the Lavender rows are harvested by a specialist machine and taken straight to the on-farm distillery where the essential oil is extracted by a steam process. At harvest time, the scent floating across the valley and the neighboring villages is wonderful!
The healing and relaxing powers of Lavender Oil have been heralded for centuries – from a washing ritual by the Romans to antiseptic use in the World Wars and the perfuming Queen Victoria's bathwater. The word Lavender comes from the Latin 'lavare' to wash and is the origin of the word laundry. Today, people are rapidly realizing the benefits of embracing natural, traceable fragrances and therapeutic medicines over man-made artificial scents and chemical relaxants.
To the Hop Gardens
Once the Lavender season is put to bed – it's onto the Hops! The hop gardens on the farm are over 400 years old. Once used to produce hops for Kentish Beer, they are now grown purely for interior and event decorations. Fresh bines are hand-pulled and sent across the country to florists to decorate weddings, events, festivals, and film sets during the short season from mid-August to mid-September. However, for year-round use, the majority of the hops are air-dried in kilns to retain their color and quality so they can be purchased anytime.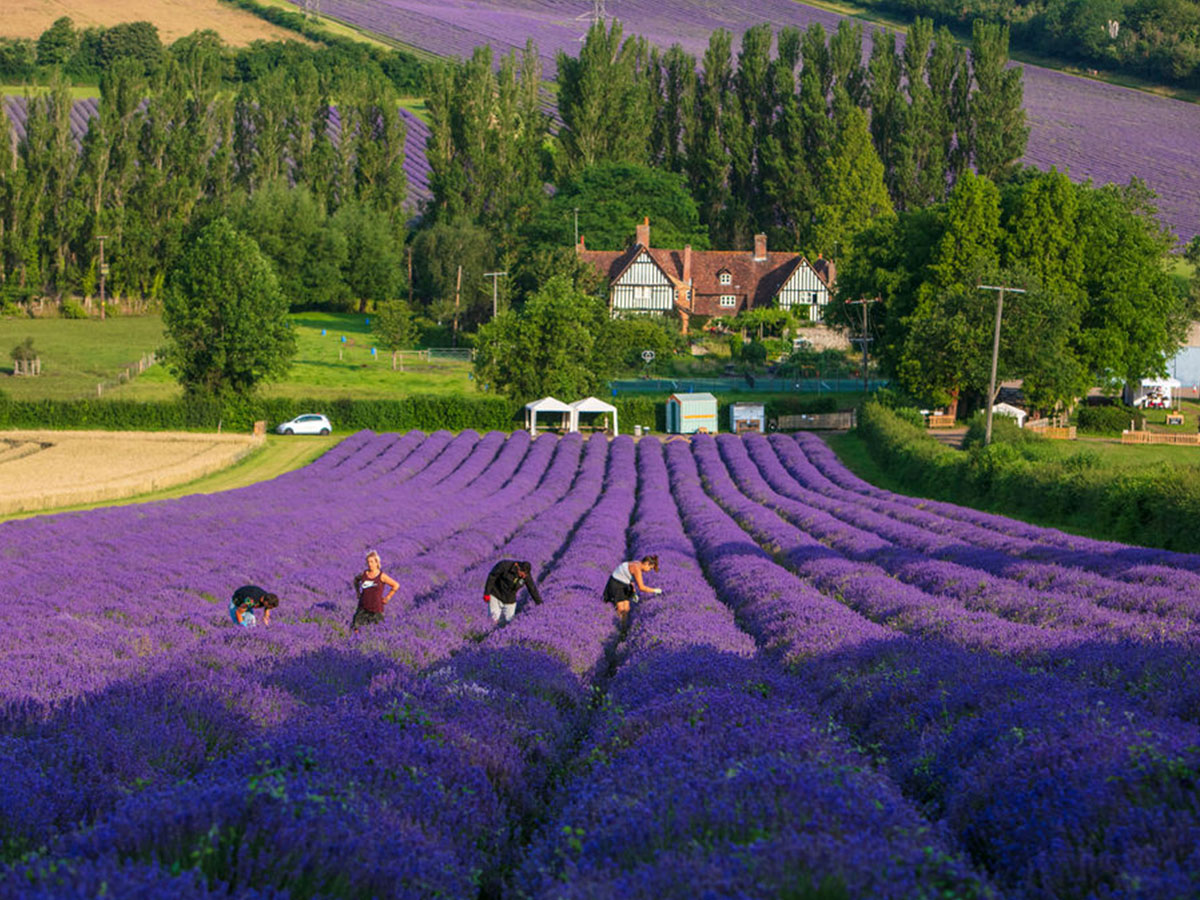 The Castle Farm Shop
Castle Farm Lavender Essential Oils are sold in their farm shop and online, plus direct from the farm to florists and gift shops. The oils also form part of their traceable toiletries range – encompassing the skills of English craftspeople to make beautifully scented and high-quality soaps, candles, washes, and balms.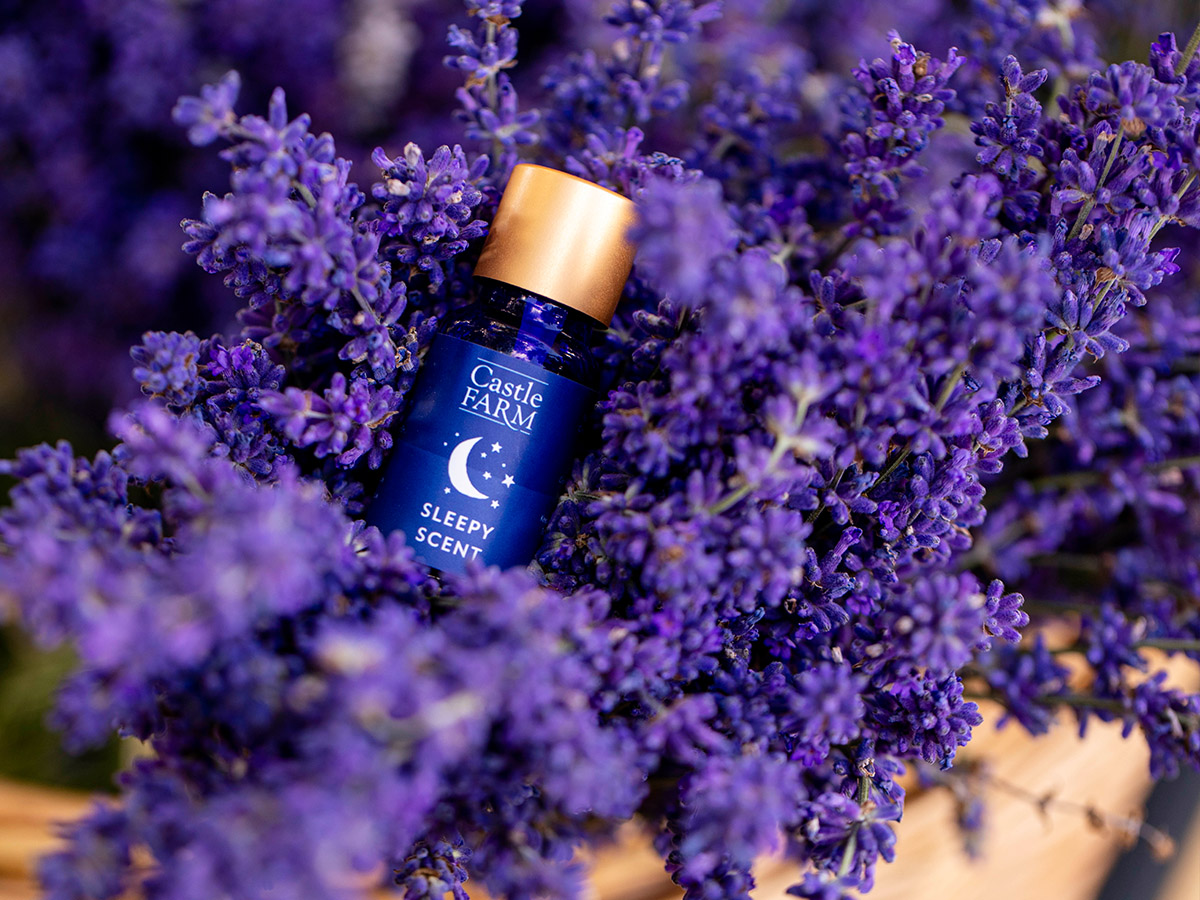 The pretty Castle Farm Shop in Kent is filled with a mouth-watering array of local foods, farm beef, teas, honey, chutneys, ice cream, chocolate, and fudge. Visitors also come to do Guided Tours of the Lavender fields, which are alive with bees, dragonflies, and more than seventy kinds of birds, thanks to the farm's environmental conservation program.
"We knew the lavender would look nice," says farmer William Alexander, "but we never dreamed it would lead to so many opportunities or create this much interest. It's very satisfying to grow an unusual crop that people are enthusiastic about, rather than a field of wheat, which you sell and never meet the people who'll be eating it."
More Info on Castle Farm Kent
Follow the farm on Instagram - @castlefarmkent.
Trade inquiries are welcome, just get in touch with the friendly team on www.castlefarmkent.co.uk.
Photos courtesy of Farm Castle Kent.