Garden-style is one of my favorite styles. Inspired by nature, creative, unique, lush, and romantic garden compositions are becoming more and more popular, leaving the "niche" corner, and emerging in the spotlight of the floral industry. My clients ask specifically for garden-style wedding designs. Beautiful centerpieces for dining tables and receptions, cascading wedding bouquets, and lots of greenery, flowers, and plants "growing" around in amazing natural shapes, all please the eye and allow guests to connect with their emotions.
Return to the Garden of Eden
It is like returning to the Garden of Eden, the comforting place that Mother Nature has created for us and which we, flower designers, can recreate for special celebrations. Material selection is a key aspect of a successful flower arrangement when using garden-style flowers. I chose white Avalanche+ roses, classic hydrangeas, passionflowers, Vanda orchids, rose hips, and ivy for wedding flowers at the Conservatorium Hotel in Amsterdam!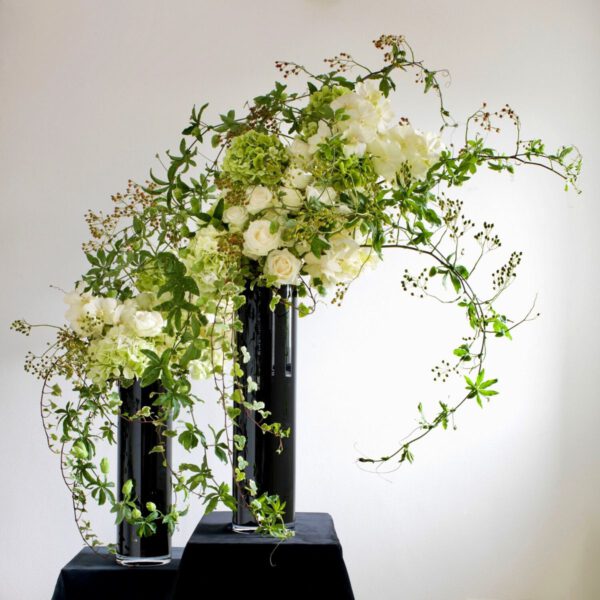 Avalanche+ Roses
Avalanche+ roses are known for their elegant shape and large heads. These are perfect roses for wedding designs. They are reliable and combine well with other materials. I like to use them for my wedding projects. Some of them are wide open, while others remain more closed. I like the effect of slightly different forms and stages of maturity in them. For this glamorous white wedding garden design, I chose Avalanche+ roses from Van den Berg Roses, Vanda orchids from Ansu Vanda, Pieter Kolk Hydrangeas, and light green amaranthus. In this centerpiece, the flowers are arranged in a modern way in groups. Another statement arrangement I made in a classical way, creatively mixing different materials.
Photography by Consuelo Edeling
Classic or Modern?
Does garden-style require the use of classic or modern techniques? Well, the old theory is a little confusing, because what was called modern in the 70s and 80s, looks a bit old-fashioned today. Conversely, modern classic style floral arrangements look very modern now and are being demanded by customers.
In contrast to the past, nowadays floral compositions in the classic style are made using flowers, plants, and other natural materials mixed in a free creative manner in order to give the composition the most natural look, as well as taking into account the color scheme, textures, and shapes. The classic style is no longer old-fashioned, just as the modern style is no longer literally "modern".
A Nature-inspired Wedding Bouquet
Garden-style wedding bouquets, cascading, huge, lush, long, or medium-sized - I love making them! Fortunately, I have clients who share my passion and order unusual wedding bouquets. For this nature-inspired wedding bouquet, I used white avalanche roses, bouvardia, ivy, and passionflower. Avalanche roses look very harmoniously surrounded by different shades of light green foliage. I think that this bouquet is very well suited for wedding photography because it has a presence and volume, this is in some way a statement, an ode to Nature, written in the language of flowers and plants.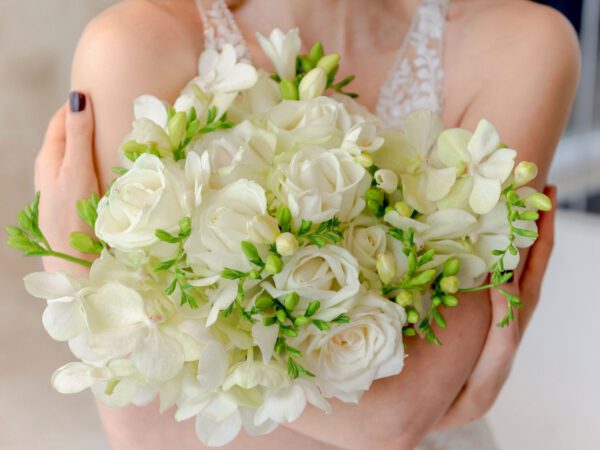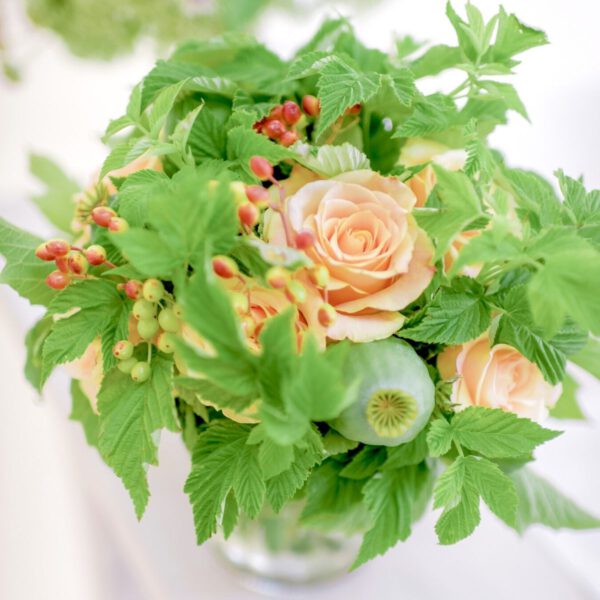 The Softness of the Roses
For these two wedding bouquets, I've also used Avalanche+ roses in white and peach shades. The bouquet with Peach Avalanche roses is small and cute. It has a lot of foliage and some vibrant textural accents. The other one is made in a glamorous style with only flowers and some green elements that add buds of freesia flowers for a more natural look & feel. I appreciate the softness of the roses, how harmoniously they blend into nature-inspired designs as well as more glamorous garden-style flower arrangements and their good value.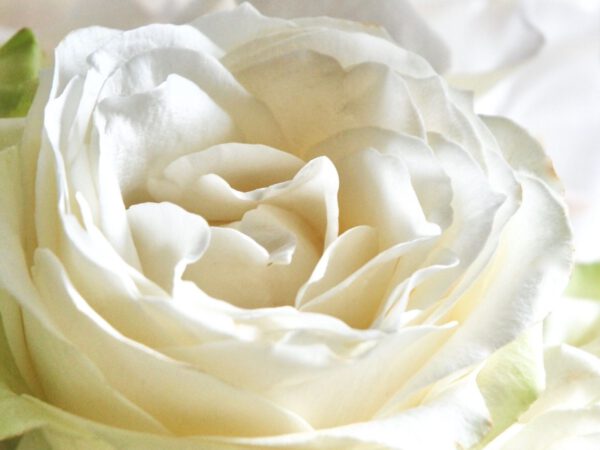 Credits: Photography: Consuelo Edeling, Katya Hutter / Floral design and styling: Katya Hutter @katyahutterfloraldesign Model: Iggy van D / Flowers: Avalanche Roses @bergroses, Vanda orchids @ansuvanda, Pieter Kolk Hydrangea @pieter_kolk_hydrangea / Wedding dress: Wedding boutique "I do, I do" in Amsterdam @idoido.amsterdam / Location: Conservatorium Hotel, Amsterdam / Make-up: Anna K / Hairstyle: Olga Stasevich.