Timo Bolte's floral atelier creates ephemeral experiences for events. With the use of flowers, Timo and his team transform moods into the perfect floral ambiance. Bold yet simple, with a unique twist on shape and color, his floral creations have won the hearts of guests, celebrities, critics, and even royalty. Being known for his unique designs as a renowned international floral designer, Thursd couldn't wait to show you more about
Timo Bolte
on a personal, innovative, and creative level.
An Interview with Time Bolte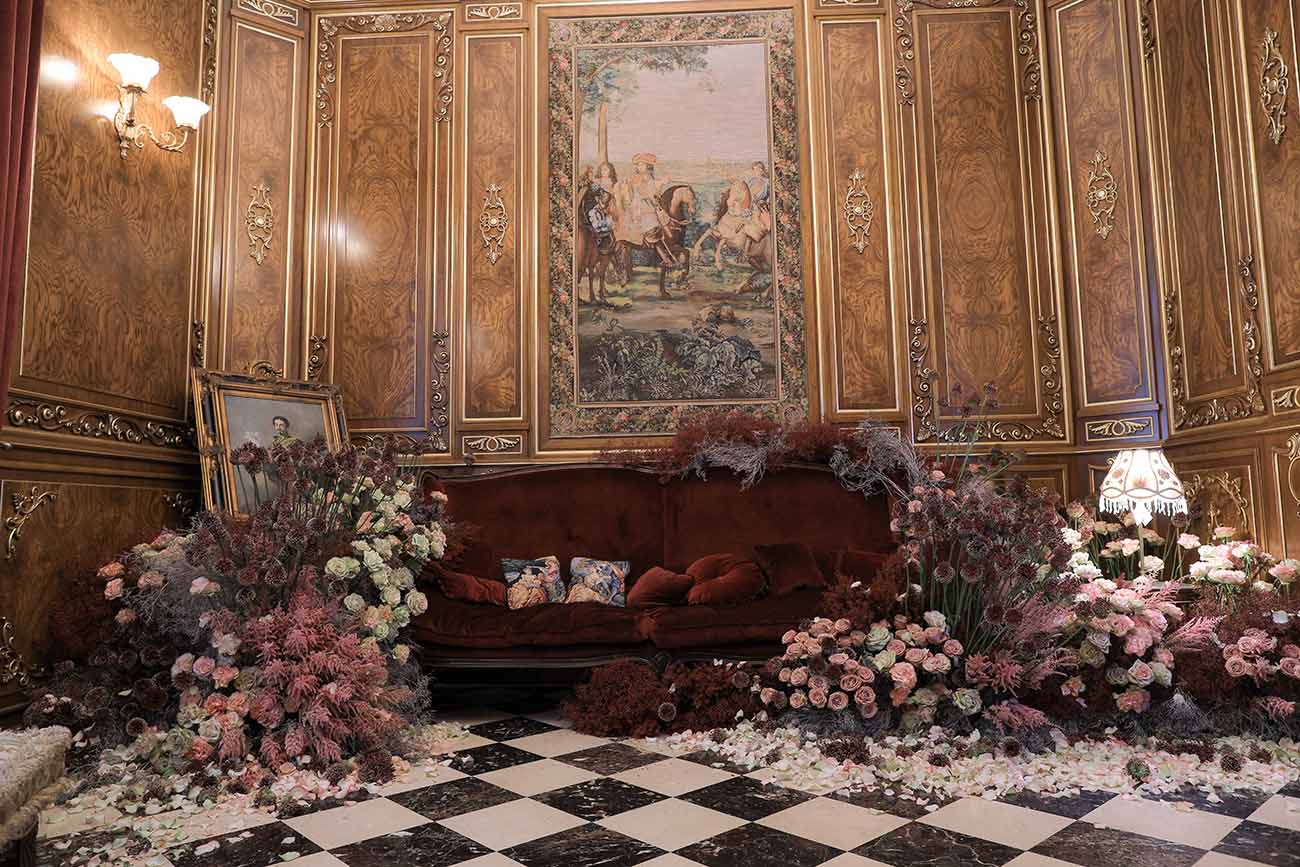 You talk about always allowing your imagination to guide you and having your clients closing their eyes to picture the perfect day or design. If you would now close your eyes and sketch a dream scenario with your favorite flowers in the most ultimate setting, what would that be?
"Well, I don´t have a favorite flower. But a dream scenario would be an enormous outdoor event lit with dozens of floating tea lights and massive fire bowls held in El Badi Palace, a historic palace dating back to the 16th century in Morocco. Big umbrellas, simple tent lounges, pillows all over the floor. Some opulent arrangements all made of limes, succulents and fruits. With the smell of Oud, Jasmine and incense filling the air. Laughter and music combined with a symphony of endless joy. I like the special synergy between the past and the now in this venue."

How do you unlock yourself creatively? Do you have a typical Timo routine or a guilty pleasure for that?
"That always depends on the occasion I need to design for. I have to get into that feeling, in that moment, to start designing. Nobody is working in an empty room - you'll always have impressions around that will influence the design. So for me it´s always important to realize those influences are around me and to embrace them - Once, I have reached this moment the ideas are coming on it´s own.  Smell is always a good guide as well - If I put on some scented candles with oud and jasmine, or oranges with pine and I am closing my eyes, it is much easier to get into the feeling of orient or Christmas, depending on what I am looking for."
You've grown to be a renowned international floral designer from being just a kid with a fascination for plants, what has been the most important learning experience in this journey so far?
"Listen - listen to the people you are working with. Each of them followed a different path and have their own experiences. The most important thing to me is collaboration with others. Learning from them and taking risks is the only way to grow and develop."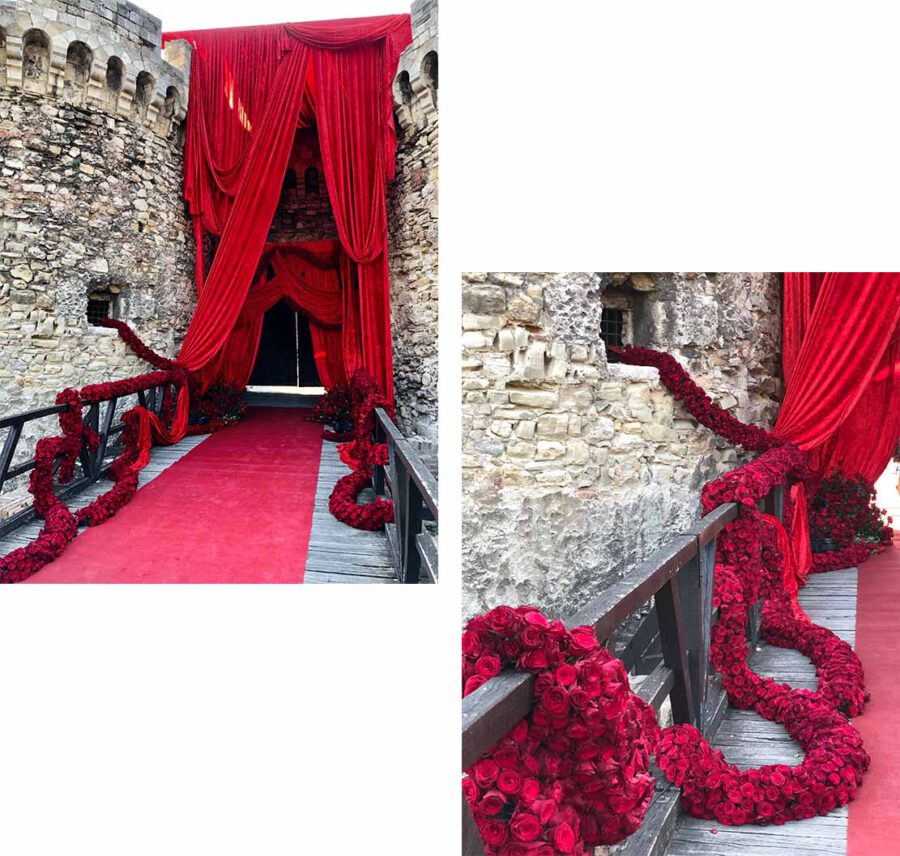 How do you cope with the management aspects of running a floral business? Is there a tip you can give creative entrepreneurs on how to keep the balance between the creative processes and the project management part?
"Working in a leading position always means having less hands-on. On most of my projects I never even touch any flowers myself. The only way to survive as a 'doing it on my own' is to outsource. This means getting talented people in the office, who are doing administration and detailed offers, computer graphics, orders etc. for you. Learn to trust others - when you are controlling every single step you are also losing too much time. But yes, the more successful your business is getting and the more projects you have to overview - the less you will actually be in contact with flowers. So choose carefully if you prefer to only do some selected projects on your own - or if you want to work towards direction - a floral empire - always be aware - most clients want to see your face – either meeting for the first time, or for the final set up. In the end they are booking YOU and YOUR TALENT, that´s why they come to you."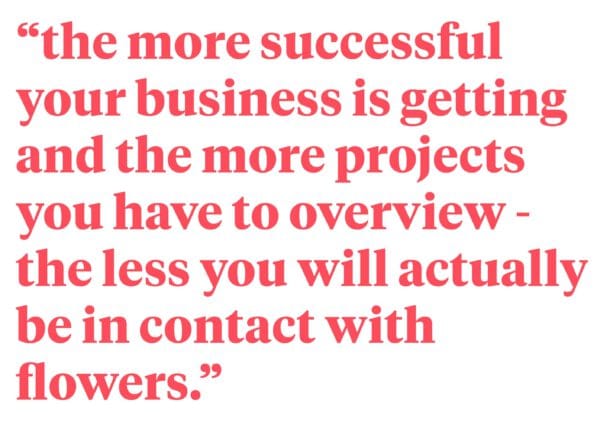 When did you figure out that flowers were more to you than to most people? And was floristry a path you knew you could take?
"I always knew that I wanted to work with flowers. First I wanted to become a gardener, but I soon realized I'd always be working in the dirt and on my knees in the rain. Which is not something I wanted. Then I decided to become a landscape architect. But I got sick of school and studying. So I left school and started internships at various florists for 7 months, before I´ve started my proper job education for 3 years at Gregor Lersch."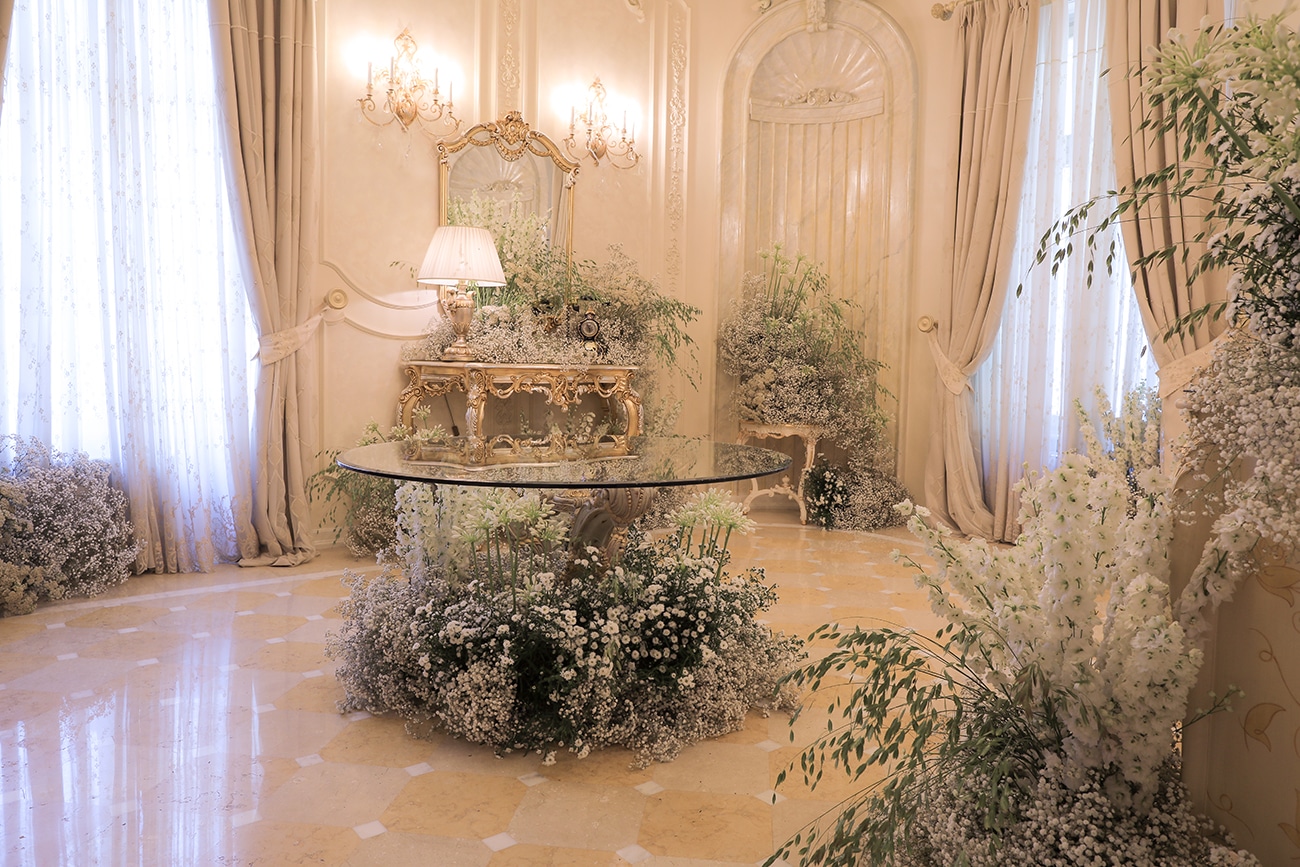 As a Master Florist who has been accredited with awards by associations on an international level, how do you look at the current shift in the floral designer industry towards the movement of the self-taught florist with influences from outside the floral industry (e.g. fashion, interior design)?
"I am really aware of that and am not a big fan. Floristry is still a craftsmanship with an education, examination, and master examination. There are so many important things to know and learn about. I get so many requests for masterclasses and the students actually have no idea about the profession at all or about the materials. They've never even heard about simple design basics like proportion. I think these kind of things ruin our business. People are spending a fortune on education and workshops to learn something - and they also want to charge for their knowledge - fair enough. And then there are the amateurs with no clue, offering similar services for much less - clients are getting confused and a profession is dying. I can´t do surgeries or operate as a doctor, just because I like cutting things - there are guidelines to follow - same goes for our profession."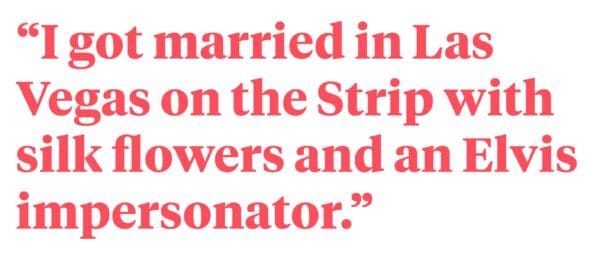 You traveled to the Far East to learn more about floral design. Being a German having worked in Asia, how would you describe the influence of Asian flower traditions versus European ones?
"As someone who loves traveling and working as a teacher, I cannot be fixed into a tendency. I need to be flexible to understand new cultures. That's why I went to Asia, to get to know different cultures and techniques. Also to find unexpected and mixed material. I try to find a way in-between. My pride for my own culture goes together with my admiration for foreign cultures. It´s the chance of taking a piece of everything and to create something new. I use my design to make a statement and to give my work a personal magnificent signature. So people are able to see how I work. In this way I am able to separate myself from other florists. It gets more and more important nowadays to become a characteristic face in design. This is the only way to reach that, than just selling flowers to the customers with their DIY Pinterest decoration folder. The time is done, where customers would come to the florist for their weekly bouquet. Nowadays they buy their flowers from the seller on the corner of the street or even at the supermarket with their well-arranged flower corner. Customers need to realize that flower design is craftsmanship and that it's not the same as blogs on the Internet. So, flower designers need to be creative in their design and be different. This is how you catch the customers and bring people back to the florists."
What is a Timo Bolte's fun fact that most people don't know about you or wouldn't expect?
"I got married in Las Vegas on the Strip with silk flowers and an Elvis impersonator."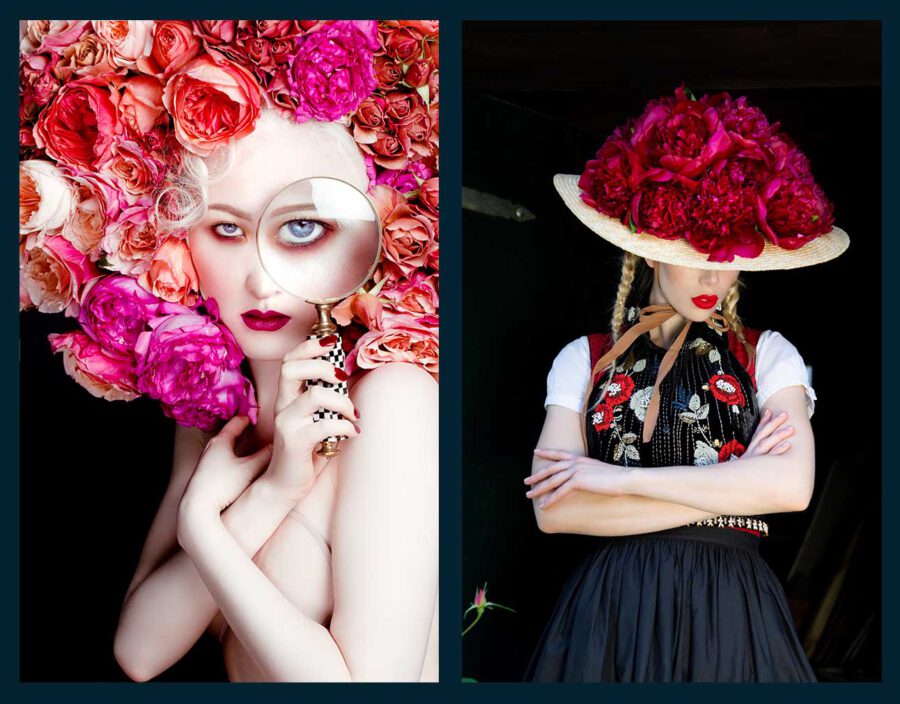 Which 2021 trends do you expect and what is next on your wish list of designs?
"I would love to see more long tables rather than all the round ones, as they are much more communicative and also easier to design with opulent flower arrangements. I also like the feeling of all sitting together at one table, like a big Italian family- it´s just so cosy and warm. On the very top of my wish list - no more small, single vases!! Flowers are also not growing one by one in the garden, the more flowers the better."
Timo Bolte's designs are known for their uniqueness. Can you walk us through the process of combining your unconditional respect for the growth forms in nature into a perfect matching design for your client?
"It´s extremely important to be aware that plants are the third living force on earth, after people and animals. While adding my irrepressible love for plants to this. I really want to investigate the distinctiveness and versatility of plants. I just want to know their origin, history, how to look after them, factors affecting the growth of plants. In fact, this source of knowledge offers the designer an incredibly broad spectrum of new inspirations.

With flowers you can incite emotions, create experiences and unforgettable moments, decorate rooms…. A palette of endless possibilities, that will never get weary. 

I guess my concept of combining all styles, architecture, social components, design trends and the personality of the artist in floristic work is what creates my signature.

For me the most important elements are repetitions of stylistics and design. You will always find pieces collected from the location I am creating my work at in my designs, or even playful  contrasts - yet always in line with the venue. I am happy when the guests notice the topic or theme of the design. My goal is to always fascinate people, create special moments and surprising them. I want to portray the plants in the right light, place them on a pedestal. Showing people that a culture like such is entirely made up due to plants. Plants have always been an active component of our lives, and still are. Plants turn any event into a special moment."
What type of music would you compare your flower designs with and why? Would it for example be Jazz, Funk or House?
"I would say Deep House. As the drum baseline is connecting the whole set like my work. Synchronizing my message of the flowers to the story for guests, just like a Dj at the BPM with the dancers. It governs how your emotions or body moves. Once you got the crowd there, you are in control of their memory and experience system."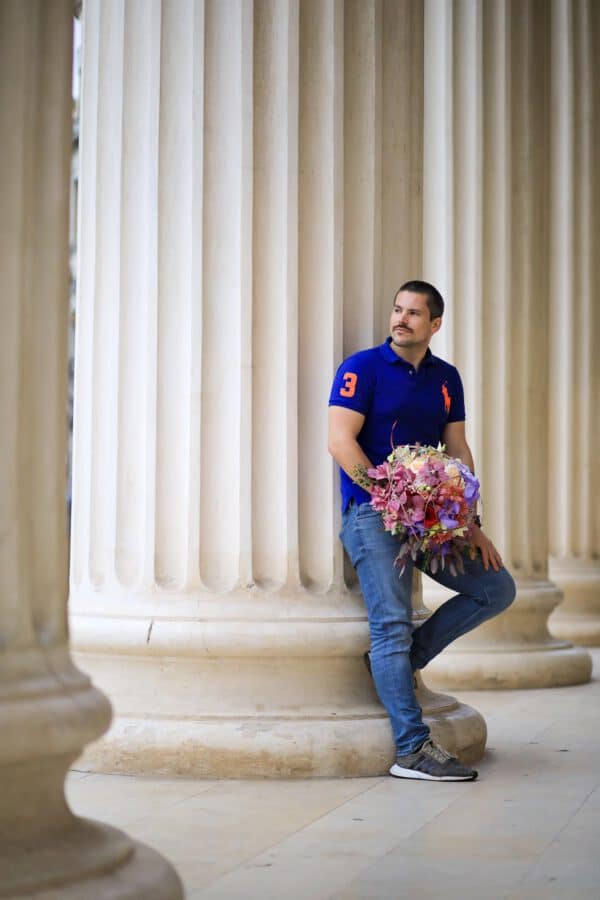 Where do you buy your flowers (name of the wholesaler/trader)? Does this differ for international projects or is the process always the same?
"It depends on my project. For weddings and events I always turn to G-fresh, as I have personal contact with the growers and I know all of them for years - they are sending me the quantity and quality of flowers I need to work with, wherever I need them. It's different for small quantities, for a show or workshop for example - I will then go to the local flower market and source regional flowers. I like the diversity, but when having to get a huge amount of flowers, often needed for my events I need to be able to turn to someone I trust and delivers on point."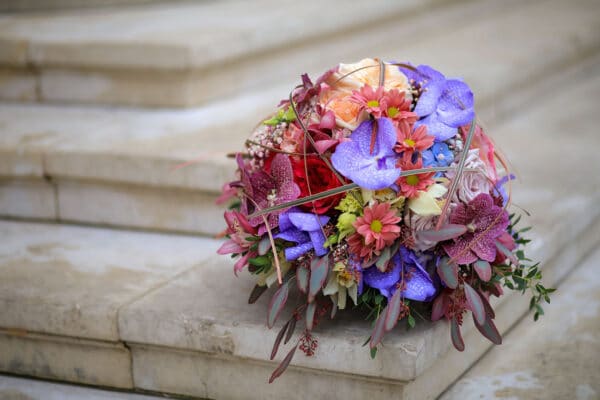 Thursd. is about breaking the traditions and creating transparency in the floral industry. We love it when this outs itself in our interviews. Keeping this in mind; which bespoke floral designer would you like to introduce for our next interview and why?
I am a fan of Dmitry Turcan. Not only is he a good friend of mine, but he's also really talented and very sensitive in his designs. Once when judging a competition and only by seeing his designs, I knew it was him.

Finally, we'd like to finish off with a few florist dilemmas. If you had to choose out of one of these typical florist-situations, which one would you choose and why?
1. The dirty hands OR the early hours?
"Dirty hands- as they are a statement for quality- people can see that I actually still work on my own designs.- I am proud of my dirty hands."
2. Having the groom decide on all the flowers OR A 1-on-1 assistance of the bride's mom during the flower styling process?
"The Mom - clearly the mom. The groom normally has nothing to say. A wedding is all about the mom presenting herself and her family to the social surroundings."
3. Creating 300 corsages for wedding guests OR one big floral event installation?
"Of course I go big - that´s my business."