This week I was able to work with rose Snowstorm+, bred by Dümmen Orange and grown in Kenya by several top growers. Looking closely, I particularly like these roses for their subtle porcelain white colors and very delicate scent.
A Perfect Shape
The shape of the Snowstorm+ rose is perfect. It is generous in petals all the way to the heart. Its slow but steady growth makes it the perfect ally when it comes to event work. Furthermore, it resists handling well despite the fact that it is white.

Bridal Bouquets
I also use it very regularly for bridal bouquets because it also has the ability to dehydrate very slowly, which is why I prefer this rose for work out of the water such as exposed stems or buttonholes. It also allows me to work on upclimbing compositions and structures without fear of wrinkled petals or rot.
Clients Approve Rose Snowstorm+
My clients also approve of this variety. They are very sensitive to these delicate white to off-white shades which harmonize both with the roses of the brides as well as with the decoration of their ceremonies. In addition, these shades allow me associations of colors that are pink and white, orange and white, or any other, without ever obtaining a garish mixture or a chromatic inconsistency. There are many other advantages to choosing this strain, such as the ease of cleaning and their amazing h This is why I also use it during the different holidays of the year, such as Mother's Day.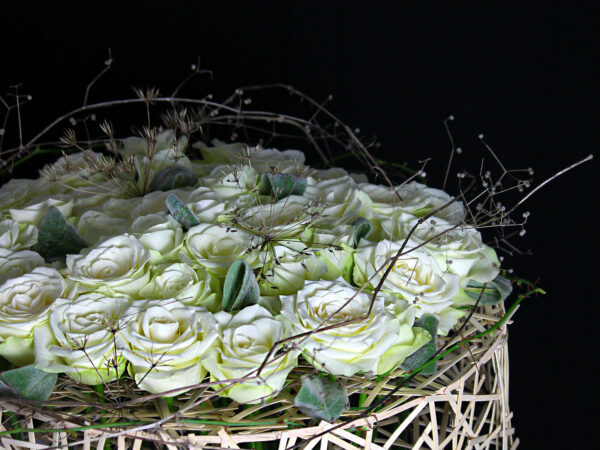 Constant Quality, Reasonable Cost Price
Being still less known or in demand than other popular varieties, the price of rose Snowstorm+ fluctuates less, despite some variations over the year; the quality remains constant, however. This allows me to create generous and bright bouquets for Mother's Day while remaining at a reasonable cost price.
A Perfect Companion to Many Other Flowers
Snowstorm+ is a perfect companion to hydrangeas, peonies, wallflowers, and many others. It stands out more particularly in light foliage such as eucalyptus or senecio. There are also the end of the year celebrations where they fulfill their roles wonderfully. Associated with branches, fir, and a few gold balls, they bring the most beautiful effect. And this despite the heated interiors at this time. They are a remarkable outfit whether stitched or in a bouquet.
Rose Snowstorm+ in My Shop
Of course, I also use it daily in the shop's glass vases. The regularity of the stems and the flowers allow me to make beautiful tendrils and guarantee me an always elegant display. It is one of my clients' favorite flowers. They often trigger impulse buying for them to spruce up their homes. And it's only natural that my clients ask me for this variety when it comes to mourning, for which the white rose remains a strong symbol. I use it without fear in very compact pieces like hearts. The regularity of the flower gives me simplicity and speed of execution for these technical parts. And despite the compact work, I am absolutely not worried about traces of botrytis appearing. I can only recommend this sublime rose variety.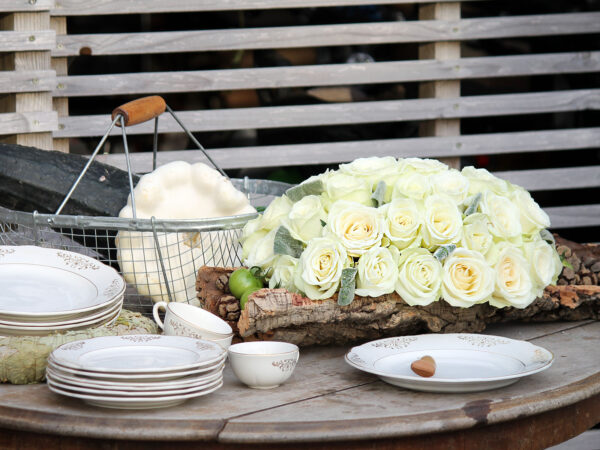 I would like to thank my SODIF Châtenoy-en-Bresse supplier who works to select his producers. But also my Jocaflor material supplier.