My Connection With the Vanda Orchid
Why do I have this great connection with the Vanda orchid and to the grower of this beauty Ansu? For several years already I have had this connection with the Vanda Orchid. When I just started in floristry the Vanda was getting really popular. We could experiment with Vanda's in all colors and it felt like a revelation. During several competitions, expos, demonstrations, and shows we could ( and still can) count on the owner of Ansu, Steef van Adrichem, for amazing cooperation.
Vanda Orchids from Ansu.
Looking at the Vanda Orchids With Twinkling Eyes
We, as young designers looked with twinkling eyes to these Vanda's and searched for new and original ways to work with them. Steef was often surprised by what we created and kept on coming up with new varieties. Our designs thrived! And so did we as designers. The Vandas made it possible to us to excel in our creativity, which showed in our floral designs.
A wide Variety in Vanda's
Now, so many years later, Steef keeps bringing new varieties in the market, and it seems like he knows which trends are coming because the colors match perfectly in the designs our customers seek. I personally love to use vanda Orchids for events and decorations in restaurants. Vanda's also have a sentimental value for a lot of florists: it was Stijn Simaeys's favorite flower to use, our dear friend and great talent that passed away a few years ago.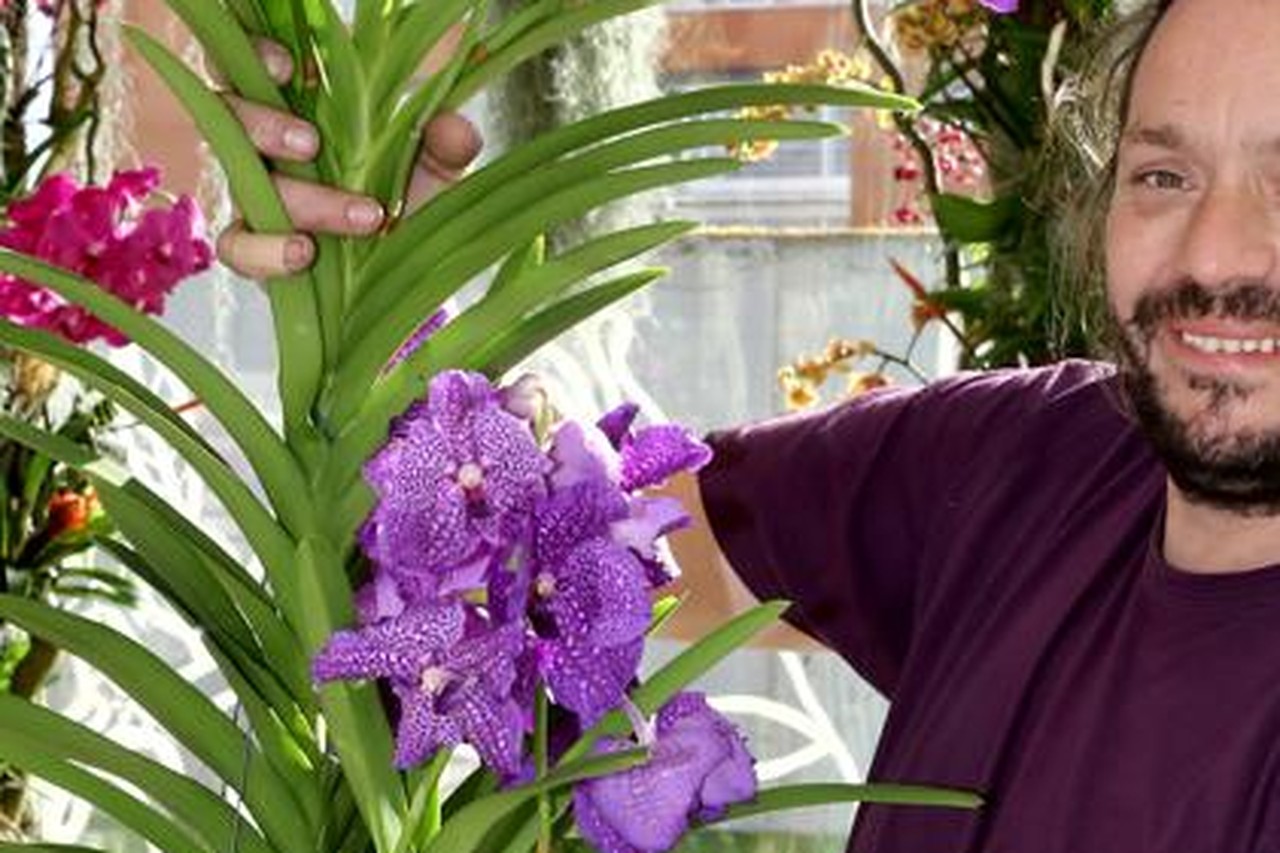 Stijn Simaeys - Picture by Frederiek van de Velde
Stijn Simaeys so often was my inspiration. He loved all Tillandsia and Vanda varieties, it became his signature in many outstanding designs, some of his greatest works were made with Vanda.
How to Combine the Ansu Vanda and Tillandsia
Shortly Ansu started growing Tillandsia air plants and sansevierias, how wonderful is that? I really hope in this difficult corona time, that it is possible to cope and to overcome this misery. My heart is broken when I think about all the farms that have such difficult times now… Let's keep spreading the message that flowers are an important part of our lives and that we need them.
Vanda Orchids and Tillandsia grow in Trees
As well Vanda's as Tillandsia grow in the air, awesome to see, every time when I visit the farm and I walk through the flowers with Steef it amazes me and it makes me happy instantly. Especially for Thursd, I made a hanging plant arrangement, a combination of these two amazing unusual plants.
Enjoy these beauties!