My name is Fleur van Asseldonk. I am 19 years old and I live in 's-Hertogenbosch, Netherlands. I am a student of the level 4 course Professional Expert Flowers, Green and Styling at
Helicon Highschool
, also in 's-Hertogenbosch. I am in the second grade now and hope to pass my exam next year.
My Own Flower Shop
After my studies, I would like to start my own flower shop. In addition to my education, I also like to share my love and passion for flowers with other people, and I work as a florist in a flower shop in Velddriel. I would like to do an internship abroad, but unfortunately, that is not possible because of the coronavirus.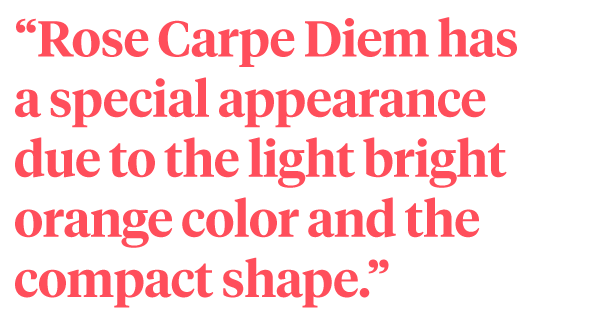 A Beautiful Full Orange Rose
Commissioned by Thursd, I was given the opportunity to work with a new rose from
Decofresh
named
Carpe Diem
. I myself really like special roses, so this seemed like a fun and instructive experience. And it is of course a great opportunity to show my work to the world. I learned a lot from this assignment because I had never worked with so many roses of one variety before.
Rose Carpe Diem
has a special appearance due to the light bright orange color and the compact shape. The stem of the rose is also sturdy. When the bud of the rose opens, you see a beautiful full orange rose that reminds me of a beautiful fish...
The Mermaid
I thought about what I wanted to design, and in the end, it turned out to be a mermaid tail. I wanted to work big because I think that's the most beautiful and fun thing to do. Once I have my idea, I want to work it out exactly as I have in mind. If you look at the symbolism of the orange rose, it stands for cheerfulness, warmth, movement, fun, and sportiness. I also see these things in a mermaid. A mermaid lives in the underwater world between the most beautiful fish and colorful coral. I imagine it must be a very free feeling. In the work that I have created, I've chosen to use only one secondary material, corylus avalana 'Contorta', the winding hazel. By doing this, maximum attention is given to the roses and the shape of the flower arrangements. The branches can be seen as waves. Just by not adding too many extra materials, I think the rose really comes into its own. The branches enhance the feeling of a mermaid in the water.
Check out My Instagram
If you want to see more of me and my work, check out my Instagram. Fleur van Asseldonk Instagram:
Fleurvanasseldonk
Co-creation:
Practical support/advice: Coby van Otterdijk. Styling & photography: Elfi Voermans. Textual guidance/editing: Ruud Teutelink