I am so thrilled that I had the chance to work with the beautiful Red Tacazzi+ roses! When I first laid my hands on this amazing rose - bred by Dümmen Orange, and grown by Holla Roses - I was very impressed by its vibrant dark red color and its beautiful uniquely fringed bloom. I was so happy to see that it is very easy to work with them because they have few thorns, and I was impressed by how beautiful the bloom opens in different stages.
Creating Two Designs With Red Tacazzi+ Roses
Bursting from creativity, and thankful to Vianen Flowers and Flori Holland Romania for bringing them to my doorstep, I decided to make two designs with these amazing roses.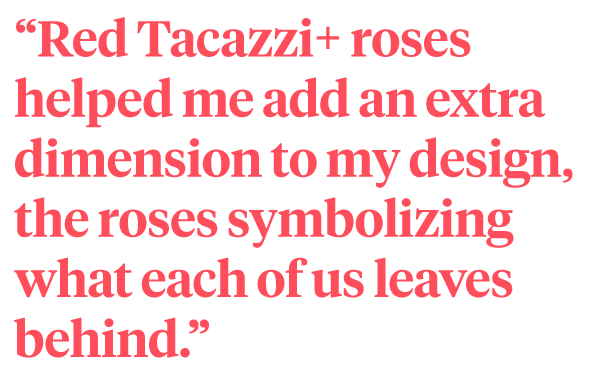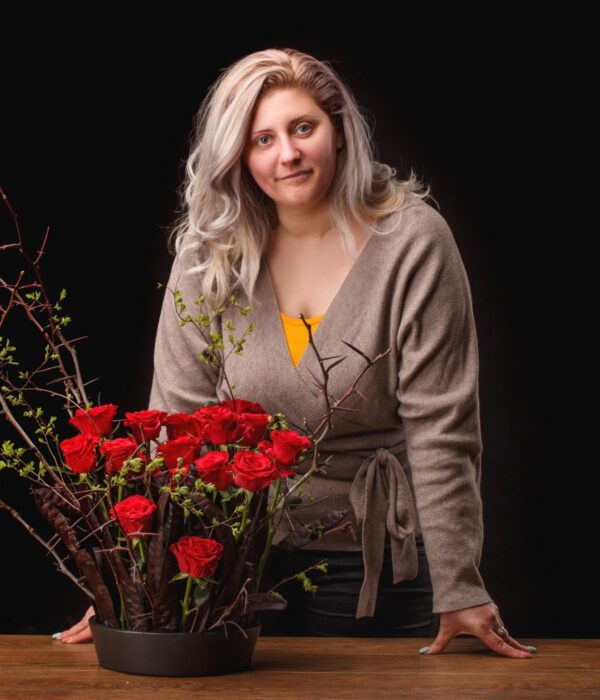 Dramatic and Powerful Expression in Design
As soon as I saw this rose, its rich color and velvet-like petals just spoke to me about passion and power. It made me think about a dramatic composition that would evoke all the mixed feelings that we all are facing during these provoking times. It gave me the inspiration to create a powerful expression in which the roses would be the stars that would help me communicate my message about hope, resilience, and the ability of humans to surpass all obstacles.
I wanted it to be striking through contrast in colors and shapes, but also to use natural materials that are not common in everyday design. I chose to use the branches with big thorns of Gladitia Tricanthos because they give me that drama and austerity that I want to evoke through my floral expression, and I also used its long shiny pods as a base for my design. Visually I like strong lines in this design, so I arranged the pods and the flowers in a parallel manner. To create a stronger visual impact I grouped the roses in an amassed, closed design with little transparency. The thorny branches were used to frame or "enclose" the beautiful Red Tacazzi+ roses to symbolize the restrictions and the austerity that we all are facing, while the red roses symbolize the flame that is burning in our hearts and the urge for normality.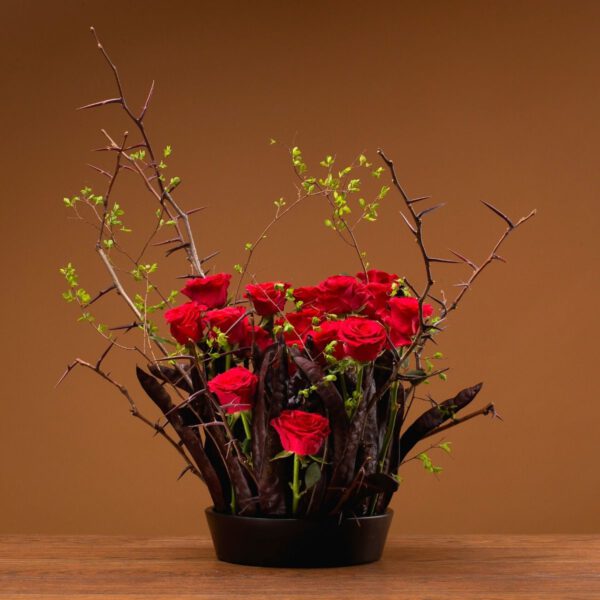 Besides Red Tacazzi+ Roses and Thorny Branches
To create tension, I also incorporated some delicate thin branches of Spirea japonica with its delicate small green leaves, that symbolize hope and the beginning of a new life. To make sure that I would have happy flowers for a longer period of time, I chose a beautiful ceramic container, with black foam from Smithers-Oasis. This way I ensured that my roses would have a good water reservoir and that they would last very well. It's very easy to create a beautiful design when we have great flowers that are the perfect medium. Creating a floral expression with the beautiful Red Tacazzi+ roses from Holla Roses and Dümmen Orange was a great pleasure for me! It provided me the inspiration I needed and also it helped me make a strong statement on resilience and the power of humanity to overcome all the obstacles no matter what.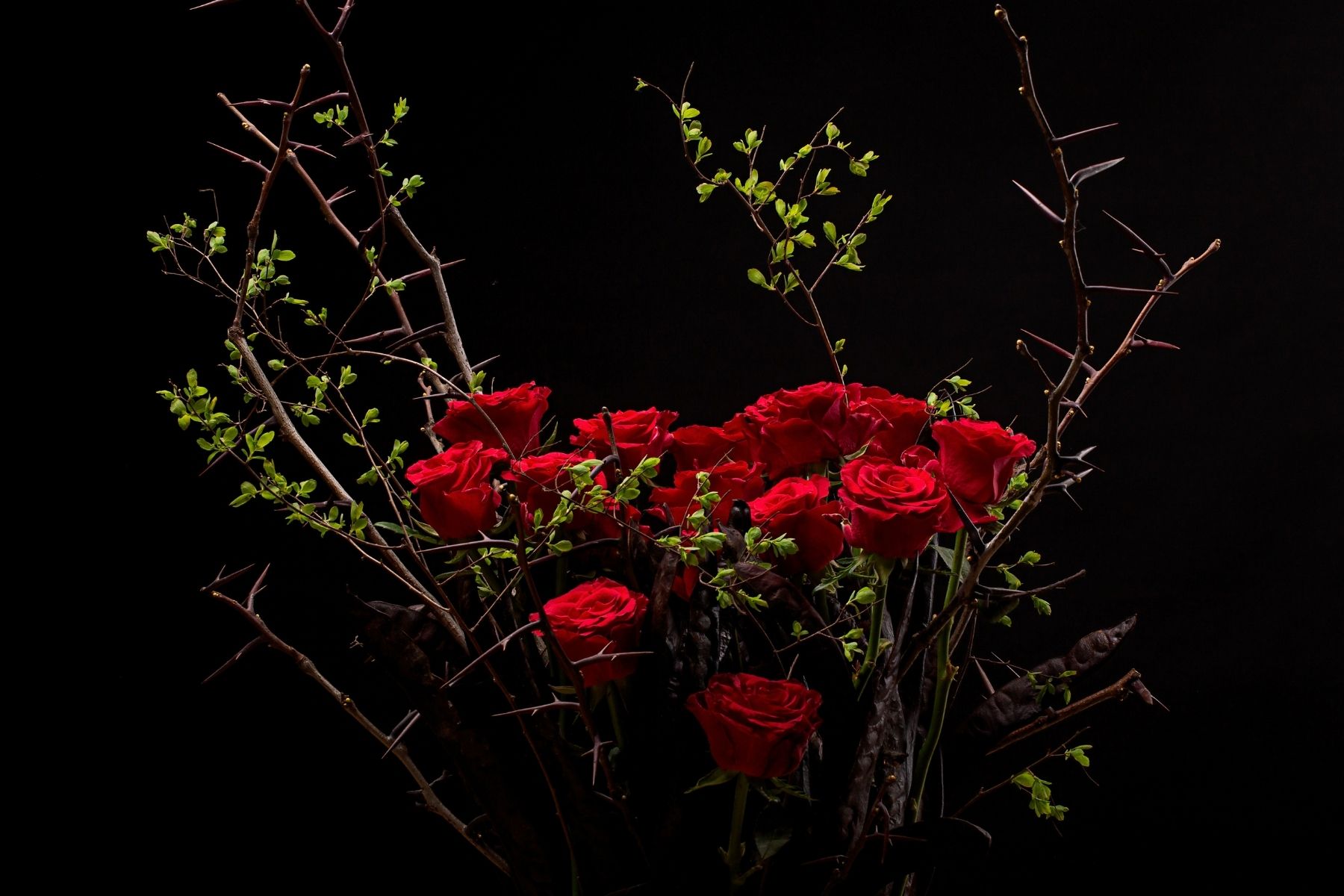 The "Red Floral Vortex"
A florist's life can be sometimes on the run and challenge, splitting between flowers and business, designs and customers, deliveries and sales. Lots of roles to play in a floral business and lots of things to do, but so limited time. It's like time has compressed so much, making people feel just like being caught up in an endless vortex. Florist or not, this is the story of millions of people around the world that struggle with time each day. Starting from this idea, I created a design that embodies the spiral of time that starts so generously in our childhood, tightening up gradually, temporarily limiting our actions. It only depends on each of us how we will get through it and how fast will we get attracted in the middle of time.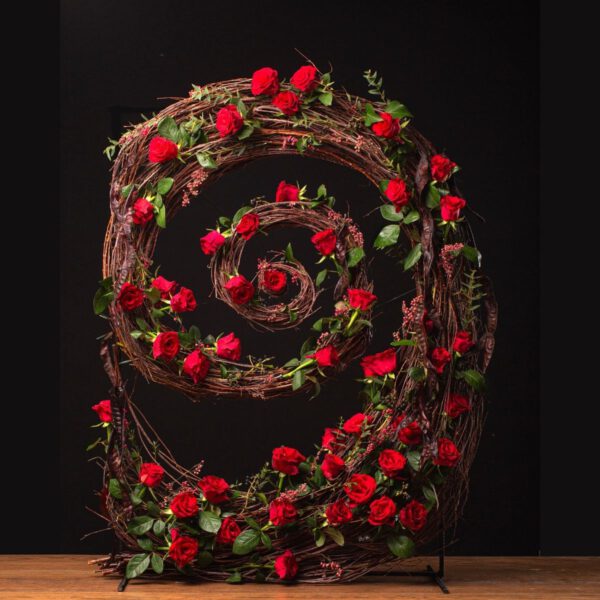 An Extra Dimension With Red Tacazzi+ Roses
To create this vortex I used Betula pendula branches that are very pliable and have a great color that would compliment my beautiful Red Tacazzi+ roses from Holla Roses and Dümmen Orange. As we all know the color red is a symbol of life, health, courage, and love, and choosing Red Tacazzi+ roses helped me add an extra dimension to my design, the roses symbolizing what each of us leaves behind, our imprint of time on our lives, society, and environment.