Today I am visiting one of the best growers of a flower that comes in every color; gerberas! I am at Gerbera United and hosted by Gijsbert Verboom, who is the director, next to Dick Kooij and WP van den Berg.
Gerbera United
In 2009, Dick Kooij and WP van den Berg joined forces and created the Gerbera United brand. In three separate nurseries, they grow an enormous amount of Gerberas on 10.5 hectares. In the cities of Moerkapelle, Zevenhuizen, and Nootdorp. They always try to lead the way in sustainability. This is an important part of their business, and they made significant steps to be ready for the future. In the last year, they invested a lot in LED lighting and installed energy-saving screen cloths. But also dehumidification devices that allow them to save energy. They also decided on bringing in vertical fans to blow the warm air downwards. To save even more energy.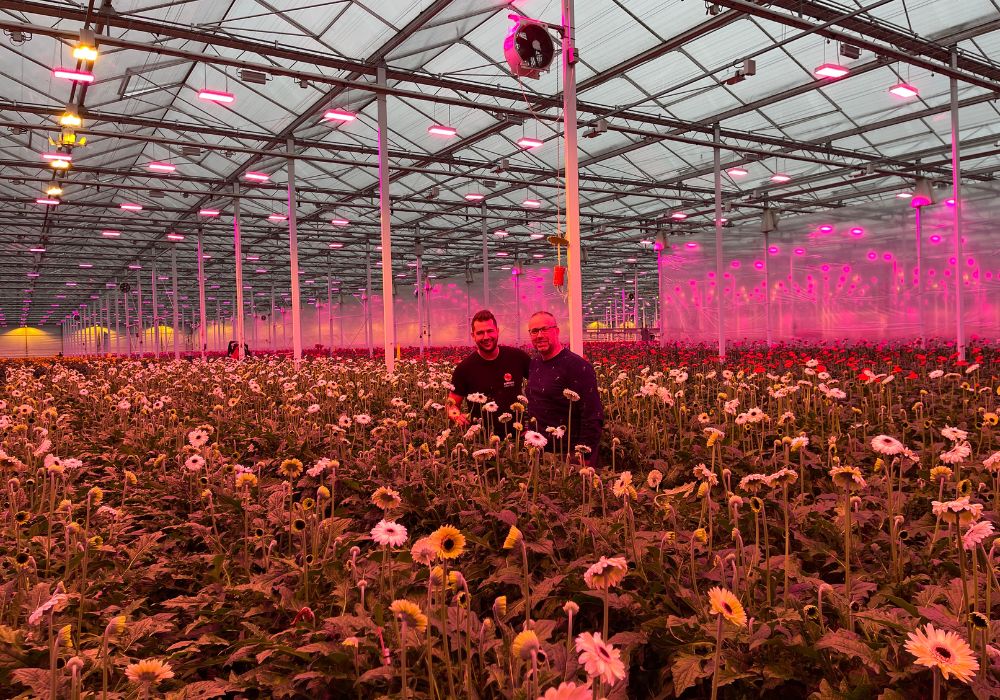 Gerbera Assortment at Gerbera United
At the nurseries, they grow a143 different species of gerberas. Large-flowered, small-flowered, pasta, spikes, pastinis, piccolinis, large spherical, small spherical. You name it, Gerbera United grows it! The total assortment is offered in 6 different packaging forms. 51 million stems a year! Wow! They do that with 75 people in total.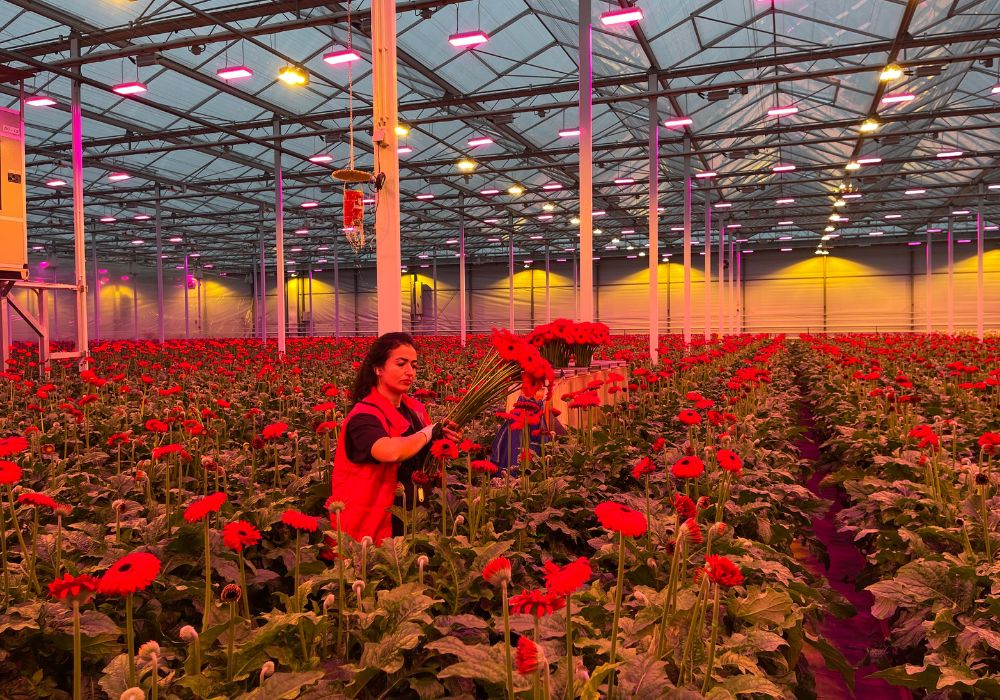 The Origin of Gerberas
Gerberas originate from exotic locations such as South Africa, Asia, South America, and even Tasmania. The flower was originally discovered by Gronovius, a botanist from Leiden, in 1737. The gerbera got its name after Traugott Gerber who was a German naturalist in the 1700s. Gerberas are also known as African daisies, Barberton daisies, Transvaal Daisies, and Veldt daisies. Did you know that Gerberas are the fifth most used cut flower in the world after the rose, carnation, chrysanthemum, and tulip? Gerberas can mean innocence, purity, and cheerfulness. Growers call it a 'short day plant', which means it needs 12 hours of light and 12 hours of darkness. This is simulated in the greenhouse using light and screen cloths.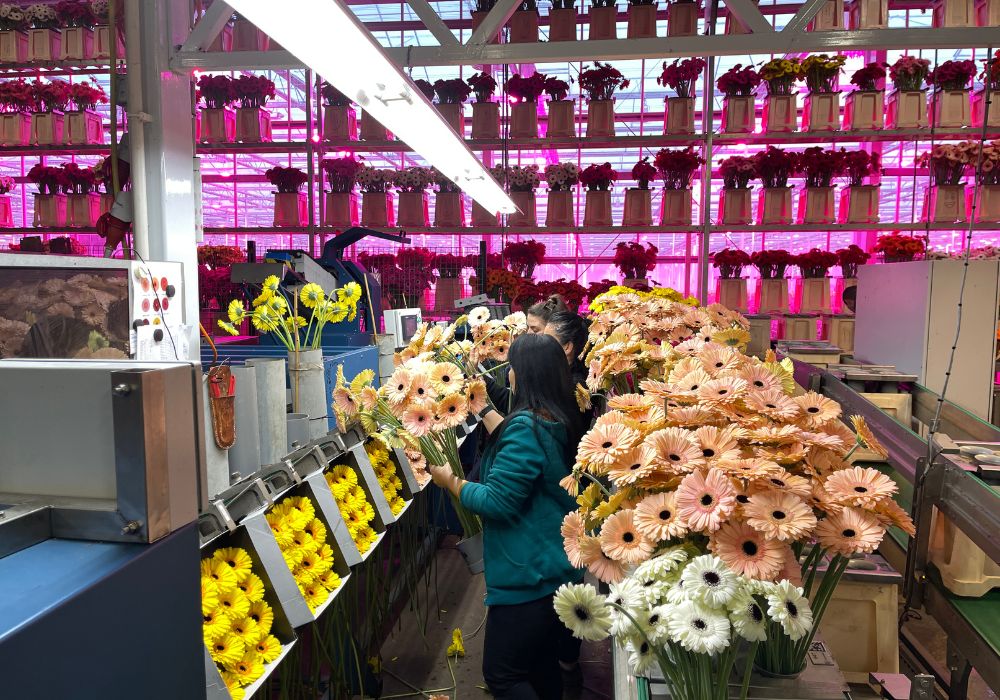 More About Gerbera United
They work closely with breeders of gerberas to select and produce better varieties. Gerbera United has very close cooperation with breeders Schreurs, Dummen Orange, and Hilverda Florist. They more than often get the newly bred species first, of some species they have the exclusive rights to produce those varieties.
90 percent of the trade is direct. This is one of the reasons they invested heavily in mechanization and robotization, This helps to provide their customers with the right product, just in time. Robotization is an important aspect of the operation; all buckets with gerberas that are waiting for processing are in a kind of large storage and are automatically called upon when necessary to process.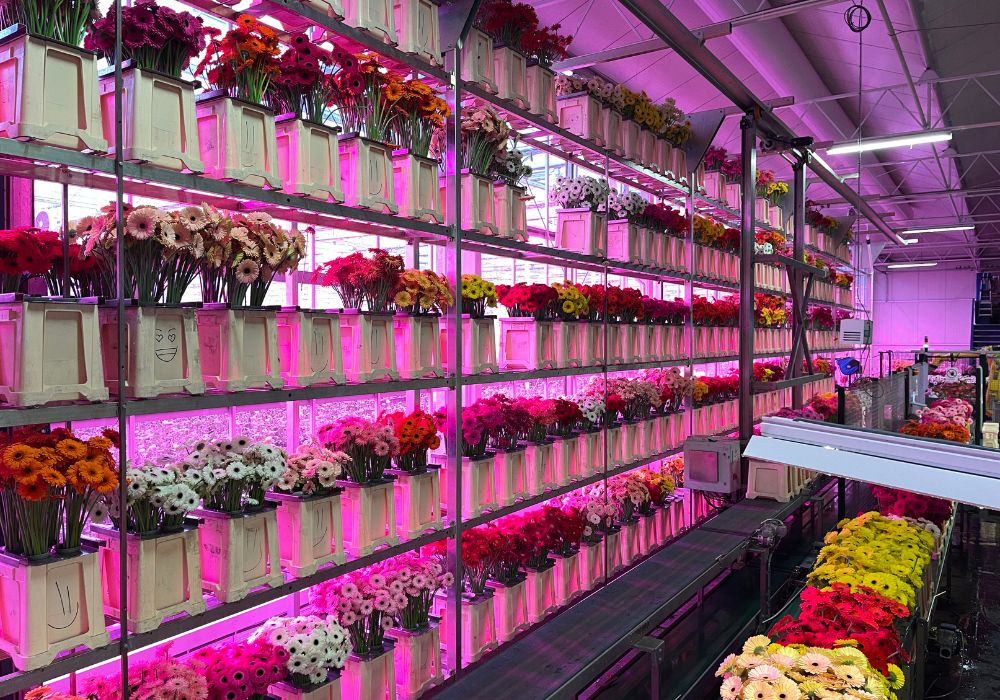 A One-Stop-Shop for Gerberas
All customers can find any gerbera they want at Gerberas United. There's a huge diversity of types and shapes. You can get all gerbera varieties from 1 grower. This is an advantage to wholesalers, exporters, and cash & carry's because they can offer gerberas in one unique brand identity. This is also the feedback they get from the traders they work with; the trade opts for Gerbera United because of their reliability, loyalty to their customers, and their culture of 'thinking along with the customer'. The trade knows, that Gerbera United always has the right varieties for them. Florists like to work with their assortment, as there's always something special to find. And with their long vase life, it is one of the florist's favorite flowers!