Greetings, fellow floral enthusiasts! Allow me to introduce myself. My name is Rik Bartholomeus, and I'm a passionate student of Floral Design, Greenery, and Styling at the reputable Yuverta in Den Bosch, Netherlands.
I was given the opportunity to create a bouquet with the products from Adomex, such as the versatile Equisetum. A bouquet that would also celebrate the beauty of relations through floral artistry. Therefore, the name of my design must be 'The Line of Connection'.
A World of Opportunities in Floral Design
As I embark on my final year of study, I can't help but reflect on the incredible journey that has brought me here.
Yuverta has been my nurturing oasis. It has been providing a perfect atmosphere for personal growth and development. Looking back, I can confidently say that these past three years have been nothing short of extraordinary. But there is one particular experience that stands out like a vibrant bloom in a lush green garden. And that is my unforgettable internship at Sebastian Flowers in Florence, Italy.
When I'm not engrossed in the world of floral artistry, you can find me at this enchanting flower shop called Oogenlust, in the Dutch town of Valkenswaard. This delightful place has been - and continues to be - my sanctuary. It is here that I have honed my skills and expanded my knowledge through meaningful internships.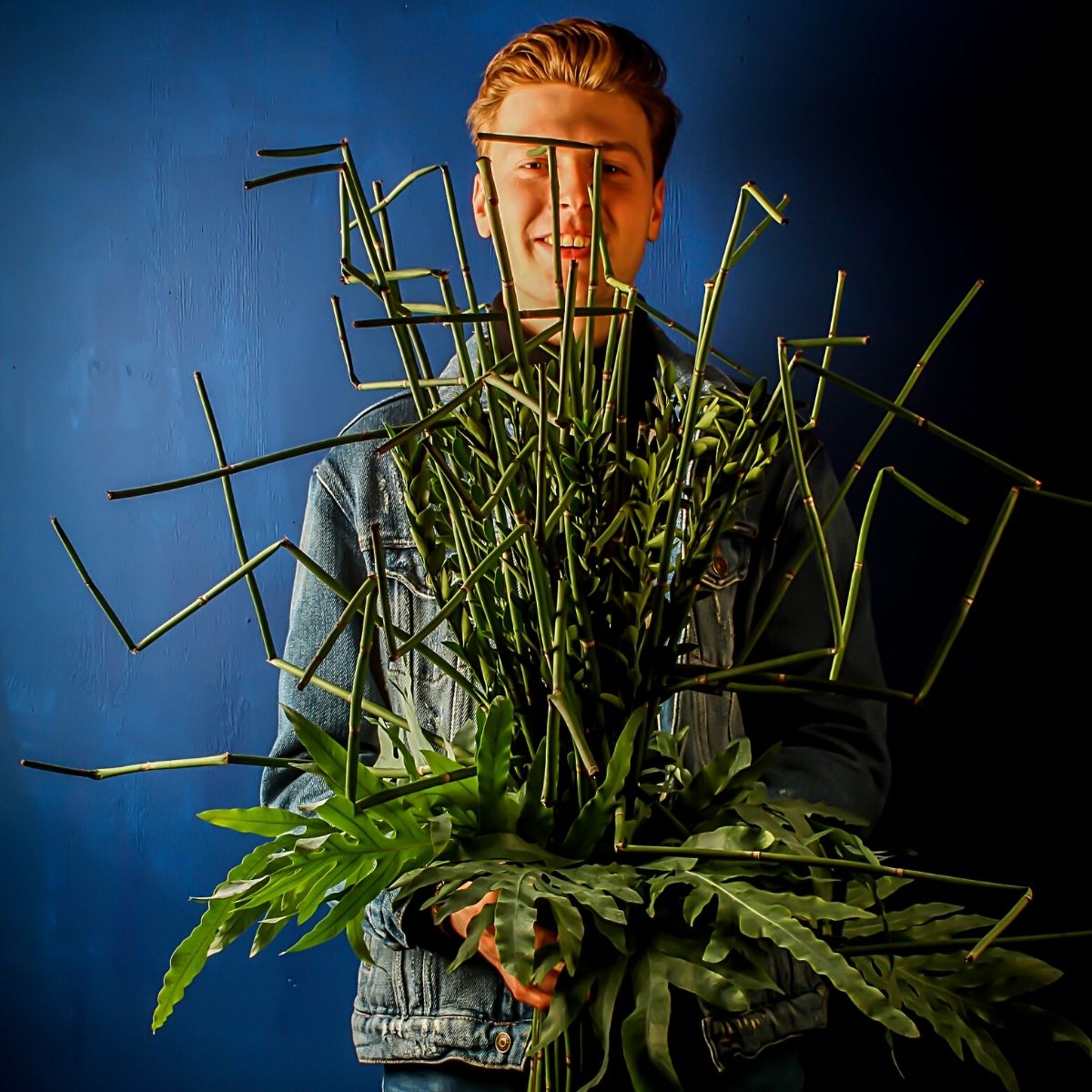 Still, another invaluable learning opportunity at De Klerk Interior Landscaping in Veldhoven also helped a lot in my floristry and design cause. These experiences have not only enriched my education but have also shaped my aspirations. They have spurred me to set my sights on pursuing a Bachelor's degree in Events at Avans University of Applied Sciences in Den Bosch.
I joined Thursd, the vibrant hub of floral impressions and inspiration because I adore taking on new challenges. Challenges that push the boundaries of my creativity, especially in floristry. As I perused the green materials from Adomex, one particular gem caught my eye; that was the striking Equisetum.
Creating a Masterpiece of a Bouquet
Its unique presence sparked a burst of inspiration within me, filling my mind with a world of enchanting possibilities. And thus with a bold leap of faith, I set out to create a bouquet that would celebrate the captivating beauty of the Equisetum. A bouquet that would also celebrate the beauty of connections.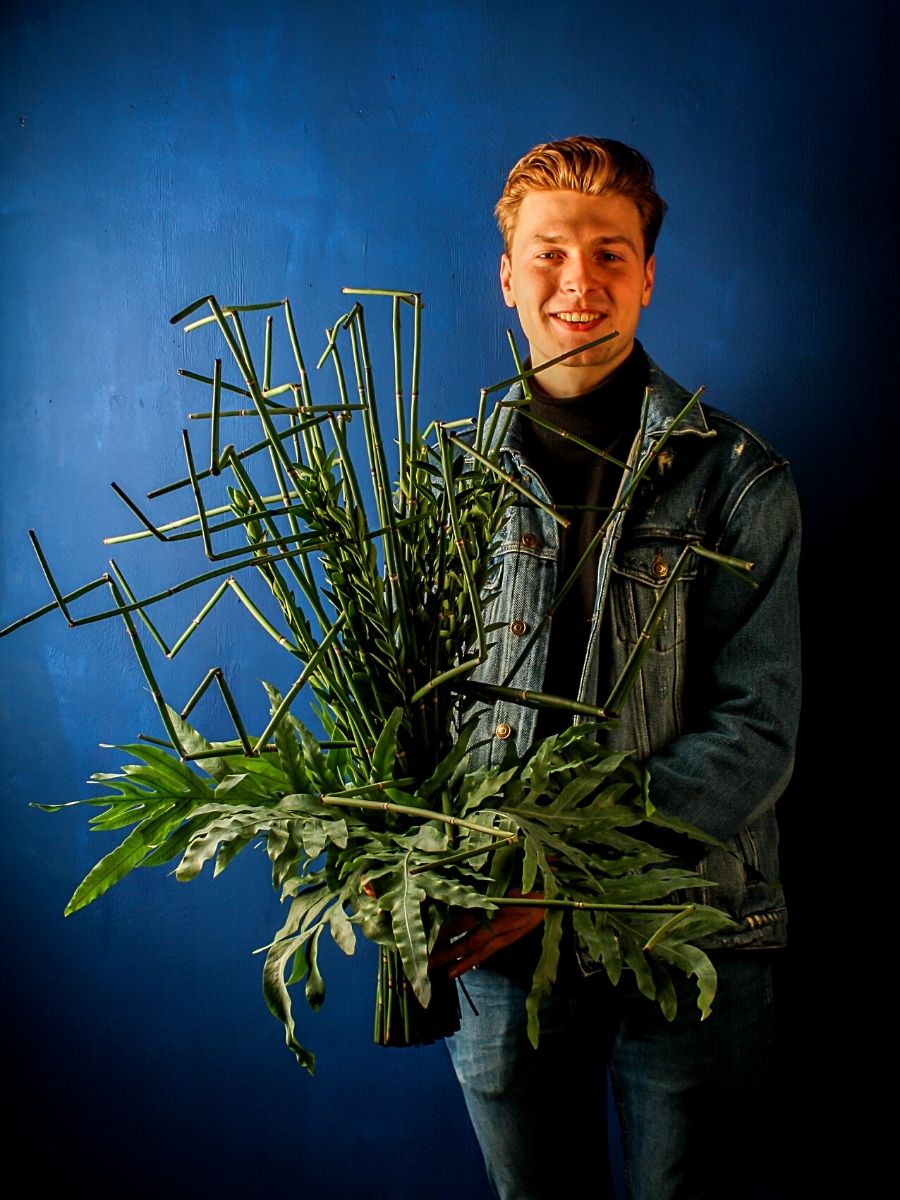 I then embarked on the artistic journey of creating the bouquet with this gem of material by crafting a loose structure using the Equisetum, delicately bending it around a supportive pole. To complement this natural marvel, I chose to place Euonymus at the heart of my creation.
Then I carefully selected the straightest stems, allowing the lines formed by the Equisetum to flow harmoniously. Drawing upon the ethereal beauty of the gray Phlebodium fern, I introduced a fabric band, creating a new layer of elegance within the bouquet.
By wiring all the foliage, I achieved the freedom to position them gracefully, adding depth and intrigue to the arrangement. Finally, with a flourish of finesse, I adorned the bouquet with a fabric band, completing my masterpiece.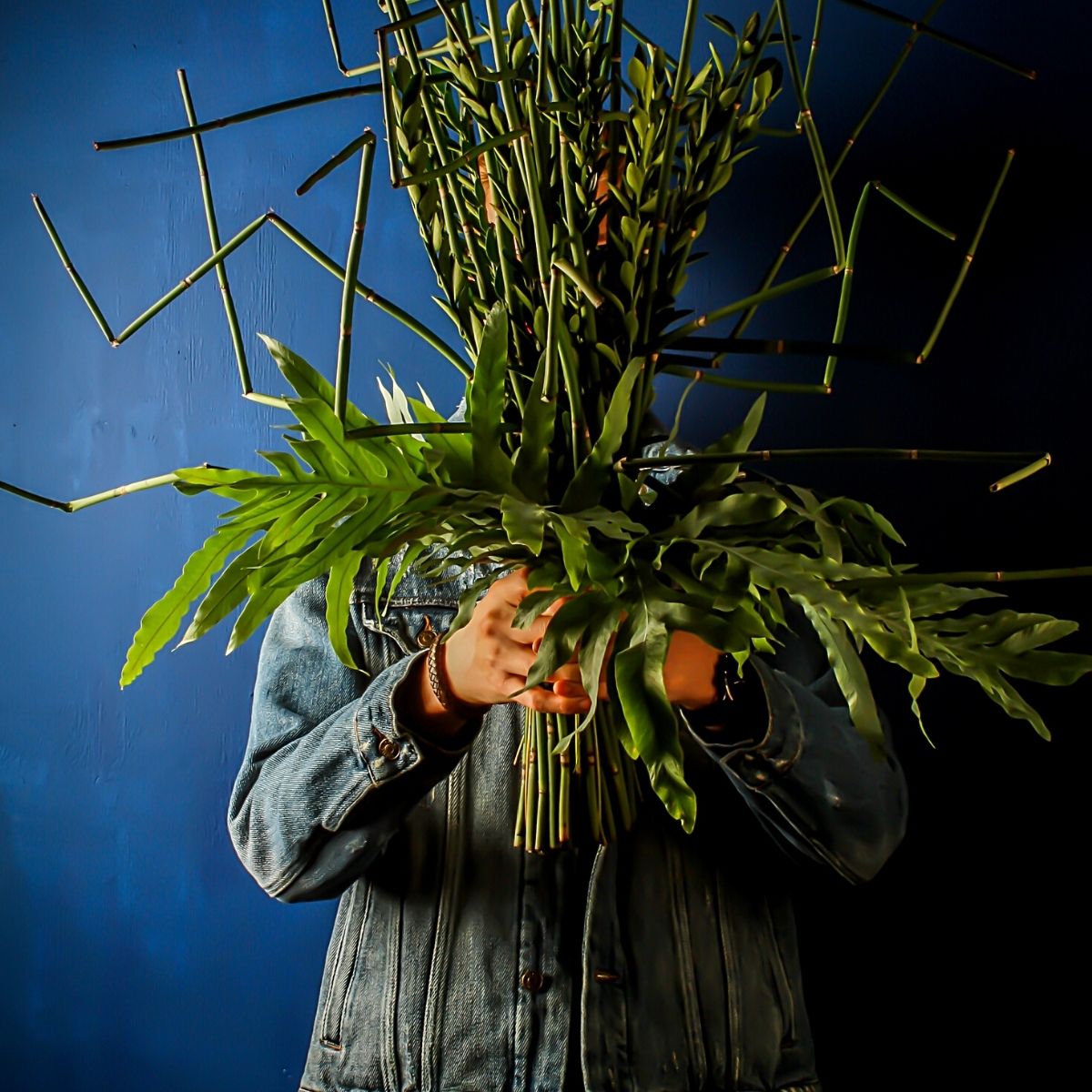 The Line of Connection Is Rich in Symbolism and Meaning
I chose 'The Line of Connection' as the name for this creation, symbolizing the deep connections we forge through our floral artistry. The materials I employed effortlessly merged, culminating in an abundance of lines that celebrate the power of connection.
In these tumultuous times, connection and unity have played a pivotal role in my education. Navigating the challenges of a global pandemic, and maintaining a strong bond with my teachers and classmates became paramount.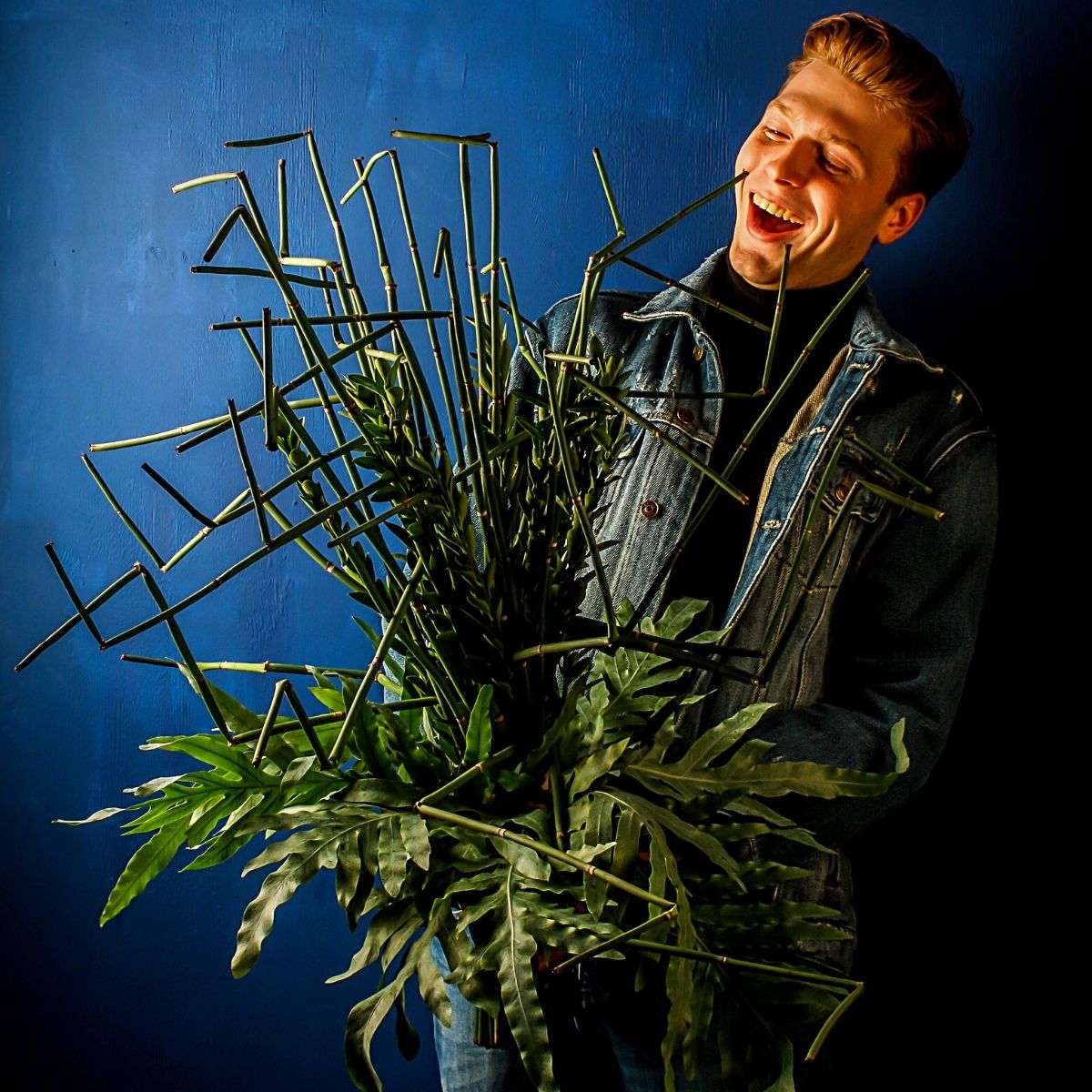 Even during my internship abroad, the heartwarming thread that connected me to the Netherlands remained unbroken. And just how marvelous is it when a floral arrangement can foster this kind of connection, be it at a funeral where solace is needed, or a wedding where love and joy abound?
And with that I stand today, brimming with satisfaction and pride, marveling at how this masterpiece has propelled me beyond the confines of my comfort zone. I boldly eschewed traditional flowers and materials, allowing my creativity to fly to new pinnacles, and embraced this delightful challenge as a stimulating experience, an extraordinary opportunity that has now enriched my journey.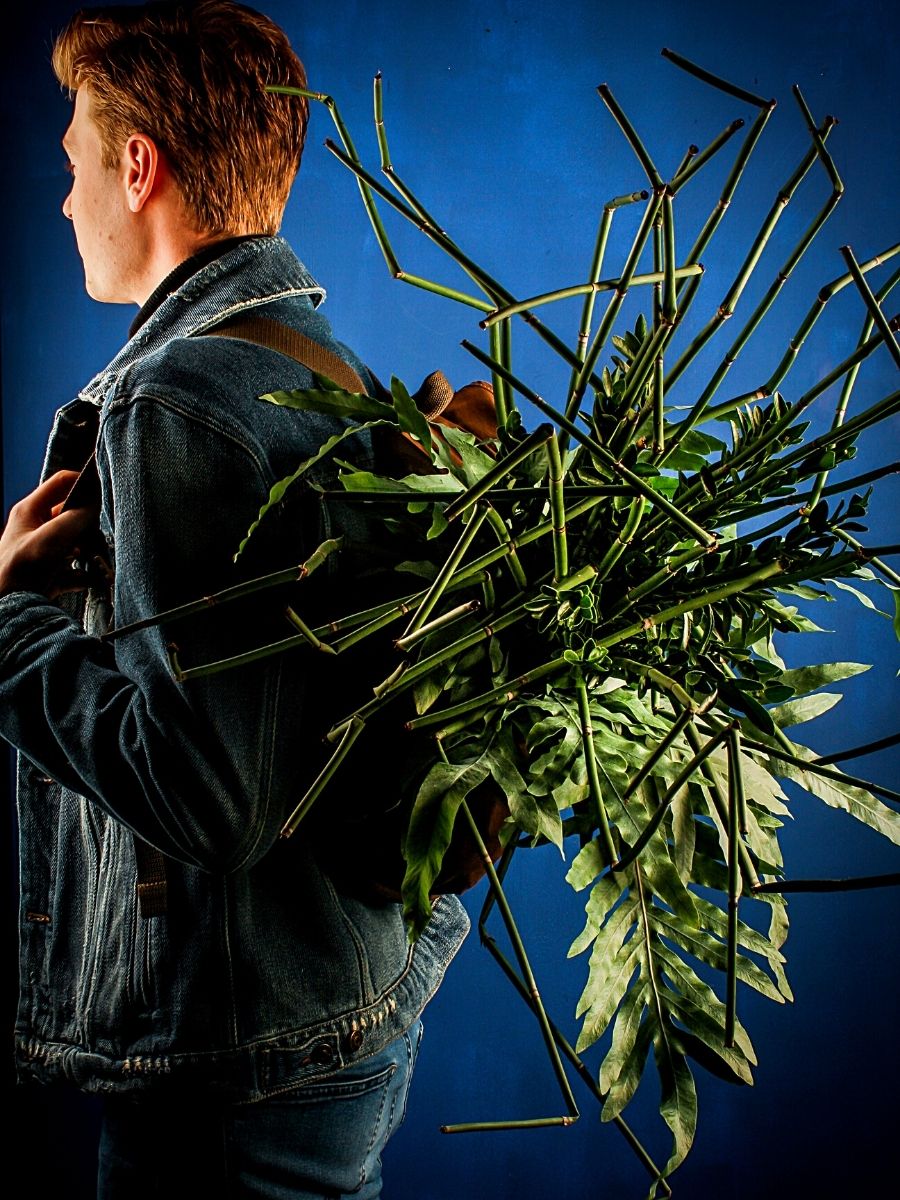 You Can Follow Me on Instagram!
And with that, I have to thank you for joining me on this exhilarating adventure through the world of floral design.
Remember to follow me on Instagram @Rik.Bartholomeus2. Here, I will continue to share my floral journey and escapades and definitely inspire you with the beauty of nature's artistry.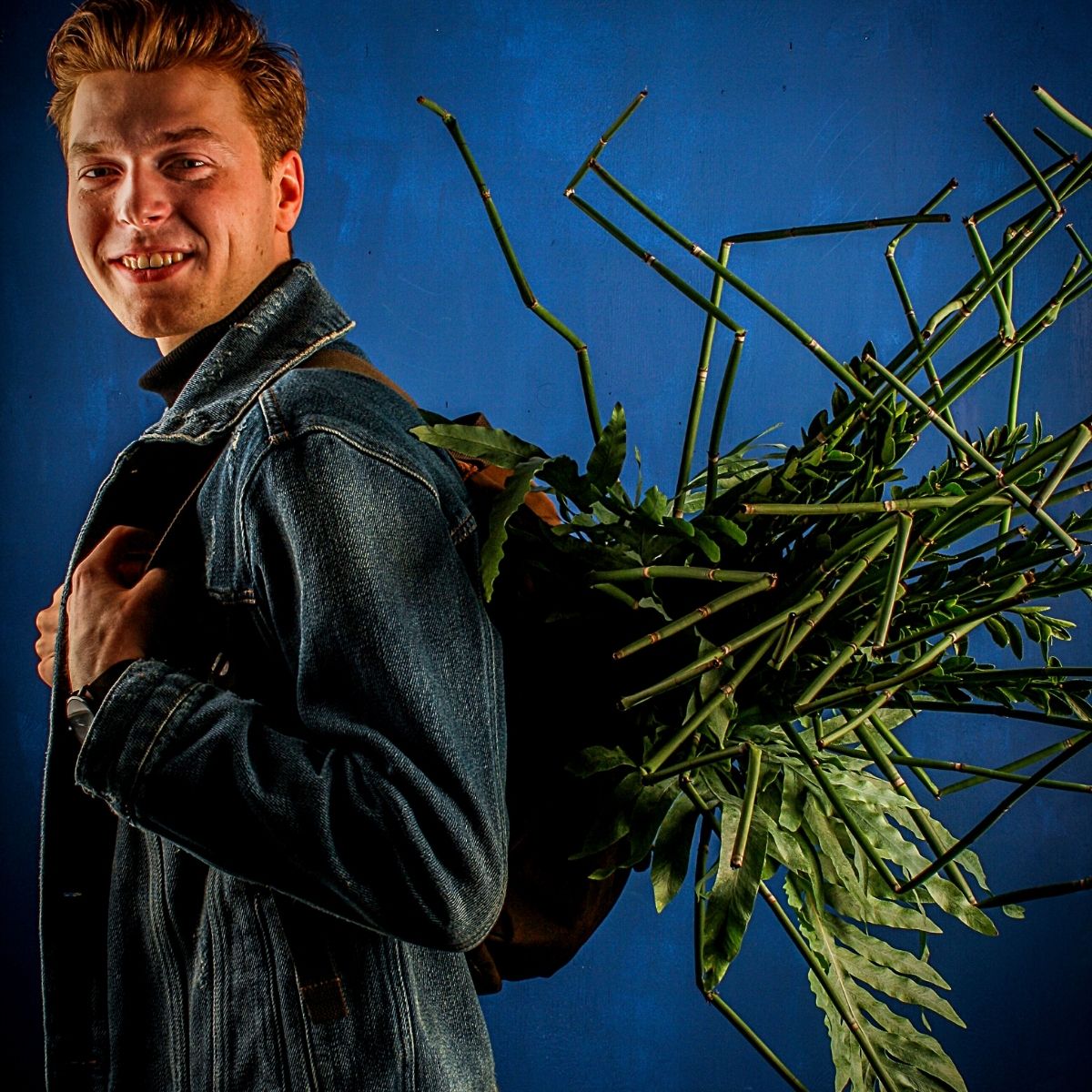 I would like to thank Adomex for this wonderful opportunity to create this design with their products.
Until next time, let us all revel in the beauty of connections, united by the infinite wonders of floral design.
Photos courtesy of Yuverta.