From cool neutrals to bold hues, there is something for everyone when it comes to winter floral arrangements. Winter temperatures don't mean flowers have to be forgotten until spring. Warm reds and oranges, earthy tones, and lots of greenery dominate the season, making up for some especially enchanting settings and arrangements. And don't forget about those beautiful, crisp white flowers as a nod to the frosty sparkle of the outdoors,
Inspiring Winter Floral Arrangements
For many of us, the winter days may be cold and dark but that doesn't mean we don't get to celebrate the beauty of the season with some inspiring designs. Whatever you create, these 15 floral arrangements for the winter season will definitely brighten our days until that spring sun is warming our cheeks again.
Seasonal Flowers
Winter is the season of anemones, as beautifully shown here by Katie from
The Vintage House that Could
. Another eye-catcher that features the anemone comes from Sarah from
Florals & Co
. Definitely snoop around her
Instagram
if you're looking for more seasonal inspiration. You won't be disappointed!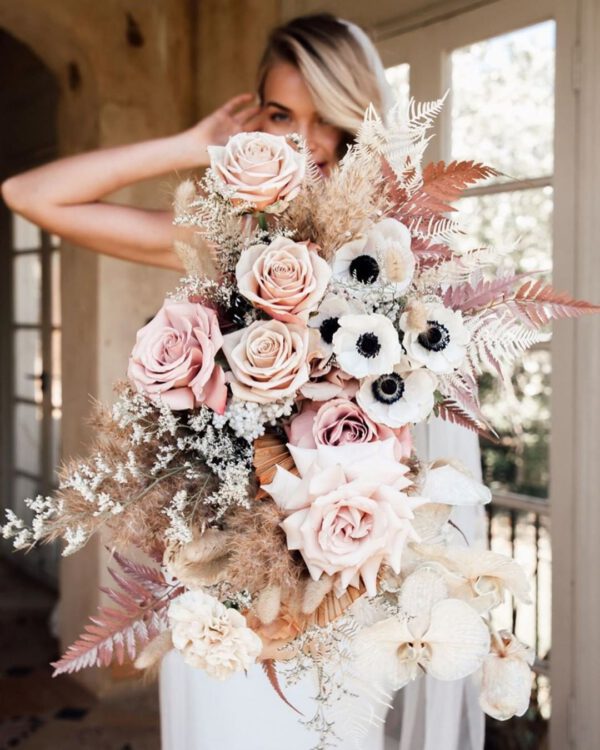 Staying Cozy at Home
This year more than ever, we need joy. By adding some warm and bright colors to your home decor, you can instantly improve your mood. After all, flowers have been proven to contribute to improving (mental)health. With most of us on lockdown or working from home, now is not the time to shy away from some plants and flowers, as shown here by
Putnam Flowers
. You don't have to go all out to spruce up your home. Some lovely winter whites can light up your day just as easily. Winters can be dark and moody but paired up with some popping florals it creates a stunning balance, don't you think?
Winter Wonderland Weddings
Many couples opt for a winter wedding this year, and rightfully so. This cozy winter wedding shoot features a muted, icy color palette, super soft textures, and an absolutely dreamy floral bridal wreath. Cozy sweaters and half-length coats look chic with any wedding gown and create the opportunity for stunning winter wedding bouquets. Just like this one with beautiful foliage and pine cones. The magnificent combination of deep burgundy tones combined with soft peaches remains a favorite for winter floral arrangements and as you can see, they make up for a splendid winter wedding bouquet as well. One of the many brides you will find on the Instagram page from
@wedding_inspiration_for_you
. If you're looking for some winter bridal inspiration, you will definitely be mesmerized by the brides on this page.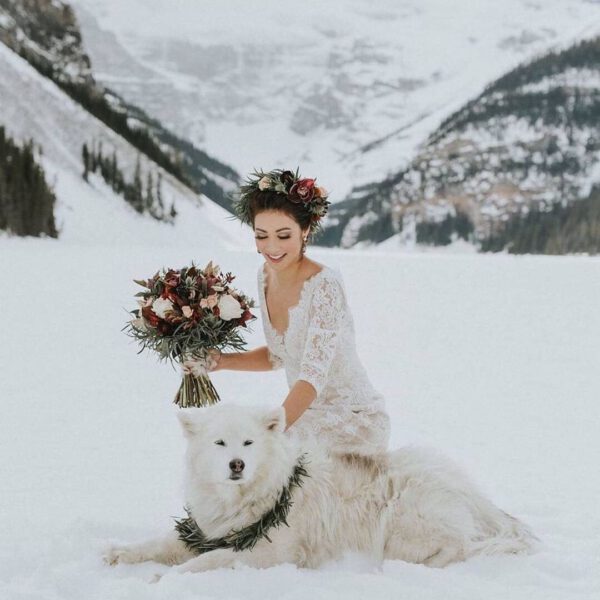 How sweet are these snow-kissed petals?
Finespun Cakes
has making beautiful and colorful wintery wedding cakes down to a T. If only we could all have a bite of this deliciousness.
The Season of Dried Flowers
One of the things you just can't get around this winter is dried flowers. Not every florist prefers working with them and obviously, to each their own, but their earthy hues match the season. Staying in the neutral or earth-tones range doesn't mean bland bouquets and forgettable floral decor. Quite the opposite, actually. Earthy tones are inspired by nature and earth's beauty at its rawest form. From sand dunes to leafy greens, to rich soil – earthy tones are all around us. This subtle color scheme is surprisingly rich and textured, whether you build voluminous pieces or keep it spare and simple. For more floral inspiration, read our article
12 Flowers in Earthy Hues You Will Love
. Stunning outdoor winter floral arrangements full of dried grasses by Flaura Botanica. If you're looking for more romantic inspiration with an edgy twist and a dash of bohemian, make sure to check out her
Instagram
page.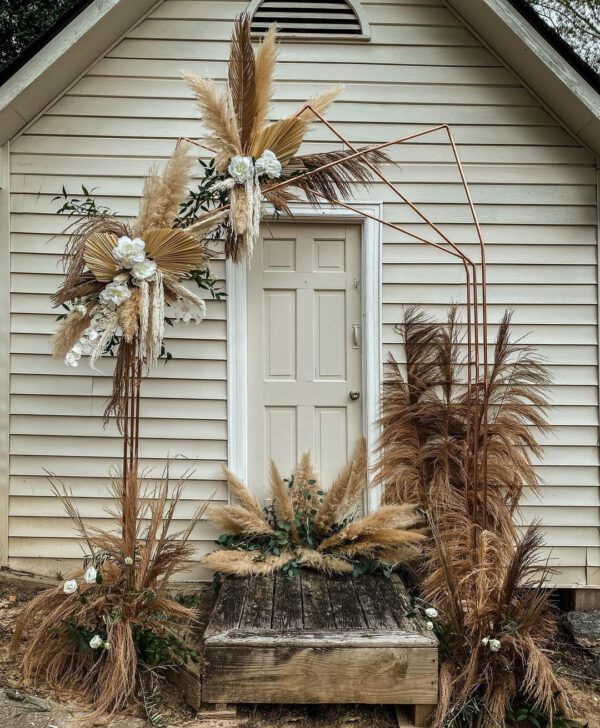 The winter wedding season asks for winter tablescapes to inspire your cold-weather reception decor. A lovely example is this tablescape where fresh and dried flowers are mixed together to create an inviting setting in warm, earthy tones. Last but not least, a beautiful winter floral arrangement made by Anne from
Iko Flowers
. As an eco-friendly floral designer, this bouquet is made out of nothing and at the same time, out of all the gifts this year's garden gave to her.