Did you know that alstroemeria is the flower of friendship? That's because — just like with true friendship — they start modest but bloom in time. And they stay with you for a long time too! That's why you are invited to get your alstroemerias for the United Nations' International Day of Friendship.
30 July Is the International Day of Friendship!
"Through friendship — by accumulating bonds of camaraderie and developing strong ties of trust — we can contribute to the fundamental shifts that are urgently needed to achieve lasting stability, weave a safety net that will protect us all, and generate passion for a better world where all are united for the greater good." These are some of the words from the United Nations statement when they proclaimed 30 July as the International Day of Friendship.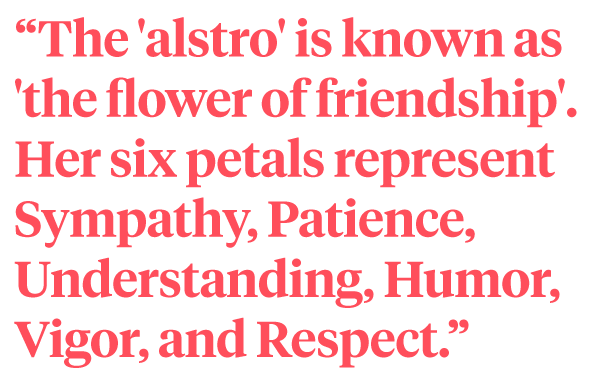 Alstroemeria is the Friendship Flower
Blessed are you when you have good friends to fall back on. Surely they deserve a beautiful bunch of flowers once a year? Which flower is better suited to this than the alstroemeria? The 'alstro' is known as 'the flower of friendship'. Her six petals represent Sympathy, Patience, Understanding, Humor, Vigor, and Respect.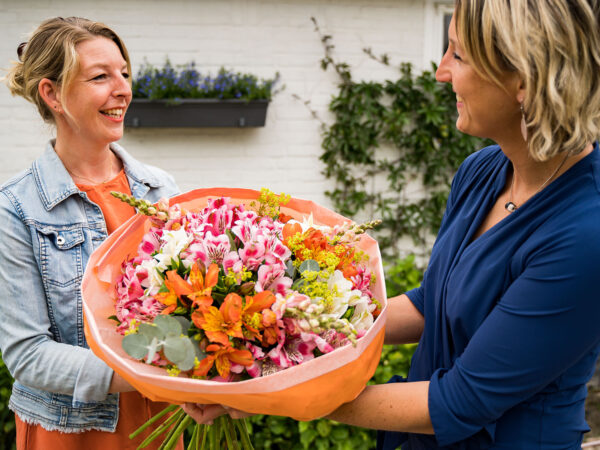 Alstroemeria Panorama
For the day of friendship, Tesselaar Alstroemeria especially recommends the Alstroemeria Panorama! An old-time favorite, appreciated by many florists. Light pink leaves with a dark pink core, and many flowers on one stem. In short: a bunch full of happiness. Did you know that the alstroemeria is more beautiful if you let it stand in warm water for a day? That's when she opens her petals and shows her intense color. The good news: even then the flower will still remain in the vase for a very long time!
Love Bouquet, Sorrow, Bouquet, ... Friendship Bouquet!
What better way to show your friendship than with love, care, and attention? What better token than flowers? As a florist, you can sell 'Love Bouquets' on several occasions, and of course 'Sorrow Bouquets' in times of grief. We can immediately imagine a bunch of flowers for someone who is sick or has a birthday. And you probably know exactly how to express these feelings in a bouquet.
Friendship Bouquets for Every Day
In our floral sector, we love the special days, the flowers almost automatically fly out the door on Mother's Day, Valentine's Day, All Saints Day, etc. But what do we do as a sector all those other days of the year? There simply is no name for the ordinary giveaway bouquet. The 'Just Because' bouquet, the bunch of flowers to say: "I'm glad you're here". How do we activate your target group to buy flowers also on normal days? To be exact: how do we seduce your customer? So, now it is time for the new bouquet that you can always make and that can be bought every day of the year: the 'Friendship Bouquet'!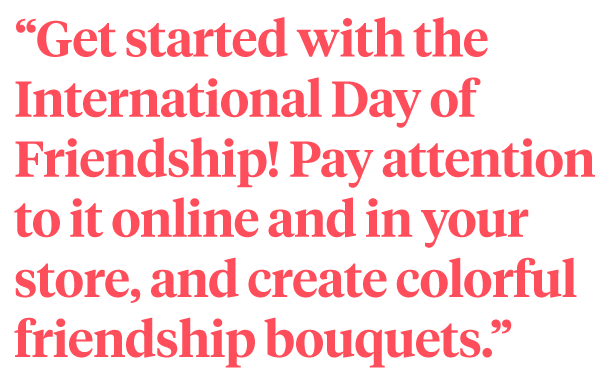 A Message From the Grower
Tesselaar Alstroemeria has been growing alstroemerias for over thirty years. The passion for the flower is deeply rooted, just like the plants themselves, which have been in the greenhouse for more than seven years on average and give new flowers every day. This also makes the alstroemeria a very sustainable cut flower. A perfect gift to celebrate your long-lasting friendship. We would therefore like to call on all florists to get started with the International Day of Friendship! Pay attention to it online and in your store, and create colorful friendship bouquets with the alstroemeria at the center! We wish you good business on 30 July Friendship Day!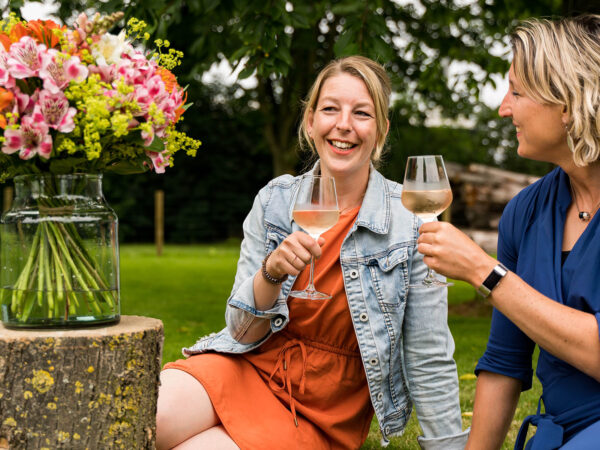 Do you need beautiful photos with explanations about the International Day of Friendship? Let us know and we'll send it to you! More information about why alstroemeria is the Flower of Friendship is in THIS article on Thursd.com.

Photo credits: Ja'eli van Beveren Fotografie. Flower arrangements by Bloe-Mèn.