If flower giving was part of everybody's love language, it would be perfect language for Ace Berry. He found his love for flowers when he was 19, delivering flowers and enjoying the most beautiful parts of it! The joy of receiving flowers is magical. Even when people are at their worst, they become so happy when they are gifted flowers. And just like that the seed was planted, Ace would wait 8 years for it to bloom. Aces path to flowers was far from traditional. Then again, it's clear Ace Berry is not a traditional guy either.
A Floral Interview With Ace Berry
It wasn't until Nov. 2007, when Ace was laid off from the oil and gas industry, that he threw himself into what he always loved: flowers. He earned his Texas Master Florist in 2012 , was Unit president for Teleflora in 2013. In 2015, he was inducted into the American Institute of Floral Designers ( AIFD). And in 2016 Ace opened his own Floral shop in Fulshear, Texas: Fulshear Floral Design. He was inducted into Professional Floral Communicators International (PFCI) in 2019, and won 'Texas Designer of the Year' the same year, and in 2020, he was a finalist in HBOMax Full Bloom Season 1. Now, he's elevating fresh floral crowns and beards into wearable art fit for a Queen (and King).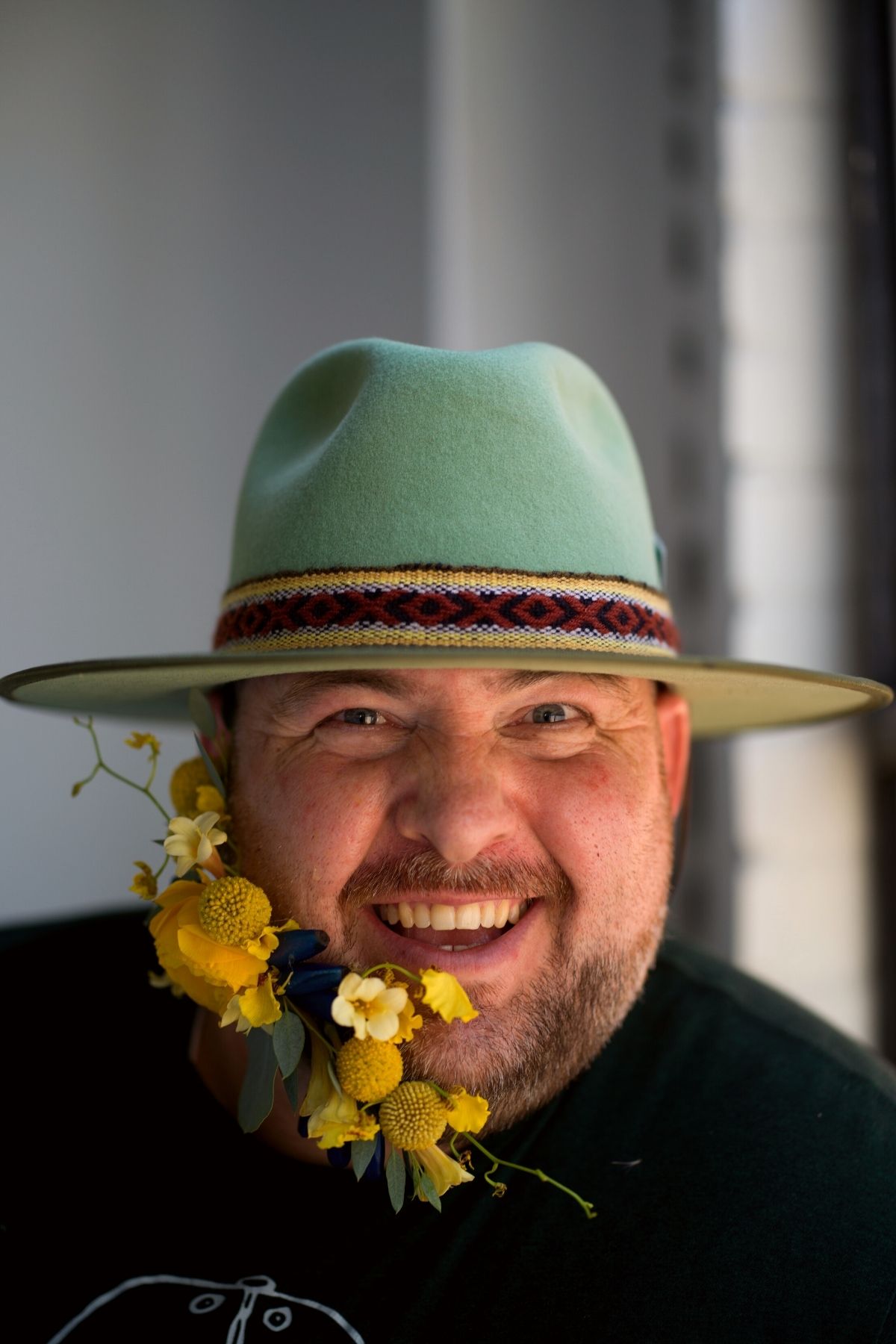 Who is Ace Berry?
Finding out more about Ace Berry and his path through life, flowers, and journey through it all. And what is next for Ace. Aces path to flowers was far from traditional. Then again, it's clear Ace Berry is not a traditional guy either.
Q.: Tell us a little bit about where you come from, how you grew up, your childhood, and who you are?
Ace:
"I was raised in Houston Tx. and Victoria Tx. I had a really cool childhood. Had a the exciting part of the big city and the simple and calmness of a small town. I grew up playing football and baseball and all kind of sports."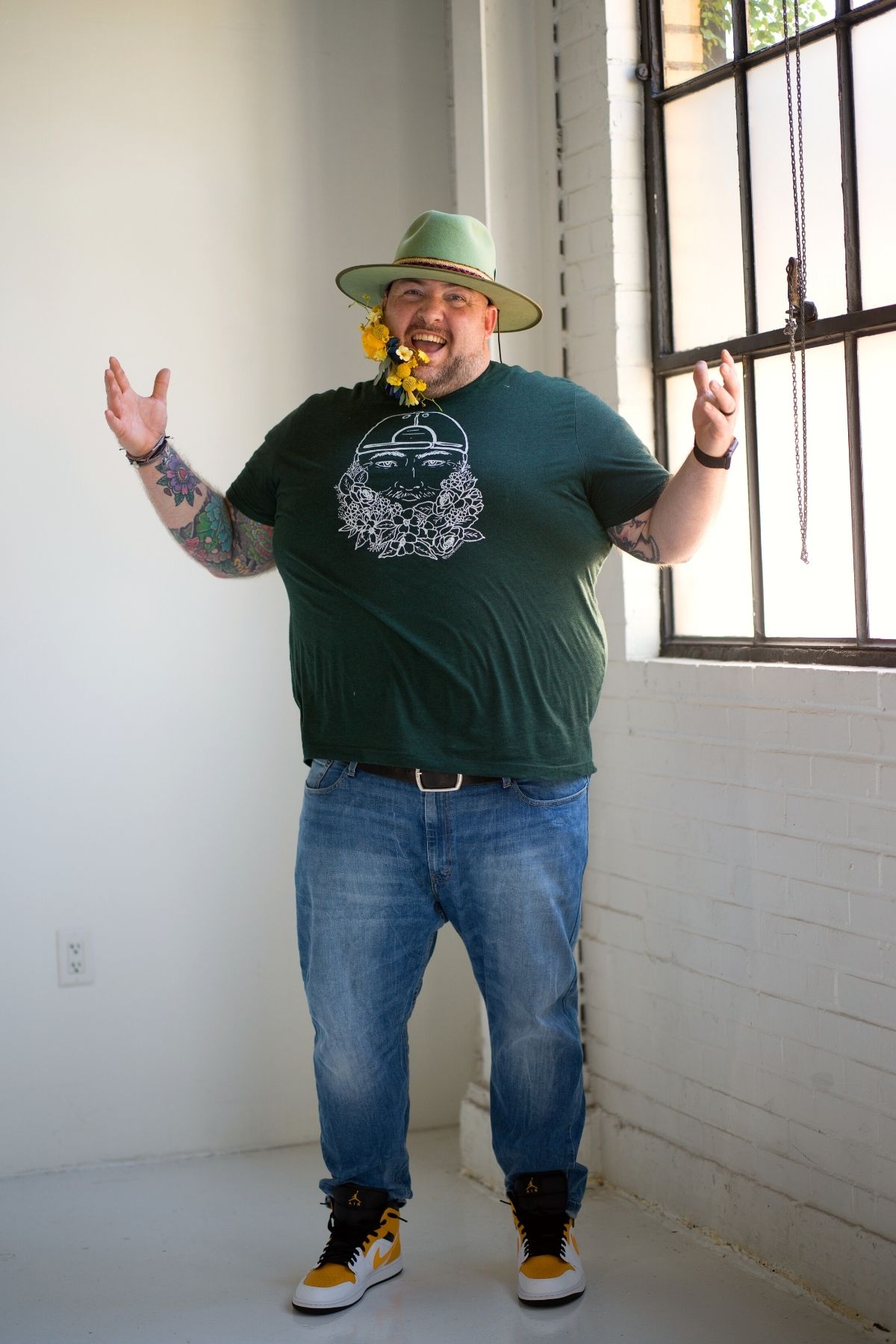 First Meeting With Flowers
Ace needed a job when he was 19 and this small flower shop in Victoria Texas was hiring.
Q: When was your first meeting with flowers and was it love at first sight?
Ace:
"My first real meeting with flowers was when I was 19 years old in Victoria Texas. I got a part time job at the local flower shop. I thought it was really cool! The owner of the shop was the really amazing guy that would tell me stories about how he was in Hawaii and the flowers there being so amazing and that's what got him into floristry. Honesty I think about a lot how it kind of groomed me into my future career.

And I don't think it was love at first sight! I think I needed time to grow as a person an learn how to appreciate the beauty of flowers."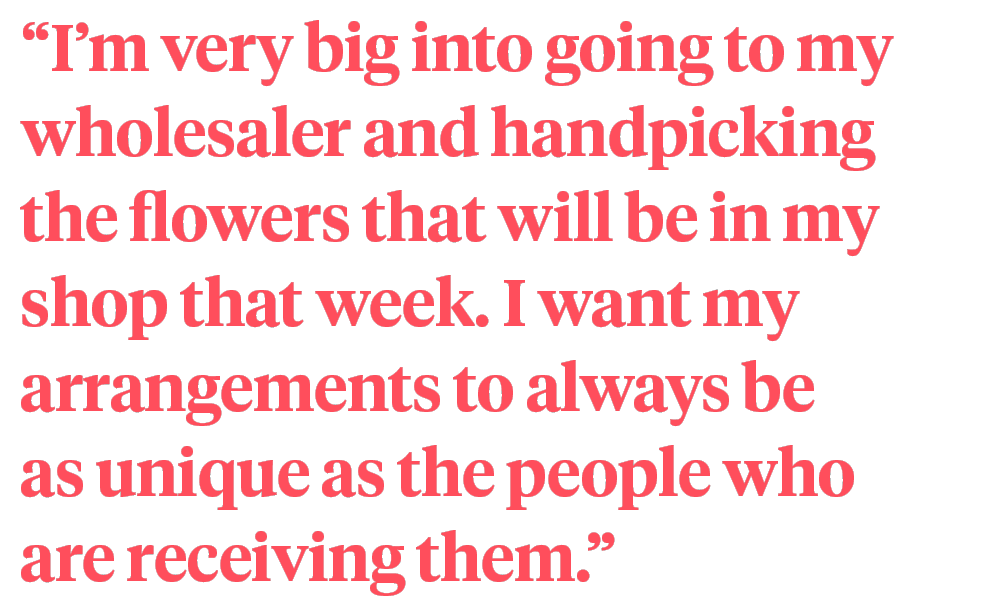 Q: Do you have a flower shop?
Ace:
"Yes bought a small floral shop in Fulshear Tx. in July 2016. I love my little floral shop and I love serving my communities floral needs."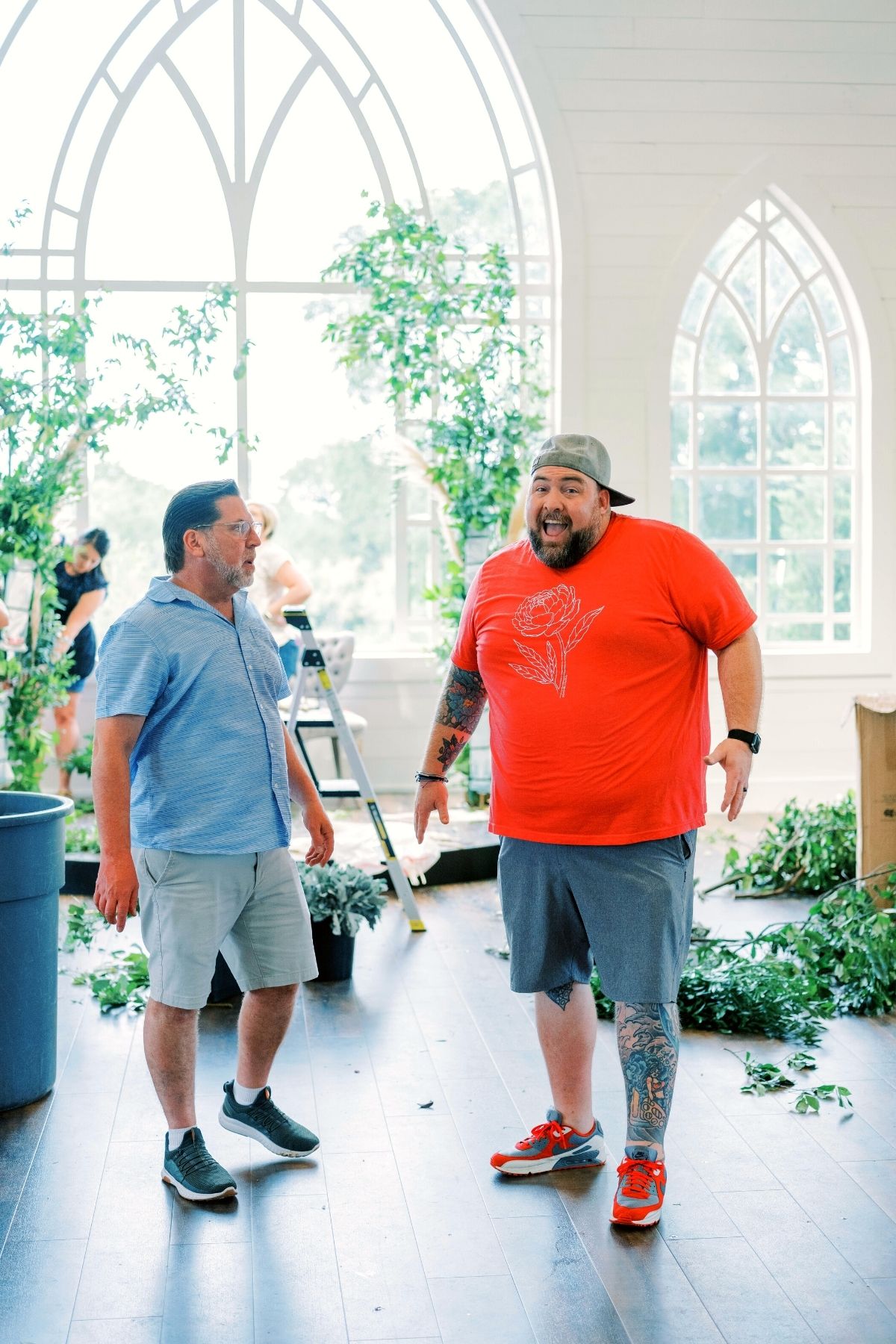 HBOMax Full Bloom Season 1 - The Finals
Inviting us into a vibrant and wondrous world, Full Bloom finds ten talented and innovative up-and-coming florists. And so they brought their spectacular creative visions to a grueling but gorgeous competition series. In each episode, the budding botanical artists were put to the test in both individual and team challenges that determine whose stems get cut. And who remains in the running for the career-changing $100K grand prize to kickstart their business. Floral masterminds Simon Lycett, Elizabeth Cronin, and Maurice Harris host and judge bringing their invaluable experience, discerning eyes, and hot takes to the flower shop to determine who will be the first-ever Full Bloom champion. Ace Berry and Conner Nesbit played the finals and Conner took home the $100K.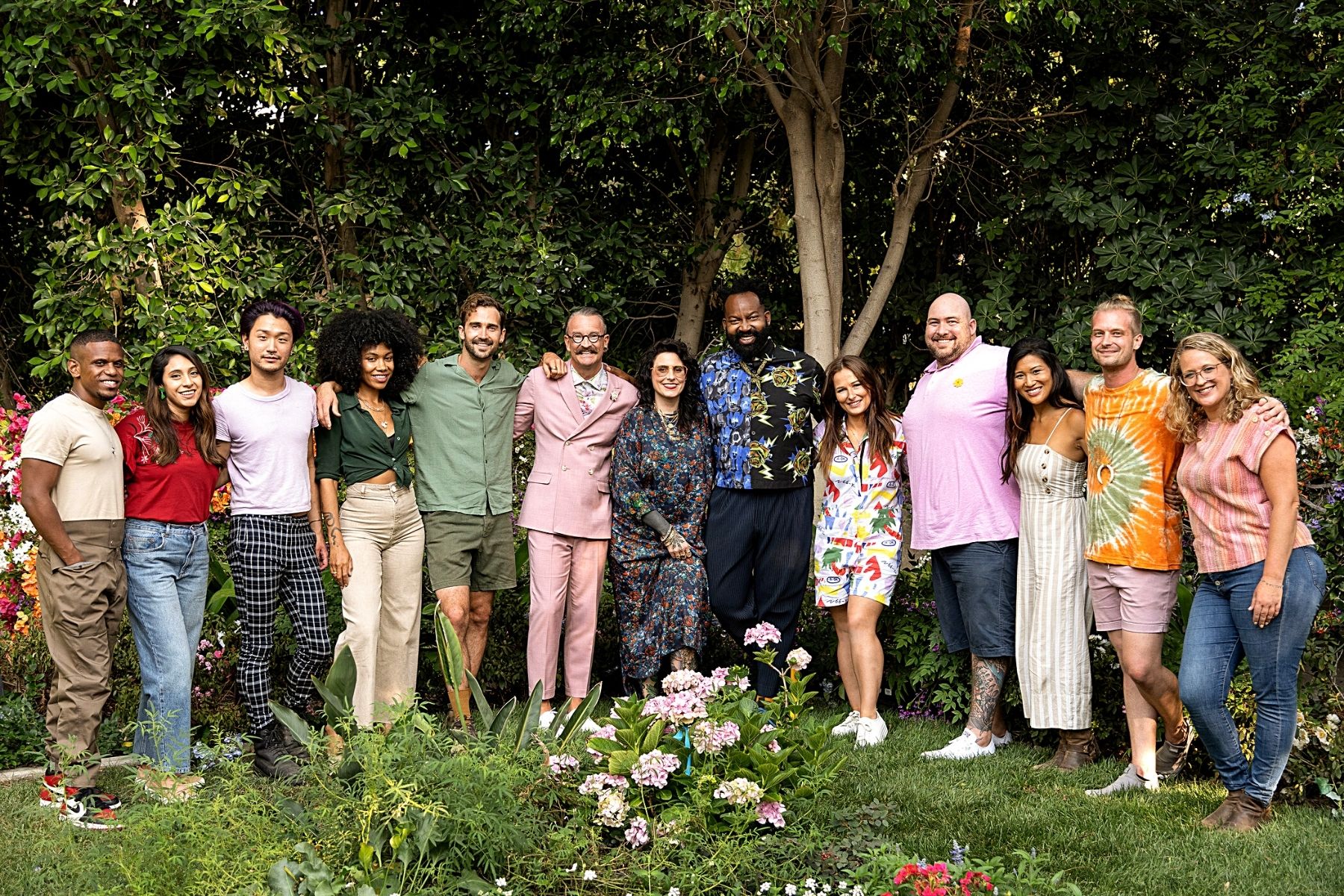 Q.: You participated at HBO Max program Full Bloom, how did you feel about it?
Ace:
"Full Bloom was such a great experience! I won't change it all."
Q.: How did you got chosen for this program?
Ace:
"I got a message from a guy named Benjamin Baldwin with Mystic Art Pictures starting in November of 2019 and I ignored all of them because I thought it was a scam. And then I started to see these ads pop up everywhere about Full Bloom, so I answered, they got my phone number, and we started texting. I think I'm not a typical florist and that's what attracted them to reach out to me. And a friend of mine was tagged in one of their posts and then she tagged me. On there IG."
Q.: And what did you learn from it?
Ace:
"I learned a ton! What I really took away from the Full Bloom experience was that being on a show is really hard! It long hours and a lot of moving parts. So I tried to view it as a job, and I want to be really good at it. I wanted to show the production company I had a great work ethic and was easy to work with. I want to make there jobs easier so I'd ask the question all the time. Like if they needed a shot, I'd position myself to make it happen. I just wanted to always be prepared for whatever they needed. The other things I learned even when you don't win a grand prize, you still win! I still feel like I won even though I didn't walk away with the money part of it. I won some of the best friends in the world and it's because of that show.

I walked away with an extended family, literally lifelong friendships with people I consider family, people I would do almost anything for. It never really felt like a competition show. It felt like I was getting to the design with my best friends and my family."

Favorite Design at HBOMax' Full Bloom
At HBOMax Full Bloom each designer had several challenges to work on. Obviously some fit more to ones design style as another.
Q.: What was your favorite design challenge that you did?
Ace:
"The first one is episode four, The Baroque Challenge. I use foam a lot in my everyday work to achieve some of the looks I design, and this challenge we had to design with only sustainable products. So I had to learn to be vulnerable with my design and use things I wasn't used to using. That's not usually how I am, so I really appreciated being pushed to be more vulnerable. My second favorite was the finale room because I gave it absolutely everything I had. I put my heart into it. I love flowers and I want everyone to flowers as much as I do."

Ace Berry has a little saying now that's inspired by his final design:
"Put your heart into everything you do, because when you do that, when you give someone your heart, you're literally giving them a piece of yourself. And it means that much more."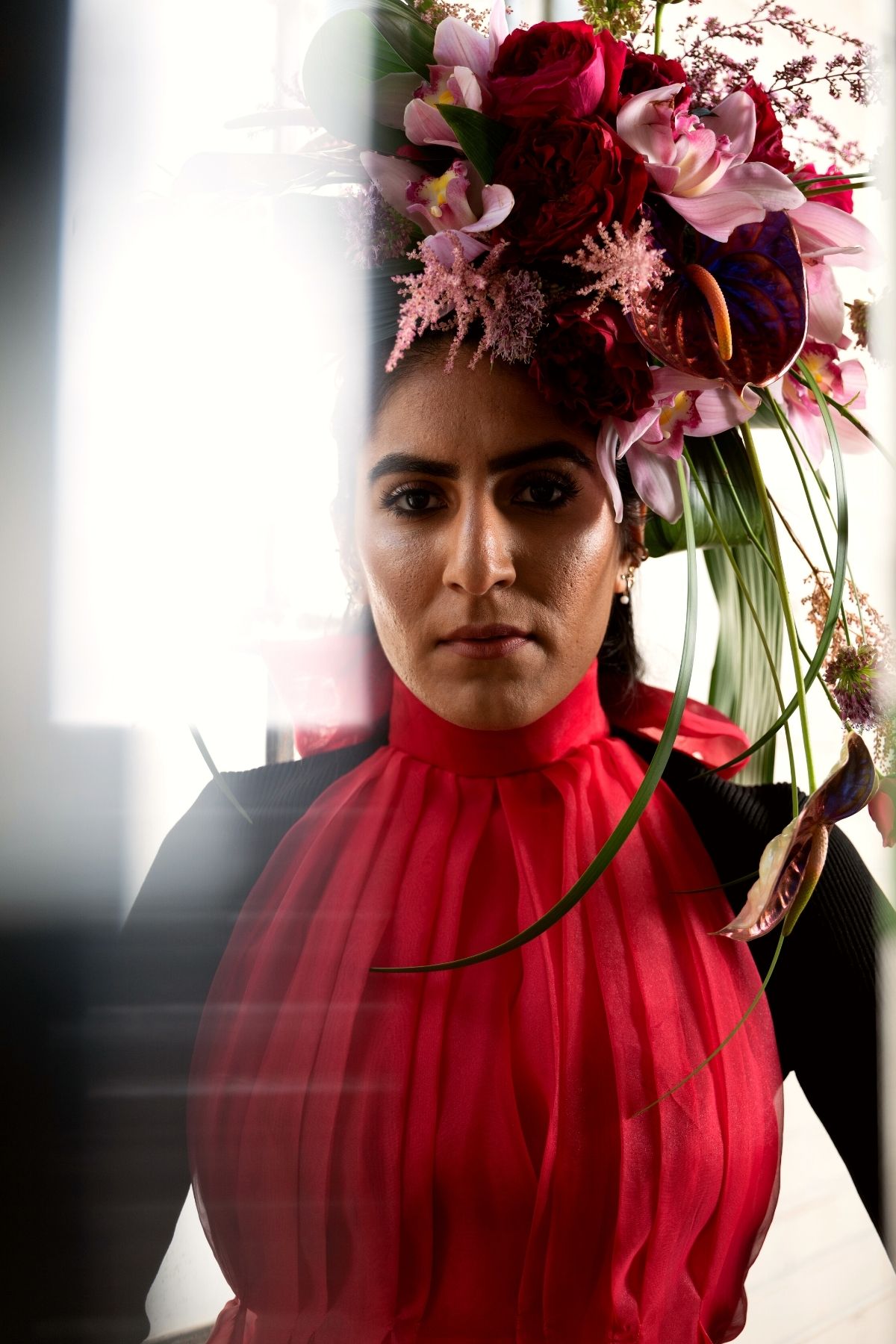 Elevating Fresh Floral Crowns and Beards Into Wearable Art
Ace Berry designs wearable flowers to look like a queen, or a king even. With flowers, each bloom is celebrated for its unique shape, texture, shade, and size; no one bloom is alike. With people, each of us unique.
Q: What is your favorite kind of design? Which flowers you like to work with most? Which colors?
Ace:
"Right now my favorite thing to design is elaborate Floral headdresses. It really just depends on my mood, Oh my favorite color is pink all different shades. It been my favorite as long as I can remember."
Q.: What is your favorite flower?
Ace:
I love a good carnation. I think carnations get a bad wrap, but honestly its one of my absolute favorite flower. You can get a carnation to do so many beautiful things. It comes in a wide range of colors. It's my #1. Now that being said, there are other flowers that I thoroughly enjoy. If you get into the orchids I love an Oncidium. But I love tropicals too. Tropicals were the flowers I used when I first got into the industry. Tropicals we're a little easier for me to use. Tropicals are sturdier so I could be a little stronger on them without ruining them while I was learning to become more gentle. I don't use them as often as I used to. Honestly, I use whatever speaks to me at the time. I'm very big into going to my local wholesaler and handpicking the flowers that will be in my shop that week. I want my arrangements to always be as unique as the people who are receiving them.
Education
Ace Berry is all for education. The more education you can get, the better. Going to symposiums, working alongside someone else, mentorship, working in a shop, will all help you evolve. Ace tries to attend AIFD Symposium every year, he loves fun weekend retreats with florists, and he loves to compete too, it learns you a lot. And together with Patience Pickner he created Inspired Designs ....a design team dedicated to their passion for the industry and paying it forward, with mentoring new designers, educational programs and classes.
Q.: What do you think about education in floristry?
Ace:
"I'm about all kinds of education. If you can do a mentorship, if that's what's best for you, do it. If it's going to your state programs or your city college to take classes, do it. The more education, the better you're going to be in the long term, the longer you're going to be in business, even if it's just watching YouTube videos. I am primarily self-taught. I did take a couple of classes and I've traveled to work alongside people like Gregor Lersch, Jim Johnson, and so many great designers. I want to be the most well-rounded florist I can be, so I try to find different florists that I want to work with or I want to take classes from, and I'll message them and ask if I come shadow? It gives me great insights."
Q.: Would you say studying with lots of different people has helped you refine your personal style when it comes to floral design?
Ace:
"Oh yeah it's made me a better designer for sure. I want to be the best version of myself "I don't want to be the next Gregor Lersch, although I admire him. I want to be the first Ace Berry. But yes, most definitely. Taking classes and learning alongside other florists who inspire me have helped me hone in on my personal design style."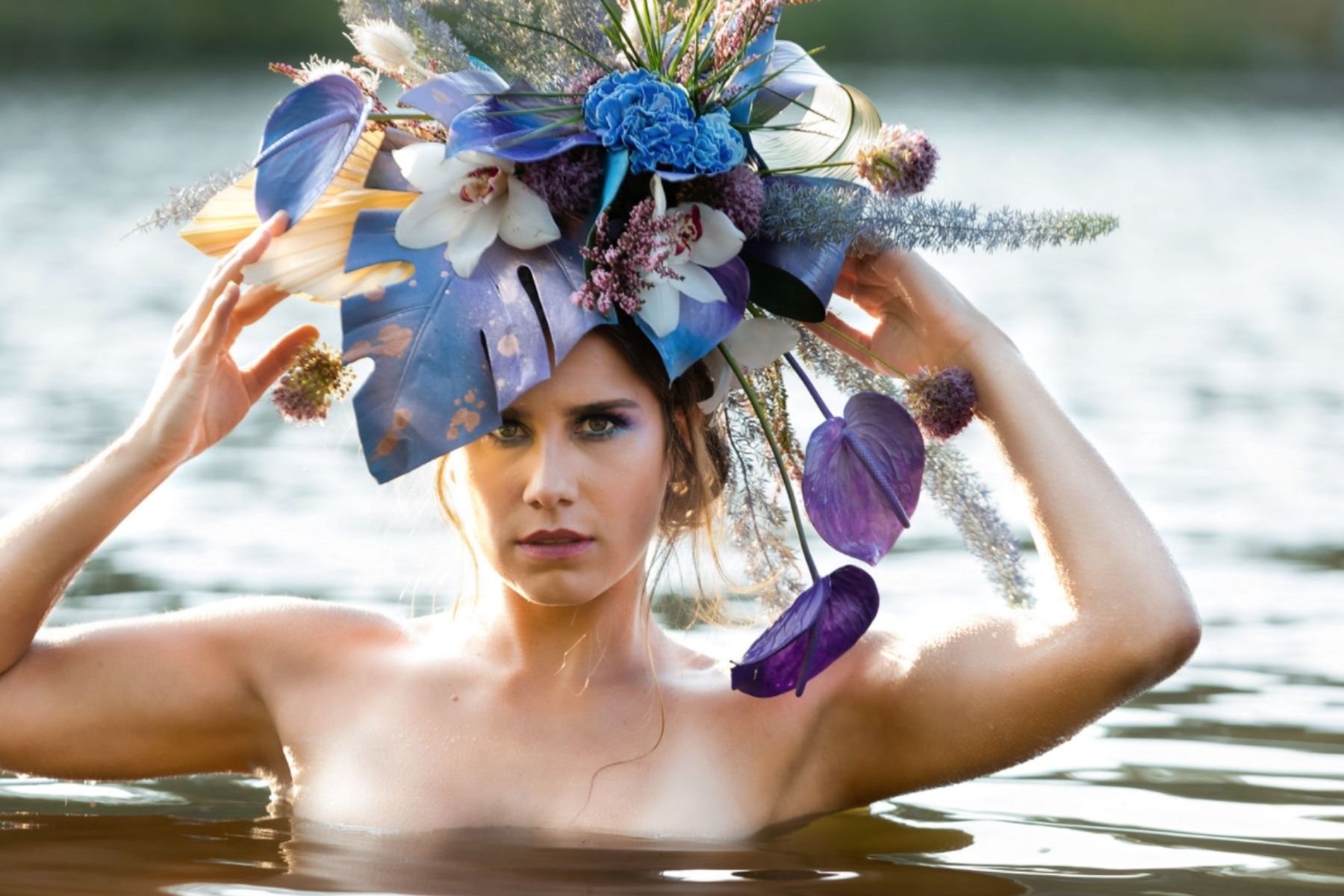 Inspired Design Floral Retreats With Ace Berry
Refresh, rejuvenate, and refuel the floral designer in you and begin to see floral design through the eyes of an artist. Ace Berry has several retreats coming up if you want to work alongside him.
Q.: Which retreats do you have coming up?
Ace:
"I have Inspired Design in October in Hilton Head, South Carolina. I founded this retreat with my good friend Patience Pickner."

"I have the Wasatch Floral Summit in Utah in June."

"And the Intrigued Experience in November in Maryland. You can find details for all of those with the link in my Instagram bio."

"And some hidden secrets that I can't share quite yet."
Looking Up To Several Floral Designers
Every florist has his source of inspiration, mentor, teacher, or somebody he looks up to.
Q.: Who in the floral industry would you like to spend a week with to learn, talk to, or help?
Ace:
Can they be deceased? Buddy Benz. He's a Houston native. He actually gave most of his stuff to Texas A&M to create the Benz School of Floral Design. I would love to spend a week with Buddy to see and understand why he fell in love with flowers as much as he did. And then I would probably say Bart Hassam from Australia. He won the World Cup of Flowers in 2019. I think he designs similar to the way I do, and I would love to pick his brain on his design esthetics. And the third person I've got to work with, and that's Patience Pickner, and it's because every time we design with each other, we learn something new and we have a fun dynamic.
Ace Berry's Advice to the Floral Industry
For young people to enter the floral industry, has to take a lot of courage. It's hard work and many hours, and intense artificial work too. But it's also very rewarding.
Q.: What would you say to new people in your industry?
Ace:
"There is enough business to go around for everyone. Community is greater than competition."