The Conscious Creative Community of
EMC
hosts a monthly challenge where we encourage designers to be active and constantly work on their creativity and their growth. The winner of this challenge is given this amazing opportunity to show the floral world just who they are. A floral interview with
Ana Grigoras
.
A Floral Interview With Ana Grigoras - Winner Challenge Conscious Creative Community of EMC
To know more about a floral designer is energy for the soul of everyone working in the floral industry. The passion speaking in all designs and in words talking about their profession is amazing.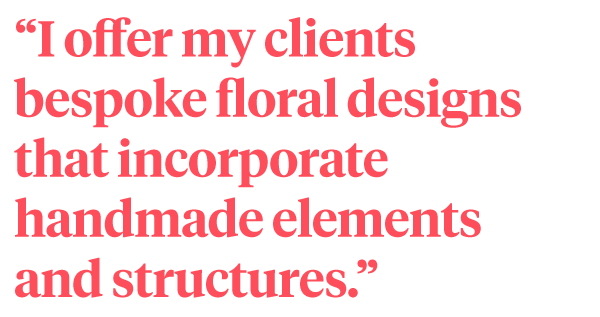 Tell us about yourself. How would you present yourself to readers in a short paragraph?
I am a Romanian floral designer with a great passion for contemporary floral art and crafts.
What made you consider starting a career in the floral industry?
My background is somehow related to flowers and plants, as I am an Environmental Protection specialist, and throughout my College and Masters I have studied about nature in all its aspects, but I guess that I have always had an artistic side of me that wanted to come out. So, in 2015 when I got married, I took care of my wedding reception, organizing things and even making a lot of handmade decorations for the party, and the feedback that I received was very good, a lot of people suggested that I start creating beautiful things also for other people's weddings. I had requested after this, and I thought that if I would start to work in this field, I would have to know what I am doing in order to give my customers great service and products. I began with a basic course for weddings in my country, and from that moment, I returned back home as a different person. I quit my office job and I started doing events. I started my floral journey with the intention to create beautiful floral displays for weddings and parties. I always wanted to learn more and more about floral design, so I continued my studies at the Floral Design Institute, Portland, Oregon, and now I am an EMC student.
What's your main business? A floral studio? Do you do events and weddings?
I have a floral studio where I offer my clients bespoke floral designs that incorporate handmade elements and structures. Also, I do design work for weddings and events.
What made you join the EMC Conscious Creative Community?
Being an EMC Student made me see the importance of surrounding myself with the right people in order to grow, so being part of this community is a great thing for me because I learn a lot by seeing my peers' designs, by attending the lives and listening to the feedback that Tomas is giving. It helps immensely!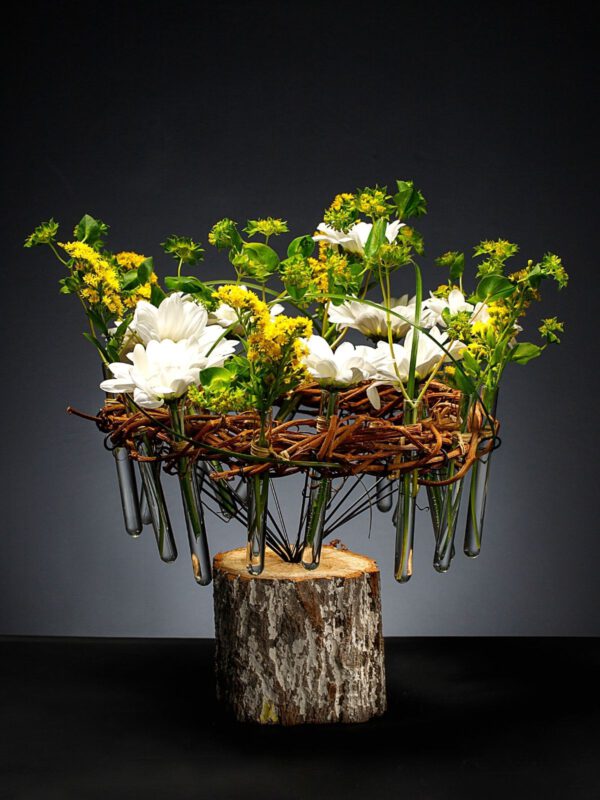 Why did you decide to participate in this month's challenge in the CC Community?
Because it's a great way to engage with others, and it's also a wonderful way of receiving feedback from which I can learn a lot.
What is the thing you like the most about participating in this challenge?
The fact that I can receive feedback from Tomas, one of the biggest designers of our time. This is an opportunity that I couldn't get every day if I didn't participate in these challenges.
You won!!! Did you expect that winning could be a possibility? I mean: are you a winner if you play?
I know that participating is important, and not always winning, but I must admit that when I participate in a contest I think about my W's and I plan ahead In order to have the best chances of winning. I treat very seriously every contest or challenge because this is me.. I like to give 150% each time, and I am soo, so glad when my work is appreciated! It's like a confirmation that I am on the right track with what I do.
What is your opinion about the theme chosen for this month's challenge?
I loved it and I must say that it suited me very well :). I love working with decorative wire and it was a pleasure doing this design!
What do you think about having your design analyzed by Tomas De Bruyne such a world-renowned designer and, also, teacher?
For me, it's a great honor to have my design analyzed by Tomas! It's the best prize ever! I think that there is no bigger satisfaction than hearing your teacher saying that your design is good. It's an uplifting and powerful moment that I very much cherish.
How do you keep yourself motivated during these rough and ever-changing times?
By constantly remembering my ''WHY''... why did I first started working with flowers and also where do I want to be in the next period. What is the next step I want to take in my career... I keep challenging myself in learning new things, in becoming better, because these are the things that keep me focused.
Do you think it's important for a florist to keep up with trends? Could you please justify shortly your answer?
It depends on which side you want to be on. Eighter, you want to set the trends, or you want to follow them. I think that trends are important and in order to have a thriving business, a florist should always be up to date and should come up with new things for his clients, but I personally am not adept at immersing yourself in the trend and following them just like everybody else. I think that trends are just guidelines and one has to take from there whatever suits him/her best in order to be fresh all the time, but still, I think that everyone has to find a way in being different from everybody.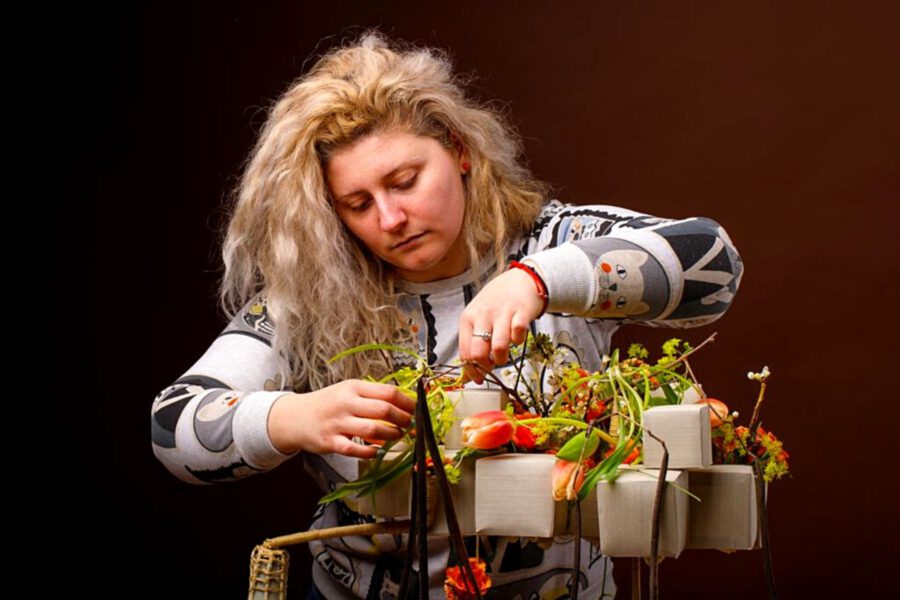 Do you have your own signature style? What would that be?
I believe that developing a signature style takes time and I am in a position where I can see things evolving in a certain direction, but I haven't reached the point where I can say I have my own signature style. I am trying to expose myself to multiple styles and to experiment with different things, in order to consciously start to create in a certain way that will fully represent me.
If you got to choose a song that would play every time you entered a room, what song would you pick, and why?
Michael Jackson - Liberian Girl, because of its rhythm
If you were a brand, what would your slogan be?
Just be yourself! You are enough!
What is your favorite flower and why?
Gloriosa is one of them because of its amazing character. I consider this flower to be a real show stopper! Also, I adore Bupleurum for its vegetative appearance and its longevity.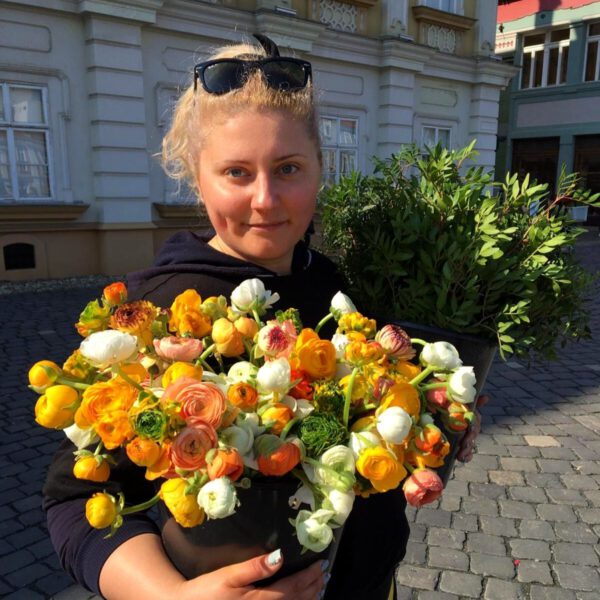 What's your all-time movie?
It's a cartoon actually -Lion king :))
What is your favorite food?
I love pasta and sushi.
Do you like to travel?
I love to travel!
Do you like working with plants too?
I like plants, but I haven't got much experience in working with plants in my designs.
How do you source your flowers?
I buy flowers from my local wholesaler and also from different webshops.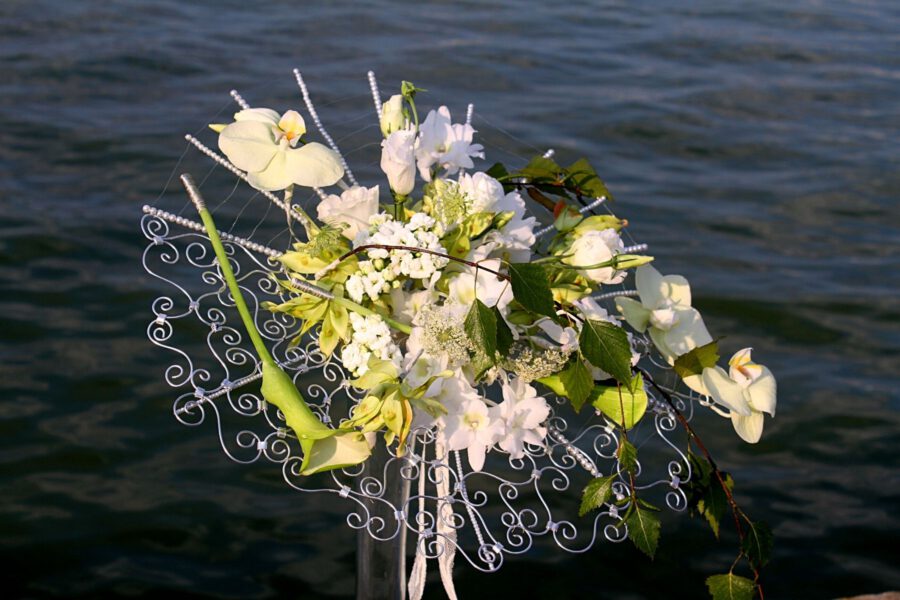 Which of your floral achievements are you very proud of?
I am very proud that my design was published in the magazine Fleur Creatif. I will tell you a funny story that happened while working with flowers. On my third day at the EMC Foundation course, the design that I made the previous day was analyzed by Tomas in the morning. I remember that I used Germini as my main vertical line in the design and 2 out of 3 flowers were very sad with their heads literally hanging down. Tomas asked whose design was that and the only thing I could say was: ''I am not responsible for the death of those 2 flowers'' 😊))) Tomas started laughing and he said ''We'll see about that'' 😊 and he took out the flowers from the foam and checked if they were well cut, or well inserted in the foam, and after a careful examination he said: ''You know what?! You are right. You didn't kill those flowers after all'' 😊 My face was red, my temperature was high, but after hearing that I just could breathe relaxed again that I wasn't a flower killer :)))
Is there some special goal or a big dream you want to go for?
I dream of being a floral design teacher one day and having the chance to work for a big school in this field. Also, I would love to freelance for big events and weddings.
Where do you see yourself in 20 years?
Having my own flower school.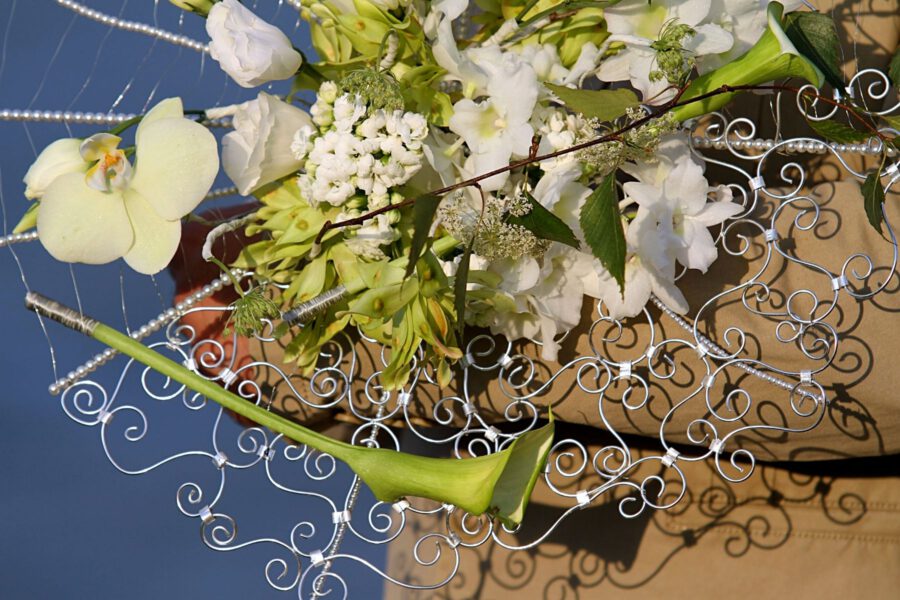 Tomas De Bruyne on Ana's design
"The design Ana submitted for the #ccaugust challenge is simply wow! It's not just about the color story, although fabulous, but how she focused herself on the process. She was really involved into the process and the outcome came with it and this is what we are looking to nourish in the conscious creative group: dive deeper into the design process and you discover the magic, you are able to put something totally different together. Inspiration is everywhere and it is up to us to see it. And some of the best sources of inspiration actually come from outside our business, and Ana's mojito inspired bouquet is such a great example of how looking outside the floral industry can transform the work into something truly unique".
If you also want and participate in the monthly challenge, join us on our EMC Conscious Creative Community Facebook Page and have your creativity brought to action!
Ana Grigoras
. Facebook @FloralisticAtelier Instagram @floralistic_atelier