Janneke Camps grew up in Swolgen, a small town in the Netherlands. Nature is in her roots, not only did she have an education in floristry, but she also learned to teach, one of her biggest passions, but at the moment she is studying again, a Master Learning and Innovation. Learn to know more in this floral interview with her.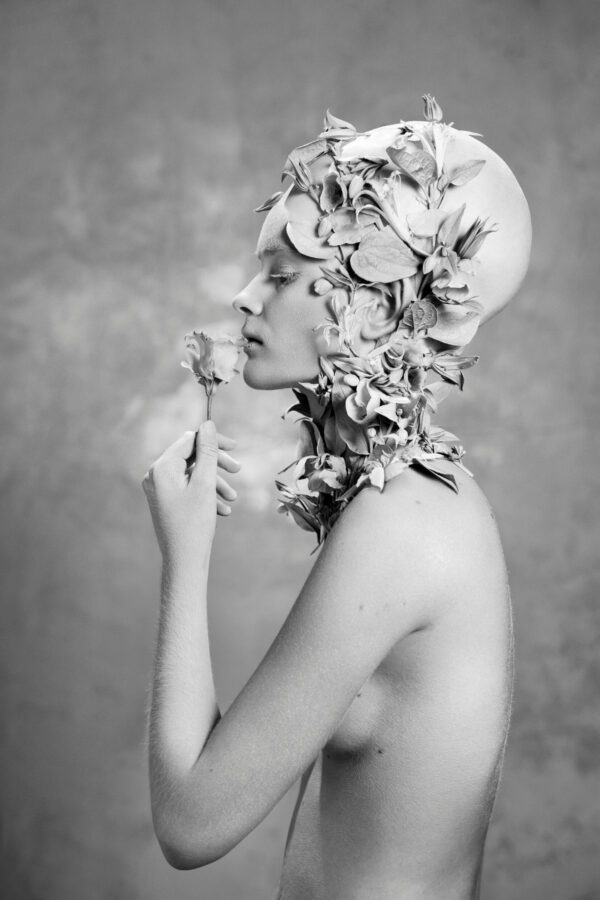 Janneke Camps Speaks About Her Life
In this interview,
Janneke
talks about her growing up, education, work, and ideas. She for sure knows what life is about and in the flower world, what's going on, and how it's all evolving.

First of all, we would like to know more about you. Tell us a little bit about yourself.
"My name is Janneke Camps and I grew up in Swolgen, a very small town in the south of the Netherlands. Our home was a large farm with a lot of gardens and a meadow where horses grazed. I am a daughter of a horse trainer, my mother, and a forester, my father. My interest in nature is in my roots. I went to secondary education Floristry in Nijmegen and after four years to the University for agriculture teacher training, known as Aeres University Wageningen (Stoas University before), training Floristry. In this program of four years, I had the opportunity to do an internship abroad. So I went to the outback in Australia and worked, lived, and learned three months from the Aboriginals in Yuendumu. It was an incredible experience with a deep impact on my development as who I wanted to be in the Flower World. It gave me a lot of inspiration and input for my Master Floral design titled "Aborigineel" that I passed in 2005. The content of this Master Test was about introducing Aboriginal impulses in the Dutch Floristry. I learned myself working with beeswax and made Floral designs with this pure and natural material."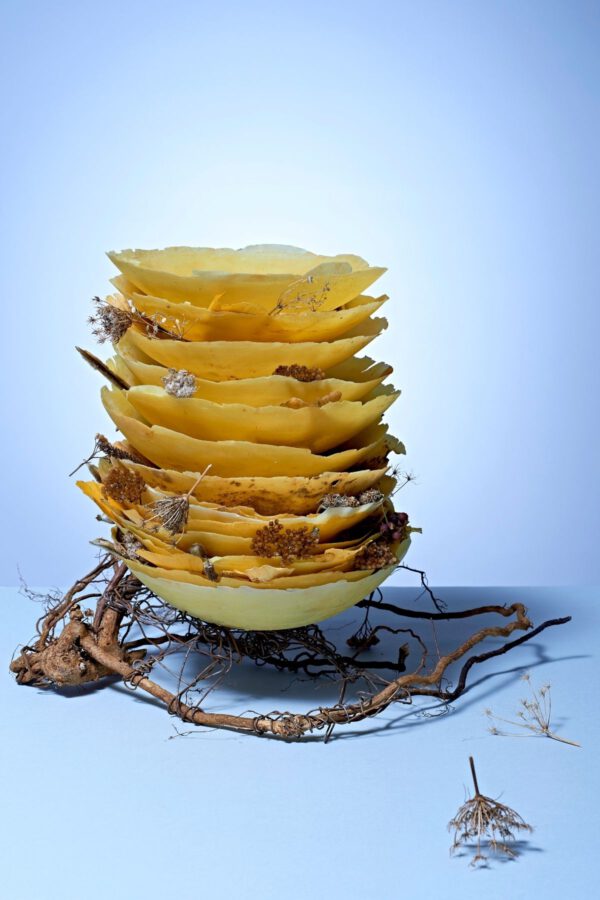 "Nowadays I am working as a teacher and mentor at Aeres University for thirteen years. I train future teachers and florists (national and international) and I am a mentor of candidates that are following the training Master Floral Design. I make contemporary work for books and sometimes exhibitions. Two years ago I started a Master Learning and Innovation. So not only the teacher but also a student again."
Why is floristry so important to you?
"Nature is the environment I grew up in. As a child, I remember the conversations at the kitchen table were mostly about outside and nature, seasons, and maintaining the fruit trees and vegetable garden. Nature colors, work, and conversations about agriculture being outside, this is in my nature, my DNA. That it would be part of my life in the future was and stays a fact. Can't live without it. Floristry is for me more than designing flower arrangements, it is the connection with my roots. I am constantly focused, in a natural way, on what I see outside and marvel at color, shape, way of growing and try to find a way to capture that in maybe work or even lessons. My children say that I'm half human and half plant."
Teaching is one of your passions, right?
"Yes, for twenty years now. I started to give my own workshops at the farm. I realized that working with plant materials and talking about it and even educating others about it, felt good. I worked at a primary vocational school for three years, at a secondary vocational school for one year, and after that at the university."
Is it true you also love to paint?
"Great question. Yes, I also paint. But not professional. One of the things I love about flowers and plants is the colors. To make nice color compositions with pigments of plants is amazing. Sometimes I try to imitate that on paper with aquarelle paint and combine this with real flowers and plants. I do sketching a lot. Especially to explore and explain to me, students and clients, how composition can look like. I try to train my students that it should become a habit to sketch. It helps to develop ideas."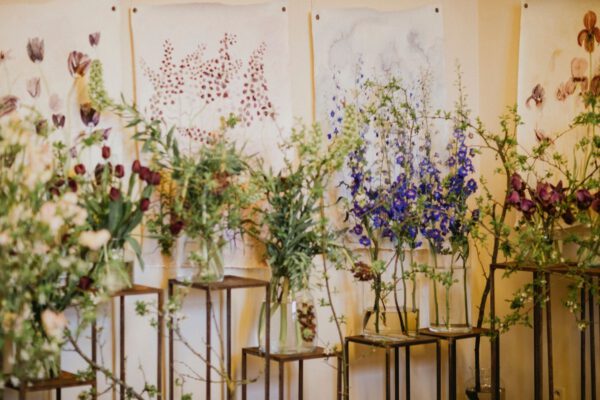 Creativity has to be in your blood. True?
"Creativity I don't know, but creating yes. I like to think of solutions, to create ideas for 'a problem'. I think that every person has got his own signature. This signature will separate you from others. This is a very interesting subject and I love to explore with students their own signature. My signature is working pure and with raw elements and techniques. That's what I explored at the aboriginals. The culture, tribe rituals, pure materials and suits the environment and seasons, is the challenge I like. Through the experiences, I try to trust my instincts and how it feels. You know for sure that feeling that you know it just doesn't feel right then I rely on my instincts and try to explore what it is to find the solution."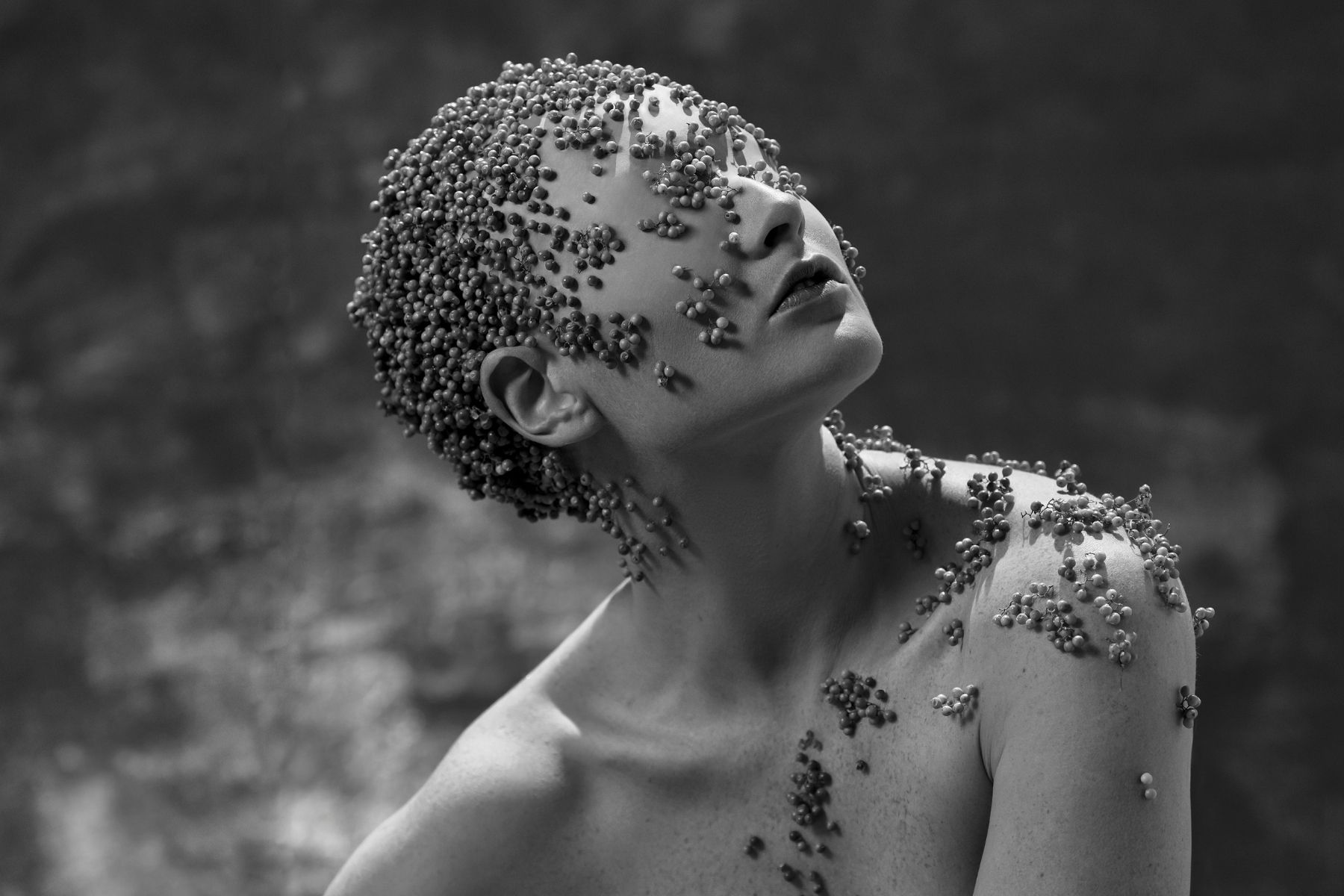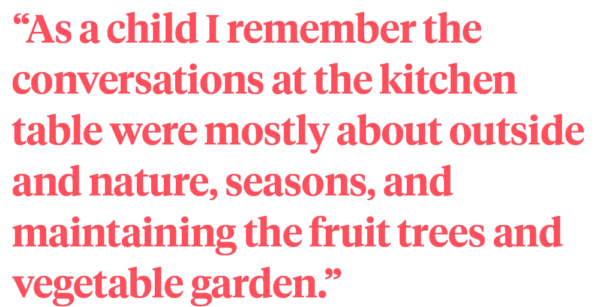 What do you think is the biggest global issue for floral designers?
"I think it is the image of our floral industry. I teach on a university floral design. It is sometimes hard to explain to people, who are not that familiar with floral design, that this really exists. But not only on this higher level. Our floral world, where demonstrations, skills, famous florists, books and magazines, are very important, is invisible or sometimes even unknown to the average person. The food industry got a further reach and for a lot of people a very serious topic. Think of diets, ways of living, restaurants, master chefs, etc. The floral industry could have just that same impact in society as the food industry, as it also can be a way of living, we also have master florists, but hardly anyone knows. The unknown world has yet to be discovered by the average person as it now most of the time is seen as a hobby."
What is yours?
"My issue is exactly this struggle to almost convince people that I have a really serious profession. That I teach about plant shapes, the way they grow, how we can participate with those shapes in a design. That we have a whole world of professional florists who inspire and make books, have exhibitions, and are all plant artists with their own signature. I would love to make this more visible."
If you could pick anyone from floriculture to talk to, who would you pick?
"Again great question. I would love to meet two famous persons, who have in a way connections with flowers and plants. First David Attenborough. What a great man. The way he brings information and knowledge, is like magic. He talks about our nature as if it's a fairy tale. I am always very fascinated by all his knowledge, but mostly the way he tells it. The images are beautiful and in combination with his story, it is almost a journey that you follow. The second would be Andy Goldsworthy. He also conjures plant materials in an environment as if he as a conversation with mother nature. He is the translator of mother nature in her profession as a florist. His work is part of the environment. He perceive, analyze, and reorganized the plant materials in such a way that they should always have been like this. He is always a part of my lessons when I teach about gestalt laws or creation techniques or shapes and designing in and for an environment."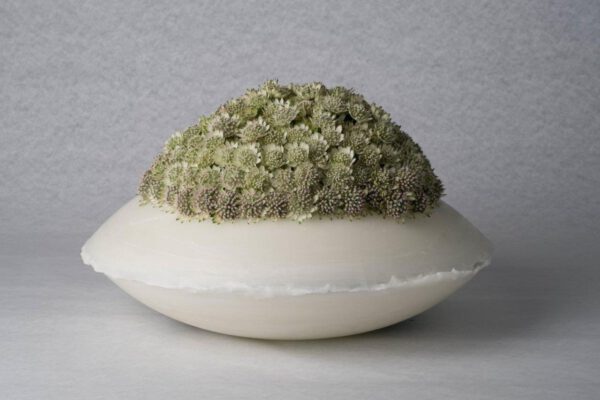 "But as we talk about florists, then I would love to meet Gregor Lersch again. He is an inspiring and great craftsman. Marcel, my husband, nowadays knows how important my work is. The first florist I introduced to him (on paper) was Gregor Lersch. Just to show him on what level floral design also is made. He knows the way of creating compositions by still using the elegance of flower and plant shape with pure and basic, but still complex, techniques. You can read in his designs the conversations he has had with the plant stems and flower shapes. That is for me a true florist."
What would you like to learn?
"They all have, what I think, this creative way of thinking. Storytelling, finding solutions for techniques that suit the design and plant materials, and a constant way of inspiring and surprising others. They act consciously in their way of working and thinking. I would love to learn how to make wise choices in making a design, in choosing the way of telling stories and how to make that visible in a design."
What are you most proud of doing?
"I think my own story that I tell to my students. The story of traveling around the world. I have been to the aboriginals, but three years later I went visiting them again. I did, with Marcel, a world tip for one year. We visited quite some countries and tribes. These tribes are still in my memories and in my stories. I use them to inspire my students, not only to develop new techniques but also to encourage them to go on their own trips and make their own adventures."
Can you tell us your ideas on trends?
"After the lockdown I hear a lot of people around me who are struggling with what they want. I think that one of the trends will be, "back to basic". I think that getting out of the rush, the daily patron, the habits, was an eye-opener. So working with the hands, into the soil, creating, and wellness will be an upcoming trend. That will come with natural colors, simple and raw materials, crafts, and local products. More respect for time and effort in how things are made. That's my idea."
What more would you like to tell the world?
"It is important to believe in what we do. We are all ambassadors of our Floral Industry. That means that we do work with the most beautiful materials we have on this planet. That we can not make it more beautiful, but to give it the best place and stage it deserves. I think that must be the strongest skill of a florist."