The German flower and plant sales have been steady for the last couple of years. But, last year in 2020, despite the pandemic, the sales of the flower and plant markets in Germany grew rapidly, and expect to do even more so in 2021.

The Flower and Plant Markets in Germany Are Worth $12 Billion
The reason for the increased consumer spending was that the Germans have been staying at home much more often as holidays were canceled or postponed and, people spent their money on flowers and plants. Also, many first-time buyers of flowers and plants appeared in flower shops and garden centers across Germany. The great weather in the spring of 2020 certainly played a role as well.
An Important Market
For many flower exporting countries, the flower and plant markets in Germany are very important. It's a $12 billion market. (Based on retail prices). Compared to the estimated $40 billion USA market, the German market is smaller but still big, and one of huge importance to breeders, growers, and flower exporters around the world.
But, The Germans Speak German
To target this large market is bigger of a challenge for flower exporting countries outside of Europe. Most growers in Europe are located in The Netherlands (almost half of the global production), and in Belgium, Italy, Spain, (and Germany). Most of them have someone within the team speaking German. This is not the case for the flower-producing countries in Asia, Kenya, and South America. You have to understand that most Germans in floriculture do not (like to) speak English.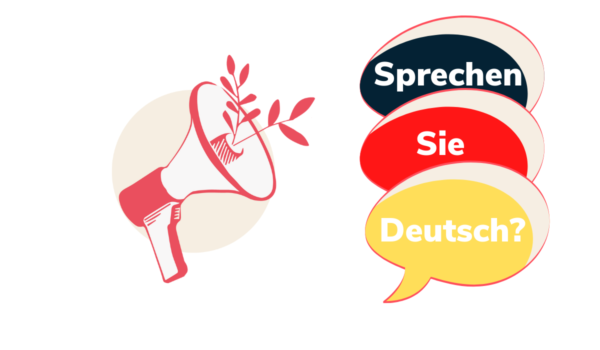 Specific Ways and Needs
It's not only the language that makes it difficult to penetrate the flower and plant markets in Germany. Germans, and specifically the ones working in floriculture, are people with specific ways and needs. It is also still a very traditional and conservative sector in Germany. To gain access to the German flower and plant markets, you really have to develop a feeling for, and understanding of the Germans working in floriculture. You need to have a lot of knowledge, experience, and patience. In general, Germans are not quick to start to do business with a new supplier. And there are some deep cultural differences. Even within the country.
Differences in preferences and habits can be quite substantial, even if people live a few miles apart. Also, the style and design of flower arranging in the imagery you might use to target the German wholesaler or florist is something you have to be aware of. It's different from most other countries. Where International design can be used almost anywhere, German floral designers look a bit deeper into what they see. How is it made? Which materials are being used? Are they sustainable? (An important topic nowadays in Germany). This deeper looking has a lot to do with the high standards and very good education of people working in Germany. Yes, also in the flower industry, people in Germany are highly skilled.
Don't Speak German? Find a German Partner
BLOOM's for example, is such a partner. Founded in 1992 and employing over 40 people, publishing a wide range of magazines and books in Germany, BLOOM's is a partner on which you can rely to penetrate the German flower and plant markets. BLOOM's runs a full-service agency for green market clients. Ideal for targeting businesses in the German plant and flower markets. Over 10.000 photos & videos are produced every year for their own media and on behalf of their customers.
BLOOM's for Targeting the Flower and Plant Markets in Germany
As a full-service agency, BLOOM's advises and supports associations, manufacturers, growers, breeders, trade fairs, importers, wholesalers, and retailers from the green sector in all marketing issues. On top BLOOM's offers direct access to its professional and consumer media Portfolio. An ideal partner to access the German flower and plant markets.