Divine Dried Wedding Flower Ideas
I am consistently blown away by the creativity and vision of the wedding industry and today's shoot is again proof that your wedding can be unique, creative, and totally and utterly you. I am thrilled to be sharing these divine dried wedding flower ideas; with the concept 'Light & Shade' inspiring this editorial shoot set at The Willow Marsh Farm, Loughborough, UK.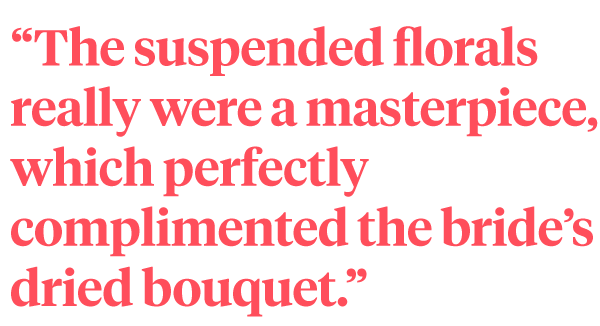 The shoot was held in the beautiful barns with light streaming through, catching the beautiful gown perfectly in the light. Think stylish tables adorned with terracotta napkins, earthenware, dried flowers, and a magnificent hanging installation featuring pampas grass. So achingly cool! Also, look out for the modern cake featuring a heartfelt 'always' topper and the fun personalized leather jacket. There were two contrasting bridal looks with two outfits as well as two hair and makeup looks. I am just loving the ponytail, it's such a chic yet relaxed hairdo for brides. Behind the gorgeous stationery as well as the concept and styling was Fine & Dandy whilst Dan Lambourne Photography was there to capture all of the divine images I am sharing with you today. Wow.
An Ethereal Styled Shoot with Light & Shade
The inspiration behind 'Light & Shade' was the concept of having warm and moody tones within your wedding day, driven from the stunning venue that is The Willow Marsh Farm. The unique story behind Willow Marsh Farm is back in 2015, owners (and now a married couple) Simon and Sarah, couldn't find their ideal wedding venue… and what happened next was truly magical. What started out as a dream sketch into a notepad, and from the rubble of an old cattle barn within their farm, became their perfect reality and something extremely special. The Willow Marsh Farm is elegant and characterful and sits within 100 acres of pasture, lakes and vibrant wild marshes, which was the perfect backdrop for this ethereal styled shoot. A hidden gem within the Leicestershire countryside, filled with light and shade!
Warm Color Palette
The color palette was warm and golden tones, with accents of black, beige, and terracotta. An array of dried flowers were at the heart of the shoot, centered around the most majestic suspended dried floral installation. Filled with parched ruscus, wheat, pampas, honesty, and hydrangeas, the suspended florals really were a masterpiece, which perfectly complimented the bride's dried bouquet. Full of movement and texture, the florals added a raw, fairy-tale nature to the shoot. A statement square base cake, with modern straight edges and draped fondant, with rustic separator and black 'always' text, took center stage on a black metal plinth, which popped to perfection against the exposed brick. The styling included a large rustic tablescape, which was adorned with vintage ceramic bottles filled with delicate and minimalist dried florals. The table also featured neutral earthenware plates, raffia placemats, black cutlery, cut crystal glassware, and terracotta napkins, which were all brought to life with the warm glow from the black metal and ivory ceramic candlesticks. Clean, minimalist and monochrome stationery, with a hand torn edge, finished off the table setting.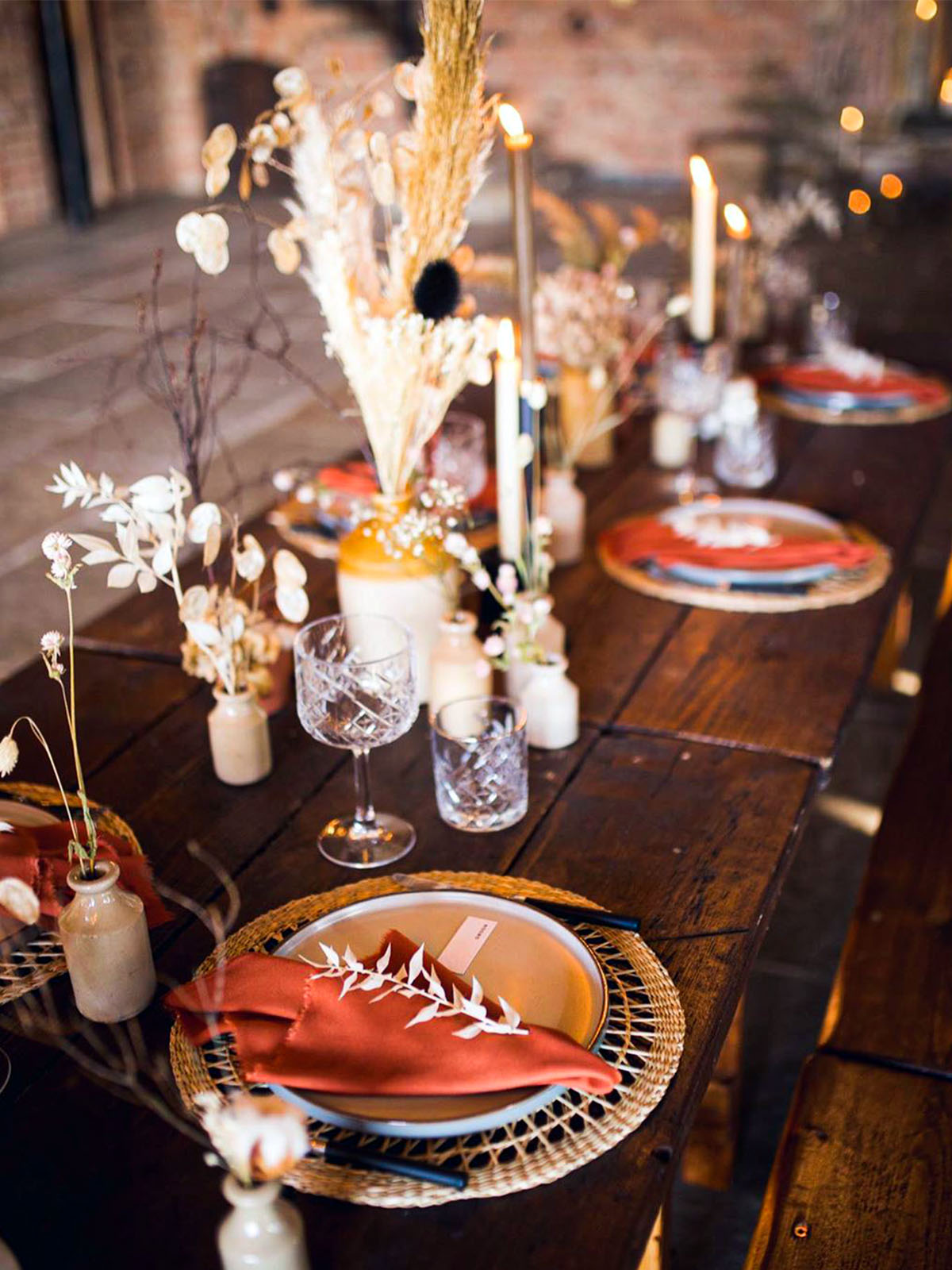 Mrs… Keeping My Maiden Name
Our bride Hannah showcased two looks, with ethereal and whimsical styling for the daytime, and a more vamped up, gothic feel for the evening. Starting with the daytime look, the fairy-tale dress by Madi Lane was full of movement and fluidity, grounded by a bespoke hand-painted leather jacket. With 'Mrs… Keeping My Maiden Name' scripted on the back of the jacket, this shoot is clearly aimed at the style-conscious, modern and independent Bride! Makeup was minimalist and light, which complimented the loose, tousled ponytail which was garnished with oversized pearls. The evening look, was a clear contrast, filled with dark and moody tones. The slip style dress by Oui The Label with a silk tie bow, was elegant and timeless, which contrasted with the bride's statement gold jewelry. The makeup was also a step away from tradition with dark and smoky eyes, and a minimalist veil also added a mysterious nature to the shoot. The weather must have known our styled shoot was called Light & Shade, as we were spoilt with a crisp winters day which was sun-drenched throughout. The creeping sunlight through the old barn doors, giving glimpses of light here and there into this magical venue, was just perfection!