Does one ever realize how much effort top breeders put into inventing the best flowers for the market? It is an immense task to find that gem that has the perfect quality specs and attraction value for the growers, traders, florists, and consumers upstream in the floral chain. Still, this research is the big passion of Johan de Looff from De Looff Lily Innovation. How to search for a successful roselily when you are bound to discard hundreds of thousands of others that did not make it to the finish?
How big were the odds that one day we could buy a double-flowered oriental lily with a mild fragrance and no pollen? And what's next? The answers to these and many more questions are given by Johan himself during a rare and exclusive look inside his greenhouses.
The First Roselily Was a Twist of Nature
Many flower professionals will still recognize the name De Looff as an eryngium and lily breeder. Johan and his brothers Tonny and Martin made a name for themselves with Eryngium Donard varieties before switching to lilies.
The quest for roselilies began right here, in Koudekerke in the southern province of Zeeland, Netherlands. Far away from the hectic auction areas of Naaldwijk, Rijnsburg, and Aalsmeer, the brothers had nature on their side one fine day back in 1997. A fluke in the seedlings. One single stem in a whole field of lilies drew his attention; a unique double-flowered lily was found by a twist of nature. To this day, Johan still has no clue how this surprise popped up.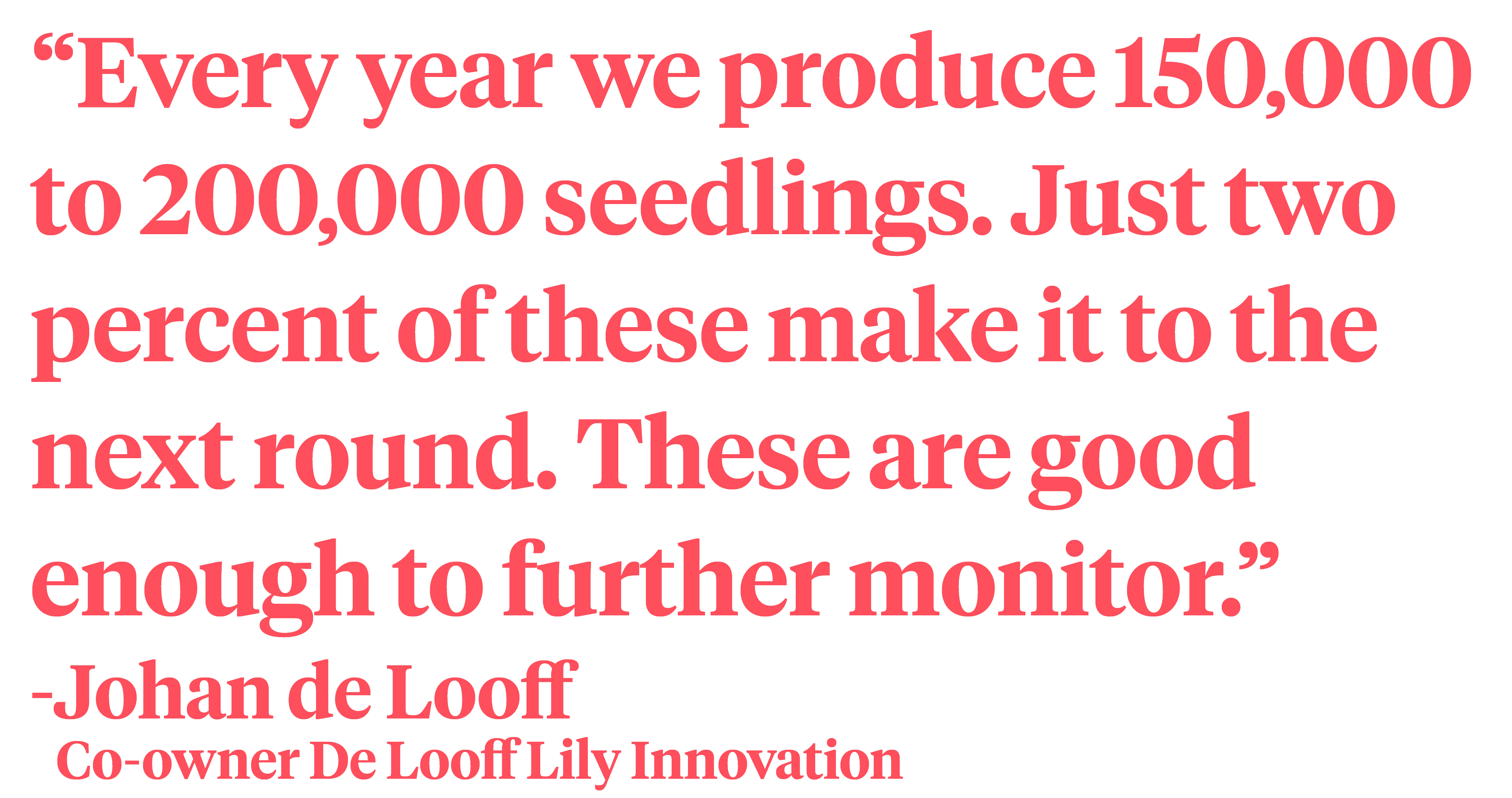 Although this seedling was not market-worthy and still had pollen, its DNA offered sufficient starting points for further breeding and multiplying. This later resulted in a completely unique double-flowered breeding line that we all know now as 'roselilies'.

They kept the discovery to themselves for a decade. Unbelievable, you could say, but it had a good reason. Being perfectionists they simply did not want to unveil his roselily to the market yet until they were a thousand percent sure of its qualities. So, it became their best-kept secret for many years, because the brothers realized that a double lily would definitely become a wanted product.

Johan:
"The first double lily ever was called Double Lily Belonica. We knew it would appeal to flower buyers because most people find filled or double-flowered varieties more beautiful than single flowers. It's the same with double kalanchoes, freesias, tulips, lisianthus, and so on. You can imagine that we saw huge potential in this first double lily species."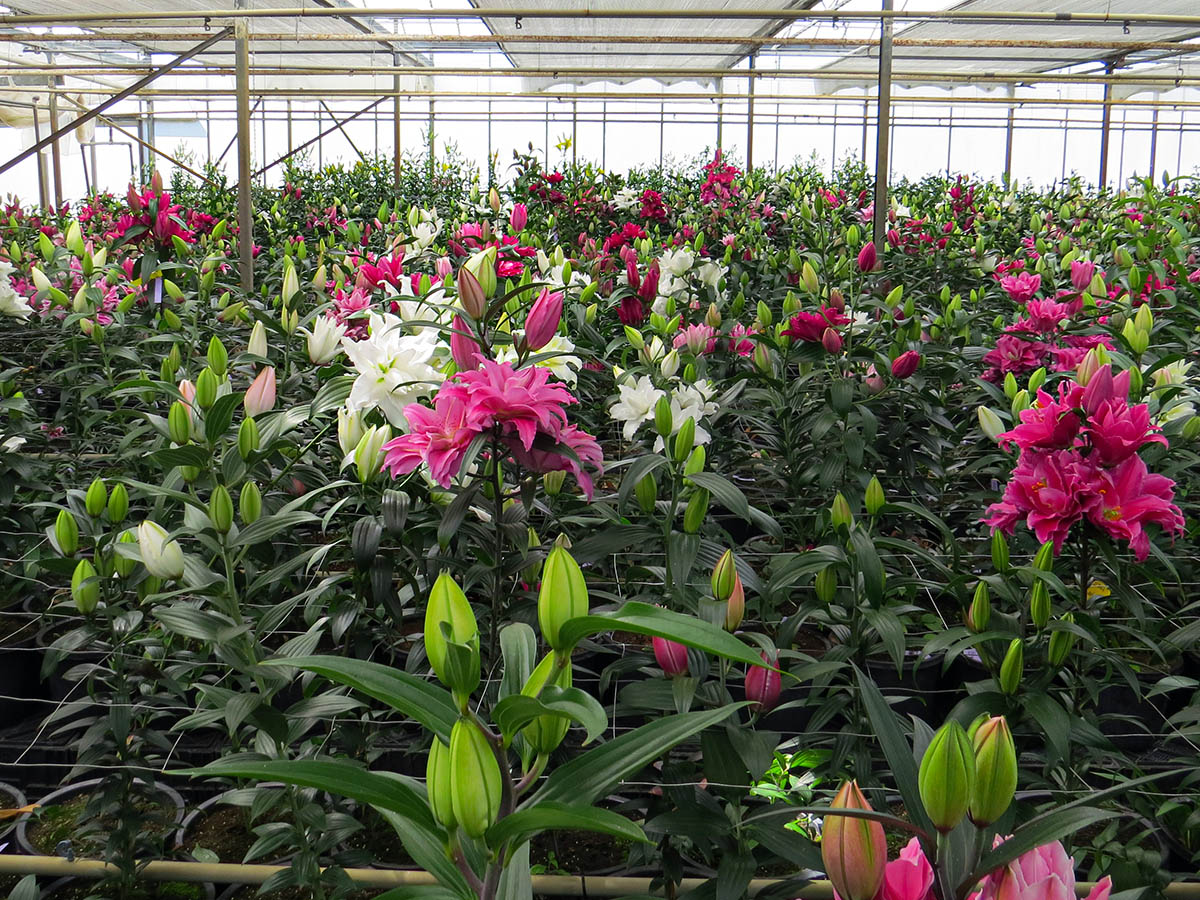 Who Invented the Name Roselily?
The name 'Roselily' was invented at De Looff. And the varieties like Angela, Samantha, and Aisha all are chosen for a reason.

Johan:
"After we had created a few varieties of this double lily we found that it really started to look like a rose. So we decided to brand this typical flower with a quip to the biggest selling flower worldwide, the rose. Simple, easy, done. Everybody recognizes this and knows exactly what to expect.

The next step was to give names to the varieties. We give those names ourselves in collaboration with the Roselily cooperation. We decided that all names have to end with an A, and we prefer to use names of princesses. If you check this, you'll see only roselilies - no matter if it's a pot plant or a cutflower - with names like Carolina, Natalia, and Anouska."
Grown in Almost 40 Countries

After the introduction, it went fast. Being a breeder De Looff only has a few bulbs of one variety. Here is where the cooperative Roselily bulb growers come in. Together with us, they make their selection to multiply the bulbs for large-scale growing as pot plants or cutflowers. This started with ten exclusive bulb growers under the name Coöperatie Roselily, and is already extended with more bulb growers. The bulbs that they produce are then marketed by Dutch bulb exporters Van den Bos Flowerbulbs in Honselersdijk and Zabo Plant in 't Zand who sell these worldwide to flower and plant growers. Roselilies are currently grown in almost forty countries, so you could say that they can be grown practically everywhere.

The Roselily cooperation does its own PR together with its breeder, bulb growers, exporters, and growers.
Johan:
"Our roselilies are grown in many countries all over the world and sold at florists and retailers. Big markets are Japan, Vietnam, China, Taiwan, Australia, New-Zealand, Costa Rica, and Ecuador. South America and the US are increasing rapidly. And they are grown in a lot of European countries. In the Netherlands roselilies are grown by growers like Moerman Lilium, Van Schie, and De Jong Flowers.

We think a good roselily grower must have the know-how to grow perfect roselilies. The growing circumstances differ worldwide, because a roselily grows under different conditions and climates in every part of the world. A Vietnam-grown flower looks slightly different from a Dutch-grown. Each grower has a big responsibility to produce a flower that will keep the overall decoration and quality image of this product as it is today, top notch."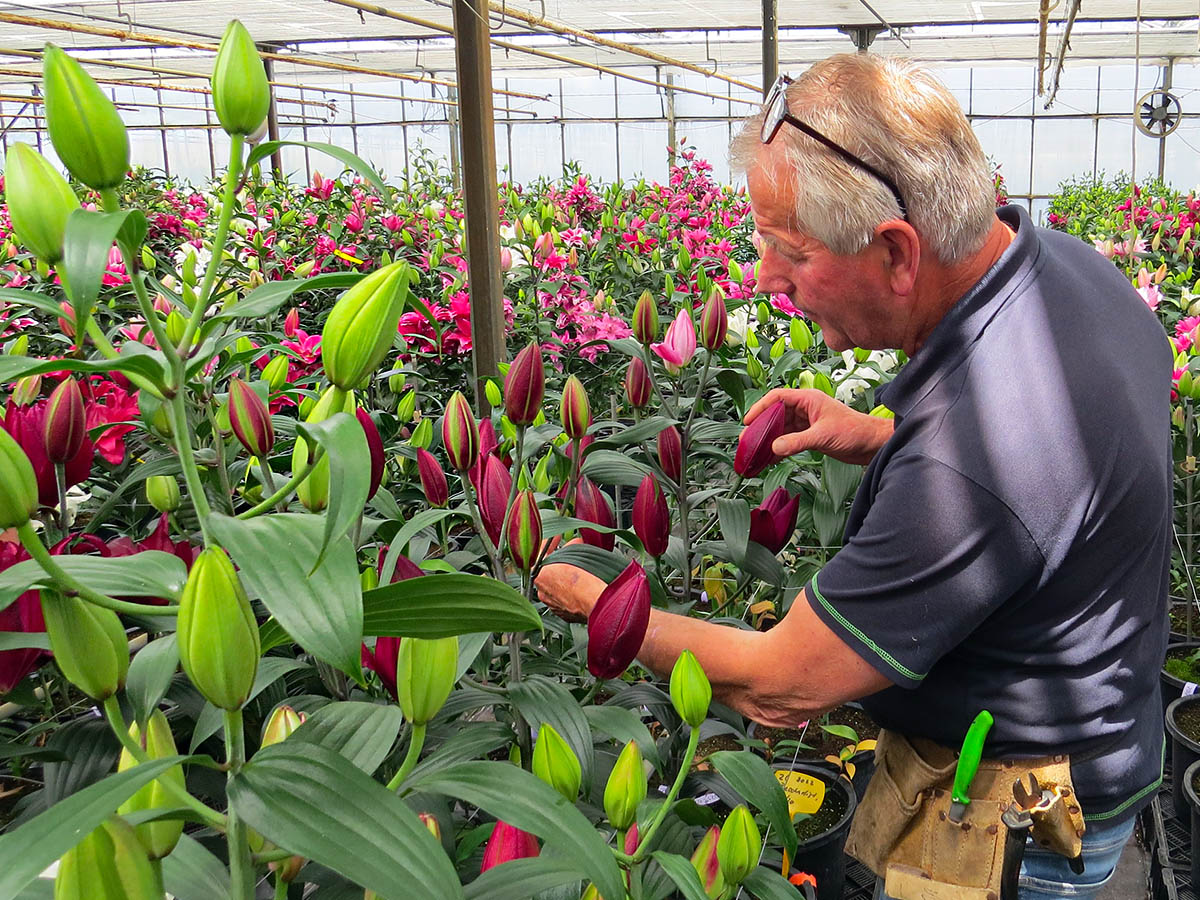 Two Percent Get a Shot at Fame
The numbers are staggering when you listen to owner Johan De Looff about what it takes to invent a brand new roselily. Only two percent get a shot at becoming a famous roselily variety.
Johan:
"Every year we produce 150,000 to 200,000 seedlings. Just two percent of these make it to the next round. These are good enough to further monitor. All these have in common that they are double-flowered and have no pollen, yet each one has its own unique features too. These are the ones that we grow in our greenhouse here. We label them and watch how the flowers develop. We are very strict about this. In my opinion, the plant has to be hard and healthy, grow well, have upright flowers, and are judged on many more criteria."
From the first selection comes a greenhouse full of truly spectacular flowers in many colors and shapes. This is a heavily restricted area because many species do not even have a name yet, just a number. Once they pass the stage from 'the one percent' to 'commercially interesting' they are registered. You can imagine how this is a playground for lily lovers. And since these roselilies do not smell that much, the scent in this greenhouse is lightly sweet, and lovely.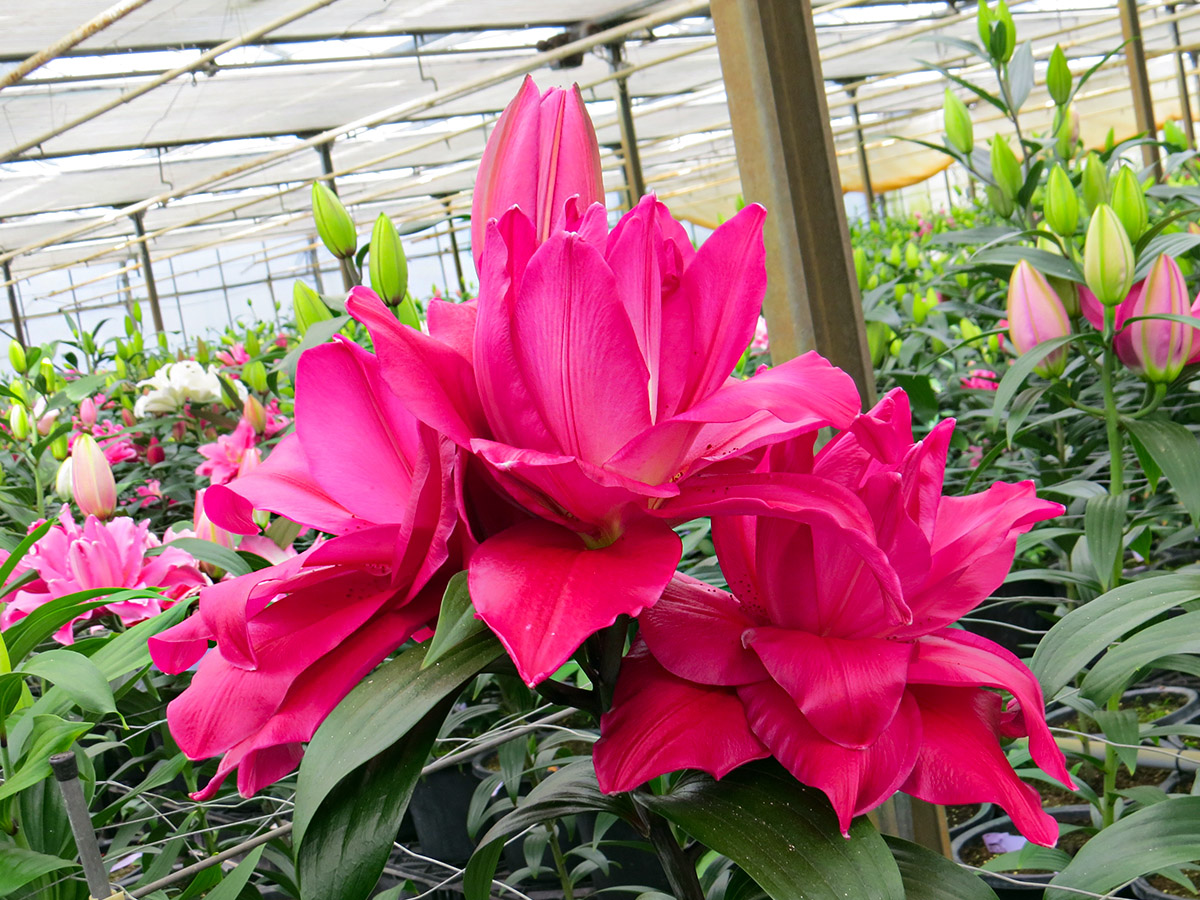 Ripe vs. Raw
Johan has a strong opinion about the ideal opening stage of flowers for traders and florists. In his view, it is important commercially that the buyer can see already some color. That's why his breeding has extra attention for color on the outside of the closed flower already. There are already quite a few varieties of darker roselilies being developed with a dark red, white, or pink color visible on the outside of the closed flower.
Johan:
"I think that a roselily does not have to open up completely. They are more beautiful when they open up to a certain degree. A roselily takes more time to open up anyway, so give this flower some time. Selling them just a little open and showing a bit of color already is not bad at all, because these flowers have a very long vase life. Florists understand this already, and wholesalers slowly begin to acknowledge that their flowers really do not need to be that raw."
Roselilies at the 2022 America's Cup
From July 4-8, 2022, roselilies will be used and shown at the FTD America's Cup in Las Vegas. This is a national floral design competition to select the competitor who will represent both Florists' Transworld Delivery (FTD) and the United States in the 2023 Interflora World Cup design competition, the world's most prestigious floral design competition.
Roselily was invited by the organization to send his roselilies for the floral designs to be made, which Johan considered a great honor, and a great opportunity to expand the awareness of his flowers.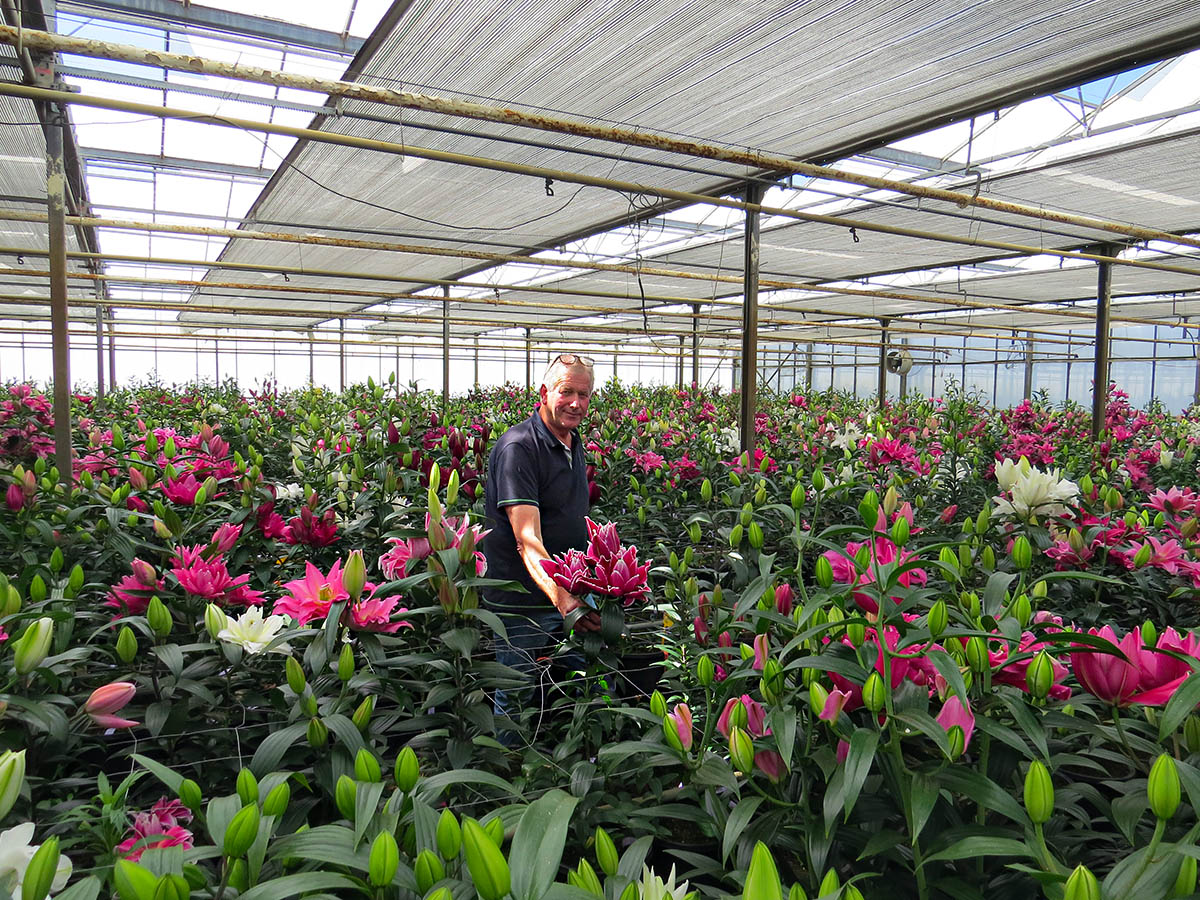 The Future of Roselilies
Today, Johan quietly works on inventing yet another stunner. He will not show off and will not shout it from the rooftops, but be assured that the next one will be absolutely astounding again. The greenhouse of Looff is a candy store for lily adepts. No surprise that photography is very restricted.
How about lilies that have the real shape of a rose, or of a double tulip? Incredible. More roselily color species? Absolutely, all oriental colors are possible. And also lilies that still have a stamen, but without the pollen on the anther? You better believe it!
The slow-but-certain modus operandi is typical to Johan and his brothers at De Looff Lily Innovation. Their primary goal is not to go fast, but to go sure. Johan aims at an annual growth of the entire roselily product group of around 15 percent. This seems a huge percentage, but the potential of roselilies is much higher. Still, 15 percent allows him time to develop only the top varieties, and as a side effect, it keeps the flower exclusive as well.
Johan:
"To steer the popularity of the roselily in the right direction, and to manage any flaws during our own trials, we need not grow too fast. We want this to be a product that's here to stay, instead of a quickly passing trend. Then also my granddaughter will be able to enjoy what we discovered here."