Roselilies are on their way to immense popularity. You can no longer ignore them since they have become the trendiest lilies of the moment and for good reason. The Roselily has some big advantages and extra value compared to the good-old Oriental Lilies. Roselily, the new pollen-free Oriental Lily with only a light pleasant fragrance or no fragrance at all, combines the beauty of a rose and the quality of a lily. You might say that you get two beautiful flowers for the price of one. Here's everything you need to know about these beauties.
What's a Roselily?
First things first: What's a Roselily? Here's a fine guide on Roselilies, one of the most beautiful lilies in the entire world, and why so many are fascinated by the shape and colors of this bloom.
The Roselily flower is a unique double-flowered pollen-free lily that, with its many petals, is reminiscent of a rose when it opens. The flowers have a light scent, much less strong than the well-known Oriental Lilies. A Roselily is a type of lily that is a cross between Oriental lilies and Trumpet lilies. These beautiful blooms are characterized by their large, double flowers that bloom in a variety of colors, including pink, white, and bi-colored varieties.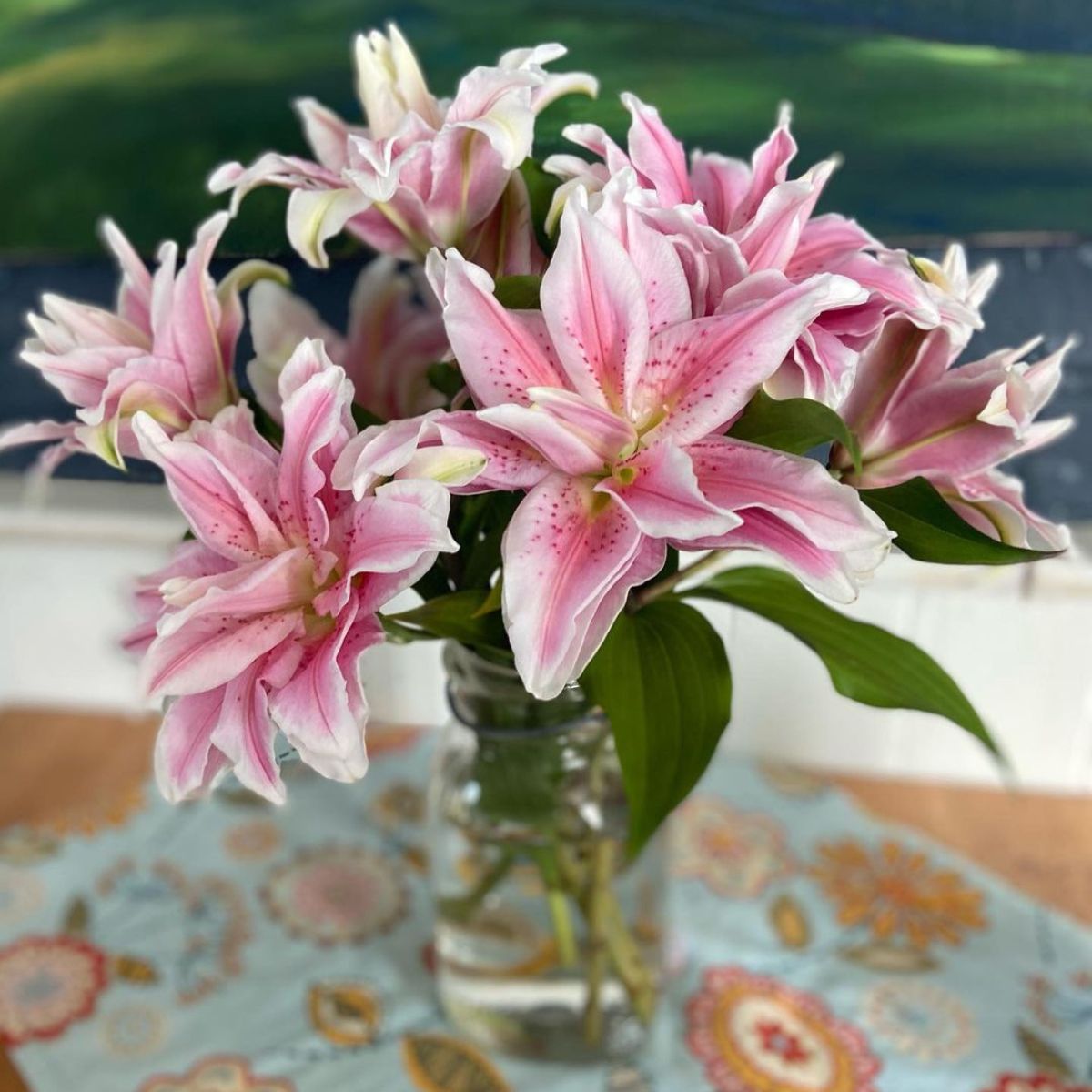 Roselilies are known for their soft fragrance and long vase life, making them popular as cut flowers. They are also grown in gardens as ornamental plants and are prized for their striking beauty and resilience. Did you know the first Roselily was developed in the Netherlands and has since become popular around the world?
Because of all the symbolism that surrounds lilies, these flowers suit every occasion. Roselilies are a unique variant of this well-known lily but how about making it double? The double, the better! When you see a Roselily, the double appearance gives a strong impression of being two beautiful flowers in one, getting the best of both worlds. Read the article 'Roselily, the Double Showstopper' to know how this bloom has revolutionized the flower industry.
Advantages of the Roselily Flower
Flowers have always been an integral part of human culture. From ancient times, they have been used as symbols, decorations, and gifts. Over the years, a great variety of flowers have been cultivated, each with its unique traits and beauty. One such flower is the Roselily, a hybrid of the popular lily with the full-bodied look of a rose. Exploring the beauty, characteristics, and advantages of Roselilies is essential to understand why this flower has become so popular nowadays and later on seeing how floral designers are using them to create stunning designs.
Roselilies are known for their stunning appearance and soft but delightful fragrance. They have large, double blooms that resemble the shape of a rose, with a rich color palette ranging from pure white to deep reds and pinks. The petals of Roselilies are thick and velvety, and the flowers have a pleasing scent or even come without scent. Unlike some types of lilies, Roselilies have no pollen, which makes them an ideal choice for people who suffer from allergies.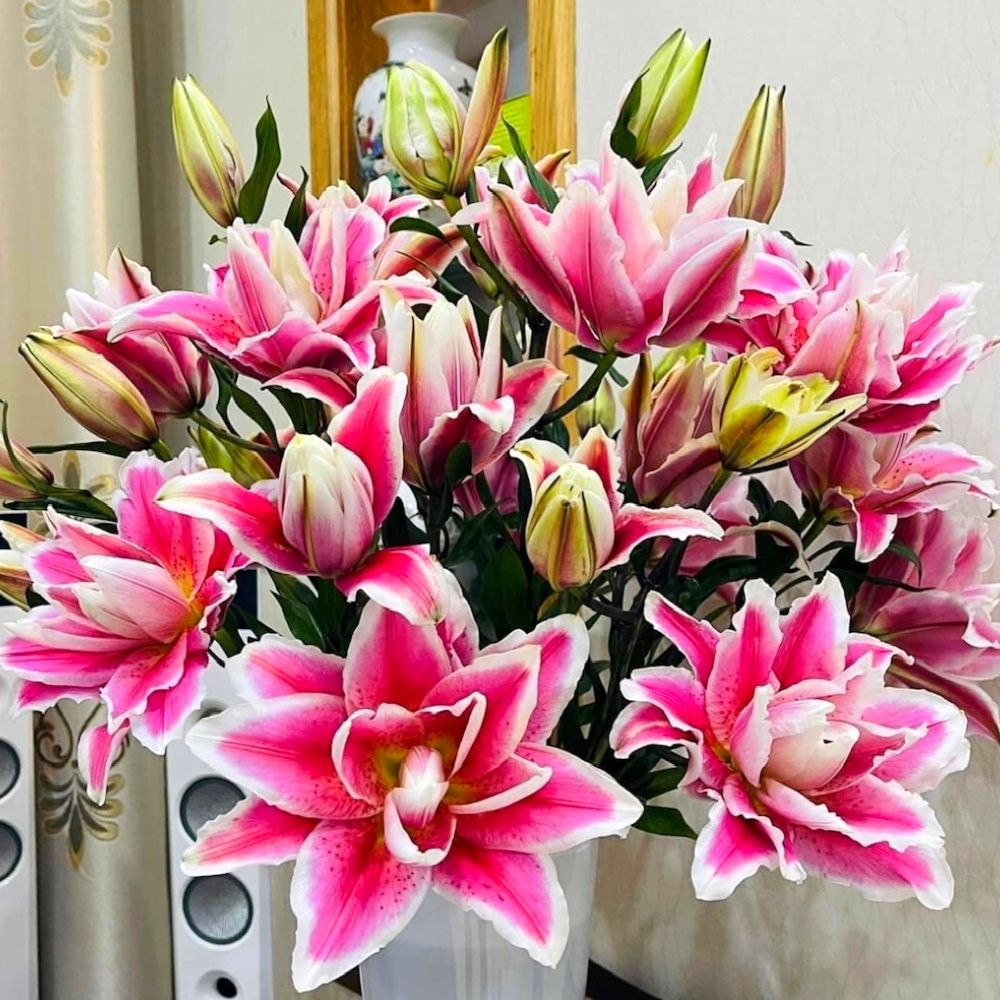 That said, since these blooms contain no pollen, you'll have no chance of staining! Due to the lack of pollen, the flowers remain beautiful even after a rain shower. You can place them in your living room as well as on the terrace. Wherever you choose to place these beauties, the result will be the same: eccentric and striking charm all around.
On the other hand, a great advantage of Roselilies lies in the hues of colors they come in. Roselilies are available in a range of hues, from soft pastels to vibrant pinks and reds, allowing floral designers to create spectacular pieces, as well as serving as colorful decor flowers for interiors. They are also available in bi-color varieties, with petals that are striped or spotted with contrasting colors. This range of colors makes Roselilies a versatile choice for a range of garden styles and color schemes.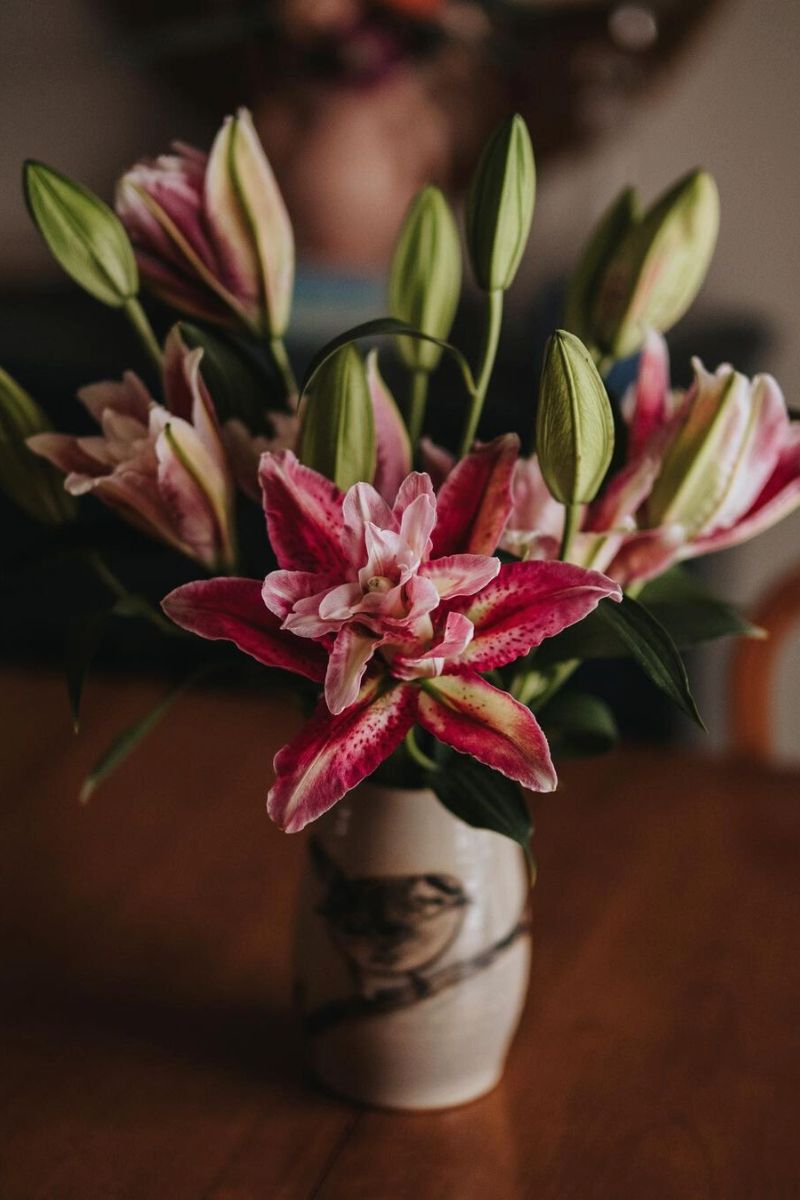 10 Popular Roselily Varieties
To begin the list of 10 popular Roselily varieties that are widely used around the world, here are Decorum's four must-have Roseliliy plant varieties:
Roselily Natalia
Roselily Natalia has pale pink flowers with a dark pink tinted stripe and speckles towards the center. The pink petals are edged in white. The center of the flower has a striking gold-yellow hue.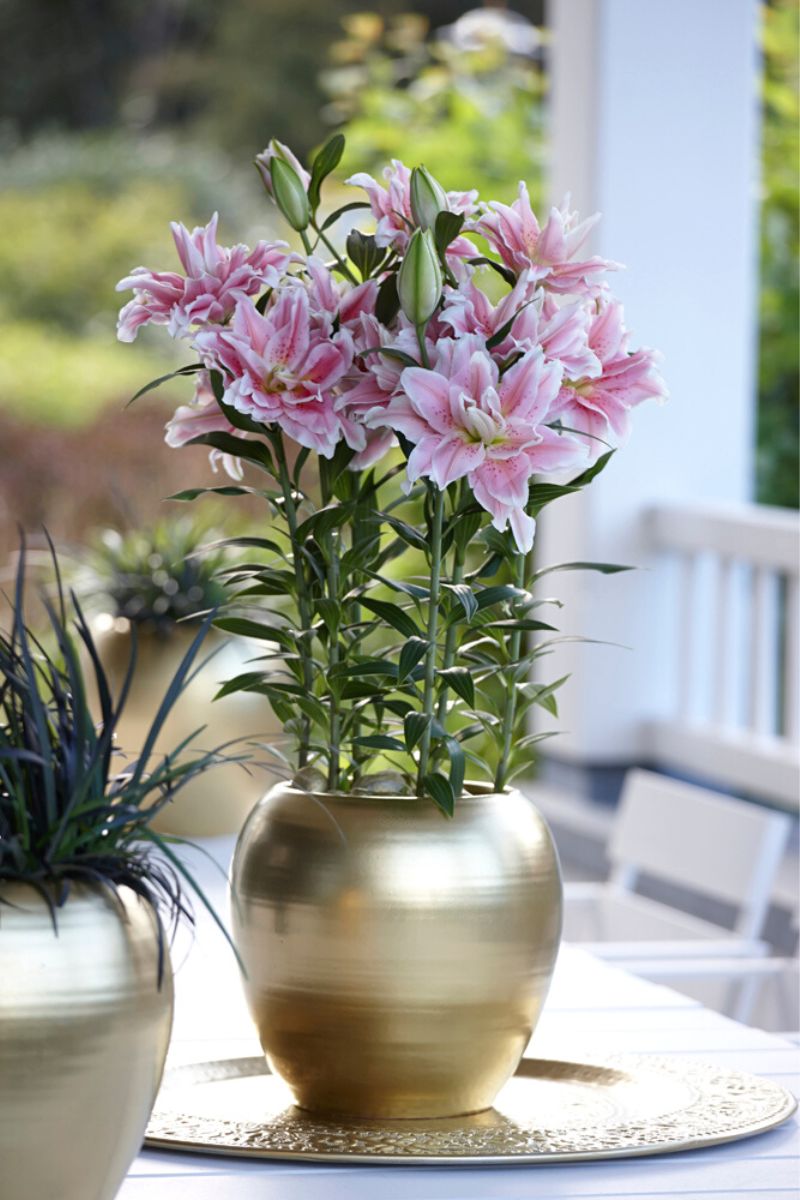 Roselily Samantha
Roselily Samantha has sturdy stems and upright flower buds (15+). This Roselily type is bright dark pink with a white edge. This makes the flowers appear to be beautifully flaming.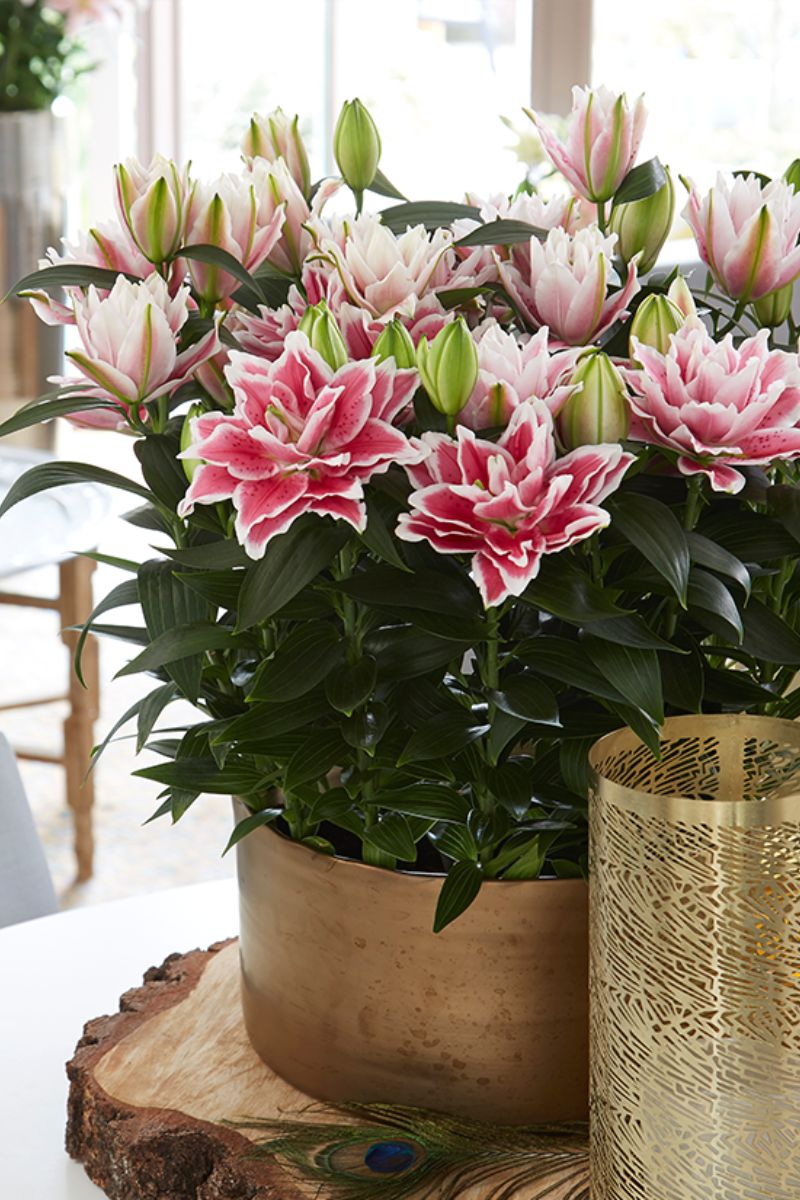 Roselily Sara
Roselily Sara has large light pink flowers with a dark midrib and speckles towards the light green heart. The lovely Sara has at least 18 slightly spaced buds per plant, which gives a nicely filled bouquet in a pot. The Roselily bulbs each have room to bloom due to the plant structure. A great eye-catcher for a living room or a patio.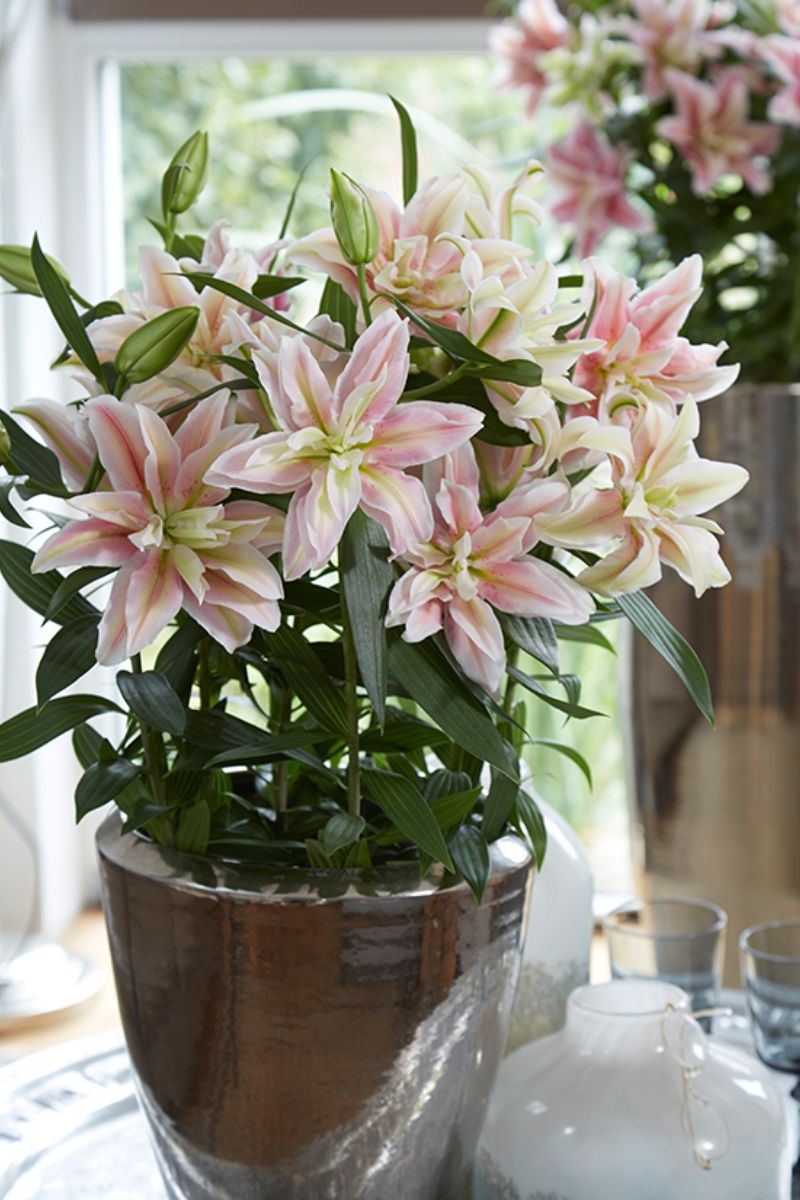 Roselily Sita
Roselily Sita is one of the newest additions to the Roselily pot plant family. With that Decorum and Van Schie have also been able to add a good white Roselily to their range! Sita has beautiful round flower buds (15+) that open into large white flowers with a yellow vein towards the center, and bright pink speckles.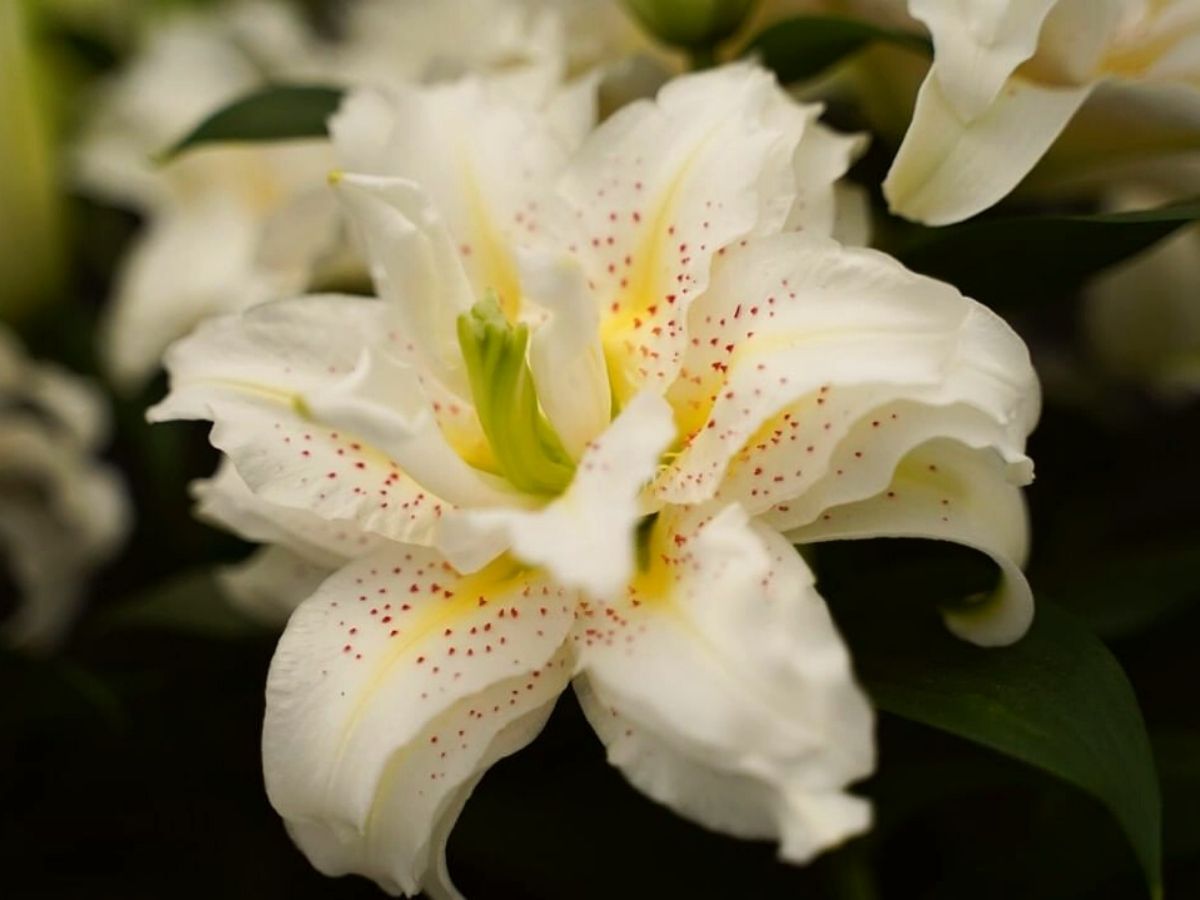 Now continuing with the beauty found in Roselilies, grower Sarah and Michael's Farm are also producing Roselily varieties with these being their most popular four cut flower varieties:
Roselily Aisha
Roselily Aisha is a wonderful crisp white flower adorned with lime-green midribs and lightly ruffled edges. The magnificent star-shaped flowers on top of spirally arranged glossy green leaves are a real eye-catcher.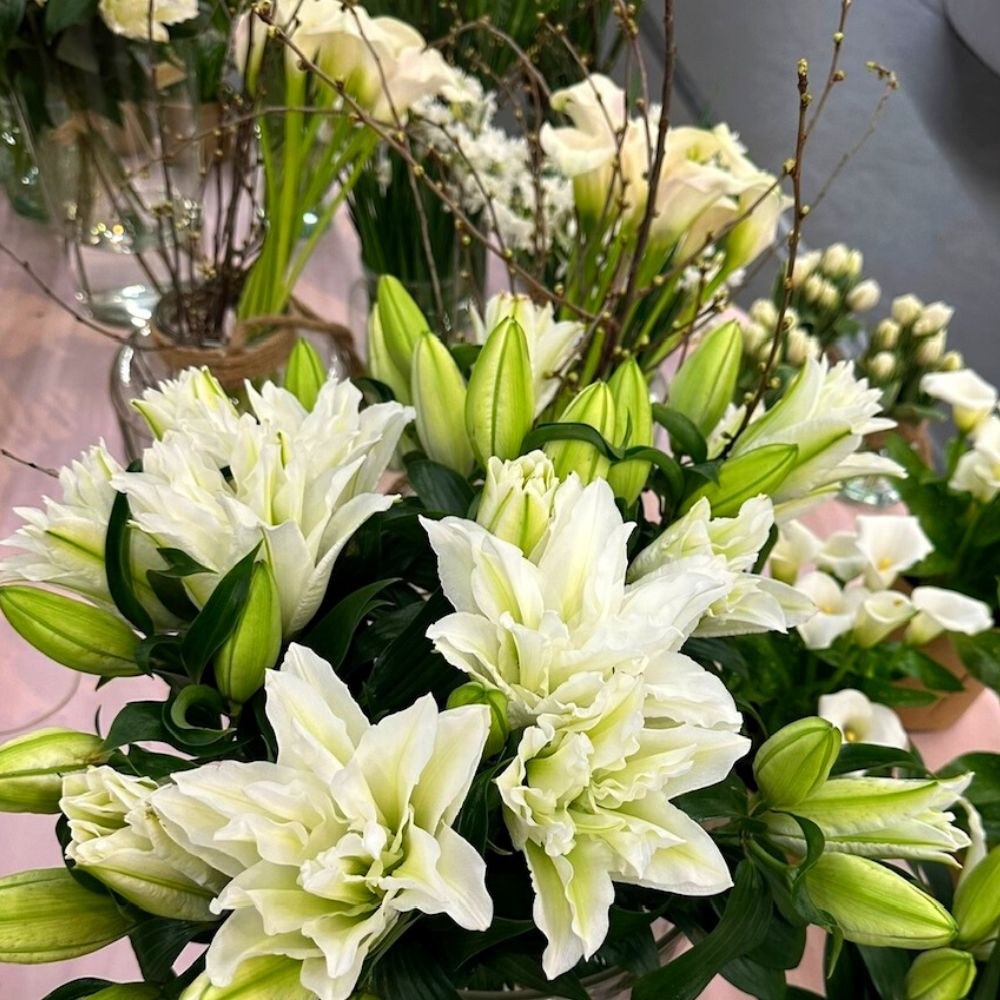 Roselily Angela
Roselily Angela is a double pristine white, sweetly scented flower adorned with lightly ruffled edges. The magnificent star-shaped flowers on top of spirally arranged glossy green leaves are a real eye-catcher.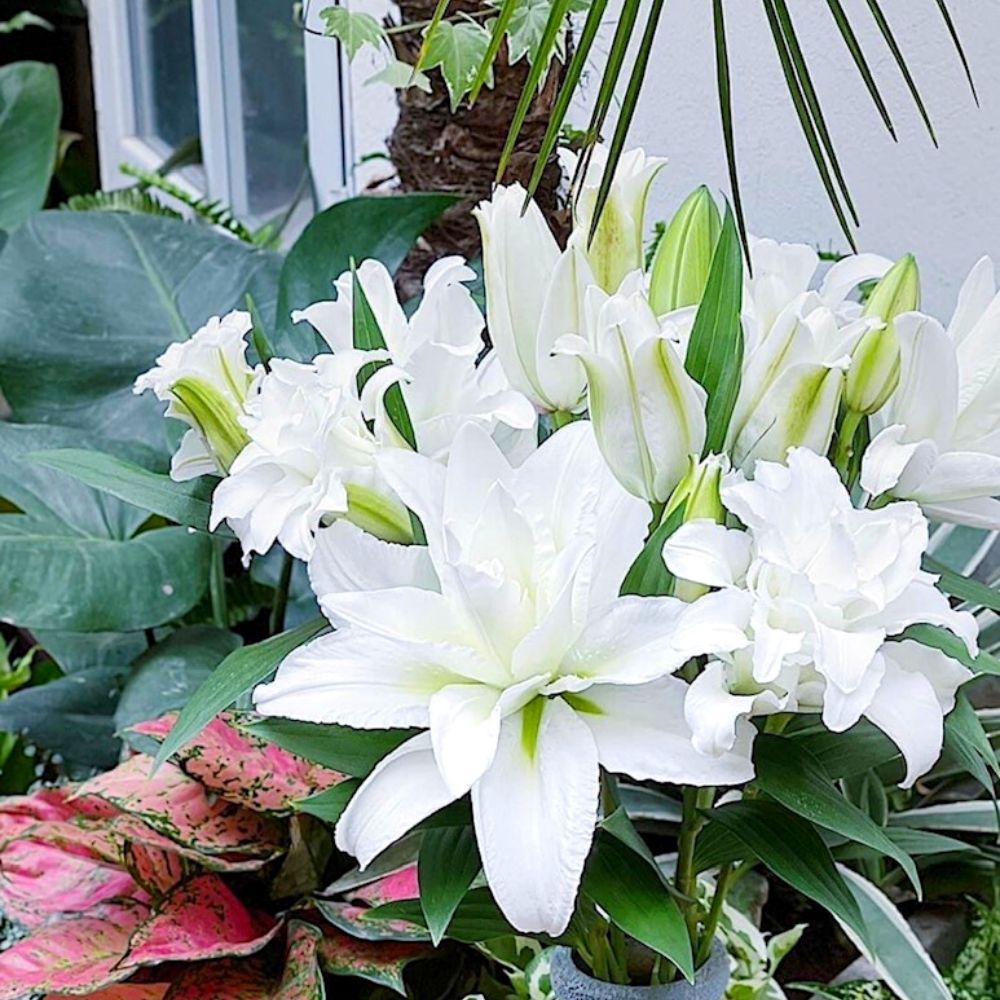 Roselily Viola
Roselily Viola is a vigorous flower with sturdy, erect stems bearing lance-shaped, spirally-arranged, glossy, dark green leaves and large, fragrant, double light pink to deep pink flowers with dark pink spots.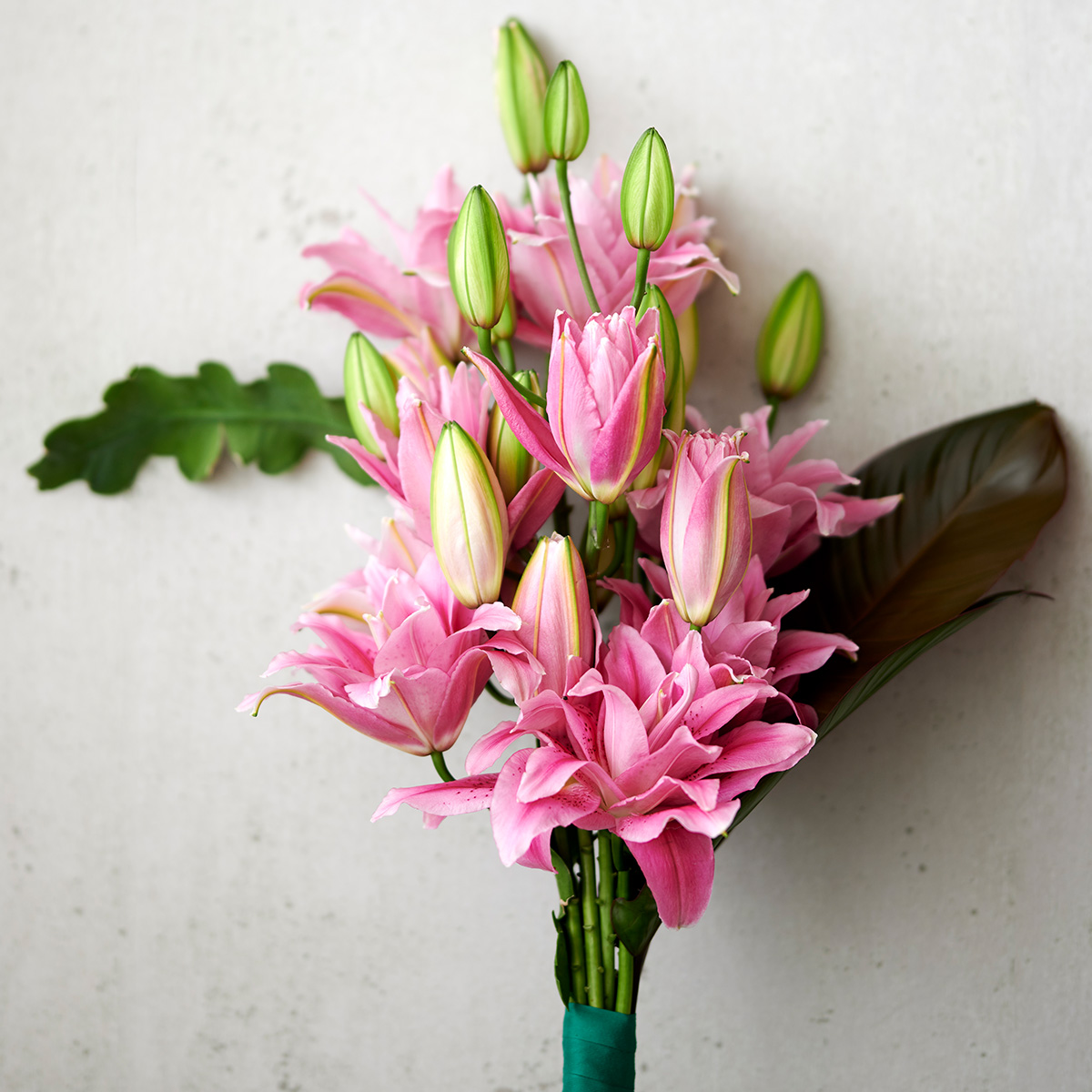 Roselily Ciara
Roselily Ciara is a fairytale beautiful, pollen-free Roselily variety with large, double flowers that spread a seductive mild scent. The beautiful, dark pink flowers have a powerful colored center and decorative dark tips on each petal. The tips of the petals have a light pink, whitish color, which makes this breathtaking strain even more impressive.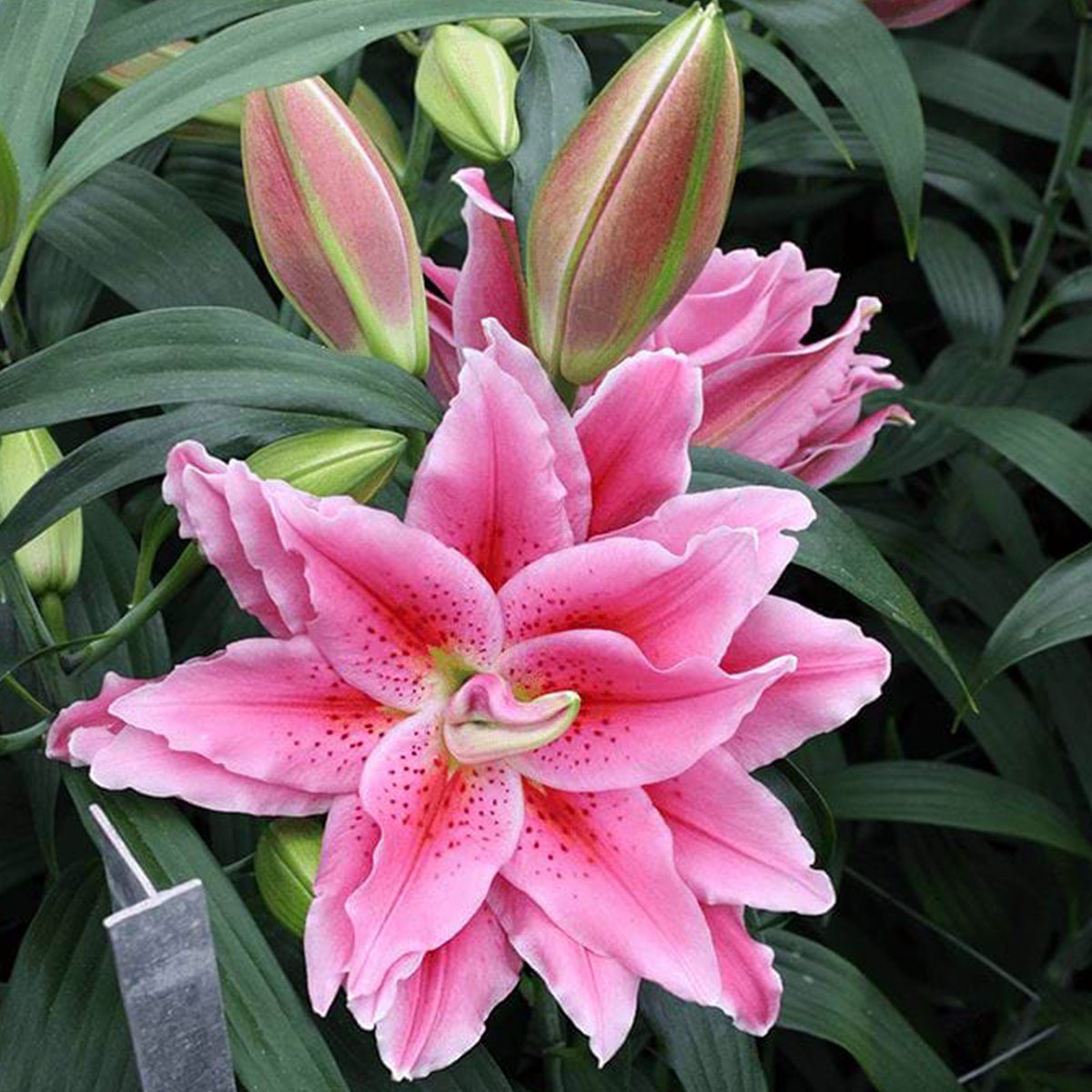 Grower Moerman Lilium is a real quality lily expert and grows some of the world's most beautiful Roselilies including varieties such as:
Roselily Anouska
Roselily Anouska is a spectacularly double-flowered and double-colored Roselily. Its colors go from a pale pink heart to bright pink edges. This double-flowering Roselily has an intoxicating light fragrance that really nice.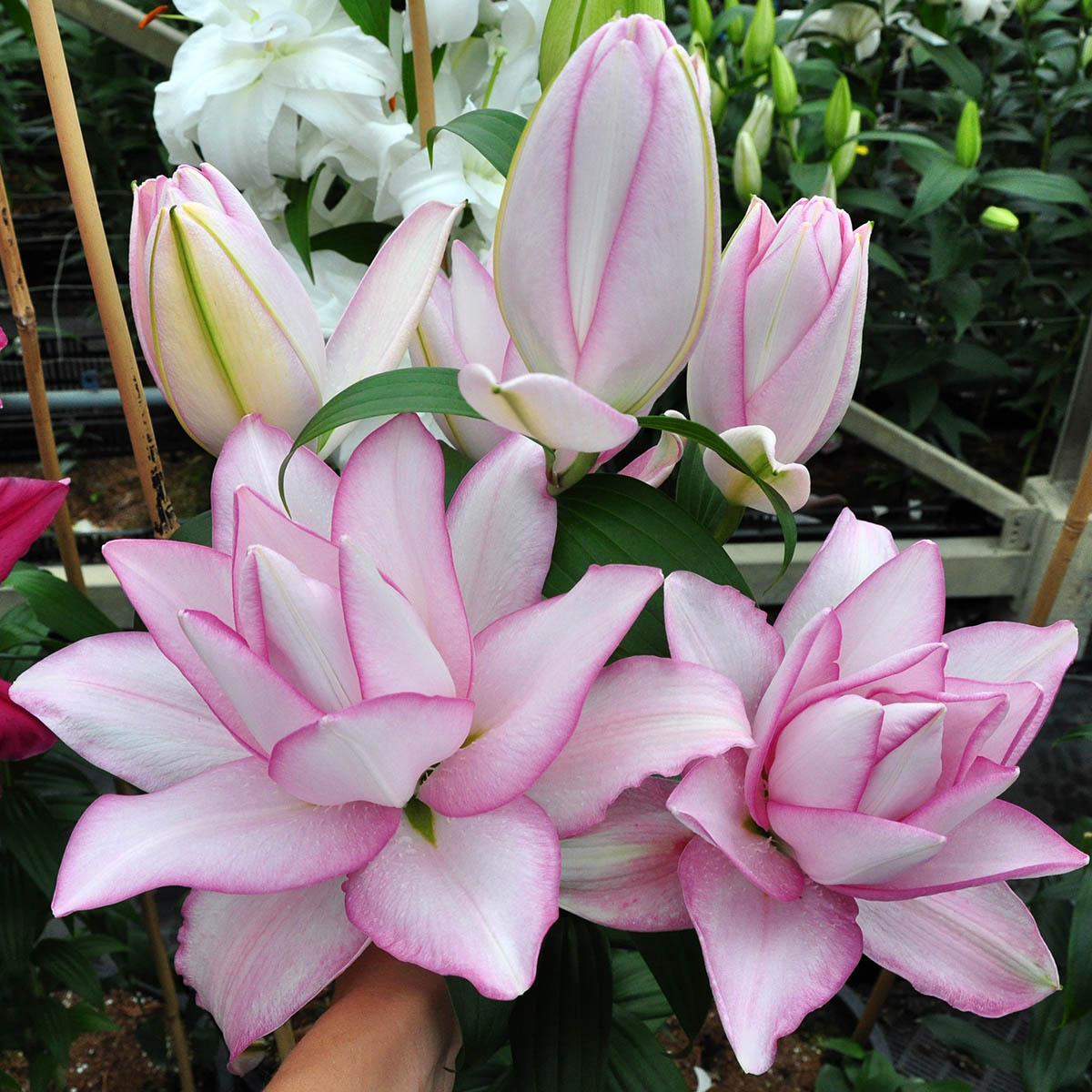 Roselily Carolina
Roselily Carolina is a white double-flowered lily with a hint of pale pink. The greenish-yellow mid-rib increases towards the base of the petal giving each flower of Carolina an inner glow.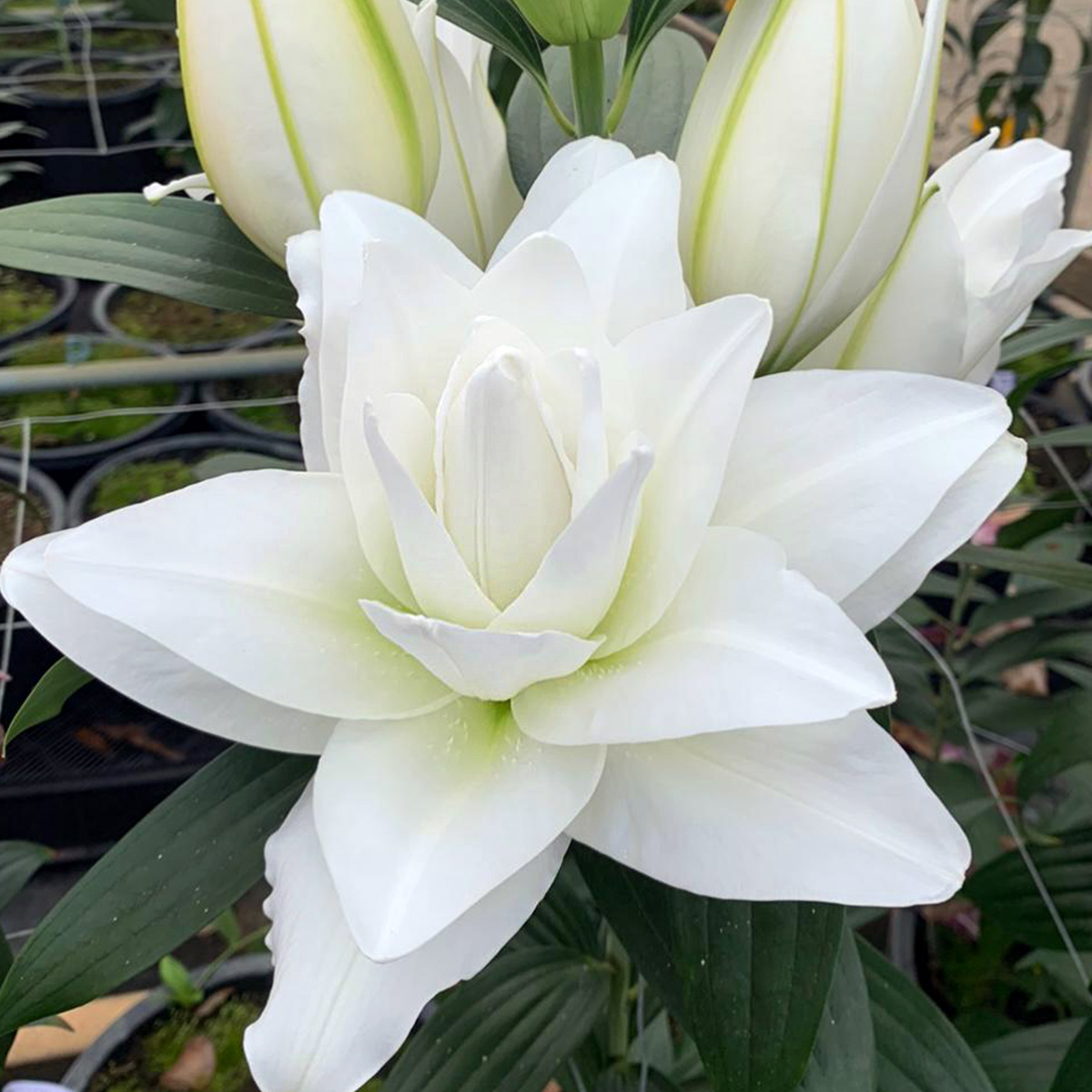 Roselily Growers and Breeders Around the World
There are certainly many roselily growers around the world, but these are few featured ones, experts in growing the best quality roselily flowers.
Breeder De Looff Innovation
In 2008 De Looff presented the first pollen-free double-flowered lily at Keukenhof in the Netherlands. Not long after that, there was the start of the De Looff Innovation & Bulb growers association: Roselily. In 2010 Roselily® registered as a brand. De Looff is working on new varieties every day.
The bulbs are exported to 40+ countries by two producers: Zabo Plant and Van den Bos Flowerbulbs. In the Netherlands, there are a few growers of the cut flowers: Moerman Lilium and Dutch Lily Masters, De Jong Lelies, and one grower of Roselily Plants, Van Schie.
Van Schie
Decorum grower Van Schie grows various types and colors of high-quality Roselily plants with very large flowers. Van Schie is a real pioneer when it comes to growing pot plants. Wim van Schie was the first to grow pot lilies in the Netherlands. That was back in 1985, long before the Decorum brand was established. Today the company is managed by his son Martin, 4th generation in this company already, and son-in-law Marcel van der Voort. They have continued on the path of optimizing cultivation conditions and improved processing. At Van Schie, the most beautiful and the best Roselily plant is at the right stage and with the desired packaging. It is their mission to do this as well as possible and to make people happy with their Roselilies!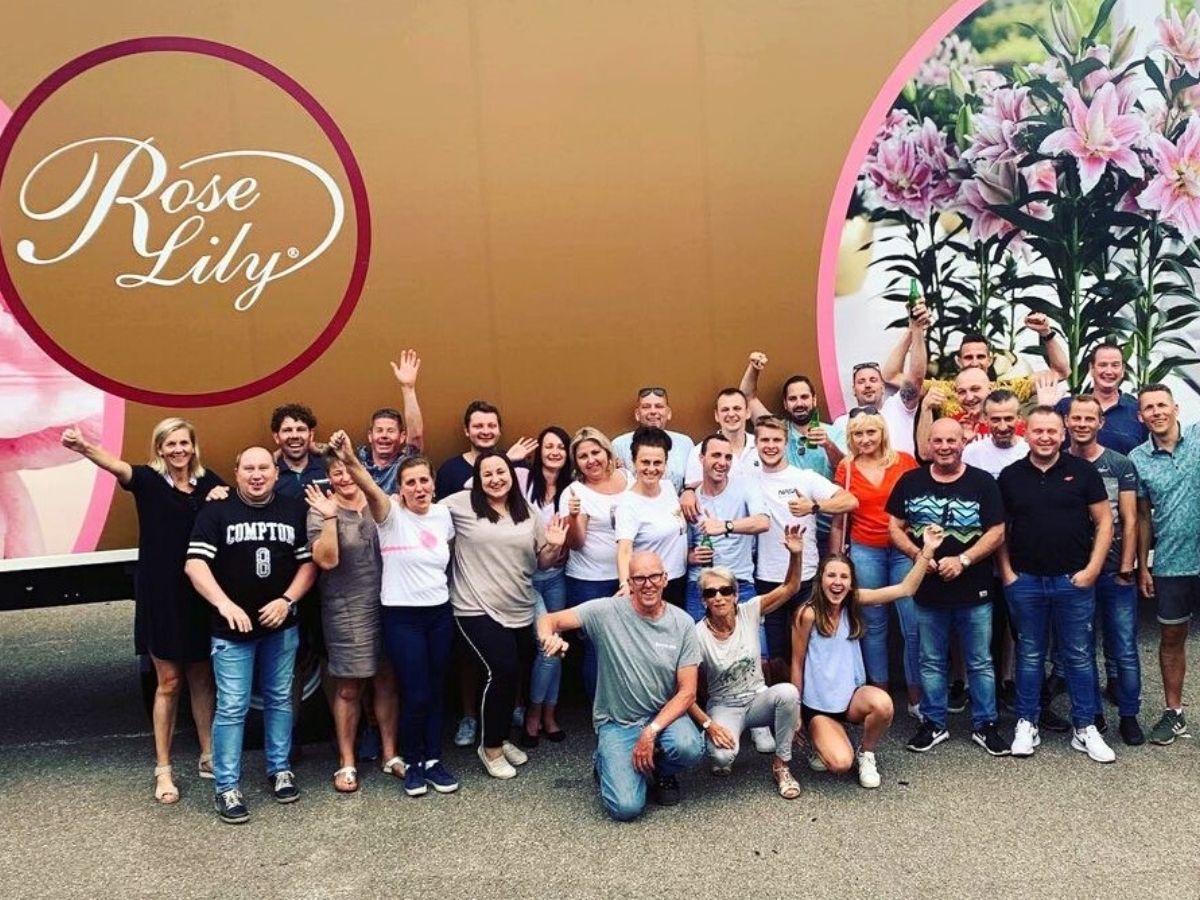 Moerman Lilium
Top-quality lilies are harvested fresh every day with the lowest possible environmental impact. Moerman's goal is to produce flowers in a sustainable way. This company is MPS-A qualified. This means, amongst other things, Moerman Lilium doesn't use more chemicals than is strictly necessary. In practice, this means they use no or nihil chemicals. Growing the natural way not only benefits its products but also its environment.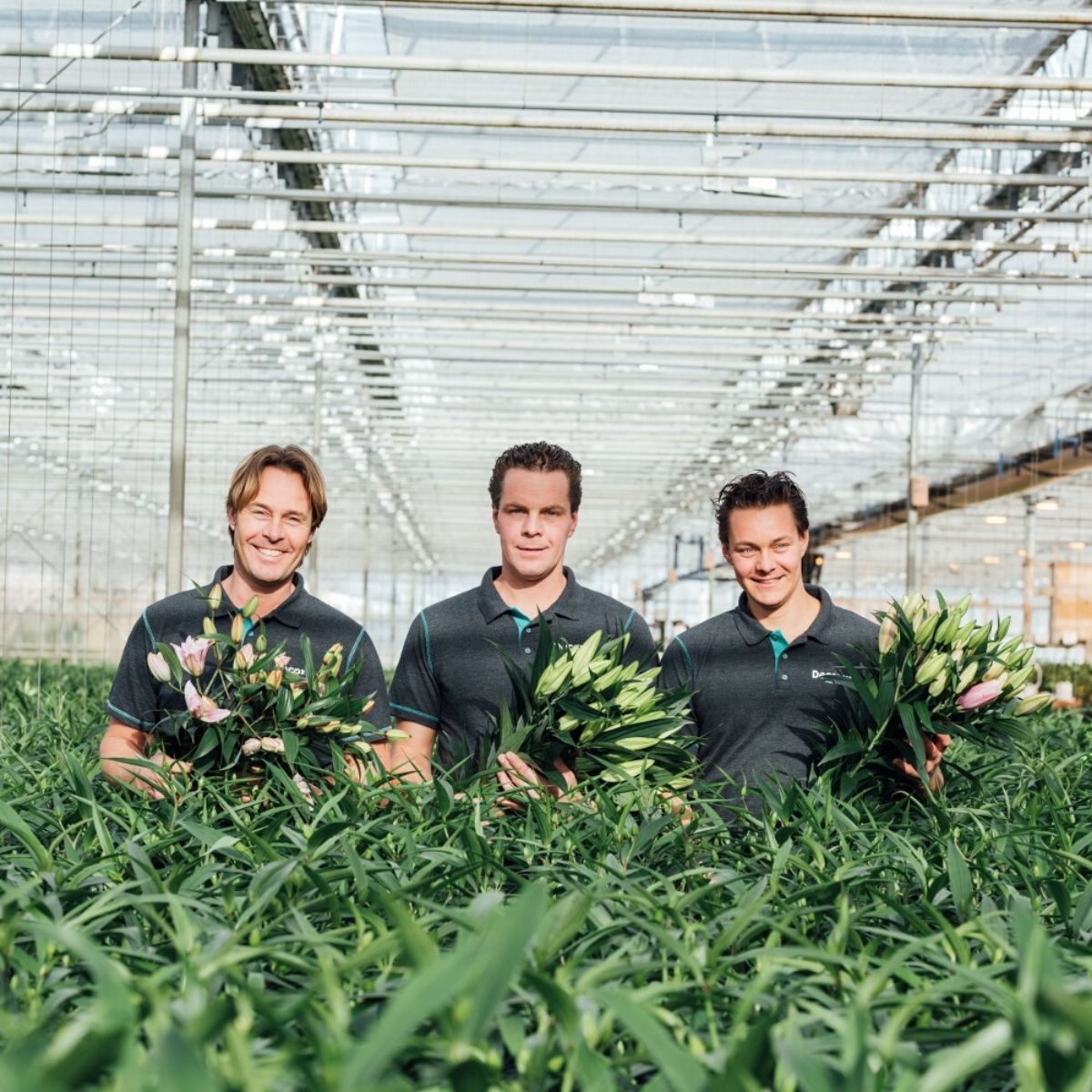 Sarah and Michael's Farm
Originally, Sarah and Michael's Farm grew multiple flowers, some seasonal or outside. Over time, Michael saw a need for lilies, which don't ship well because they are fragile and must be harvested early.
During the spring, about 5,400 bulbs a day are planted. The lilies grow in crates in greenhouses with controlled heat, airflow, and humidity. No spray is needed for pests or diseases. In the summer, Michael selects lily varieties that do better in heat. He grows both Asiatic lilies (more brightly colored) and Oriental lilies (more perfumed smell). Now the farm grows mostly lilies and Roselilies, including Roselily Aisha, Roselily Angela, and Roselily Viola, among others.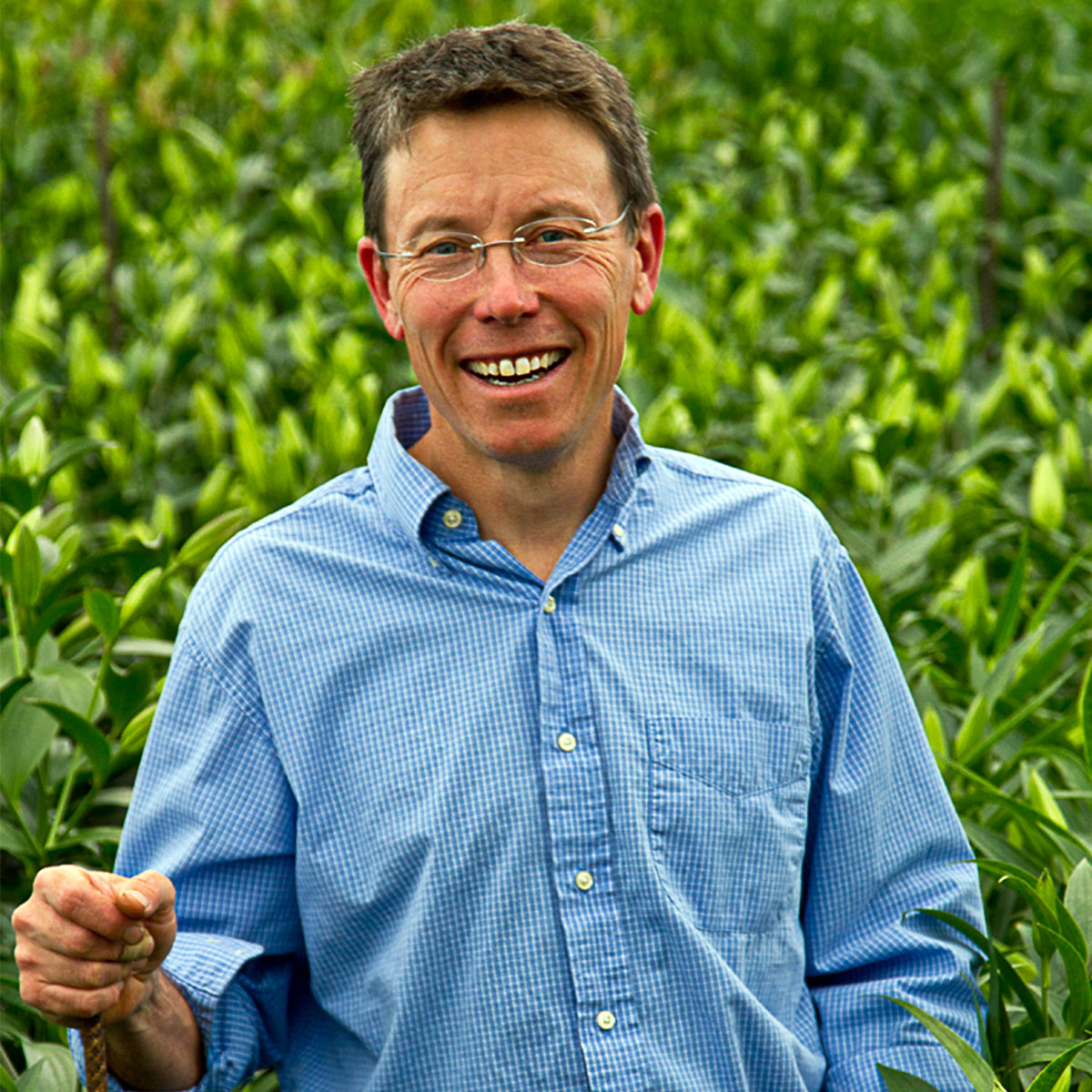 De Loof Lily Innovation
De Looff Lily Innovation is the only breeder of Roselily. The main focus of De Looff Lily Innovation is to develop new double-flowered lily varieties with little or no scent, pollen-free, and even more special in shape. The production of the double-flowered lily varieties is managed by a growers association named 'Roselily'. And in collaboration with renowned export companies, the double/stuffed flowered Roselily varieties are for sale all over the world.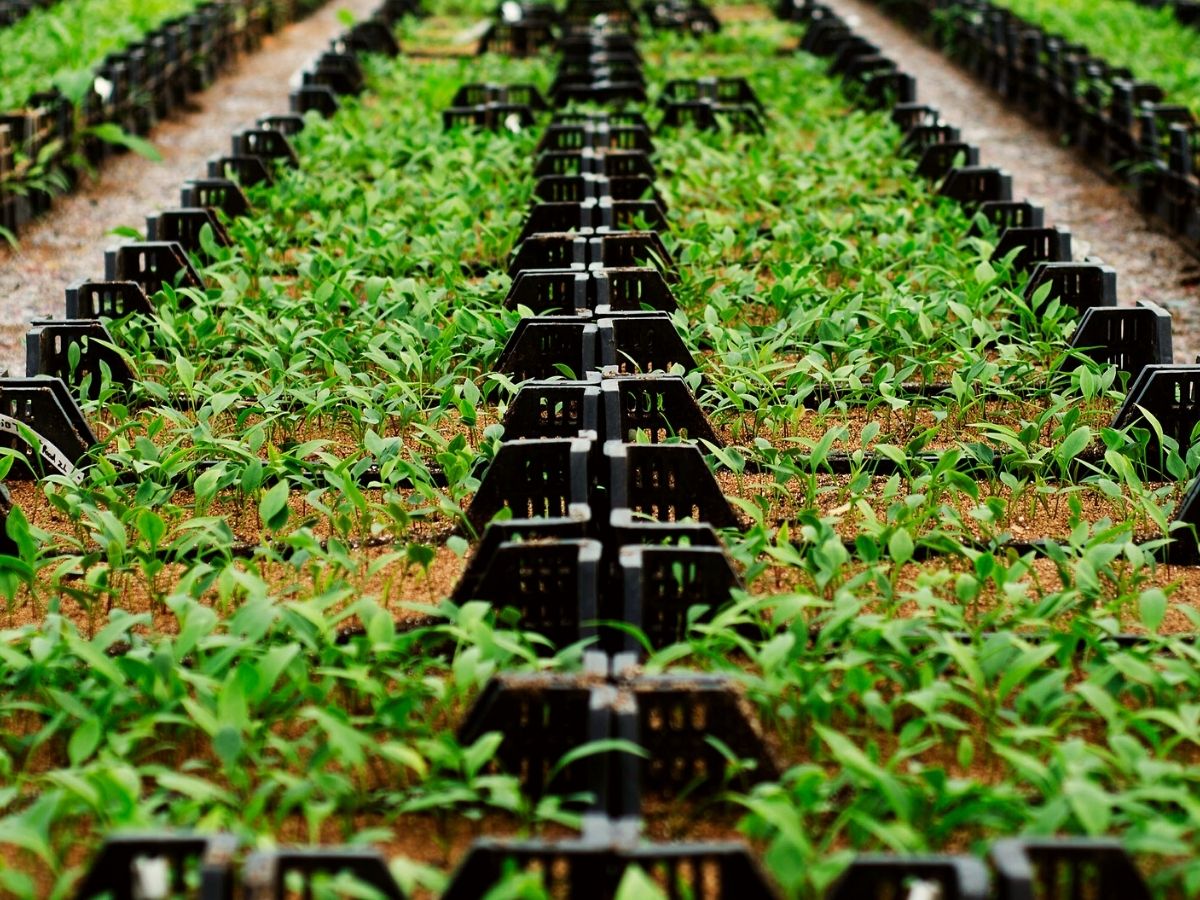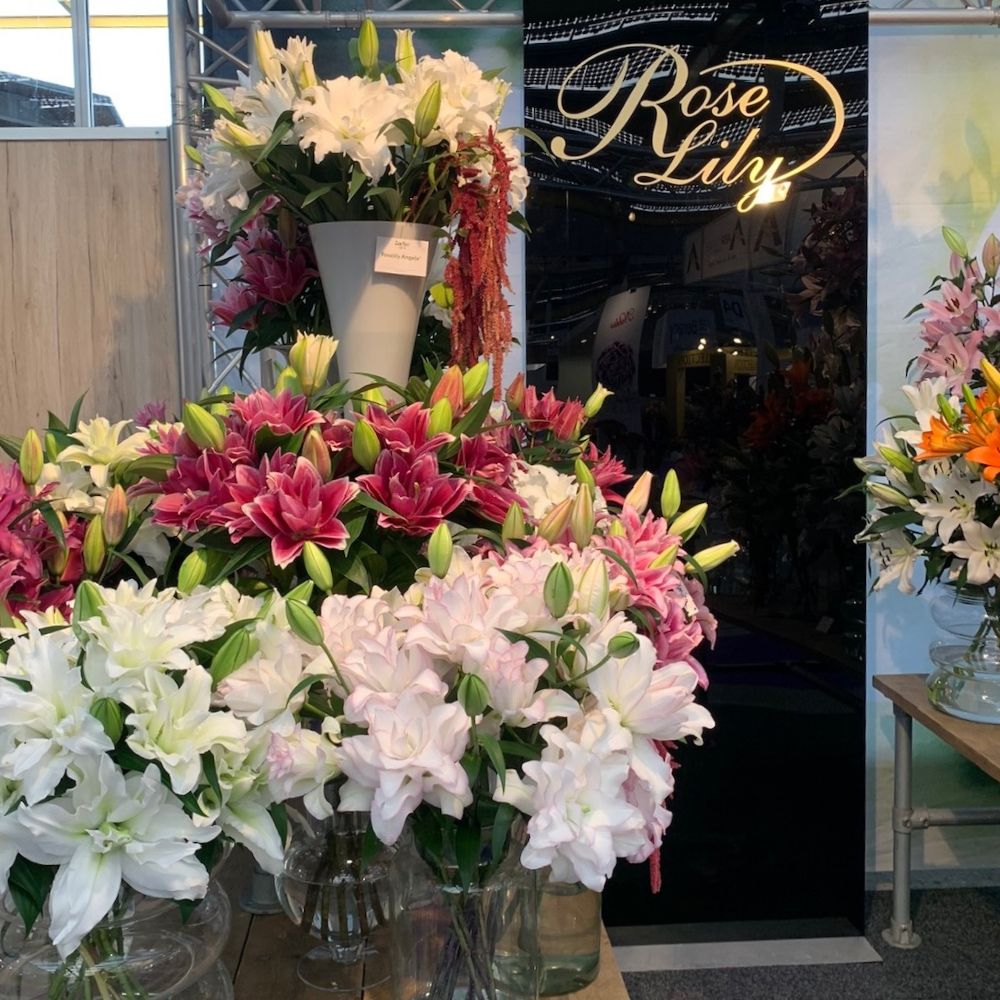 Why Floral Designers Love Working With Roselilies
Roselilies are a popular choice among floral designers for several reasons. Here are some of them:
Starting with its unique appearance, Roselily is a unique hybrid flower that combines the traits of a rose and a lily. They have a large, showy bloom that resembles a rose, but with multiple layers of petals that create a lily-like appearance. This makes them a striking and unusual addition to floral arrangements, which can be very appealing to designers.
Some Roselily comes without a scent, but many varieties of Roselilies have a delightful fragrance, which can add another layer of sensory appeal to floral arrangements. The scent of Roselilies is often described as sweet and mild, much softer than the scent of normal Oriental Lilies. And therefore highly loved. The Roselily has as little smell as possible. In the future, Roselily aims to only market Roselilies without a scent or a very mild scent.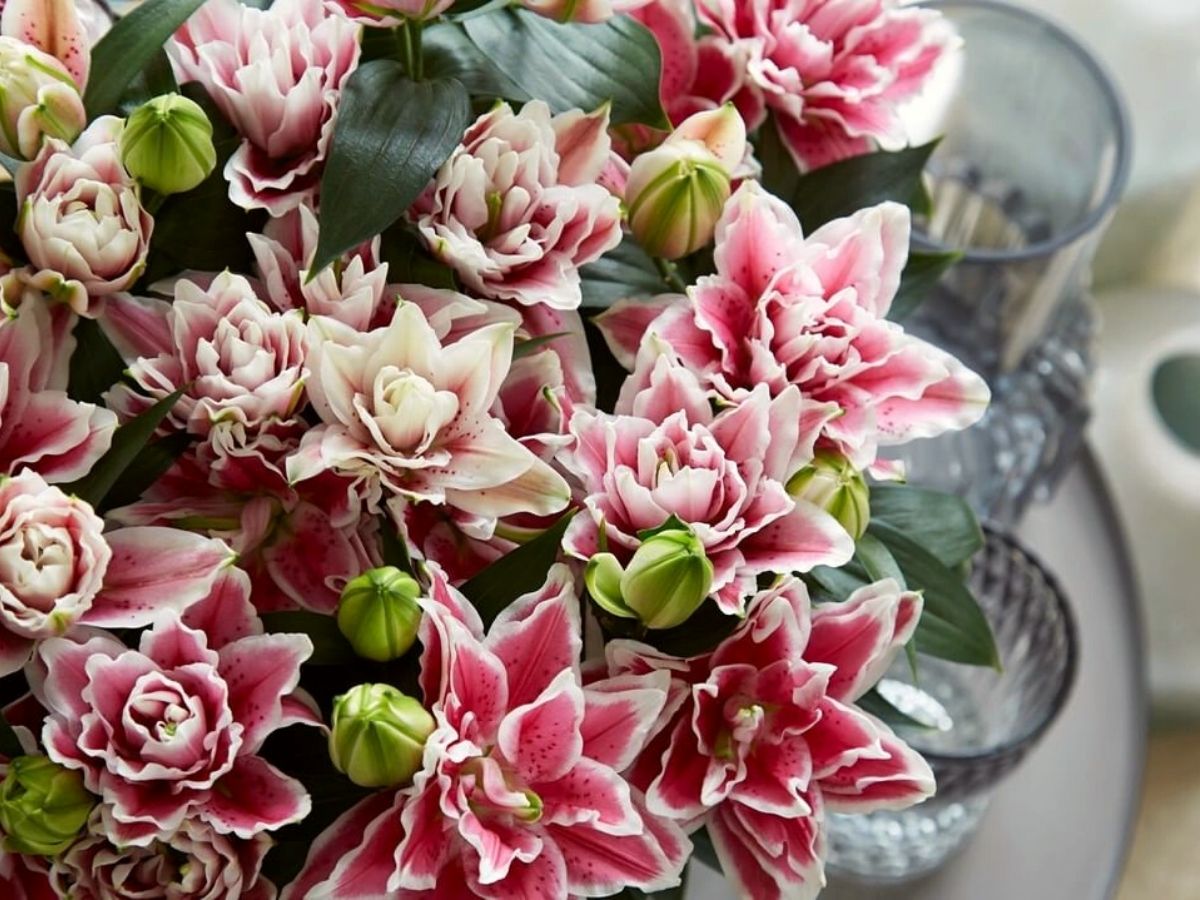 Roselilies are known for their long vase life, which means they can last for several weeks when properly cared for. This makes them an ideal choice for floral designers who want to create arrangements that will last for a while.
Roselilies are available in a range of colors, including pink, white, green, and hot pink/red, which makes them a versatile choice for many different occasions and design styles. They can be used in both formal and informal arrangements and can be paired with other flowers or greenery to create a variety of looks. Read the article 'Roselily Series is the Gold Standard of Double Lilies' to know more about floral designer's opinions on Roselilies.
Symbolism of Roselilies
Roselilies are a hybrid variety of lilies that are prized for their pollen-free double blooms and sweet fragrance. As with many flowers, Roselily flowers have symbolic meanings that can vary depending on the culture and context in which they are used. Here are some of the most common symbolic Roselily meanings:
Love and Romance
Like many types of lilies, Roselilies are often associated with love, romance, and passion. They are a popular choice for wedding bouquets and other romantic occasions, as they symbolize the purity and beauty of the relationship between two people.
Femininity and Motherhood
The delicate beauty and soft colors of a Roselily flower are often seen as a symbol of femininity and motherhood. They are a popular gift for mothers, grandmothers, and other important women in one's life.
Renewal and Rebirth
In some cultures, lilies are seen as a symbol of renewal and rebirth. This is because they are perennials, meaning they come back year after a year, and because their blooms often coincide with the arrival of spring.
Sympathy and Remembrance
In some contexts, lilies are used to express sympathy and condolences for someone who has passed away. White lilies in particular are often associated with funerals and memorial services, as they symbolize the innocence and purity of the soul.
Roselily Care Tips
Pot Roselilies prefer a cool, light spot, where it blooms longest. Do not let the root ball dry out, it may always be slightly moist. Nutrition is not necessary, everything is already in the bulb from which the lily grows. You can cut off spent flowers. Do not place the plant next to fruit, because the plant is sensitive to ethylene, which causes the flowers to age faster. When the plant has finished flowering, the bulb can go into the garden for a second life.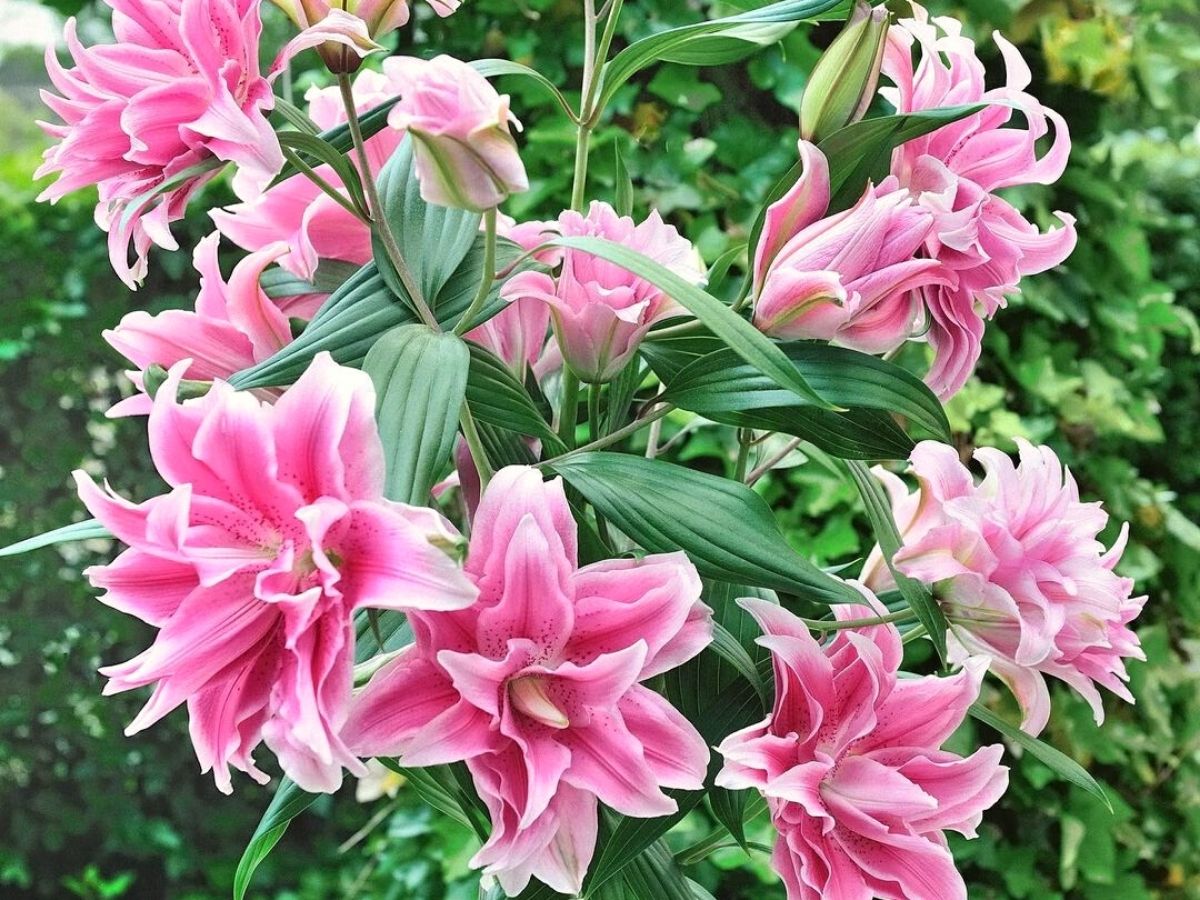 Roselily plants are available from May to October so make sure to grab yours while you can!