Without really knowing it, Karolien Tesselaar ran a test during the COVID-19 lockdown in the Netherlands. The auction clocks were putting on the breaks heavily and direct demand plunged. So she decided to cheer her neighbors up with some free flowers. The flowers were cut more mature than Tesselaar Alstroemeria would do when sending them to the wholesale customers. But instead of these flowers fainting faster than rawer flowers, they stayed for weeks on the vase of her happy neighbors. She gratefully received many compliments on the vase life and decided to share her view on ripe or raw. "Give the flower its full power."
Give the Flower Its Full Power
An alstroemeria only shows its true splendor a few days after it has been placed on the vase, why? In the Netherlands, the flower is delivered to the clocks and directly to wholesalers at cutting stage 2-3. A product that is delivered at cutting stage 4-5 (as it opens in the vase) is classified as 'old' or of poor quality. This is a fable that we would like to get rid of. The connoisseur who sees the flower 'open' in the store notes that the bunch is of poor quality, but that is just because we are used to selling the alstroemeria in the bud.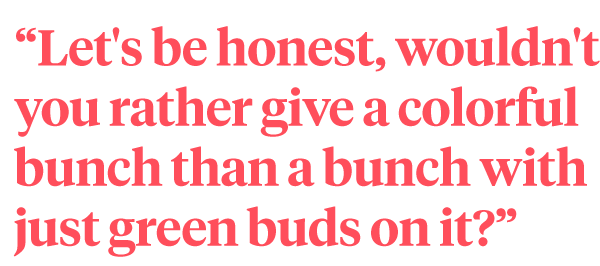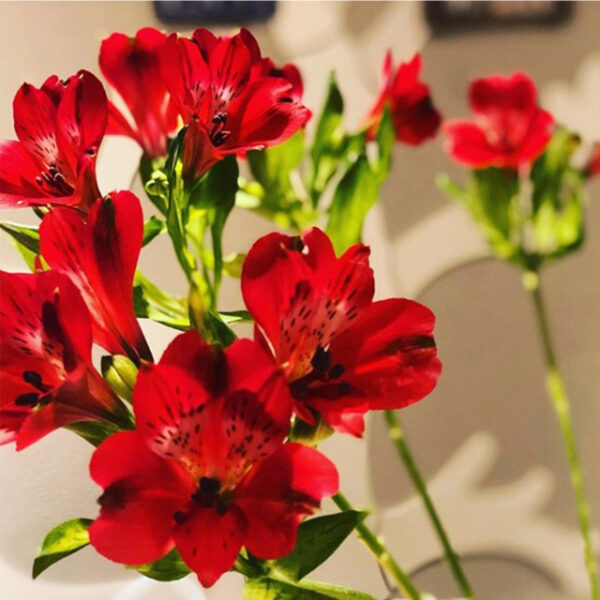 Ask someone what he thinks of the alstroemeria and 9 out of 10 times the answer is: "What strong flowers, they sometimes hold for three weeks." So, when an alstroemeria can have a vase life that long, selling the flower a little more mature would not harm the vase life in any way. And it would make the flower more appealing since you can see the color already coming up. In short: it is best to sell the flower more open, about two to three days older, so you still have a bunch of flowers that lasts at least two weeks.
Immediately Colorful
Why do we buy a gerbera and a rose? Because you immediately have a colorful forest. Are you visiting family or a friend and taking a bunch of flowers with you? Then you choose an exuberant, colorful bunch or, depending on the occasion, beautiful pastel shades. Nobody gives a bunch as a gift in which only flowers are buds. This means the alstroemeria does not find its way to the customer as a mono bouquet because it is processed into bouquets at maturity stage 2-3. For us, the ripening stage 2-3 is perfect in terms of harvests, which means that there is enough color in the flower and it is handy in processing, i.e. little damage to the bud. Then there is enough time to organize logistics and get the flowers into the supply chain. My call would then be for the last link in the chain, the bouquet maker or florist, to keep the flowers out of the refrigerator for a day so that the flowers can open and show their color. Do this for one or two days and your bouquet will get much more color. The fact is, the alstroemeria is a flower with little loss, you can use it for a long time.
Harvesting Riper Flowers
When we harvest the flowers riper, the colors become even more intense, but it becomes more difficult in handling; a flower is still a delicate product. The fewer links in the chain, the riper the harvest could be. In practice that is difficult because it means that there are different maturity phases for different customers. That is why I would argue that the last one in the chain should give the flower a little more time to open up and then show it to your customers, challenging them to see this as a colorful flower, and not as an 'old' flower! During the partial COVID-19 lockdown, we let our flowers open on the crop (maturity stage 5). We made it into an exuberant bunch and handed it out. A week and a half later this bunch was still full of color in people's homes! And let's be honest, wouldn't you rather give a colorful bunch than a bunch with just green buds on it?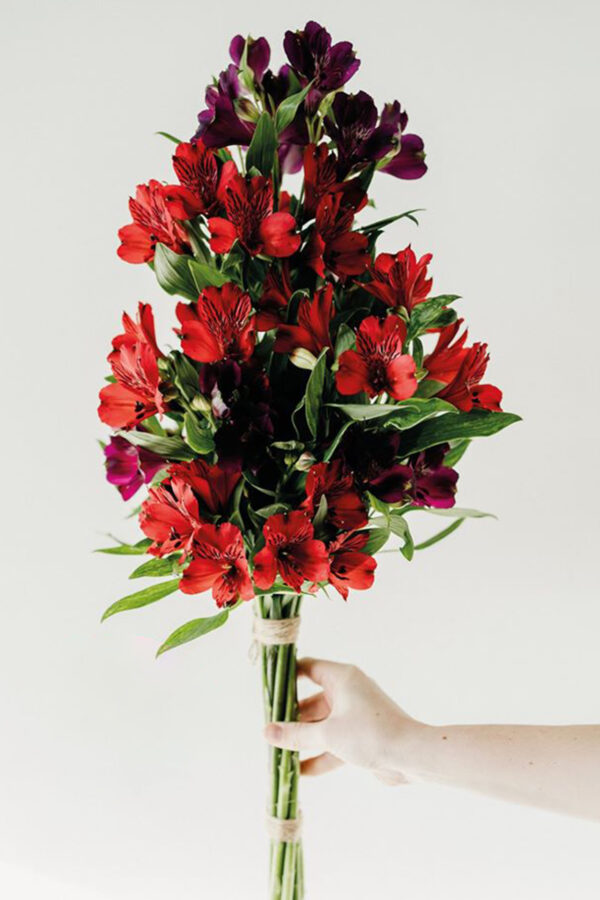 The Perfect Cutting Stage
So, what do we conclude from all this? We as Tesselaar Alstroemeria like to create an awareness that the alstroemeria needs time to mature, preferably in the greenhouse. This way the flower gets the power and will stay longer. We think cutting stage 4 is best for a long shelf and vase life. We understand that for transport and handling reasons cutting stage 2 is required, although it means less power to the flower. It would take quite some rethinking processes in the chain to change this. We ask florists to give the flower a little more time to open up before presenting them to your customers. Alstroemeria will be able to show itself so much better!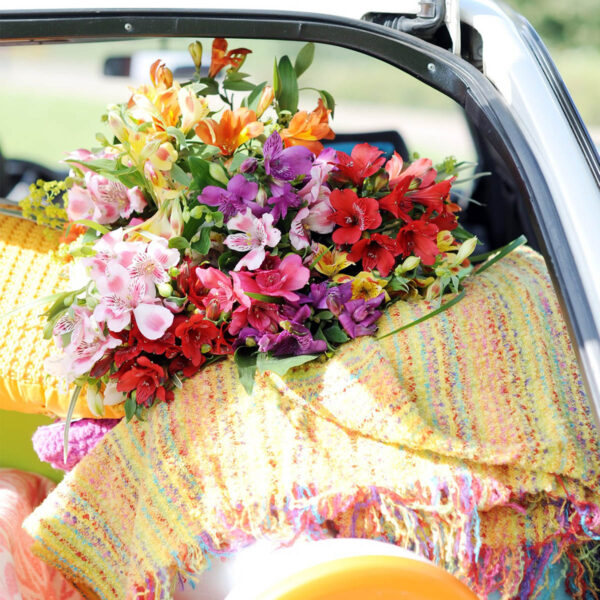 Additional Information About Cutting Stages
Flowers are harvested mainly according to the prescribed auction regulations. In general, Dutch auctions divide the offer at their sales platforms and at the clocks into 5 stages of maturity. These correspond with the cutting stages of growers:
1 = flower is raw, closed
2 = flower is slightly open
3 = flower starts blooming
4 = flower is clearly open, but not fully
5 = flower is fully open
You can imagine that some flowers are harvested and sold at cutting stage 5, like anthurium, gerbera, and many spray chrysants. Other flowers need to be cut in a less mature stage, so they will bloom further from there.