Podcasts are the perfect way of adding educational content any day of your life because all you have to do is open your Podcast App and have educational content in the palm of your hands. But wait, not any podcast... of course, listening to plant podcasts will become your favorite time of the day, especially if you're a plant fan at heart. Plant podcasts are your go-to option for all podcast advocates who love listening to a daily episode to add a spark of happiness, curiosity, and peace to your day. Here's a list of the seven best plant podcasts you should listen to in 2023!
Top 7 Plant Podcast Favorites You Should Be Listening to in 2023
Plants are definitely our home on this planet. They have the instant ability to make us feel more connected with every aspect of the world and environment, making us feel more at home, one plant at a time. Here are 7 plant podcasts that offer fascinating perspectives to those who want to take the time to submerge a little deeper into the plant world and educate themselves.
1. On The Ledge by Jane Perrone
Created in 2017 and hosted by Jane Perrone, this plant podcast advises listeners on how to improve their plant-growing skills, while learning how to deal with pest infestations. Perrone loves having horticulturists and enjoys exposing doses of insightful, yet fun DIY project discussions. If you want your plants to actually thrive and not only survive, this is one of the top 7 plant podcasts you should be listening to in 2023. Available on Google Podcasts, Apple iTunes, Spotify, Stitcher, and Web Player.
2. In Defense of Plants Podcast
Classified in the list of the top plant-based podcasts you should be listening to in 2023 is Matt Candeias's In Defense of Plants podcast, one that makes sure to focus on nature's conservation and ways in which you can care better for the planet. Not only does he give methods and options for how you can care for plants you have at home or in your garden, but for all of nature and the environment. During his insightful episodes, Matt's passion for the plants all around us and the entire earth, in general, can really be felt by just listening to all the educational content he has to share. Available on Google Podcasts, Apple iTunes, Spotify, and Web Player.
3. Epic Gardening
Next on the list of the 7 top plant podcasts you should be listening to, is Epic Gardening. In need of daily tips and advice to improve your plant or gardening skills? This plant podcast is for you! You'll receive a daily dose of plant-growing tips for all skill levels. Hosted by Kevin Espiritu, this plant podcast expresses high-quality content that is well-researched, entertaining, and best of all, has very easy-to-follow tips on a wide variety of horticulture topics. Available on Google Podcasts, Apple iTunes, Spotify, Stitcher, and Web Player.
4. Plant Daddy Podcast
Looking to be the first to know about the current houseplant trends and techniques to improve your indoor and outdoor garden spaces? Yep, the Plant Daddy Podcast is the right one for you! Included in the best plant podcasts you should be listening to, this specific podcast will help you understand difficult topics in the horticulture industry while enjoying the company of highly respected guests talking all about plant care. Available on Google Podcasts, Apple iTunes, Spotify, Stitcher, and WebPlayer.
Matthew and Stephen are hosting their podcast to share growing techniques and methods, new and unusual plants, or the background and history of familiar ones.
https://www.instagram.com/plantdaddypodcast/
5. Plantrama
Definitely, one of the 7 plant podcasts you should be listening to. Why? You'll find strategies for seasonal care for your vegetable garden that include proper feralization techniques to winterize your outdoor green space for improved sustainability and longevity. Hosted by plant lovers Ellen Zachos and C.L. Fornari, go ahead and take this podcast on a walk, run, or whatever you're doing during the day! Available on Google Podcasts, Apple iTunes, Spotify, Stitcher, iHeartRadio, and Web Player.
6. Propagated Podcast
A plant-filled podcast hosted by two nerdy friends, Daniel and Frankie who are two plant-loving friends that want to share their passion with the world. They enthusiastically share their very favorite subject: you guessed it, plants! Includes everything plant adjacent, such as booze, blights, poisons, lawns, and so much more. Join them on this journey to root!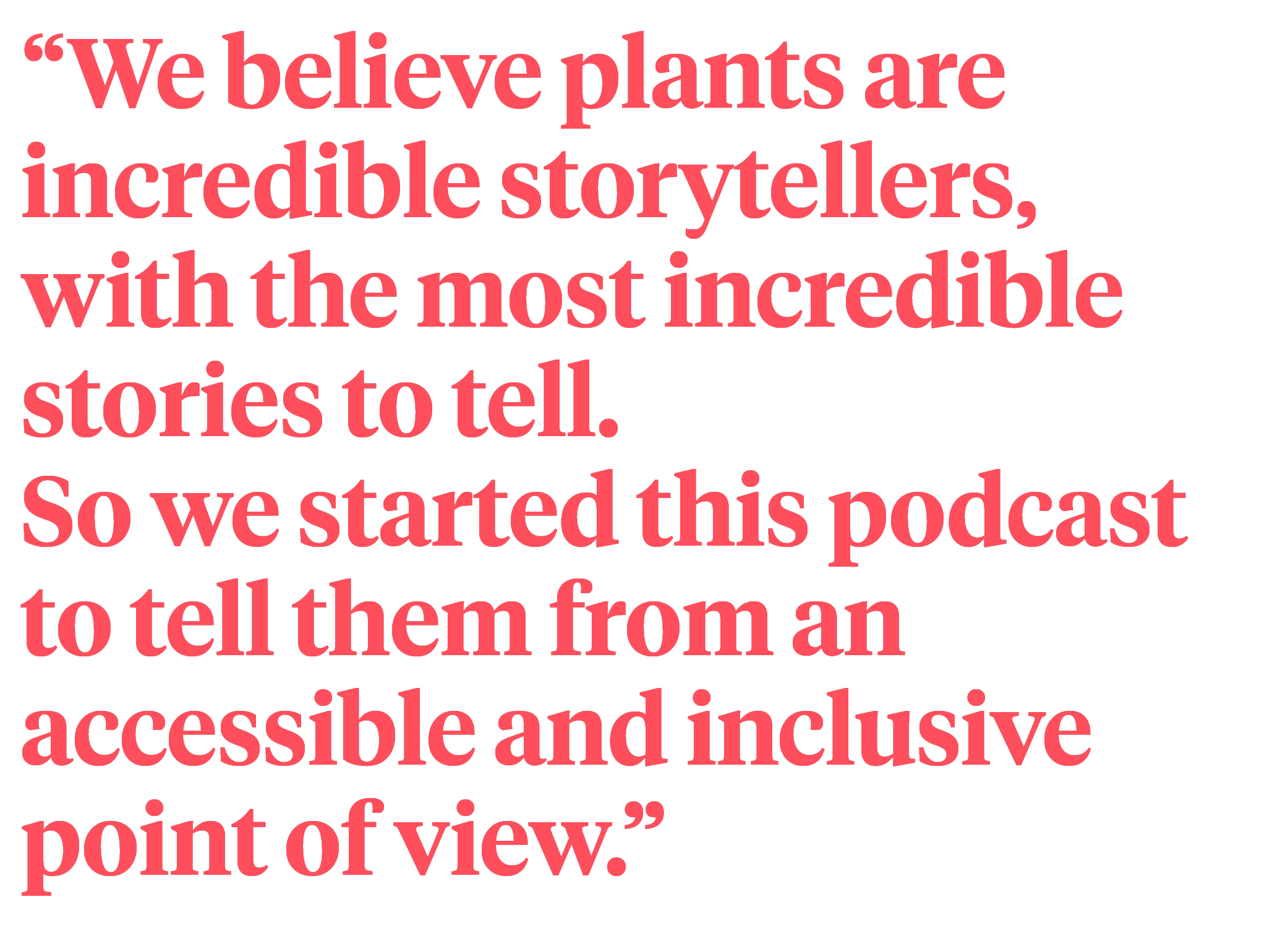 7. Growing Joy With Plants Podcast
Growing Joy with Plants was formerly known as Bloom & Grow Radio. Learn to care for plants successfully and cultivate more joy in your life. Ever killed a houseplant before? Host Maria Failla can relate. That's why she interviews planty experts to get answers to the plant care questions we all have but might be nervous to ask. Like what the heck is bright indirect light? What are soil and the potting mix made up of? Or what is the best way to water my plants?
Tune in to stop killing your plants, learn how to get them to thrive, and most importantly, how plants can help us grow a little more joy in our lives while we "Keep Blooming and Keep Growing"! Available on Apple Podcasts and Web Player.
Maria Failla:
"After killing plants for too many years, I started the bloom and grow radio podcast, where I interview experts in plant care, and learn alongside listeners Just like you.I'm relentlessly curious and committed to asking the questions. Many might be nervous to ask - whether grilling scientists about the basics of photosynthesis, or asking a world renowned gardener what mulch is (Yes, I did that)."
More, More, More Plant Podcasts
Still not satisfied and want more, more, more plant podcasts? If you're looking for more options to expand your flower industry knowledge and floral skills, here's a list of 10 flower podcasts you could also follow to help you out!