The year 2020 has been filled with so much uncertainty that has taken a huge toll on our business and our livelihood. It's time to get back up, be inspired, get creative, and take your business to the next level. The sixth annual floral business and design education online summit is hosted from 7 - 11 September 2020 by Fleur Society.
A Catalyst for Flower People
"Since starting Posh Peony in 2005, I've been able to grow and scale my floral business over the years. With very little support and resources, it was not always an easy road and I often found myself frustrated and lost. I wanted to create a conference that would serve as the catalyst for savvy marketers, businesses, and floral entrepreneurs around the world to easily build the strategies, relationships, and expertise they need to implement strategies to rapidly accelerate business growth and sustainability."
This online summit will bring together some innovative business owners, industry thought leaders, and educators together for a 6-day event that will deliver 40 actionable online sessions that will support, empower, and build community in the floral industry.
The Online Summit is for the Floral Entrepreneur Who..
Desires to learn foundational principles of design to improve your design process
Needs help in creating a cohesive design to attract your ideal client
Wants to learn the proper mechanics for luxury design
Wants to learn how to create sustainable designs that are foamless
Is struggling to figure out how to diversify your offers for consistent cash flow
Wants to hone in on your creative process when designing florals
Dreams of sharpening your design techniques and skills that will increase your workflow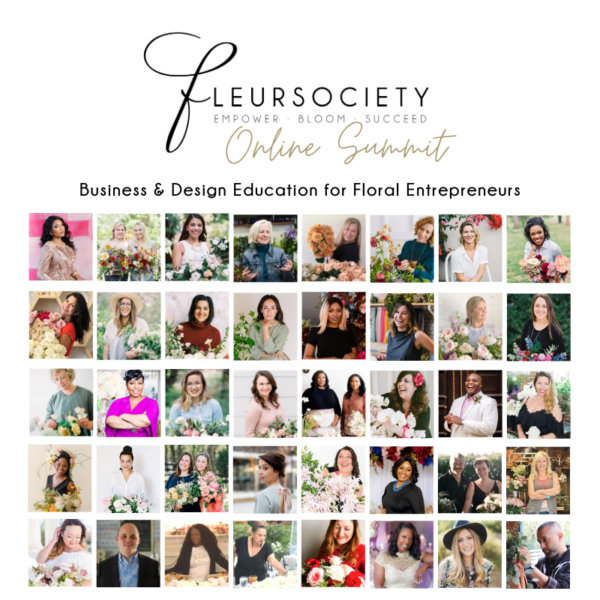 Teresa Eoff of Figure Eight Events about a previous summit:
"I loved it! The Fleursociety Online Summit was such a brilliant idea! It was like the ultimate business slumber party! It was so nice to learn from the best in the business from the comfort of my home and in my pajamas."
Engage with floral industry thought leaders who will transform the way you think about design strategy through mechanics, technique, and principles of design.
Engaging Demonstrations and Presentations
Fleursociety Online Summit will be an immersive and invaluable experience taking place over 5 action-packed days. Summit sessions will run on September 7th through September 11th and a free pass will give you access from 9:00 am -9:00 pm PST. Each day will be made up of engaging demos + presentations from some of the top floral designers and educators. The conference is designed to take you on a step-by-step journey through every conversion point in business and design building — from principles of design to proper mechanics, to color theory, and large installations, that will attract your ideal client, sharpen your design technique and skills.