Annual flowering bedding plants determine the atmosphere on the balcony and terrace. It is estimated that 75% of the western households have a balcony or terrace. A place where it is great to stay with spring and summer sun.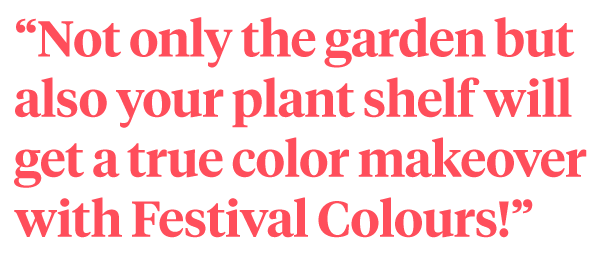 Quick Mood Makers
On the eve of the new outdoor seating season, the start of daylight savings time, we see that the flowering plants are being bought specifically for quick mood makers on the balcony and terrace. Kwekerij Wouters has been successfully responding to this for years with its 'Festival Colours' product line. Not only a 'party in your garden' but also a party on the shelf, or colorful products to create an attractive outdoor presentation and seduce the consumer, as the many green trade retailers indicate when purchasing Festival Colours.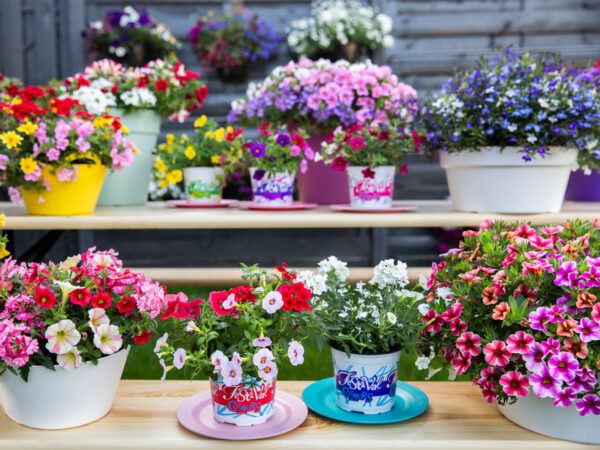 What is Festival Colours?
Festival Colours is a product range that is exuberantly flowering, striking, and colorful due to a combination of at least three different bedding plants in shape and color. Available throughout the outdoor season - from early spring to autumn - in decorative growing pots, unique bowls, and hanging baskets. Ideal for the garden plant buyer who has little time and knowledge of plants, and who wants to achieve successful results easily with the design of his garden. After all, the garden is there to enjoy with friends and family and to relax in.
Ready-made Garden Decorations
The passion for a good product goes further than just the plant. Festival Colours opts for a ready-to-use product with which the professional can score. Not only easy for you as a florist, but also for the consumer. With colored bowls and decorative pots in contemporary colors and pots with a water reservoir (Aqua-Easy), you create instant happiness with Festival Colours!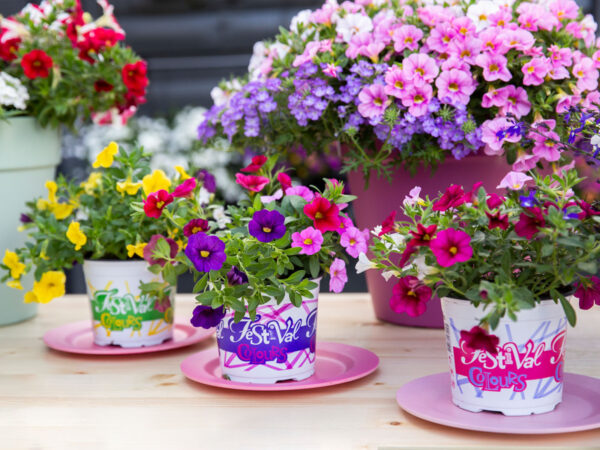 Unique and Distinctive!
Before Kwekerij Wouters offers Festival Colours, the range is extensively tested. Genetics from different breeders are combined in different mixes and developed into ideal breeding programs. The mixes are sophisticated, not only for color and shape but also for shelf life, equivalent growth, and flowering success, so that the consumer is satisfied with the garden bloomers.
A Party for the Garden, but Also on the Shelf!
The new gardening season is upon us; time to get the garden ready for a party! This is very easy with the colorful, mixed bedding plants from Festival Colours.
Color Make-over
Not only the garden but also your plant shelf will get a true color makeover with Festival Colours! Each pot is a festive mix of colors and varieties for the garden and patio. The Festival Colours range now offers more than 100 different plant and pot combinations; from cultivation pots and dishes to patio and hanging pots. Plenty of choices for every season!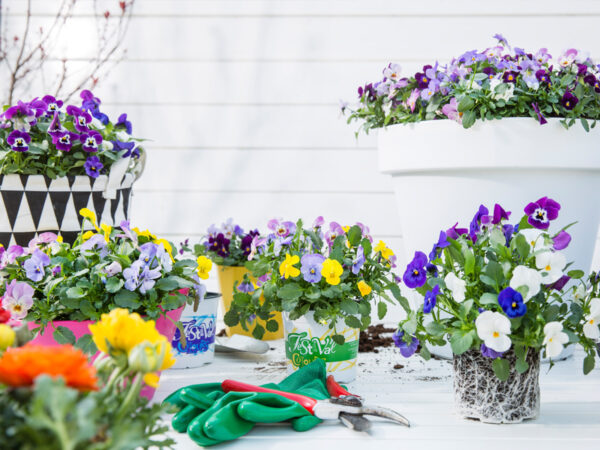 Tune In: The Festival Season Has Started!
Start in the spring with the range of cheerful violin mixes. In this way, every winter garden becomes a spring garden in no time; very easy! When it really gets summer, it is time for a tropical plant party. The range of bi-colored flowers and popping combinations immediately puts you in a summery mood. The ease with which the consumer can immediately transform the terrace and garden into a festival garden has been the success of Festival Colours for years.
Marketing Support; A Party for Your Customers
The cheerful product appearance with recognizable pot printing and labels makes Festival Colours an eye-catcher on the shelf. Do you also want to draw more attention to Festival Colours for your customer? Just contact Kwekerij Wouters for associated Point of Sale materials such as table banners, photos, posters; everything for an attractive presentation on the shop floor, or get started with posters, photography, How-to videos, and texts that we make available to you; this way you give your sales an instant color boost! With a consumer website www.festivalcolours.nl, an active presence on social media and consumer events, Kwekerij Wouters ensures that their Festival Colours is top of mind not only in the store but also outside the store. More POS-material in this link.