Salix, commonly known as pussy willow, is a very profusely flowering willow with generally silvery-white catkins that flower from late winter to early spring. Besides Salix being the kick-off of the floral season, it makes for a lovely, lush addition to bouquets and other floral arrangements.
Lush Floral Arrangements With Salix
When people think of the first flowers of spring, they often have either snowdrops (Galanthus), crocus, or winter aconite (Eranthis) in mind. And yes, there is no doubt that they are early bloomers but in many climates, they don't even come close in bloom season to the earliest bloomer of all: Salix. Or better said: pussy willow.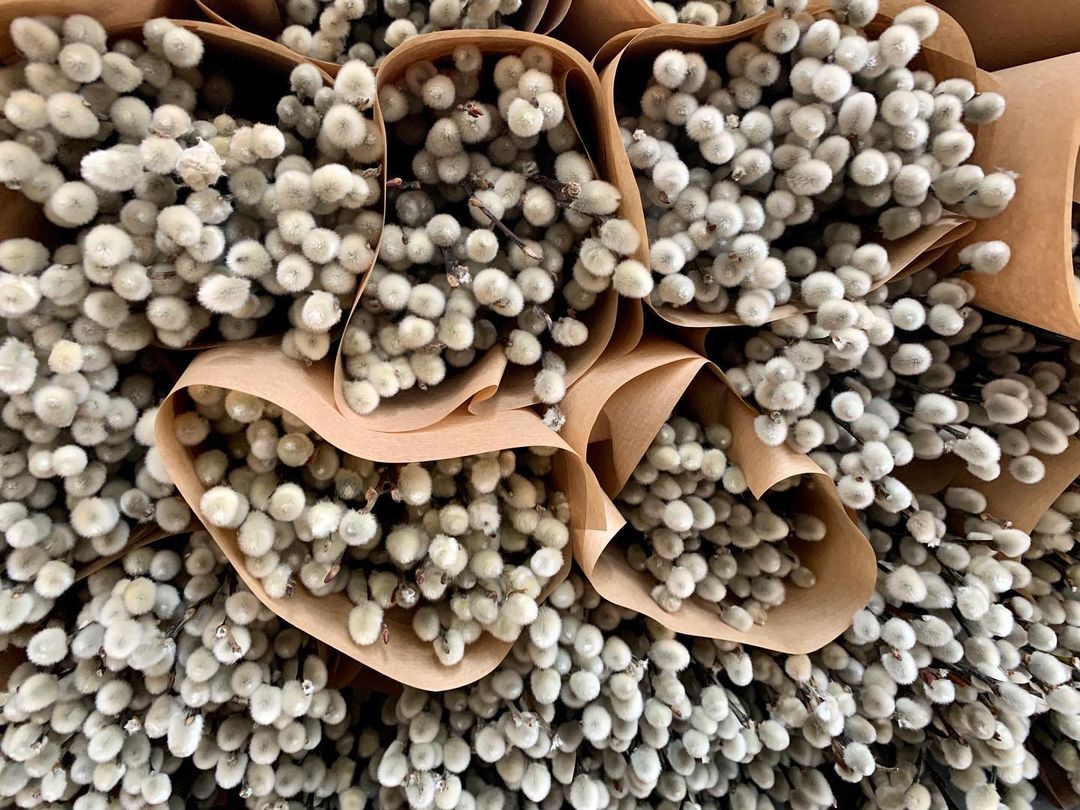 Dried Salix via
@zerowasteflowers
Salix Kicks Off the Floral Season
Bulbs have to wait for the snow to melt in order to bloom, but pussy willows usually jump the gun by blooming right through the snow, as soon as the ground beneath them has begun to thaw. Depending on where you live, they can start blooming in January in mild climates all the way up to May in the colder regions.
What's in a Name?
There's a wide number of species within the Salix genus but any willow with relatively large or striking furry flower clusters is likely to be considered a pussy willow. The 'fur' is usually silvery to white hairs, reminiscent of a kitten's fur. Which is exactly where the name pussy willow is derived from. This type of inflorescence is called a catkin - derived from old Dutch for the word 'kitten'.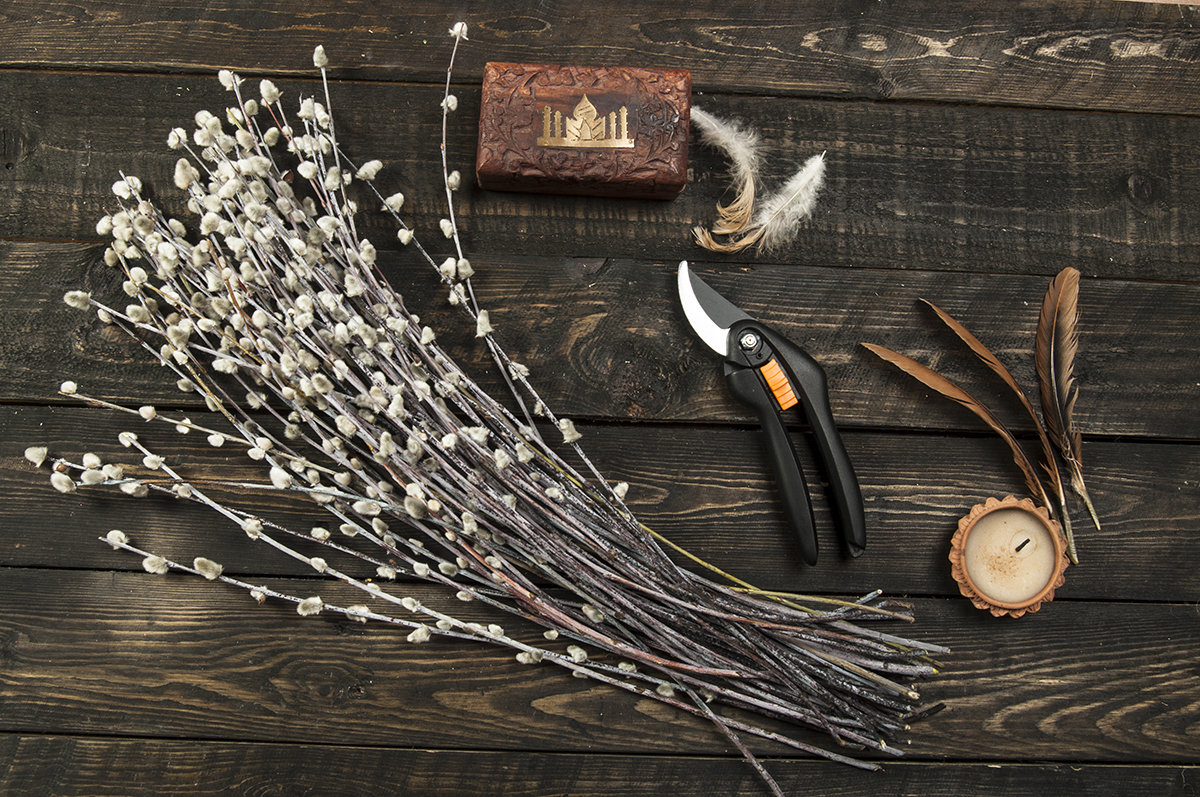 Image via
Etsy
Unlike most flowers, catkins have no petals. Their 'fur' of dense little hairs is designed to protect delicate flowers from the cold in the Northern regions where they typically grow.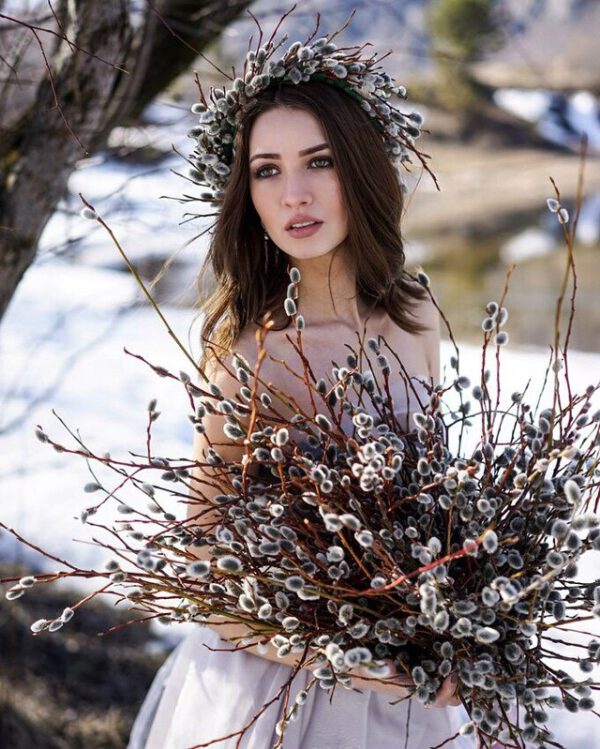 Salix arrangements via
@verygreen_decor
The willow is a pioneer plant, which means that this species acquires an (almost) empty area where it did not occur before. The willow feels especially at home along rivers or on the border between land and water. The roots then provide an airy soil and the humus formation of its waste makes the soil suitable for other species to follow, such as the ash or the oak.
Harvest Your Own Salix Branches
Willows are dioecious, which means that the male and female flowers grow on separate plants. Male willows often make the prettiest catkins. They are not only usually larger than female flowers but they also tend to keep their oval shape a little bit better and never produce the fluffy floating willow fuzz full of tiny seeds that burst out of female flowers in spring. When harvesting your own salix branches to use in a bouquet or floral design, simply cut them in the desired blooming stage and let them dry naturally in a vase without water.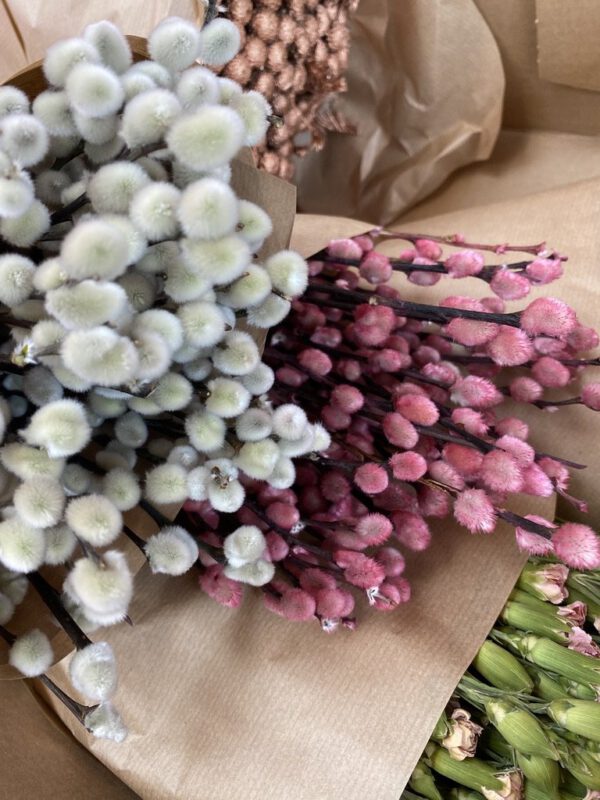 Colorful Salix via Dollz
Most cut pussy willow stems are in a sort of time warp—dried at their peak fuzziness and never allowed to fully flower. But if you keep fresh-cut pussy willows hydrated, you can see the whole flowering cycle and even the leafing-out process. Buy a healthy-looking bunch (look for flexible, greenish stems that don't feel brittle or look shriveled), and place in a vase near a window, changing the water daily. You can add a little flower food if you have some.
A Great Choice For Seasonal Bouquets
Popular for its soft, fur-like buds on long, straight stems, salix is a great choice for seasonal bouquets. Not just in springtime, but throughout the year. Salix is easy to dry and color (you'll find them in a rainbow of colors on the market) and has a vase life that can last up to several years when dried. Pussy willows have been cultivated to produce a range of different catkin colors. They make great indoor arrangements, even just a few branches as a 'mono' eye-catcher to spruce up your home decor.
Great varieties of pussy willow to try are American pussy willow (Salix discolor), Japanese pink pussy willow (Salix gracilistyla 'Mount Aso'), Fantail willow (Salix udensis 'Sekka), and Red pussy willow (Salix koriyanagi 'Rubykins'). Want to show off your designs and talk about salix with other industry professionals? Join the Thursd - Your Floral Meetup Spot group on Facebook.