The yellow balls of craspedia elevate both your floral designs and your mood. These little suns on stems do not only have a great vase life but they are also one of the most suitable flowers to dry - keeping their shape and color intensity just the way you want. The Craspedia Paintball series from Danziger takes this even a step further, wowing you with their extraordinary large flowers in different shapes and sunny colors. It is therefore only logical that we see so many floral designers using these flowers in their floral arrangements.
Elevate Your Floral Designs With Craspedia Paintball
Did you know that craspedia is a genus of flowering plants in the daisy family? Craspedia is often also known as billy buttons and woolly heads and they are a native species to Australia and New Zealand, where they grow in a variety of habitats from sea level to the Alps.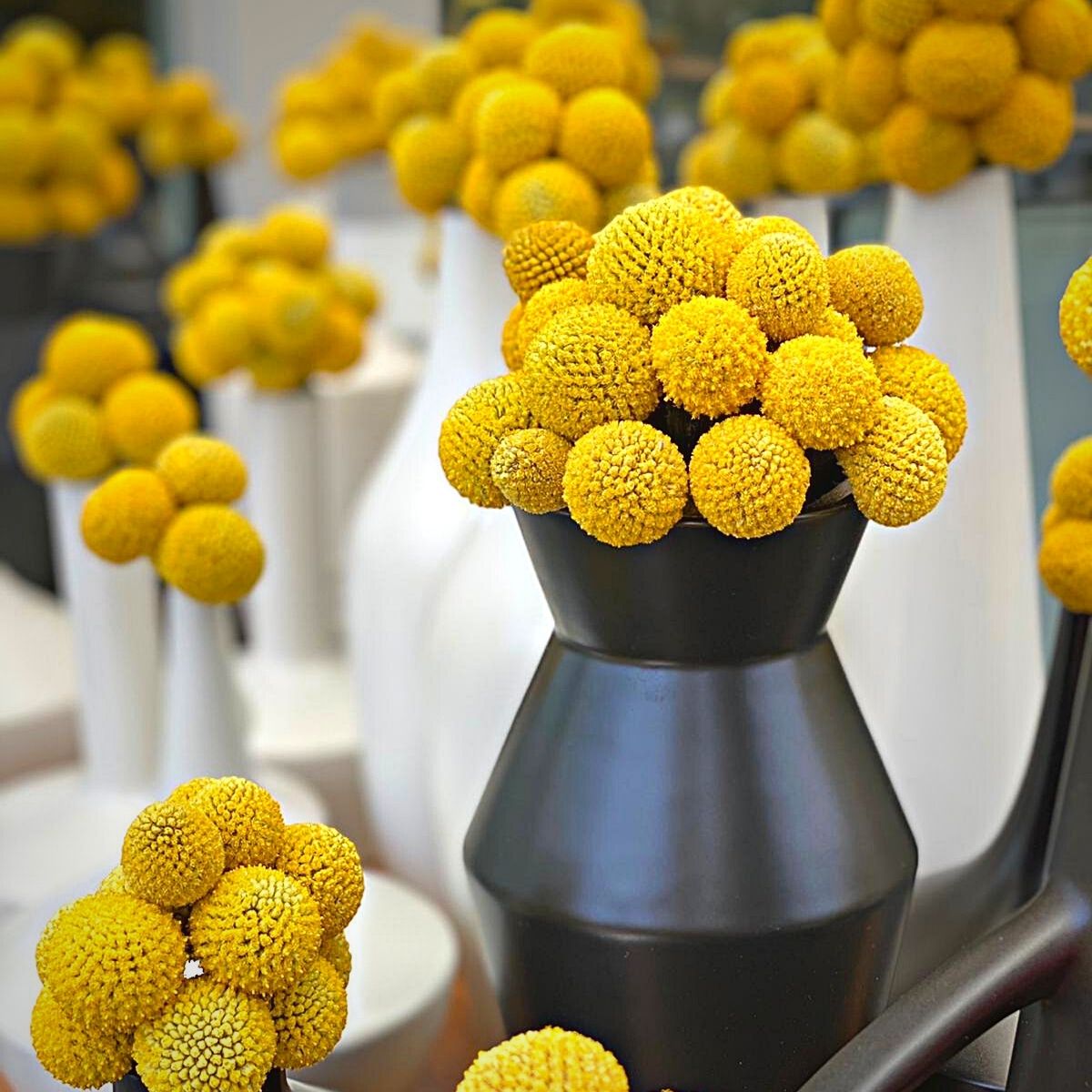 Picture by Shlomi Ilani
Craspedia Is Loved by Floral Designers
It is no wonder that craspedia is loved by many floral designers. The yellow drumsticks are very popular as cut flowers – they guarantee a pleasant, airy color accent. In addition, they have slender leafless stems, so they don't take up any volume. So you can combine them nicely with more voluminous flowers – such as delphinium or dahlias. A single flower also looks lovely on its own in a vase. Another plus: they hardly lose any color intensity when they dry.
Time to Get Creative
Through innovative breeding from tissue culture instead of seeds, Danziger has created colorable craspedia varieties with amazing vase life, that offer the advantages of both earlier flowering time and longer deployment over many months. You currently find four different varieties in the Paintball series: Paintball Globe, Paintball Jumbo, Paintball Pop, and Paintball Poppy.

These craspedia identify themselves by some of the following extraordinary characteristics:
Extraordinary large, yellow heads
High consistency of shape and size
Extremely long vase life
Uniform flowering
Can be tinted to allow endless possibilities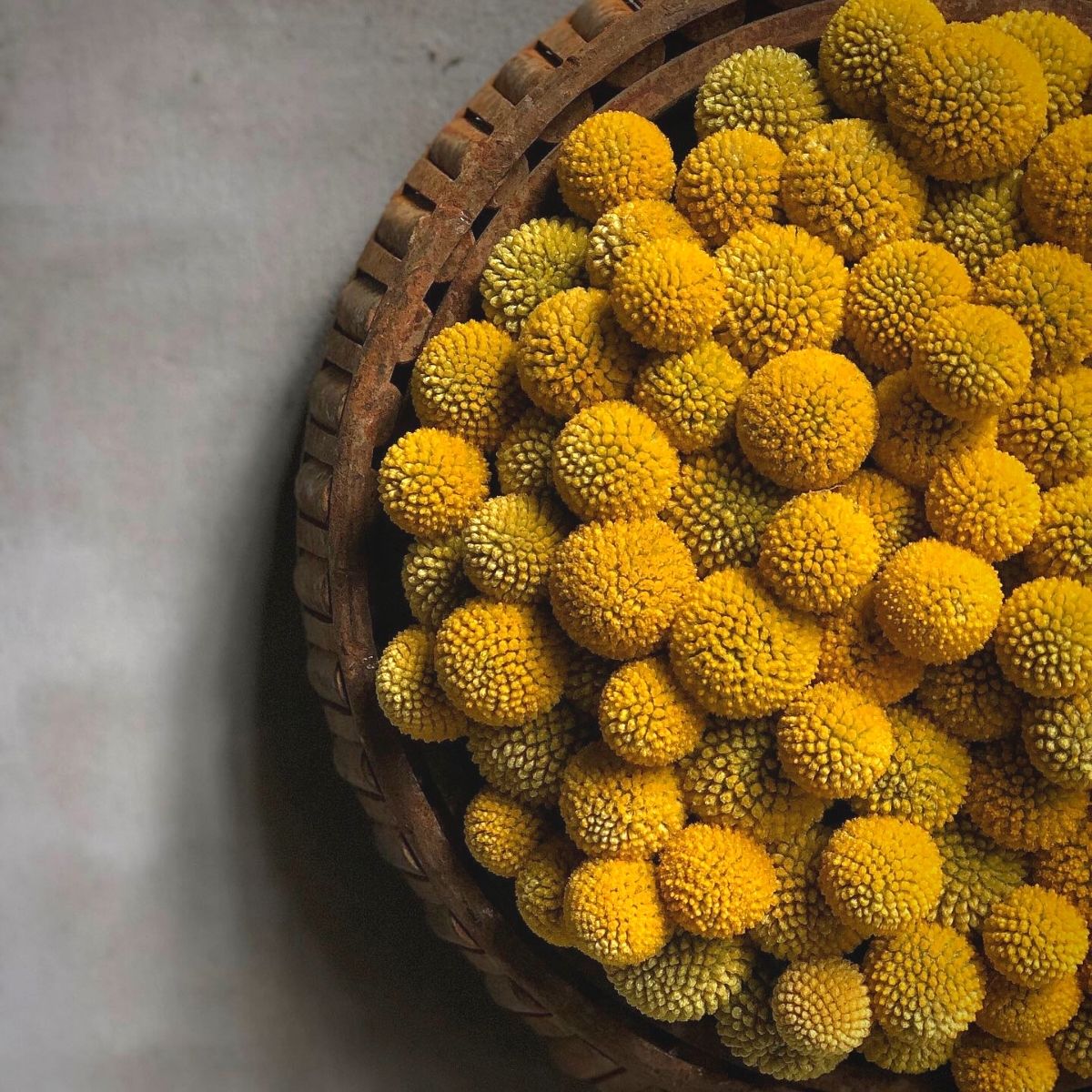 Picture by Yunus Karma
Endless Design Possibilities
The beautiful and cute yellow balls of Craspedia Paintball immediately brighten up any interior. The craspedia looks like a long flower without petals, with a small yellow hard bulb on the end of each long stem. Just like a little sun! The unique and playful look of Craspedia Paintball makes them very suitable for everyday floral design but just a few stems in a small vase already look great.
Drying Craspedia
Another advantage of this flower is that it dries perfectly. This can save you some money. When you didn't use all the fresh flowers, you can hang up a bunch to let them dry out naturally and enjoy the sunny but rustic vibes they give off that way. The design possibilities with this very stylish and very cheerful flower are endless!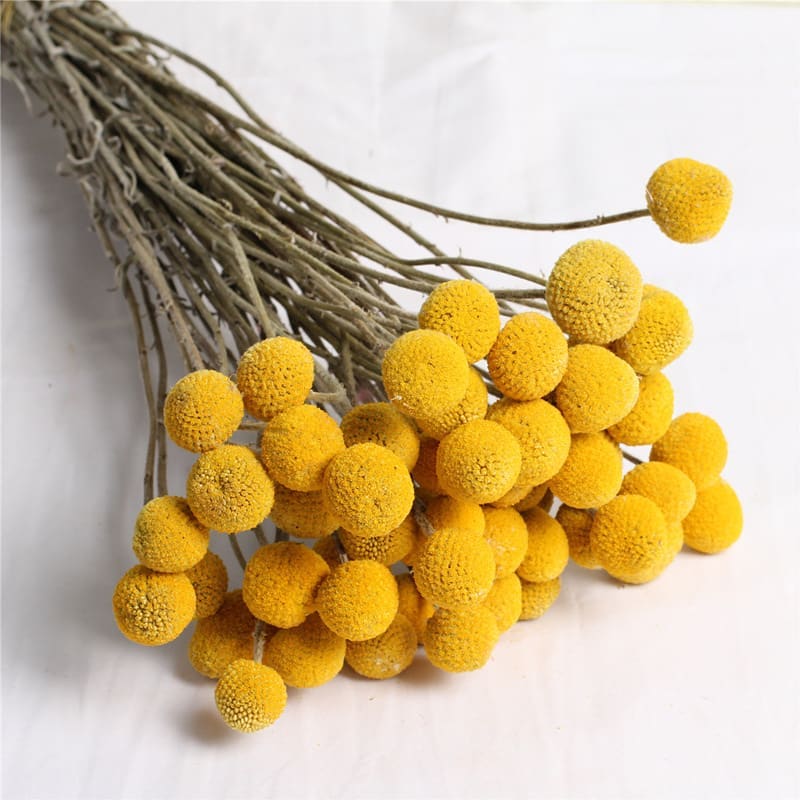 Dried craspedia
Colored Craspedia
The colored craspedias are often used in modern styled floral designs. many designers also love craspedia for her versatility and use them in different colors.
Pictures by Alina Neacsa (different colors of craspedia) and Katya Hutter Floral Design (wedding invitation)
Other Uses of Craspedia
Some designers also use the craspedia to mimic another flower. Alina Neacsa creates an anemone flower with lisianthus and the dark painted craspedia:
"I am using craspedia either dyed or as a mechanical flower. As a tip and trick I love to create anemones when they are not in season using a big eustoma (lisianthus) and in the middle add a dark-colored craspedia, it works miracles!"
A dark-colored craspedia together with a lisianthus flower makes the perfect anemone flower when they are not in season. Alina often uses colored craspedias in her floral designs.
The WoW Touch in All Kinds of Floral Design
From big and bold looks to a soft whisper of something captivating, craspedia offers a wonderful way to add just the right "wow" touch to your floral designs. Also in the Japanese art of flower arranging, many designers love to use this flower.

About Craspedia Paintball From Danziger
The creator of this series, Danziger, has much experience in breeding and producing a wide variety of extraordinary craspedia cut flowers. They apply the most advanced innovative cultivation techniques to deliver outstanding quality craspedia cut flowers. Their global operation ensures you receive elite quality cuttings and other vegetative plant materials in optimal condition. Danziger leads the way in cut flowers that customers love and growers trust. Watch the short 1-minute video below: