Have you ever seen such amazing blooms on a stem of gyp? Look at the flower shape when each and every pristine white flower has popped open. As a floral designer, your hands must be starting to itch, your creator spirit is waking up, inspired by the versatility of this flower, craving to make a wonderful piece of art. That's what the top variety Gypsophila Grandtastic from breeder Selecta One will do to you. Let's create 'Art That Rocks'.
Gypsophila Grandtastic
The name says it all. This gyp is both a grand and a fantastic flower The blooms on the sturdy stem are truly big and super-strong, the bright contrasting tones show its pure whiteness. The vase life is exceptionally long. All this gives the perfect user experience to any floral designer.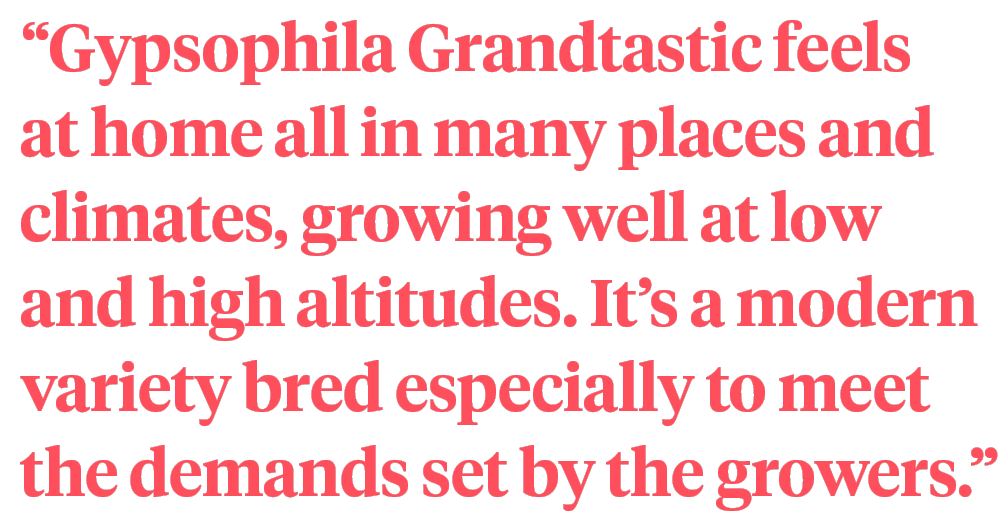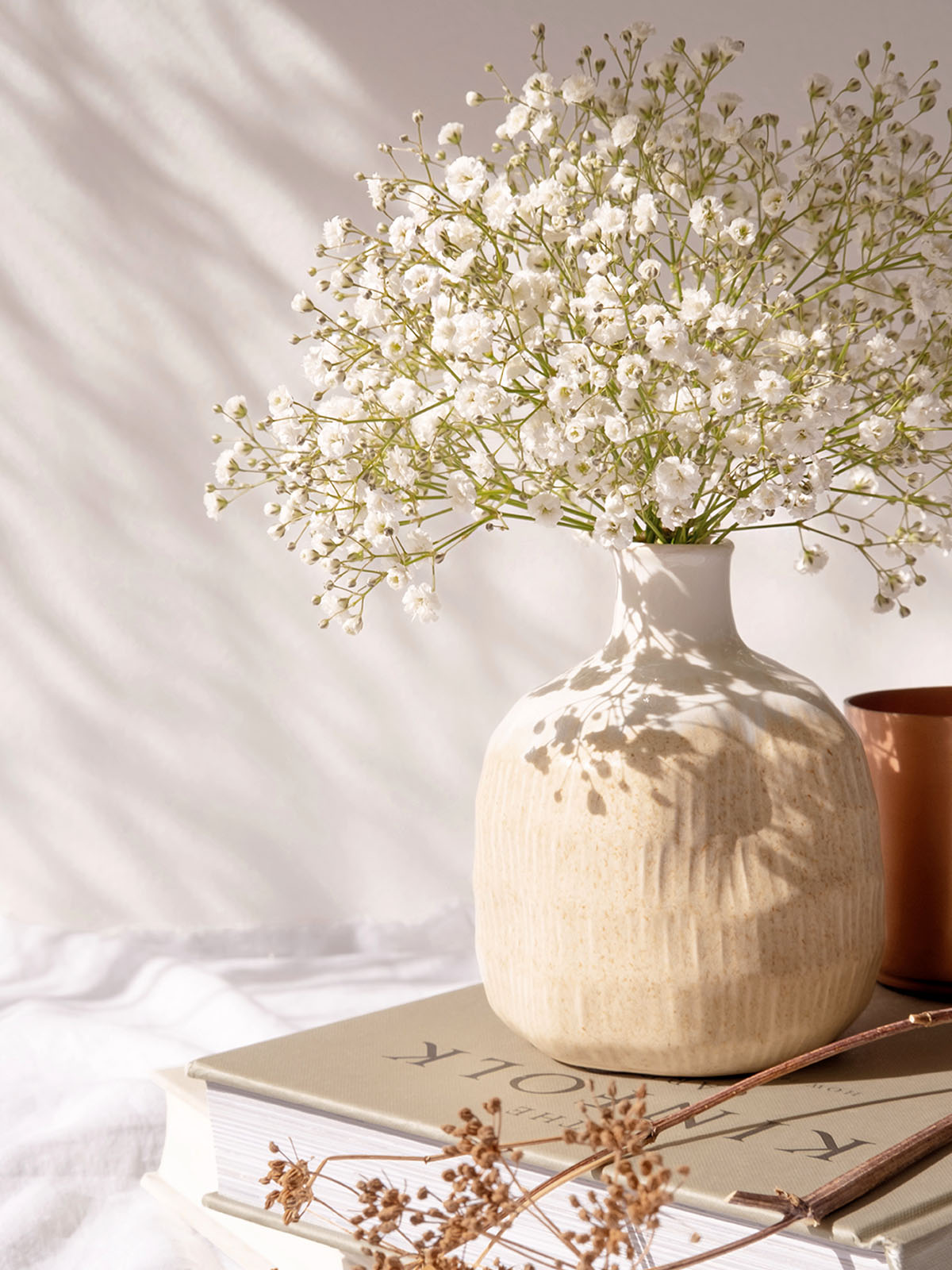 Now, before you rush over to your supplier's webshop to get this flower, take a look at the inspiration project 'Art That Rocks' by Colombian floral designer Jhonana Gracia from Flores Gracia.
Art That Rocks
The rock-solid Grandtastic gyp is a piece of art, looking great in some wonderful designs. The 'Art That Rocks' project proves this flower's value as a piece of art. Due to its versatility, nobility, and exquisite beauty, creating unique volumes and contrasts, the Grandtastic gypsophila can be used not only as a complement in the creation of flower arrangements but also as the leading star. It promises compositions worthy of an art gallery with a long-lasting magical twist.
To express this concept, Flores Gracia has developed two art stories reflected in an artistic composition: 'Río de Luna' and 'Spring Dreams'.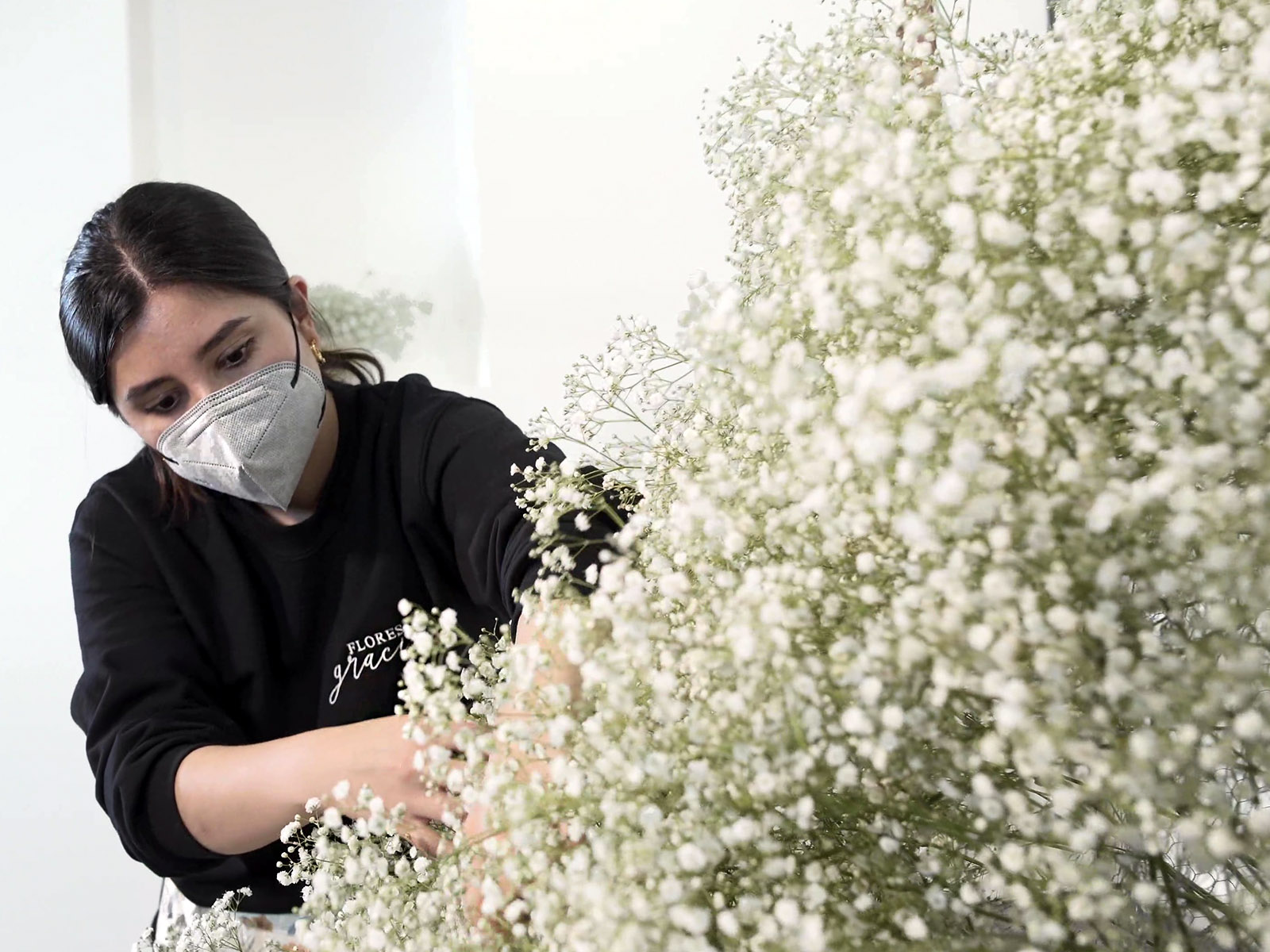 Río de Luna (Moon River)
Jhonana Gracia:
"Río de Luna is an allusion to the bright, white color of the flowers which are capable of illuminating any space, giving a magical air. For its creation, we suspended a window frame in an empty room and through it, the Grandtastic spilled through as if it were nature beautifully invading a space and creating a surreal scene extracted from a dream."
Spring Dreams
Jhonana:
"In the other artistic exploration, we followed the idea of painting a picture. But in this case, we replaced the oil paints with Grandtastic flowers that dyed the raw canvas white, filling it with life and light, and creating a three-dimensional composition in which nature seems to open up from the center; a work that we called Spring Dreams."
Growing in South Africa, Africa, and Europe
Gypsophila Grandtastic feels at home all in many places and climates, growing well at low and high altitudes. It's a modern variety bred especially to meet the demand set by the growers to grow with limited use of energy for lighting. With this highly productive variety, Selecta One aims for South American growers in Colombia and Ecuador, African countries like Kenya, and southern European countries such as Portugal.