Did you know that Kenya is a giant in floriculture? In fact, Kenya is the leading cut-flower producer in the African continent and the third-largest producer of these flowers globally. Going by the quantity and quality of flowers it continues to deliver to markets all over the world.
The country's floriculture sector continues to maintain an upward trajectory; showing great potential for more growth, despite emergent challenges threatening the flower industry. This is according to experts in the sub-sector and global players from different value chains in the floriculture industry.

With its range of climatic conditions that vary from cold and wet conditions, to temperate weather, hot and humid, and hot and dry conditions, Kenya's climate presents a combination of weather patterns that make the East African nation an ideal place to grow numerous varieties of flowers. According to statistics, floriculture is contributing 1,4% to the country's GDP, which is huge.
The country's flower industry has experienced significant growth in recent years, with exports of cut flowers continuing to increase.
Overview: What Kenya's Flower Industry Looks Like
Kenya has a combination of factors that make it a key leading flower producer globally. With its significant number of breeders, growers, logistics players, flower inputs providers, and even floral designers, Kenya's flower industry, without a doubt is etching its mark in the world of flower production.
Breeders like De Ruiter East Africa, United Selections, Dümmen Orange, Delbard, Florensis Kenya, Royal Van Zanten, Selecta Cut Flowers, Interplant, Jan Spek Rozen, Schreurs Roses, Danziger, Kordes Rosen, Könst Alstroemeria, Select Breeding, and Stokman Rozen Kenya Ltd, as well as propagators like Solo Plant Kenya Ltd, among numerous others who all have a presence in the country and have continued to ensure that Kenyan flower growers have enough breeding material for flowers like roses, alstroemerias, carnations, gypsophila, hypericum, lilies, and summer flowers and many others that the country produces.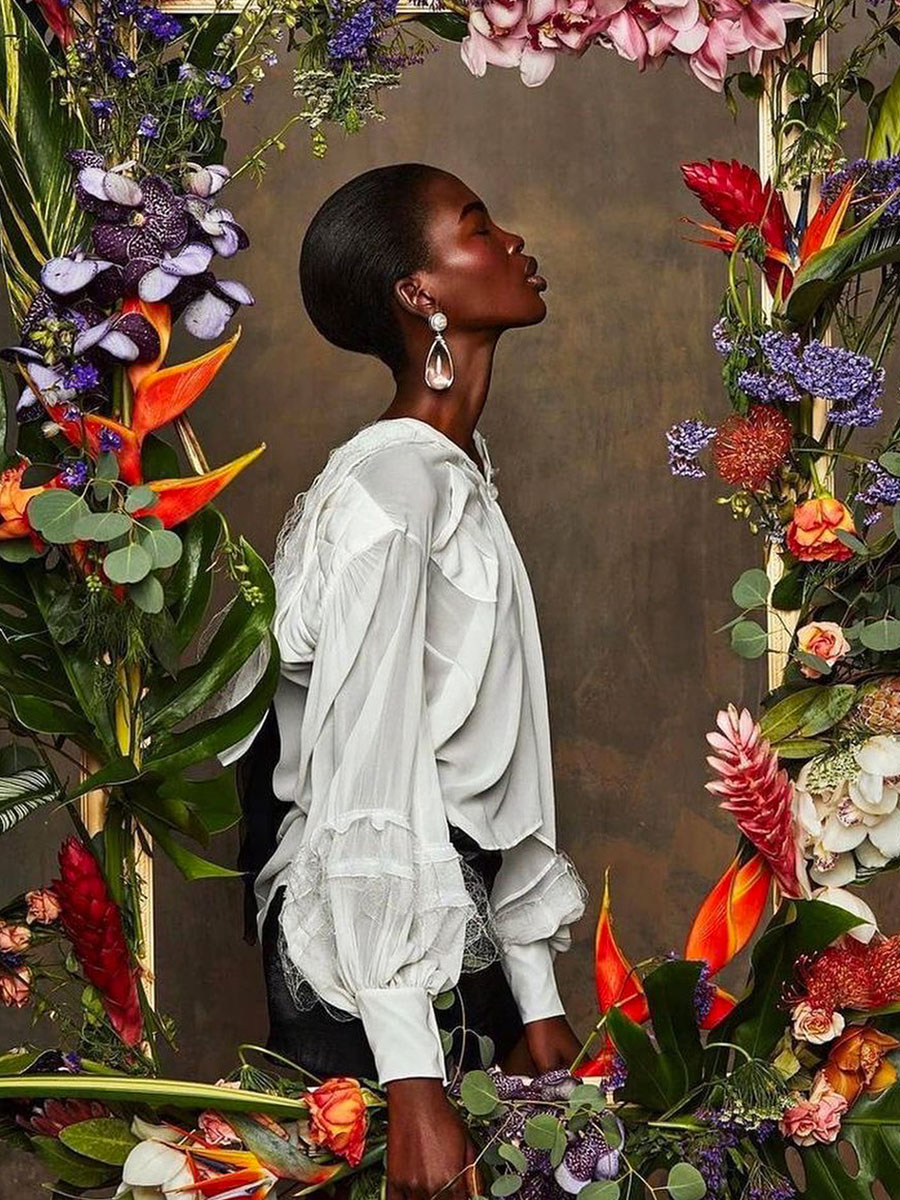 The country also hosts numerous flower farms spread across its key flower-growing regions that range from the Lake Naivasha area to Nakuru, Nairobi, Athi River and Kajiado, Mt. Kenya region, Limuru-Rumuruti-Ol Kalou belt, Kericho-Kitale-Eldoret, and the Thika-Juja-Kiambu regions.
Some key flower growers in the East African country include (not in any particular order) Marginpar, Wildfire Flowers, Van Den Berg RoseS, Kisima, P.J Dave Flowers, Xpression Flora Ltd, Fontana Farms, Maridadi Flowers, Maasai Flowers, Decofresh Kenya, Suera Flowers Ltd, Carzan, Flamingo, Red Lands Roses, Subati Flowers, Sian Flowers, Ever Flora, Prima Rosa, Elbur Flora, and, of course, the Black Tulip Group. (Among many others).
Companies like Airflo, Q7 Air Cargo, Maersk, Hellmann Perishable Logistics, and others partner with different global airlines - and now shipping - to deliver flowers to customers across the globe.
Flowers are the third-largest foreign exchange earner for Kenya. The country exports roughly 70% of its flowers to European countries, with the main export markets being the Netherlands, the UK, Germany, and Norway, with an export share of 43.3%, 17.1%, 5.8%, and 5.6%, respectively.
Most of the exported flowers from Kenya are sold at Dutch auctions, while others are directly sold to customers such as supermarkets and florists in the country's other markets spread across the world.
Kenya's cut-flower industry employs more than 200,000 people across its different value chains and impacts - directly and indirectly - the livelihoods of up to 4 million people. In 2021, floriculture earned Kenya KSh110 billion (USD 809 million) affirming its great contribution to the country's GDP. The Netherlands, the United Kingdom, and Saudi Arabia were Kenya's leading destinations for cut flowers during this duration between 2020 and 2021.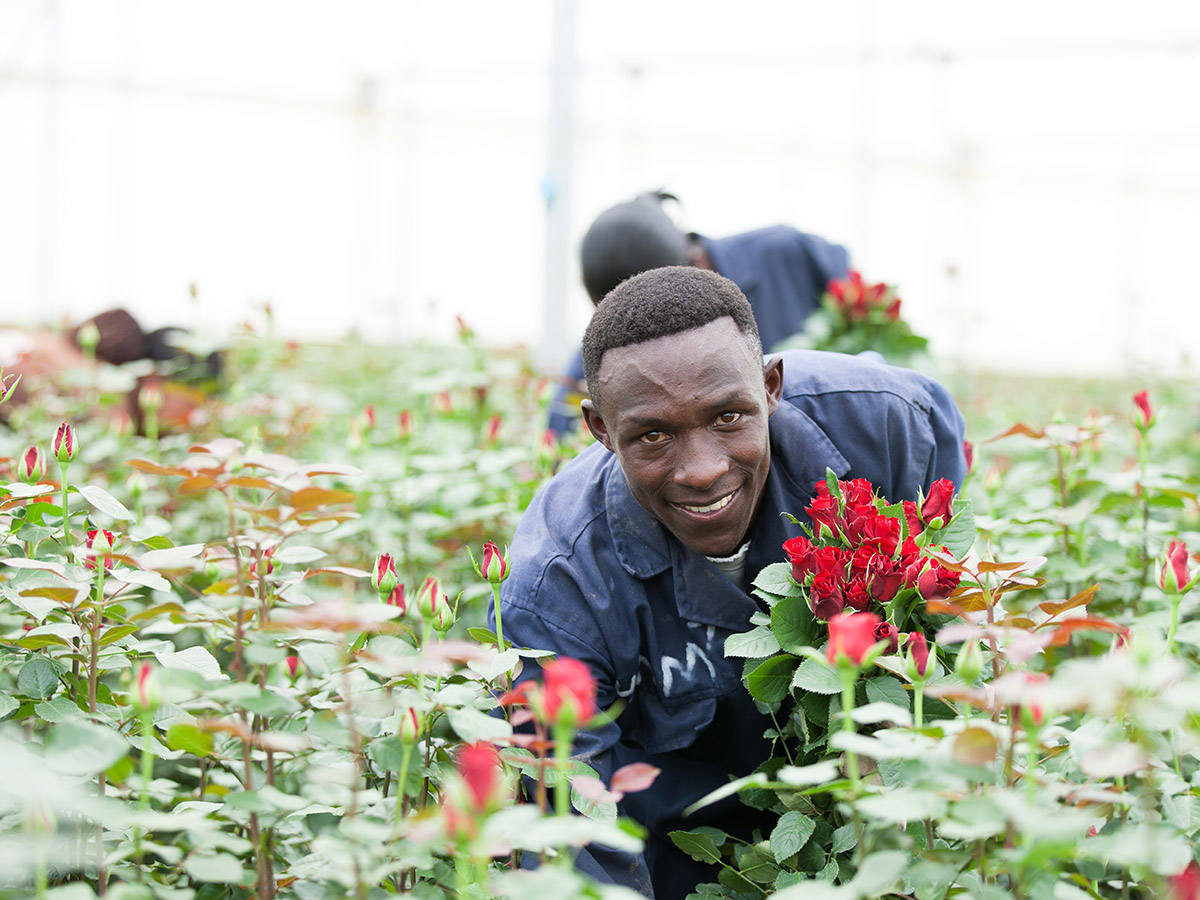 Where Are Kenya's Flowers Mostly Grown?
Most of the flowers grown in Kenya for export are farmed in the regions around Lake Naivasha. This is a uniquely freshwater lake found in the backwoods of Naivasha, a township roughly half the distance between Kenya's capital Nairobi, and Nakuru town. The town of Nakuru is roughly 90 miles northwest of the capital.
While virtually all the lakes in the region are saline, Lake Naivasha stands out as being a freshwater lake that provides sufficient good quality water for irrigation of flower farms when the need arises. It is estimated that more than 1,200 hectares of land are under flower cultivation in this region, with roses grown in up to 70% of the total area under flower farming. The acreage keeps growing as more investors come into the picture.
Counties, where flowers are grown in Kenya, include Nakuru (where Lake Naivasha is technically found), Kiambua, Meru, Nairobi, Nyandarua, Laikipia, Kericho, Trans Nzoia, Uasin Gishu, Murang'a, Kajiado, Nyeri, Migori and Machakos as well as other small growers spread across different other counties.
Why Floriculture Is Such a Key Sector for Kenya
The flower industry is an important sector of the country. Stakeholders in the flower value chain hold that it is gradually edging out other industries as the most key sector that is sparking the growth of Kenya's GDP and creating hundreds of thousands of employment opportunities along its value chain.
The industry contributes significantly to Kenya's GDP and is a key source of foreign exchange for the country. It employs thousands of Kenyans along its value chain including at least 200,000 who are directly employed in flower farms. Some 4 million livelihoods also directly benefit from this industry in Kenya.
As earlier indicated, the floriculture industry in Kenya also continues to show significant potential for more growth. This, however, will be actualized with the right policies in place. Market research forecasts that in the period between 2023-2028, the Kenyan floriculture market is projected to register a compound annual growth rate of 5.1%.
Such stellar growth is driven by Kenya's robust floriculture ecosystem made up of breeders, growers, exporters, logistics, and other players in the flower value chain.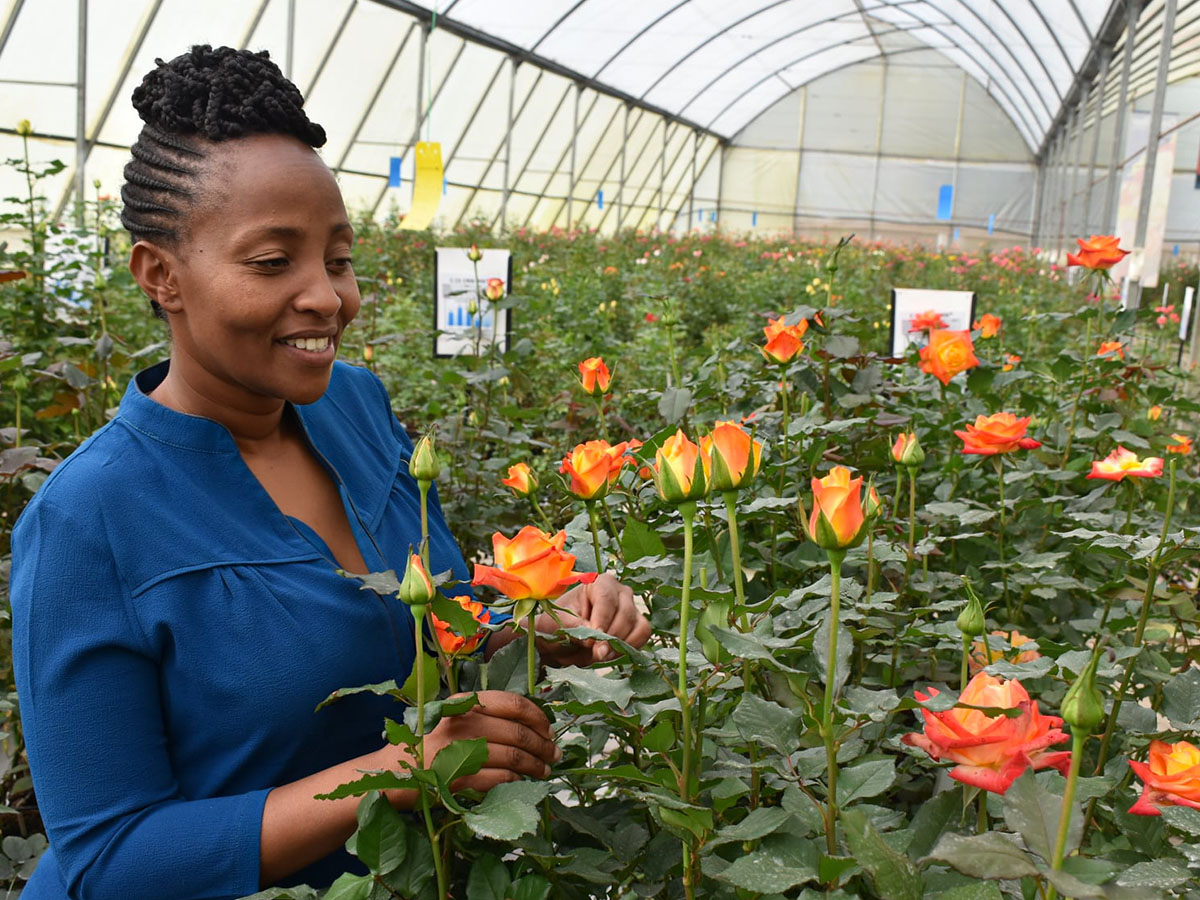 Players in the Kenya Flower Sector
Kenya's flower sector is mainly dominated by players in the private sector. While the government may play a considerable role in the floriculture industry in the country, the vast majority of the stakeholders are from the private sector.
From the breeding companies to the growers and logistics handlers and exporters, Kenya's flower value chain is largely dominated by investors that have no direct affiliation with the government. However, the government has been key in coming up with policies that govern the workings of the flower industry in Kenya.
Founded in 1996, the Kenya Flower Council (KFC) is the body mandated with the promotion and advocacy of the interests of Kenya's flower industry. KFC represents more than 80% of the flower industry players in the country.
It strives to create an environment that is conducive for a thriving flower sector in Kenya, through working with both the county and national governments. Essentially, KFC represents Kenya's flower industry in government matters; lobbying for the industry to be recognized for what it brings to the country.
KFC works in partnership with other organizations like the Kenya Private Sector Alliance (KEPSA), Federation of Kenyan Employees (FKE), Kenya Association of Manufacturers (KAM), Floriculture Sustainability Initiative (FSI), Kenya Bureau of Standards (KEBS), Agriculture Employers Association (AEA), and even Kenya's Ministry of Agriculture through its different departments to ensure the success of floriculture.
Other institutions like the Fresh Produce Exporters Association of Kenya (FPEAK) and Fresh Produce Consortium of Kenya (FPC Kenya), also have key roles to play.
What Makes Kenya Such a Success Story in Floriculture?
For starters, Kenya's climate is perfect for growing a wide range of top-quality flowers that are marketable across the world. Roses, carnations, lilies, chrysanthemums, statices, hypericums, gypsophila, scabiosas, eryngiums, craspedias, ornithogalum, and alstroemerias, alongside many other varieties, are the flowers that Kenya's flower industry produces, affirming just how much it has to offer in flower production.
However, roses are the leading flowers that the country produces and exports to markets globally. Summer flowers and lots of other varieties are also gradually emerging as popular varieties that the country supplies to the international markets.
The country's ideal climate for floriculture is helped by the fact that Kenya straddles the equator, and therefore receives direct sunshine for the most part of the year. This is a lot like Colombia and Ecuador, which are also giants in floriculture and flower production in their own ways.
The positive result of this strategic location is that flowers - especially roses - are largely farmed in natural conditions enhancing their qualities such as straight stems and magnificent blooms. These are traits that are highly desirable among flower enthusiasts and also sought after in global flower markets.
Despite experiencing some periods of dry conditions in several of its rich flower-growing regions, Kenya is lucky to have a relatively good supply of good-quality water for floriculture. However, once in a while, there is usually a water challenge in its flower-growing regions.
The country's infrastructure is similarly perfect for flower exports, given the presence of the Jomo Kenyatta International Airport (JKIA), a regional hub that is strategically located for easy access to major markets including in Europe and the Middle East.
All these factors play a role in ensuring that Kenya stands out among its peers when it comes to floriculture. And that's not all, because the country is constantly showing great potential for more growth if the best policies are put in place and the stakeholders continue putting in the effort required to make the country's flower story a success.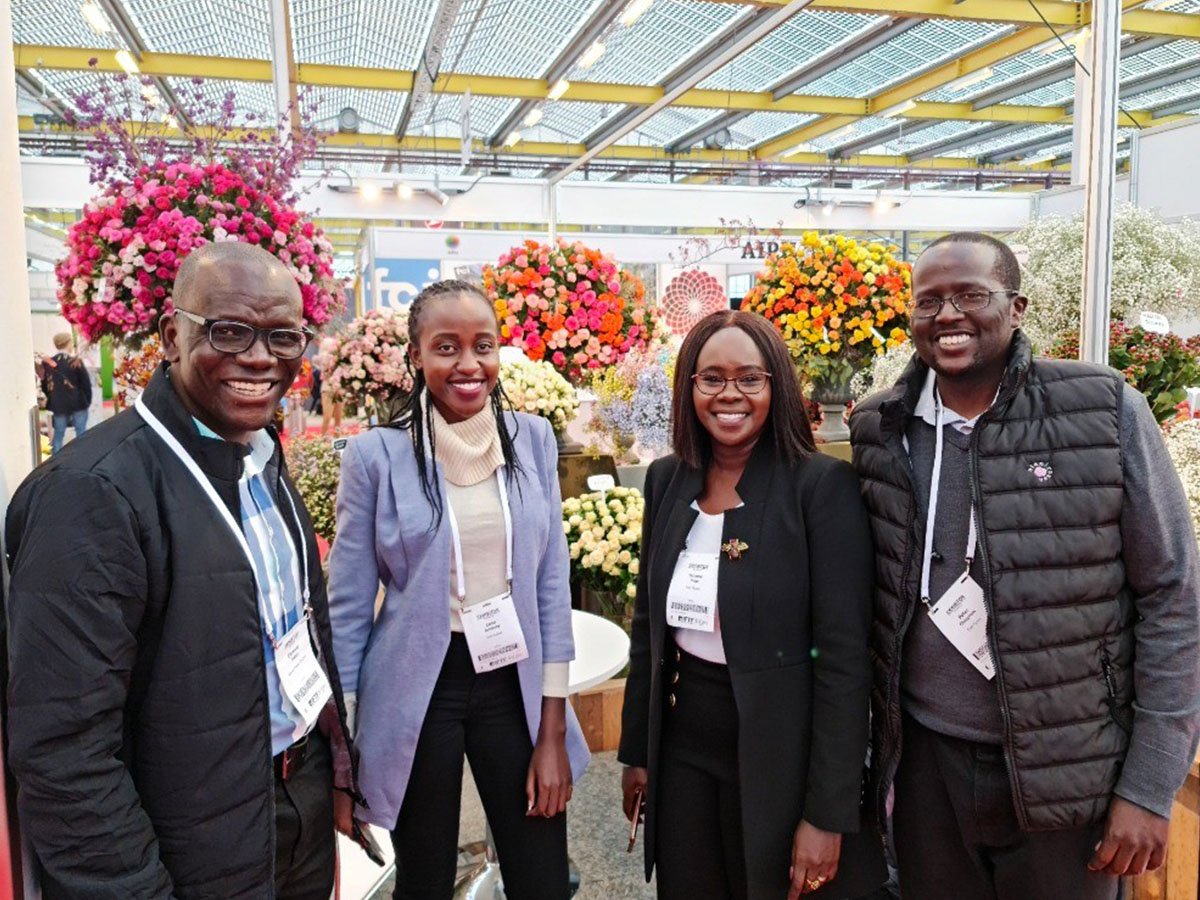 Clement Tulezi who is the CEO of KFC concurs that Kenya's flower sector definitely shows good promise going into the future. But at the moment, it is in a kind of unstable equilibrium state. According to Mr. Tulezi, while the future of the flower industry in Kenya is promising, there are still drawbacks at the moment that relevant stakeholders need to address to keep the country's floriculture going strong.
Richard Fernandes, the CEO of flower grower Marginpar also acknowledges that overall the Kenya floriculture industry is in a strong position. He explains that with more than three decades in the making, the industry is well established with a strong innovative support sector, global logistic hubs -both Jomo Kenyatta International Airport for air and Mombasa Port for sea, as well as well-educated hard-working people, who make good support staff in the flower industry.
That said, the country has continued to register great improvement in its flower value, despite a drop in 2022 due to numerous issues. In 2022, Kenya's export volume was 103 billion tonnes, down from 110 billion tonnes in 2021, due to market issues, inflation, and demand. But the current projections are that these figures are going up.
Mr. Tulezi:
"Kenya's climate is one of the best for flower production globally. It is only comparable to the climate found in Colombia, Ecuador, and Ethiopia. Other countries in the East African region may have near-similar climates, but they are not quite keen on the flower industry."
While other countries in the region are struggling to attain the stature of Kenya, including the kind of stability that attracts many investors in the flower industry, Kenya has remained relatively stable, coupled with its qualified staff, and its people's natural culture and affinity towards business.
Mr. Tulezi:
"Kenya has a better workforce for the flower industry. It also has the technology to facilitate ease in transactions. Nairobi also has better-developed infrastructure. Kenyan skies are open and any airline can lift flower products to any market destination globally. The government also has little control over the flower industry therefore any investor can easily get into the flower industry in the country."
Other factors such as Kenya's workforce which is, by and large, well-educated, adequately trained in floriculture, and hardworking enough also come into play to ensure that the country remains highly productive in floriculture.
Also, Kenyan's business acumen and relative political stability play a significant role in ensuring many investors in the flower value chain are thronging the country.
Issues That Affect Kenya's Flower Sector
Most of the issues that affect the industry in Kenya arise both in the local setting within the country's flower production processes and also in the international markets.
Mr. Tulezi says:
"Internationally, the challenges are mainly in tariffs and regulations. For instance, several key markets that Kenya is venturing into have imposed high tariffs which limit the country's capability in engaging in flower exports."
Korea, China, Russia, Turkey, the US, and the United Arab Emirates have quite high tariffs, and the solution could be a non-reciprocal tariff arrangement that could see some of these tariffs lowered.
The Australian market, on the other hand, is quite strict on quality, sanitary and phytosanitary regulations, which see flower exports from Kenya to the Oceania country undergoing intensive scrutiny.
Mr. Tulezi adds:
"There could, for instance, be some insects that are considered pests that are endemic to the specific tropical climatic conditions prevalent in flower-growing regions. Some of these insect pests are not really harmful. And putting stiff regulations on such means stifling flower exports. Such regulations could be eased to enhance flower exports."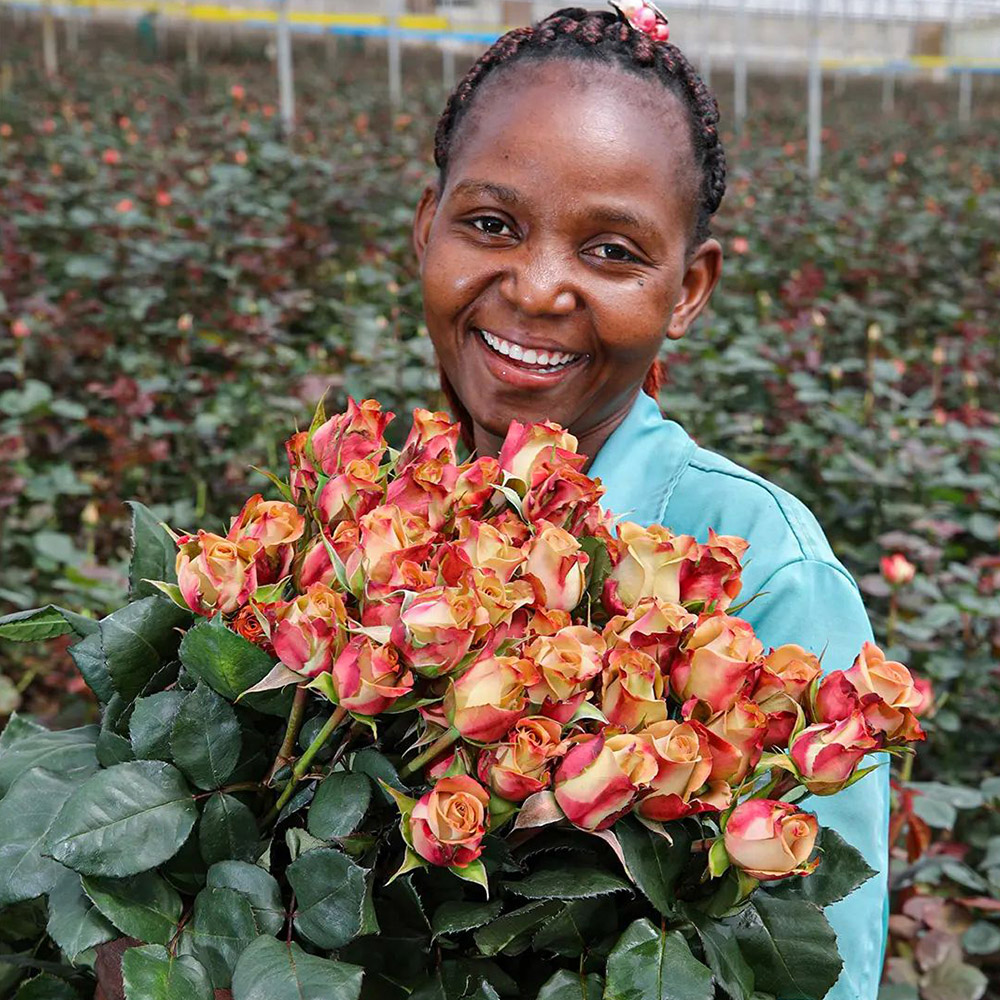 Local Challenges
Locally, the issues are mainly in terms of government tariffs, the cost of doing business - including input and operational costs - and also conditions that are unforeseeable, such as the corona pandemic.
According to the information given by the Kenya Flower Council, the cost of flower production has gone up roughly four or five times compared to the period before the COVID-pandemic. Flower producers also now pay so many taxes to both the local and county level governments. This wouldn't make sense given that the flower industry brings back so much revenue to the country's economy despite not having enough resources allocated to it.
The Kenyan government, he feels, isn't prioritizing the flower industry enough despite the great benefits it has for the country. In Ethiopia, for instance, the situation is a little different as the government is in charge of the flower industry there, and it is the country's national carrier that transports flowers to export markets.
Mr. Tulezi adds:
"In the past year, Kenya's flower industry was expanding at a rate of at least 100 hectares annually, but that has considerably gone down. If something can be done to address these challenges, then Kenya's flower industry will exponentially grow and the country will permanently etch its spot among the greatest flower producers in the world."
Mr. Fernandes, on his part, adds that currently, financial margins are under pressure driven by massive global inflation which has driven up the cost of doing business and created a softer market demand for Kenya's flowers. But this will eventually balance out. The good news, however, is that all the efforts put in by stakeholders in the sector have continued to see Kenya's floriculture show promises of further growth in the coming years.
And despite the slight hiccups, other markets, including the Middle East (Gulf states), the US, China, Japan, and Australia are also gradually coming in, especially with the improved cold storage facilities and more direct flights, including between Kenya and the UAE.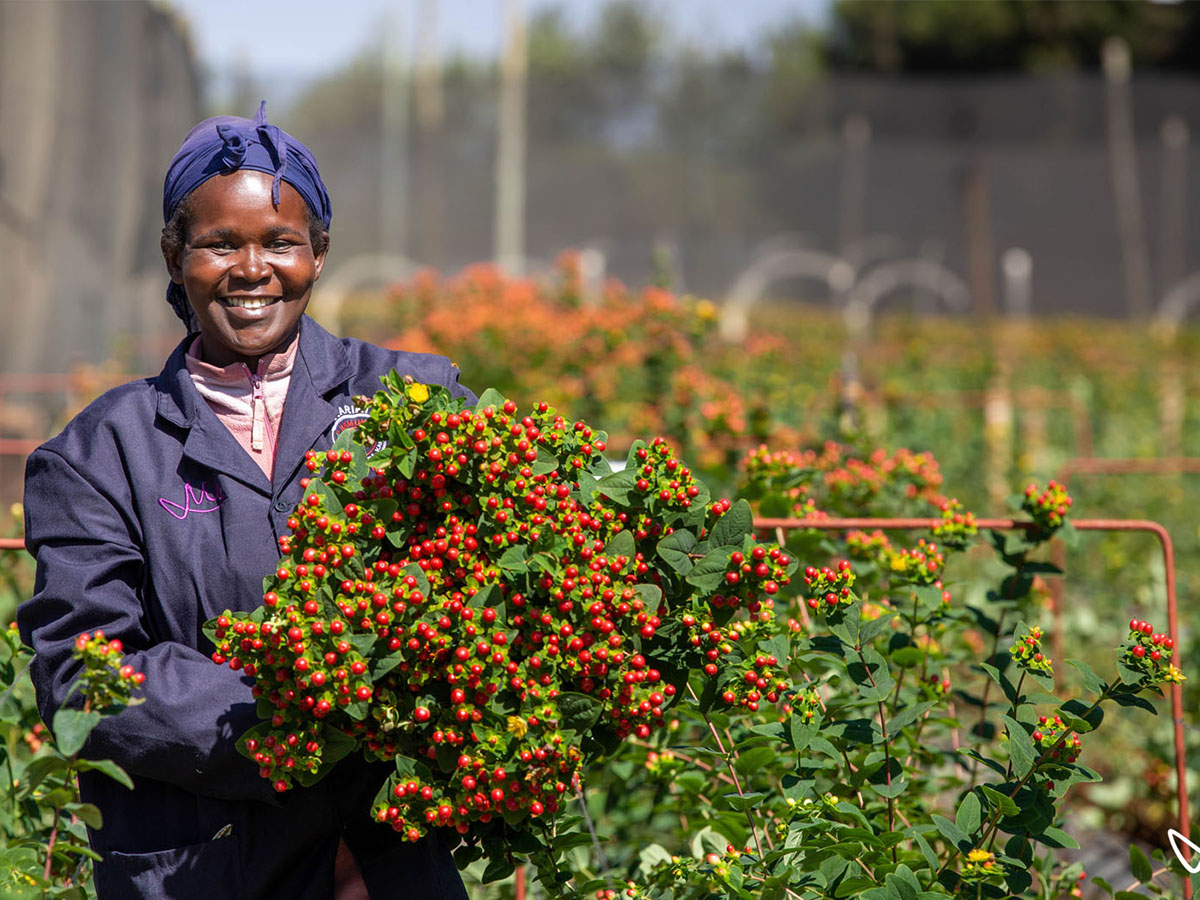 Sustainability: How Sustainable Practices are Boosting Kenya's Floriculture
The country's sustainability efforts have continued to play a leading role in enhancing Kenyan's flower profit margins, given the current consumer and customer trends globally which lean towards sustainable flower production practices.
Practically all major flower companies in Kenya, are adopting sustainability measures in their businesses to ensure that they conform to the current trends and also contribute to ethical floriculture production guidelines.
Most of these flower farms work with Fairtrade (FT), which is among the most recognized sustainability labels in the world. In Kenya, Fairtrade has approximately 46 certified flower producers mainly growing roses.
Fairtrade standards and certification processes help strengthen compliance with some of the national regulations that touch on floriculture, according to Gonzaga Mungai, who is the certification label's Eastern Africa regional program manager for hired labor, flowers, and young plants.
Mr. Gonzaga says:
"For instance, FT standards will require that the farm demonstrates compliance to health and safety, environmental requirements, employee welfare, and even the welfare of the community. And this is audited annually. While sometimes our regulatory bodies may have limited capacity to conduct regular inspections, these inspections are assured through FT's annual audits."
Great Rewards in Sustainability Practices
Fairtrade certification is an investment for flower companies. While the growers have to continuously improve and maintain high standards, there are many benefits. A flower that deploys the FT standards in its production processes is perceived to be operating sustainability and is able to meet multiple market requirements, the result is enhanced marketability of its flowers.
With that in mind, many flower farms in Kenya are, in turn, moving towards sustainable production systems incorporating the required Fairtrade measures in their businesses. Such include the deployment of other forms of energy, especially solar in their production processes, to check the business's carbon footprint and greenhouse gas emissions.
Farms like Sian Flowers, Red Lands Roses, and P.J. Dave all have installed solar energy in their production facilities on their different farms, which provide significant portions of their daily energy resources.
Mr. Tulezi affirms that sustainability is indeed, currently, a key issue. But KFC is at the top of its game.
He says:
"At KFC, we are pioneers of self-regulation, a factor that plays a significant role in sustainable practices in floriculture. Sustainability efforts driven by KFC are based on four elements which are governance, environmental conservation, social welfare, and good agricultural practices (GAP)."
KFC Continues to Sustainably Transform Kenya's Flower Sector
Most floral producers across the flower sector in Kenya work with the KFC standards because they are based on local production systems. However, other global standards such as the Global GAP are applied in flower production.
Dun Otieno, the compliance officer at Nakuru's Subukia-based, Subati Flowers Ltd affirms this notion. He indicates that the farm has been using the Global GAP standards and has just recently been certified for Kenya's newest standard, KS:1758. Other farms are also doing the same.
KFC, Mr. Tulezi also says, runs programs focused on gender equality causes, CSR, water and resource management, and integrated pest management, all of which are targeted at ensuring compliance and sustainable floriculture. The organization does frequent audits on the flower farms to ensure that these prerequisites are adhered to.
"We have really transformed the flower industry in Kenya in the past thirty years," Mr. Tulezi says.
Sea Freight Is Becoming a Reality in the Kenyan Flower Industry
Mr. Tulezi also reveals that with the input of other partners, KFC's efforts have now seen great progress toward sea freight for Kenya's flowers. This, he says, is a development that heralds great potential for the industry.
Sea freight, he indicates, reduces carbon emission, controls pests since some of these pests can not survive in extremely cold conditions for long durations during the freight, and also improves logistics capacity.
Mr. Tulezi says:
"We have done trials for sea freight and currently we do at least twenty containers every week. We have partners with whom we work to actualize this development. The Kenyan government should only enhance policies that would facilitate easy implementation of sea transportation of floriculture produce since flowers - alongside horticulture produce - are highly perishable."
Maintaining Sustainability on Kenyan Flower Farms
For the long term, the flower industry in Kenya is expected to face sustained calls for ensuring that flowers and plants are produced sustainably, from a social and environmental perspective. The industry is well on this journey though. Kenya is practically ahead of the global industry in the sustainability respect with at least 80% of the industry holding certification labels from the FSI basket of standards.
The industry started to self-regulate through the KFC Flowers and Ornamental Sustainability Standard (FOSS) in the mid-1990s and today this is paying quite handsomely for the flower industry.
Mr. Fernandes says:
"From a Marginpar perspective, all our farms are certified by either Kenya Flower Council Silver (FOSS), EPHEA or MPS SQ, MPS ABC, and MPS GAP. In addition to this, it is the company's aim to be ahead of regulation and sustainability standards. To this end, there is a strong environmental, social, governance (ESG) focus with dedicated teams constantly working on matters relating to sustainability."
Due to Its Resilience, Kenya Is Making Great Headways in Global Floriculture Space
Kenya has often seen its floriculture industry rise even amid emergent challenges that affect global economies. This has mostly been helped by the coordination and resilience of the industry's different players ranging from the breeders to the growers and logistics, among others involved. The most recent challenge that nearly crippled the flower industry in Kenya and other industries all over the world is the COVID-19 pandemic.
The pandemic caused the closure of businesses across the globe, lay-offs of employees, and losses of flowers as farms could not send their blooms to markets.
For growers, such as Red Lands Roses, whose blooms are globally acclaimed, Dr. Isabelle Spindler, the then director of the flower farm based in Ruiru, just outside Nairobi says the flower grower resorted to deploying different means to contain the wastage of their flowers. But when all the strategies did not seem to work, the farm could only watch as their flowers wasted away. But things are different now as the flower enterprise returned to an upward trajectory soon after the pandemic eased.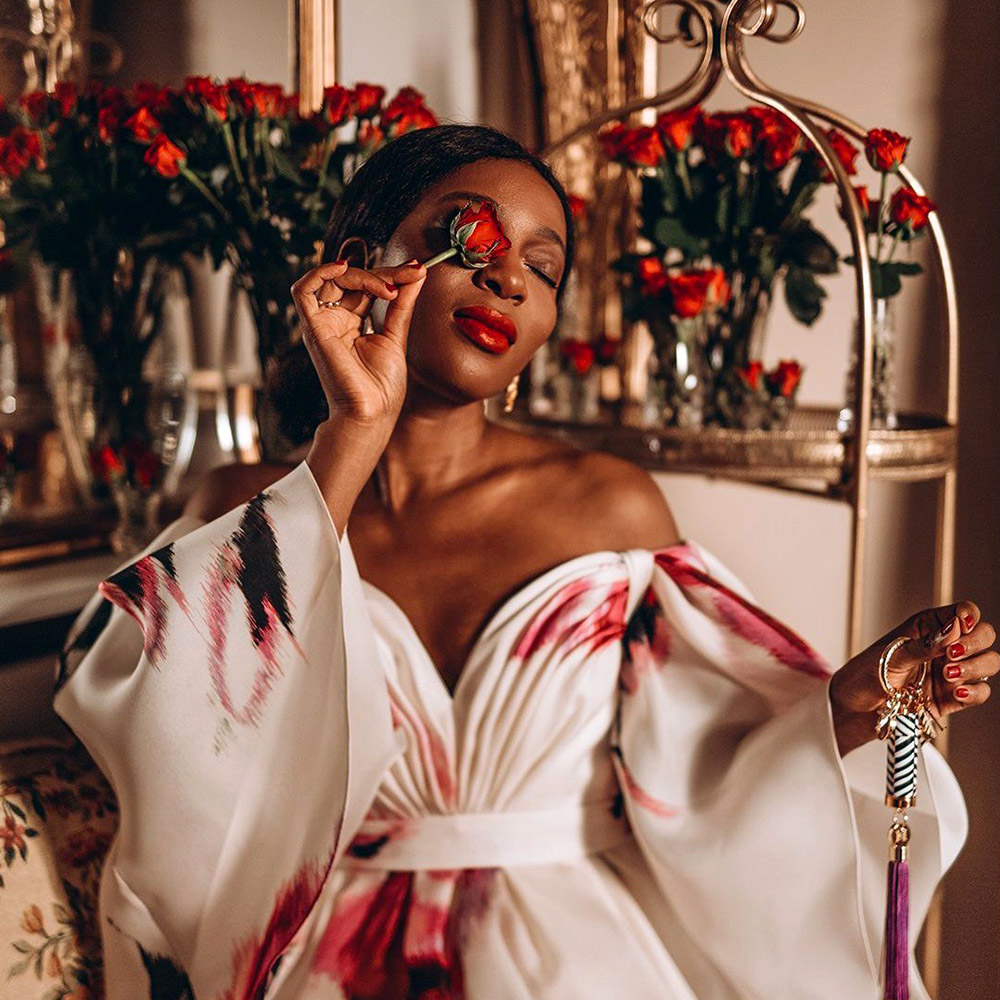 United Selections, which is a premier flower breeder based in Njoro, a small township in Nakuru prides itself on being a pioneer local rose breeding establishment in Kenya. Perhaps apart from a few others, virtually all other breeders are subsidiaries of foreign-owned companies. The twelve-year-old flower breeder is among the numerous that supply new varieties to not just Kenyan flower farms, but also others across the globe. It specializes in both spray and standard roses.
Edwin Kirwa, the marketing assistant at United Selections, who witnessed the effects of the pandemic on the flower industry in Kenya acknowledges that despite the hiccups induced by COVID-19, the country is indeed making great headways in the global floriculture space.
Mr. Kirwa says:
"Kenya has always had an edge over its neighboring countries when it comes to floriculture productivity. Even with the COVID-19 pandemic that struck in late 2019, paralyzing the entire globe's economic prospects, Kenya's floriculture industry still withered the storm to emerge strong and has been raring to go ever since."
At the height of the pandemic, for instance, fewer passenger flights than usual plied the crucial route from Africa into Europe, and freight capacity dropped to an all-time low as planes were grounded and others were redirected to moving medical equipment.
Such disruptions did hurt the industry - a lot more for the smaller farms and growers as they had to renegotiate with freighters amid escalating competition with bigger farms - for the available slots on freighting planes. But Kenya's floriculture sector has steadily weathered these storms. The pandemic did, however, have quite an impact on the industry, with exports dropping in 2020 due to disruptions in supply chains and reduced demand from key markets.
Despite these challenges posed by the pandemic, Kenya's flower industry continued to show resilience and picked up quite fast; with growers adapting to new market conditions and exploring new markets. For example, some flower growers started selling their products locally, while others turned to online and e-commerce platforms to reach customers abroad.
A Promising Future for Kenya's Flower Industry
In the coming years, Mr. Tulezi holds the view that there will be more consolidation of farms in Kenya's flower sector. Bigger farms could acquire the small ones and create even bigger flower farms, while KFC will also be working with small-scale farmers to involve them more in the industry.
There are growers who own small farms of roughly two to three hectares, but who are keen on flower production and export. KFC is in turn working with them, and supporting the creation of cooperatives through which these small growers can plant their flowers, self-regulate with the support of KFC, and aggregate their harvests for the export market.
KFC is also planning 'The Bold and Beautiful Kenya' campaign during the International Floriculture Trade Expo (IFTEX), to enhance the interest in Kenyan flowers. Furthermore, Mr. Tulezi also foresees summer flowers becoming a big trend in Kenya's flower industry in the near future.
For Mr. Fernandes from Marginpar, continued growth in the flower sector, without a doubt, will happen. Kenya, he notes, has the unique advantage of having altitude on the equator and an abundance of good-quality soil and water.
Mr. Fernandes says:
"As floriculture production in Europe is - and will continue - struggling, this plays into Kenya's hands."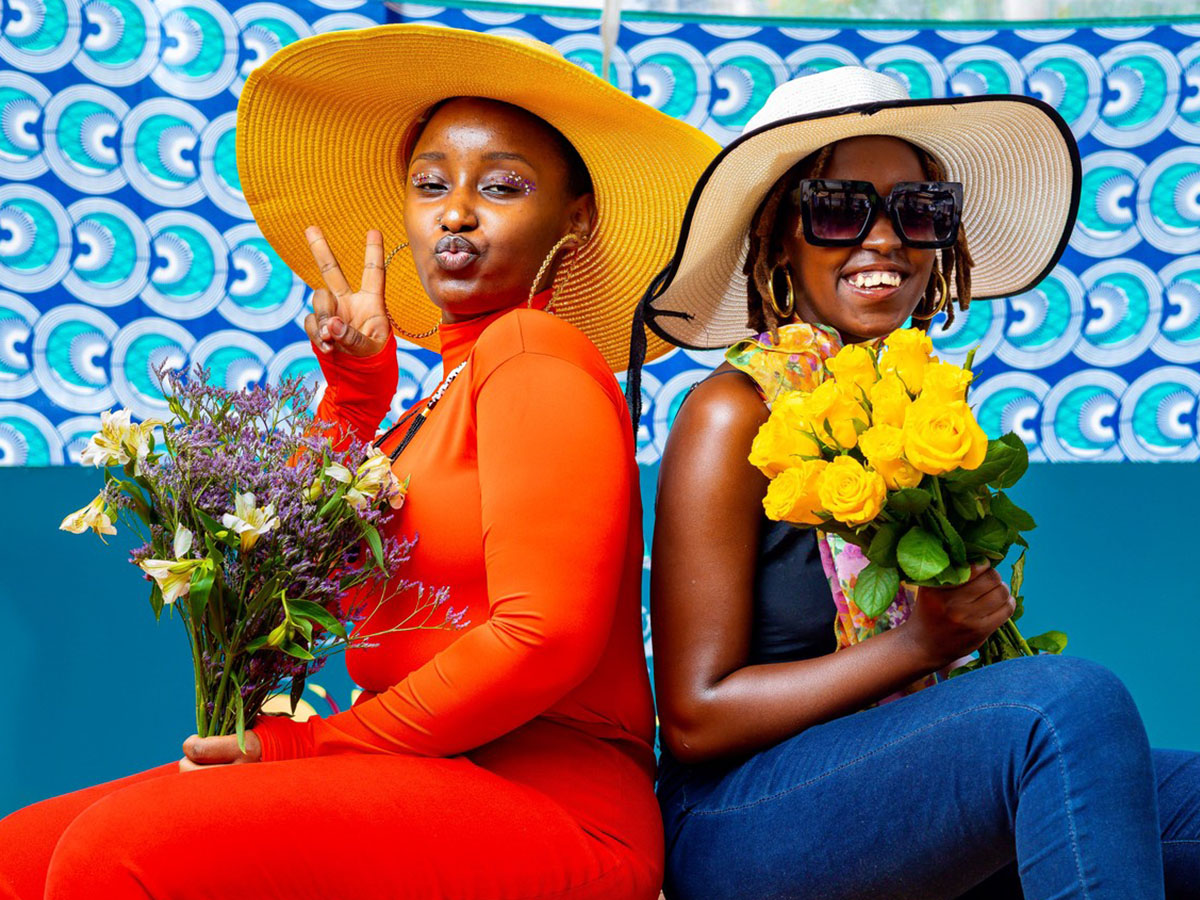 There seems to be no cause for grave concern when it comes to the future of the Kenyan flower industry. The growth and upscaling of the past decades will continue, which will have a positive effect on Kenya's economy. The world will see a 'Bold and Beautiful Kenya'.
Header and feature image by Blooming Flowers Nairobi.