De Ruiter's vision: Creating Flower Business® where we strive to optimally serve every link in the floriculture supply chain: from grower to retailer florist.
New Innovation by De Ruiter:
Sea Transport Proven
Flowers by ocean freight? Everybody knows that cut flowers come in refrigerated cargo jets. Well, times are changing! After extensive research and testing De Ruiter now has a couple varieties (out of her vast assortment of retail roses) found suitable for sea transport. Among others the following varieties can be sent by sea:
Tropical Amazone®
Dream Girl®
Red Calypso®
Sonrisa®
Epic White®
Zanta®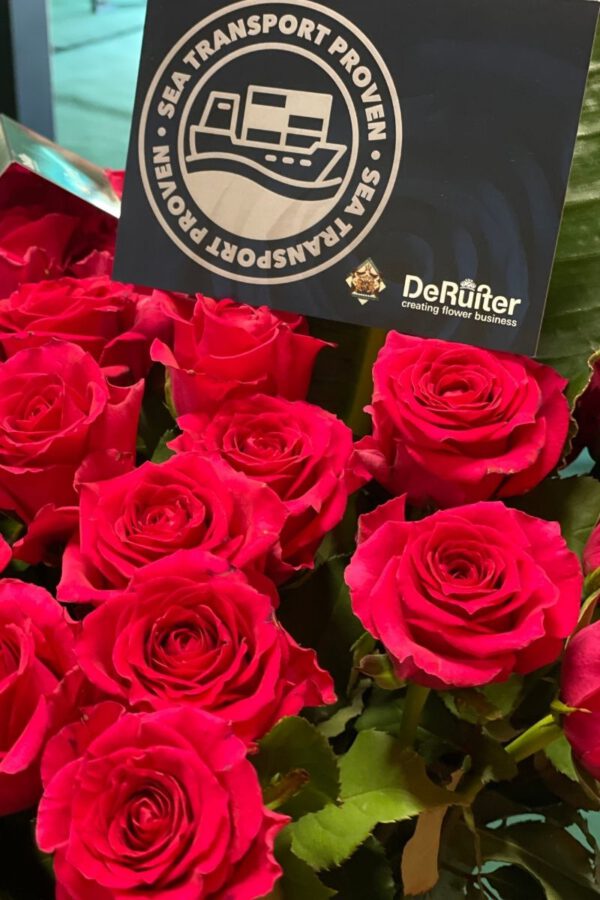 After more than 30 days of transit time, with parameters of temperature, humidity, CO2 and O2 controlled, the results for the above mentioned varieties are so encouraging De Ruiter dares to say the varieties are suited for Sea Transport. The combination of handling from the farm and transport to the port, in combination with the professionalism of the shipping companies, made De Ruiter decide to present the first results during Exposed Kenya 2021 that took place last week, where many trading companies showed their interests.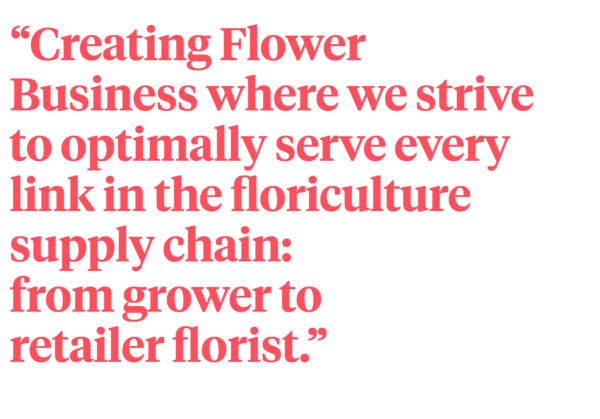 De Ruiter is Leading
A paradigm shift is underway in the world of flower shipments. A market dominated by refrigerated cargo jets for more than 40 years has begun to make room for the option of ocean freight. Technological advances and new handling protocols have made this development possible. But achieving success in this alternative realm requires new ways of thinking all along the supply chain. De Ruiter is always close to the latest developments. As the largest breeder of cut roses, De Ruiter believes it's important to set the standard. Being a breeder you are first in the chain of developing and growing roses.
The People From de Ruiter Define That Sea Freight Provides 3 Important and Crucial Advantages
1) Planning and Scheduling
Sea freight can help being a crucial logistical release valve during the busy floral holidays. Sea shipments free up cargo jets for extra shipments, and saves trucking from the airport to the wholesalers.
2) Benefits for Growers
Growers can better schedule their production and profit from roses being cut for holidays at an earlier stage.
3) Sustainability
Sea freight also has sustainability benefits. Sea freight can be another effective tool to move healthy product to market safely, effectively and efficiently!

Two More Reasons to Choose De Ruiter:
#1 - Wide Range of Roses
De Ruiter has a very large assortment of roses, suitable for different climates, markets, and usages. Below you can find collections, categorized per country or continent. De Ruiter has always been known as a color breeder, in recent years we have also managed to create a considerable amount of beautiful collections in the red segment, which we as a company are extremely proud of.
#2 - People from De Ruiter Are Present Around the Globe
Because De Ruiter owns several offices and show greenhouses all over the world, we as a company are always able to visit, service and guide our customers where necessary. This can be crop supervision, but also simply providing information in the broadest sense.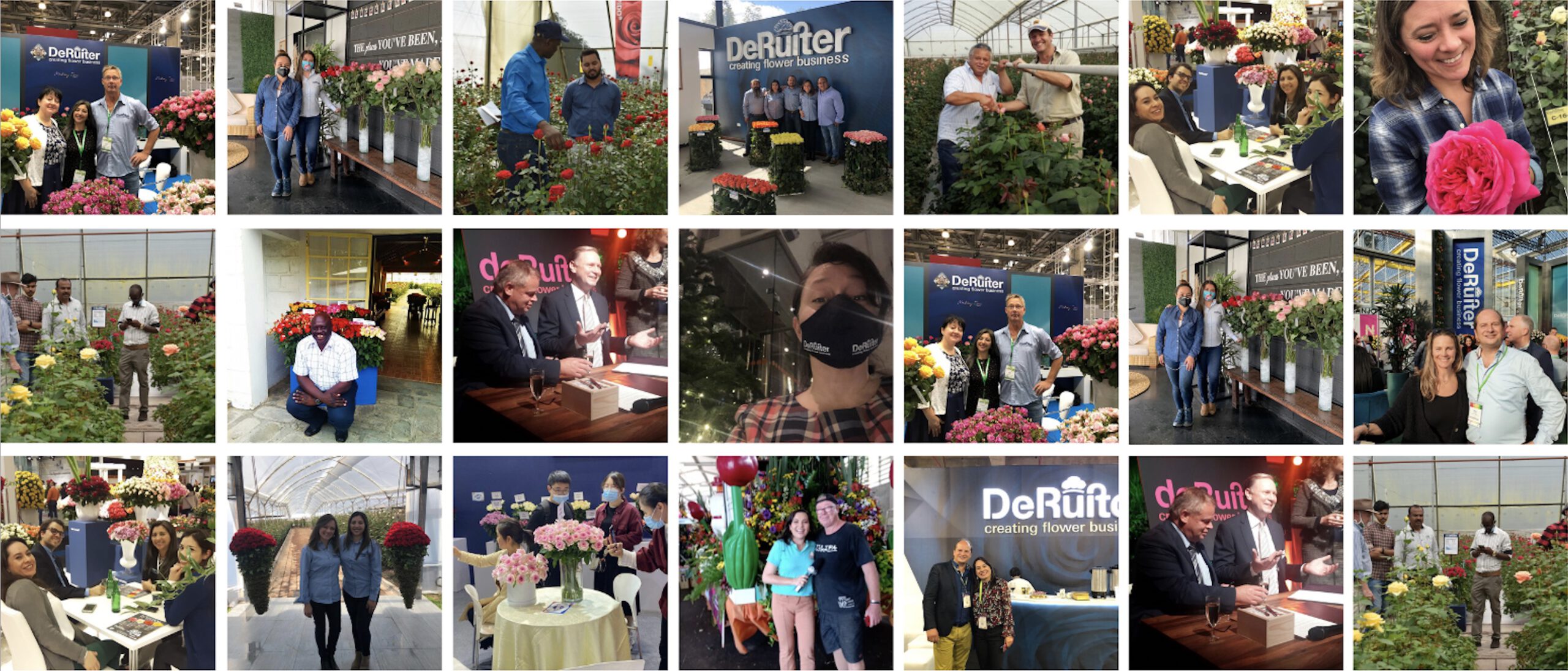 Reason #1
Wide Range of Roses - A huge Assortment to Grow in Every Country/Continent
De Ruiter has a very large assortment of roses, suitable for different markets and usages. Below you can find collections, categorized per country or continent. Selections are made in collaboration with the different teams in the regions and are based on altitude, location, bud size, length, and sales markets.
Roses for South America
For South America De Ruiter is introducing three popular rose line collections:
1. The Golden Collection for Colombia
Six highly appreciated rose varieties that are a well-known newcomer due to the special colors in combination with special shapes and long vase life.

2. The High Productive Variety Collection for the Ecuadorian Andes
This special line of roses is a very welcome newcomer. For the grower as well as for the total supply chain.

3. The Platinum Travelers Collection for Ecuador
The market tendency of flower consumption is increasing on direct flower distribution, which is the reason to focus on varieties that have an outstanding transit behavior. That is what we did with our varieties. Ethylene production is very important on that part of the variety. So, according to some studies made in the USA, Espérance and Forever Young are one of the best varieties with a very low Ethylene production during transportation who are important on the vase lifetime. Besides this, we are proud to mention that the above-mentioned three collections are less susceptible to Botrytis and other diseases. This all contributes to the quality within the supply chain.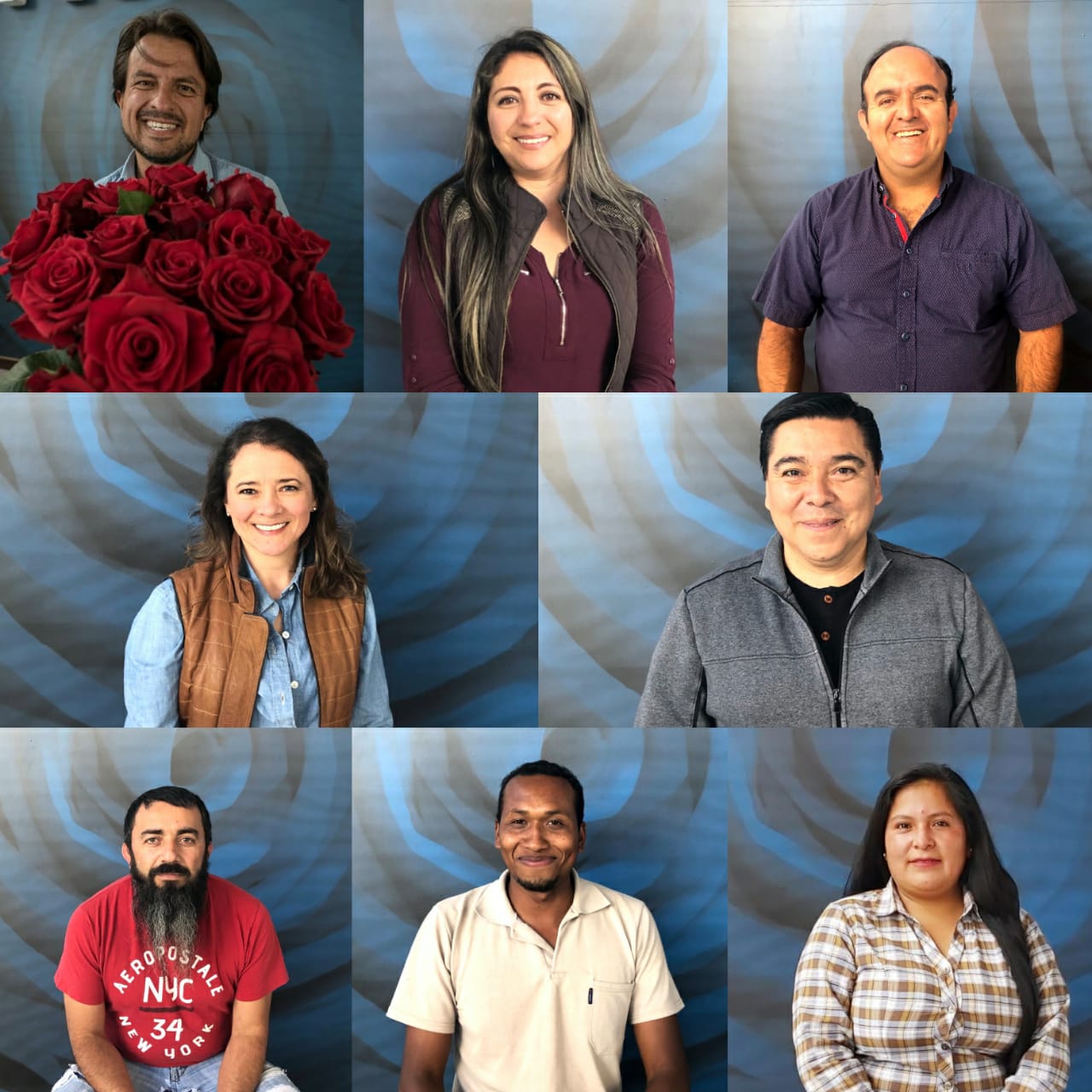 Team Ecuador
There is so much to mention and you are always welcome to come and see the roses live at the farms, or by visiting our website.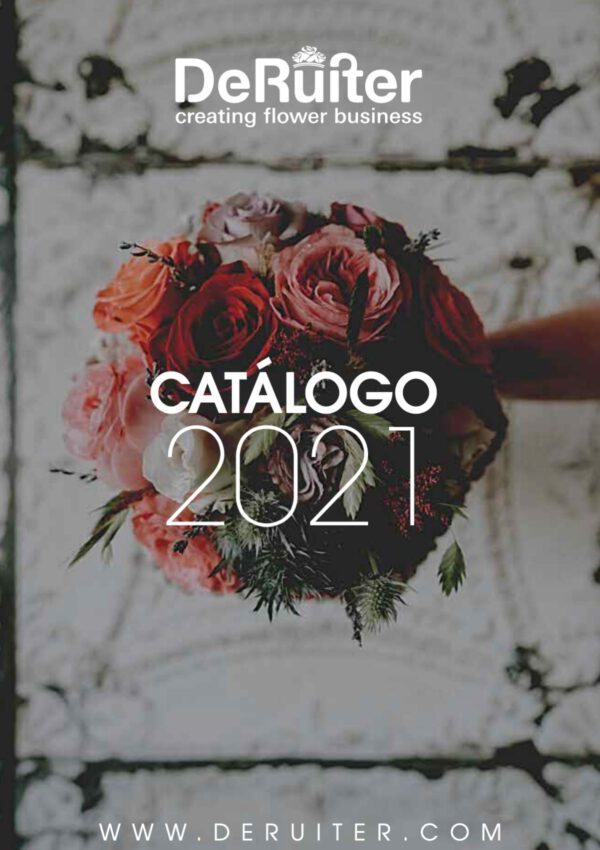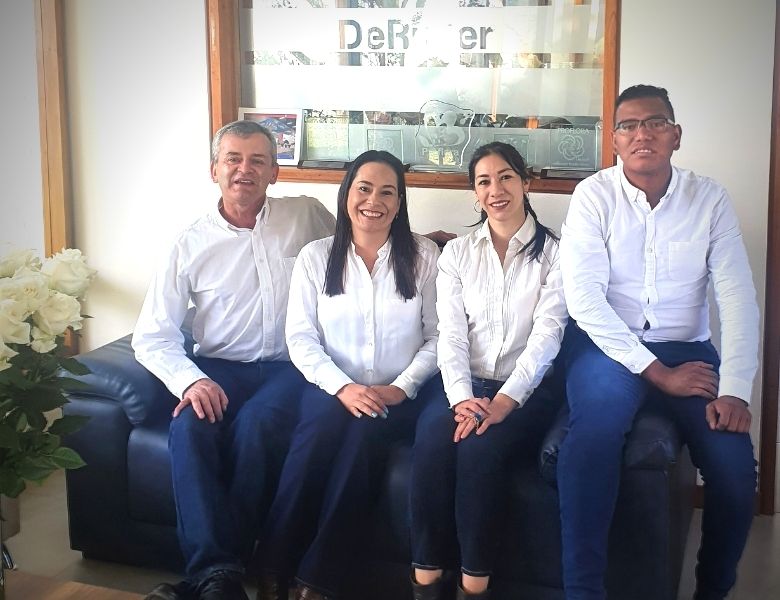 De Ruiter Team Colombia
For more information about technical variety specifications or where to buy information, please check the website
De Ruiter for East Africa
For East Africa (Kenya and Ethiopia) De Ruiter presents the Big Five Collections, the Retail Mix, and the New Variety Collection.
1. The Big Five Collections
With the various Big Five Collections, we have tried to select 5 varieties per color that all meet the market-specific wishes and requirements of the African rose production industry. Because this has been achieved with the colors red, white, pink, yellow, and orange, our customers are able to select 25 varieties. That means one-stop-shopping at De Ruiter East Africa Ltd.
Red Big Five®
Rhodos®, Ever Red®, Flanna®, Born Free®, Furiosa®

White Big Five®
Brightlight®, Epic White®, Lagreta®, Proud®, Uzuri®

Orange Big Five®
Comanche®, Nassau®, Oranda®, Wannahave®, Almanza®

Yellow Big Five®
Sunniva®, Idole®, Sonrisa®, Super Sun®, Tribute®

Pink Big Five®
Celeb®, Daydreaming®, Lorraine®, Opala®, Wham®

2. Retail Mix
Because De Ruiter cooperates with the entire floriculture chain, we are able to select the right rose varieties on time and that also meet the requirements of the retail sector. Presenting and advising the right varieties to the right growers, in combination with the right characteristics of the variety, ultimately leads us to a range that is very suitable for the retail segment. High production figures per m2, being able to travel well by plane, but also the possibility of being able to travel by boat, are characteristics of this range that have made the retail mix such a successful basis within the total segment of De Ruiter.

3. New variety Collection
Sunniva®, Born Free®, Pomarosa®, Zanta®, Dream Girl®, Frutteto, Comanche®, Fluence®, Mysterious®, Trivia®, Opala®, Snow Bubbles®, Zadique®, Romantic Bubbles®. The New Variety Collection from East Africa distinguishes itself in color, shape, production numbers, vase life, and various special shapes, also within the spray roses collective. A welcome addition that the market will hear a lot about in the coming years.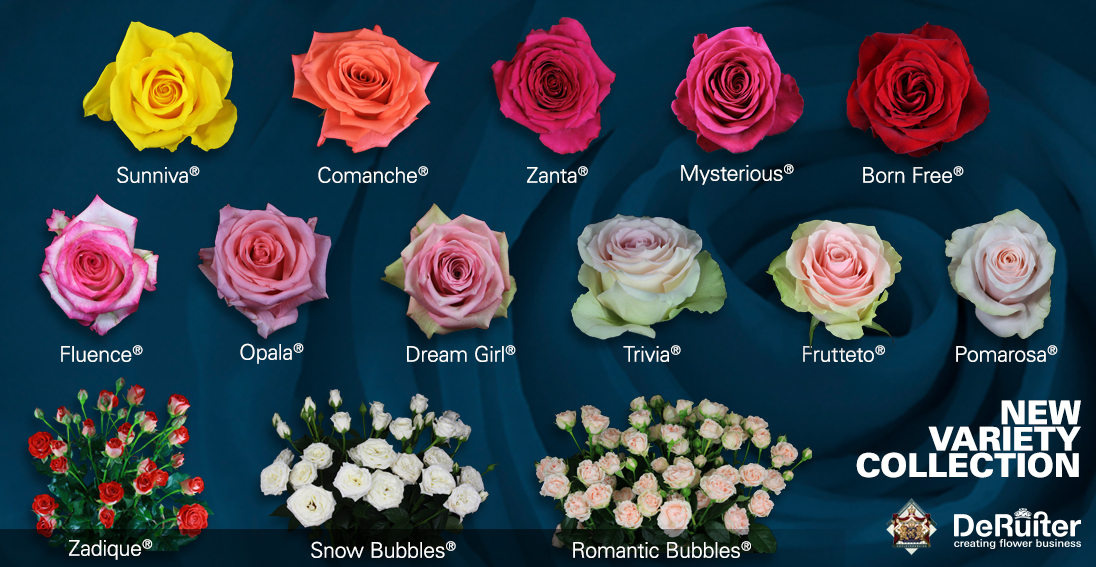 For more information about technical variety specifications or where to buy information, please check the website www.deruiter.com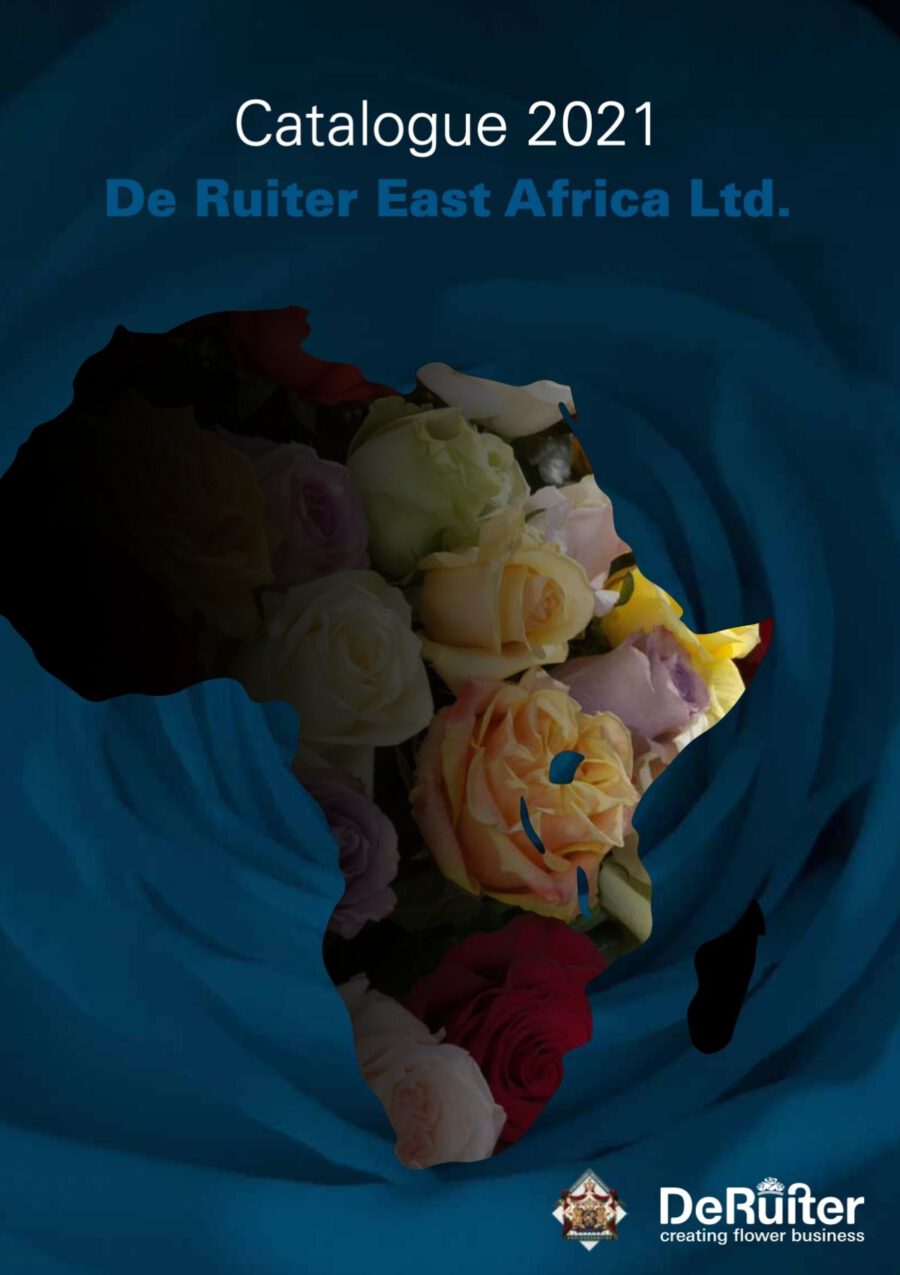 De Ruiter for Europe
In the past, De Ruiter has been always well presented at the auction with her varieties. Many growers in Europe know the varieties of the famous composer line, Ambiance®, Madelon®, and of course the Prophyta® line. Since then a lot has changed, but not the presence of De Ruiter and her varieties in the entire flower business chain. We are still there. At the moment the varieties are more adjusted to the customers' needs. For example, the economical lengths of the roses for transport are very important, but without the loss of good head size and vase life. This resulted in newly developed rose varieties like Cosmiq®, Zelda®, All Star®, All Right®, and Sunny Side®. There are many more varieties to mention but it is better to come and see them in the showhouse in Amstelveen, by visiting our website. After our first introduced spray rose Alegria, we are 22 years in the future now, and we have four very popular Spray rose lines. Bubbles®, Kheops®, Dimension®, Essence® In the catalog underneath you will find our Cut Rose and Spray Rose varieties lists with clear pictures and characteristics.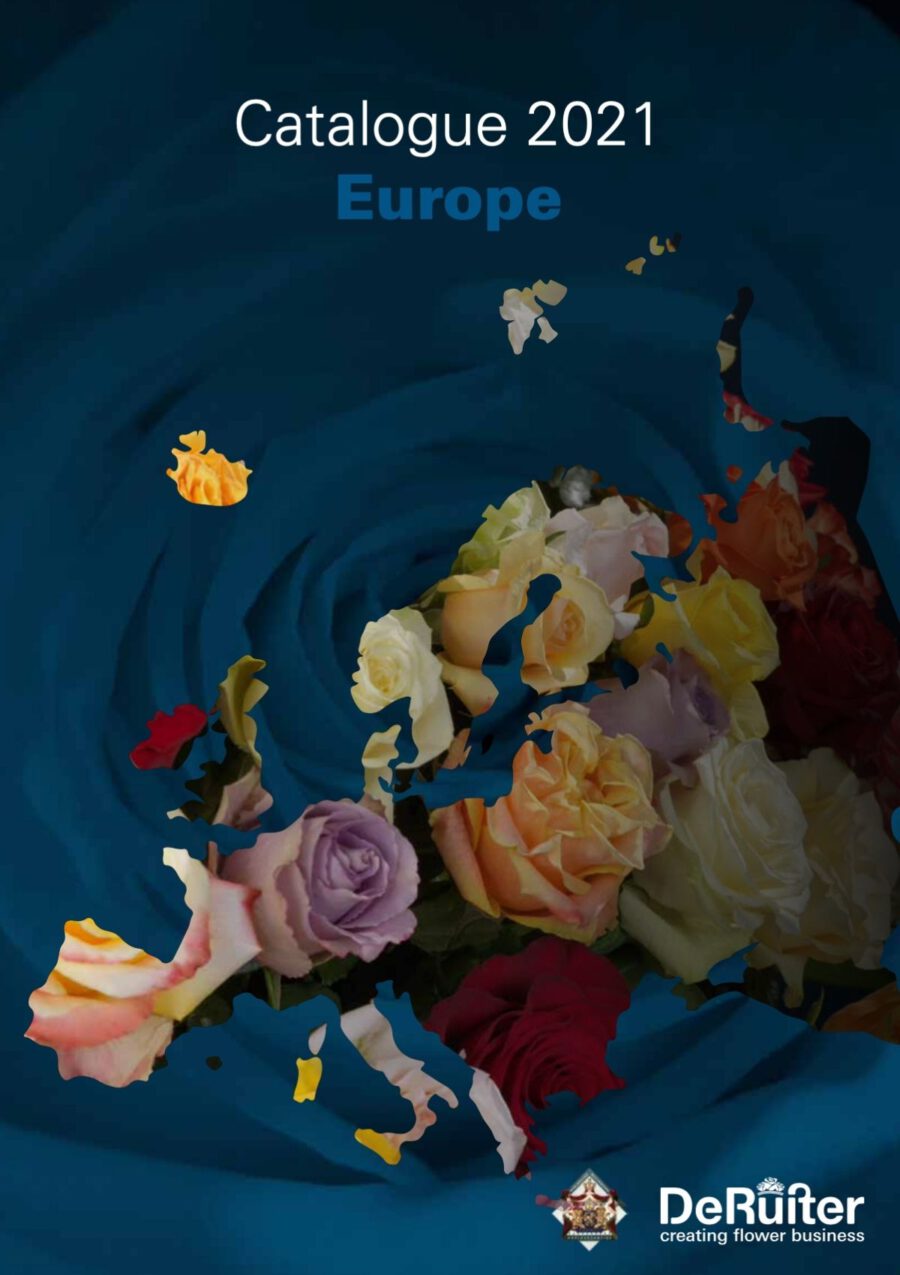 Jewel® Potroses
The Jewel® Potroses Line is a unique product line bred by De Ruiter Innovations B.V. This new Potrose Line has the following general characteristics: healthy, uniform in production, good branching, large flowers, intense colors, and good durability. A rewarding plant for the user to purchase due to its excellent shelf life. Our Jewel® varieties are produced in the Netherlands and Brazil, pot size (10.5 to 13 cms). For more information on where -to buy, please contact us: [email protected].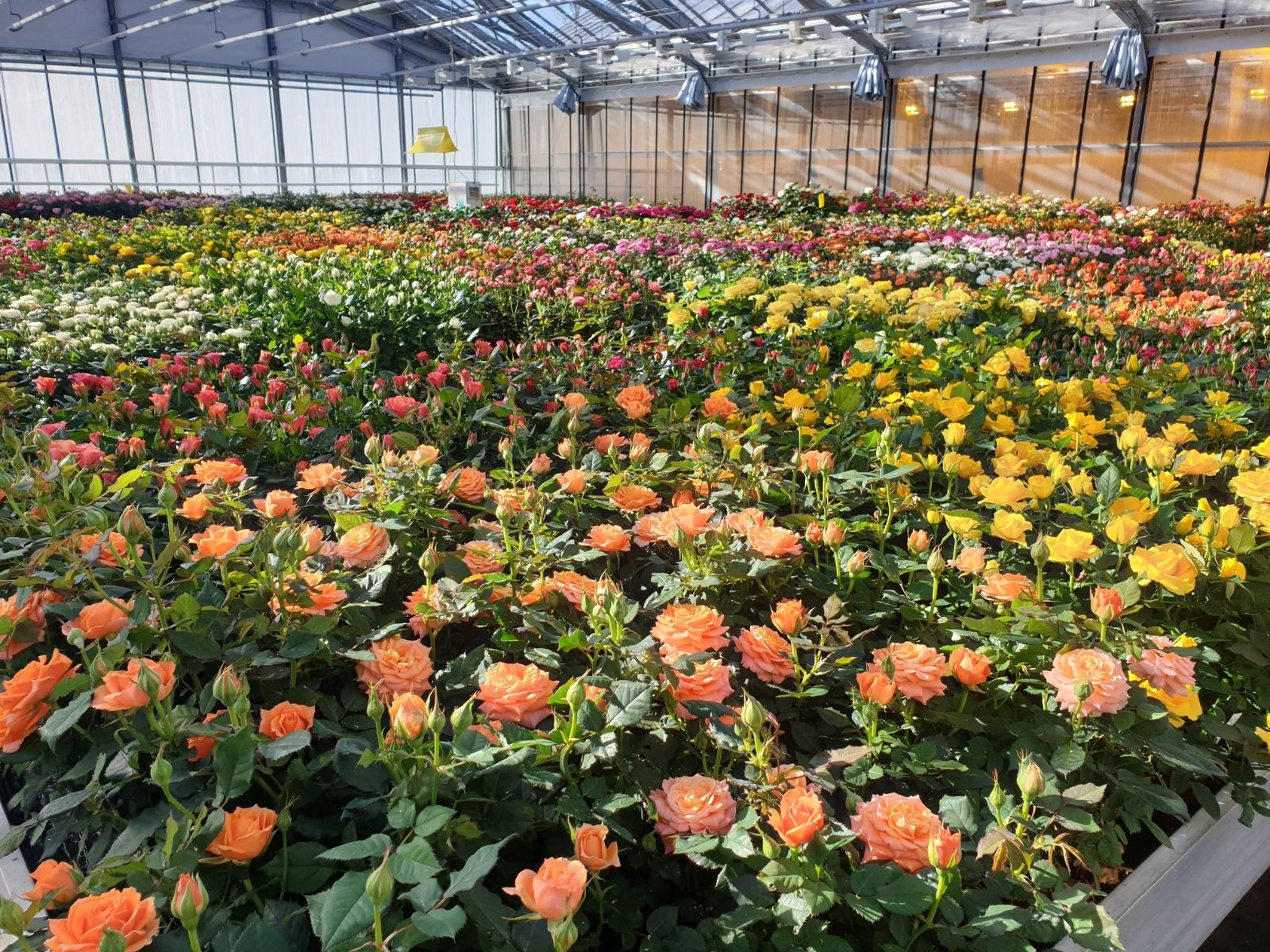 The breeding greenhouse for the Jewel® Potroses, you can visit the web page
here.
Terrazza® Roses
The name Terrazza® directly refers to the use of this rose line. Multifunctional! In addition to indoor use, the Terrazza® is extremely suitable for all kinds of outdoor purposes. Various pot sizes for the terrace, garden, balcony, and flower box. Terrazza® roses have a high ornamental value due to the constant sea of flowers until the first night of frost. The Terrazza® roses have various lines with many colors, large and small flowers, and unusual shapes.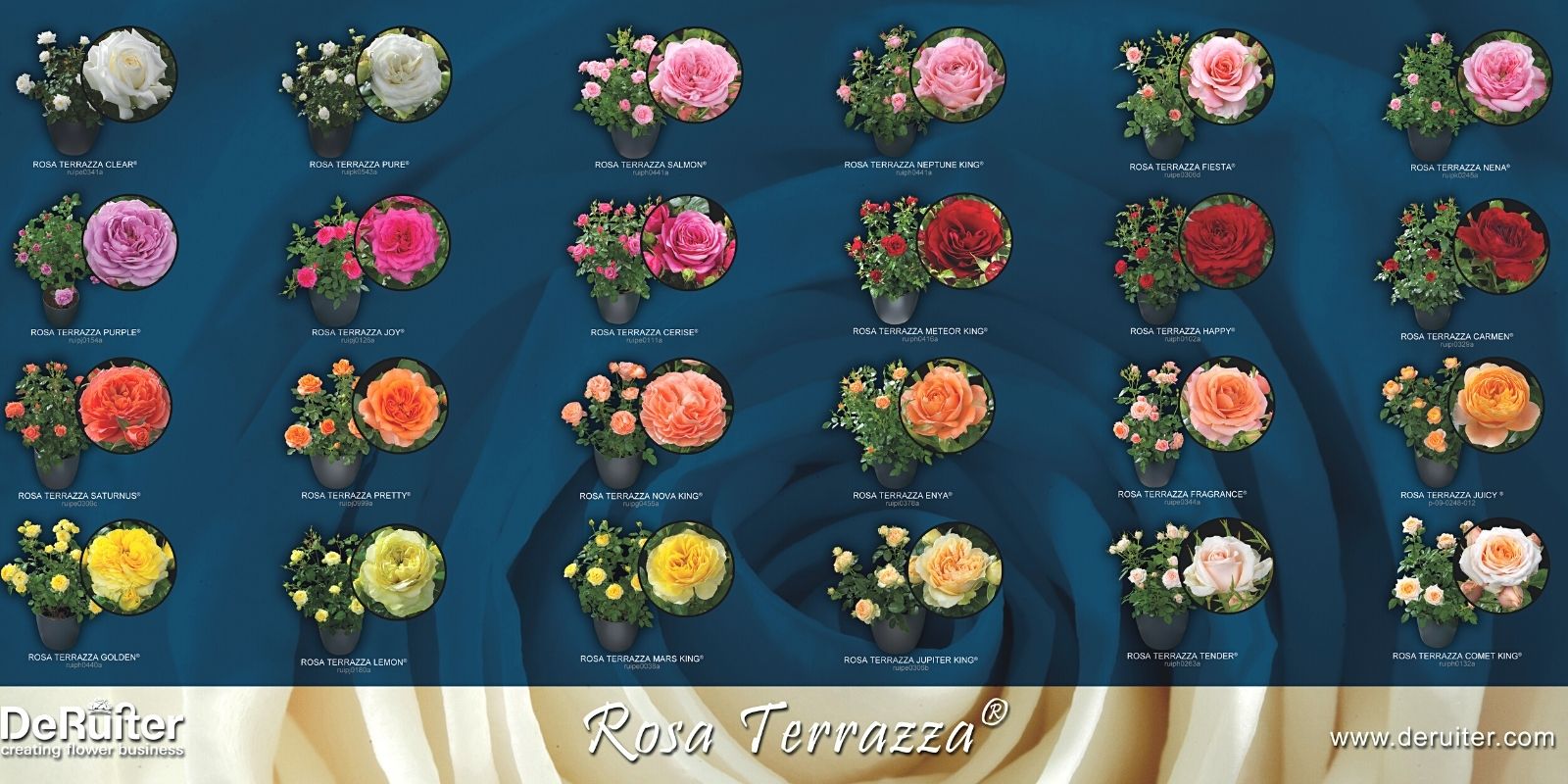 You can find all the Terrazza varieties
here
.
Reason #2
​People from De Ruiter Are Present around the Globe
The People behind the Roses
Because De Ruiter owns several offices and show greenhouses all over the world, we as a company are always able to visit, service and guide our customers where necessary. This can be crop supervision, but also simply providing information in the broadest sense. With the slogan 'Meet my Roses®' people from De Ruiter show and speak to the people who are behind the rose product. Stories about their craft, passion, drive, and craftsmanship. With Meet my Roses®, De Ruiter creates a preferential position for its roses with the trade and consumers by stimulating the demand for the roses. Growers benefit from this, who meet the demand with their offer. Under the guidance of our head office and our agents worldwide, we take our relations into the world of the rose. From our test field to the end product for the consumer. With the aim of a good return for all our supply chain partners. Meet my Roses® fits perfectly in our Creating Flower Business® slogan.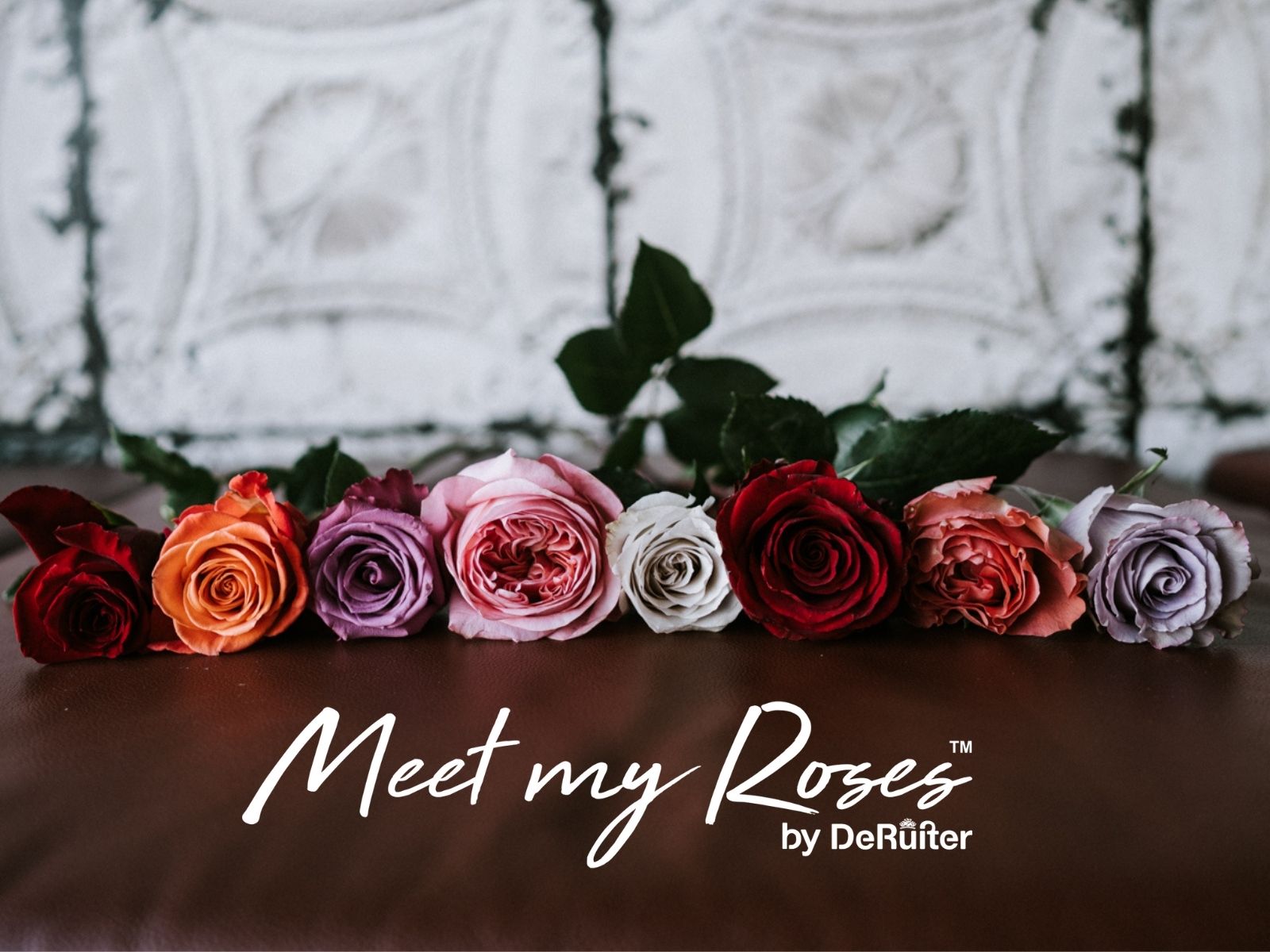 Corporate Social Responsibility (CSR)
In addition to the strict selection methods in the field of cultivation techniques, transport and growth properties, shape, color, fragrance, production, and vase life, De Ruiter expressly looks at the current standards with regard to the environment and corporate social responsibility.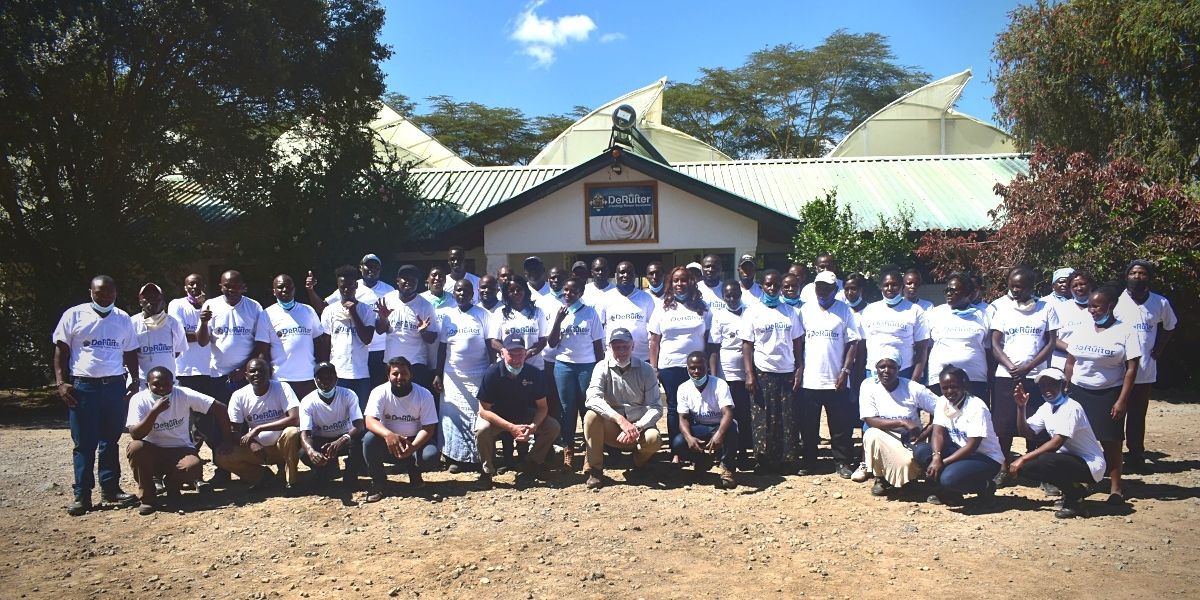 People and Planet
The emphasis is on people and planet. De Ruiter continuously invests in its people through expanding knowledge, training, research, and making them aware of how De Ruiter wants to do business in a socially responsible manner. The environmental aspects of breeding and selection on the location are continuously evaluated in order to use more organic and less harmful or chemical pesticides. The supply chain partners are involved in this process and it is pointed out that the newly developed varieties are more disease resistant and as a result require fewer pesticides or water, which reduces the 'carbon footprint' and allows the grower to produce in a more sustainable way.
Contact and Follow De Ruiter