Corrine Heck, Founder & CEO at Details Flowers Software, was honored to have participated in this year's Fleurs de Villes 'Voyage' show at the Bal Harbour Shops in Miami! Corrine was on the panel of judges alongside Guerdy Abraira (of Guerdy Design) and David Hardy (of the Vizcaya Museum!) It was a fabulous event with a high-level floral design.
Fleurs de Villes is founded by Tina Barkley and Karen Marshall. This unique event combines the beauty of fresh flowers with the creativity of floral design and fashion. In Fleurs de Villes events, local florists collaborate with designers, retailers, and sponsors to create stunning floral displays and mannequin installations that are placed throughout a city or shopping center. The event aims to celebrate local talent, promote the art of floral design, and encourage a greater appreciation for nature in urban environments. Fleurs de Villes has been held in various cities around the world, creating memorable and beautiful experiences for attendees. And Details Flowers Software partners with them for these brilliant events.
Voyage by Fleurs de Villes' Stunning Designs
It's amazing to see the lengths Details Flowers Software's CEO Corrine Heck takes to support initiatives in the floral industry. This Fleurs de Villes event 'Voyage' was no exception.
The floral mannequins created by florists and designers are inspired by themes. Last year it was all about 'Femmes'; iconic women or female figures who have made significant contributions to various fields such as science, politics, arts, and social activism. This year most events have the theme 'Voyage'. By incorporating these themes, Fleurs de Villes not only celebrates the beauty of flowers and the art of floral design but also adds depth to the event and makes it more meaningful and inspiring for visitors.
The theme 'Voyage' is meant to celebrate inspirational cities, people, and their stories from all around the world. Some of Miami's favorite florists created these jaw-dropping designs at the Bal Harbour Shops in Miami:
This design by Gilded Group Decor was a creation of a beautiful flamingo dancer inspired by Seville, Spain. And secondly, an elegant, fashion-forward dress designed by Indigo Hues Designs!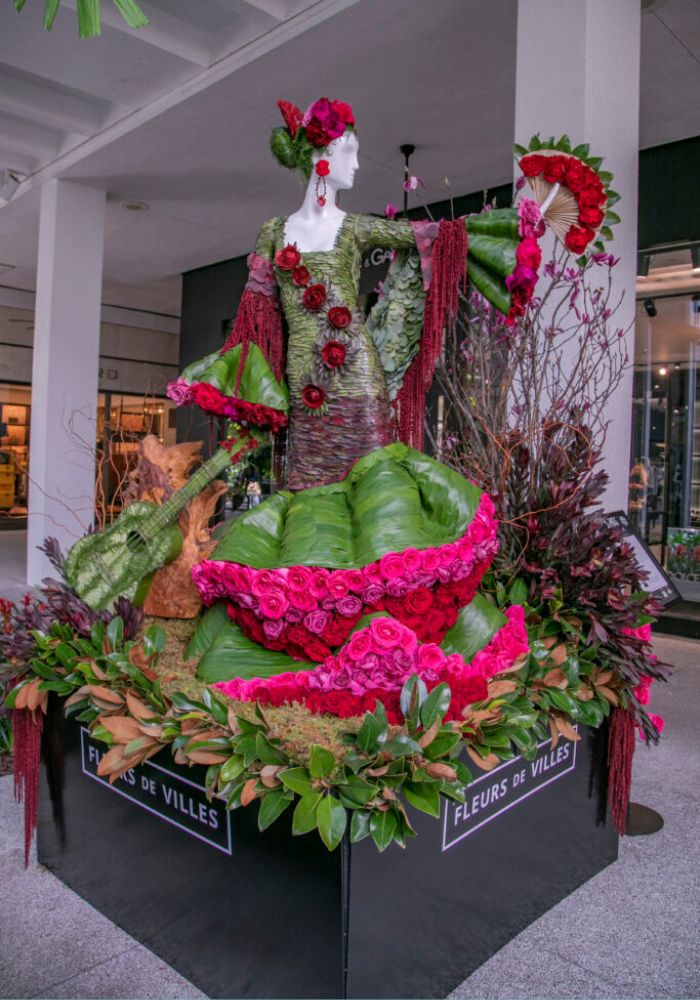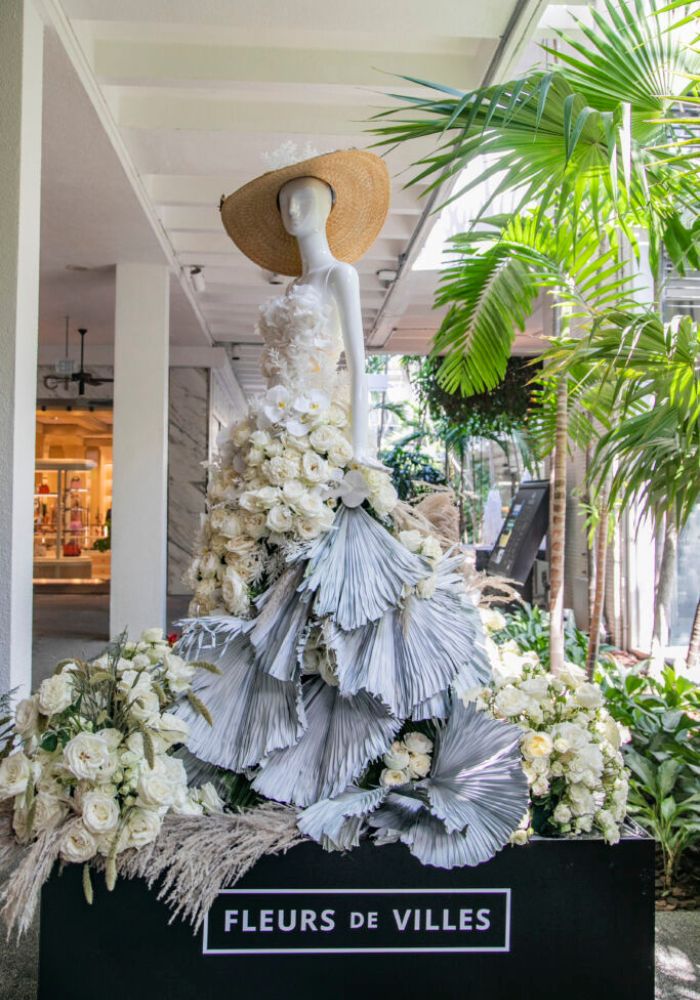 The enchanting design by A Lavish Event Design is a gorgeous floral embodiment of voyager, Karen Blixen, well-known for her 1937 memoir 'Out of Africa'. Baroness Karen Blixen was a Danish author and aristocrat. During her youth, she used her education at the Royal Danish Academy of Fine Arts as a means to travel around Europe on study trips. She married a baron in 1914, and the couple moved to Kenya to run a coffee plantation. She is most well-known for her 1937 memoir Out of Africa, written under the pen name Isak Dinesen, recounting her time in Kenya. Almost fifty years later, her memoir inspired a movie of the same name, starring Meryl Streep.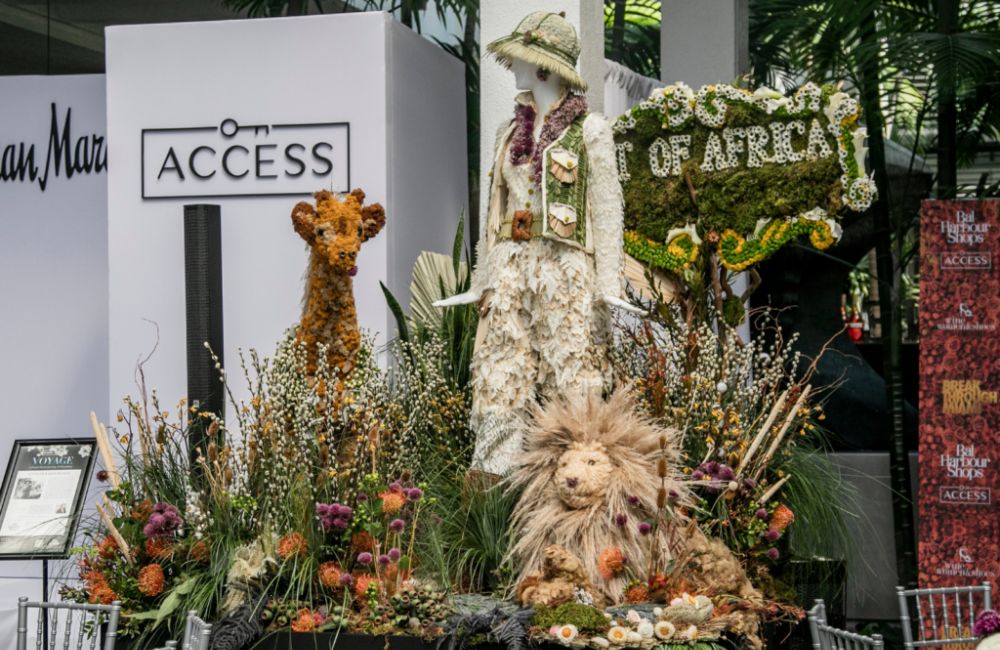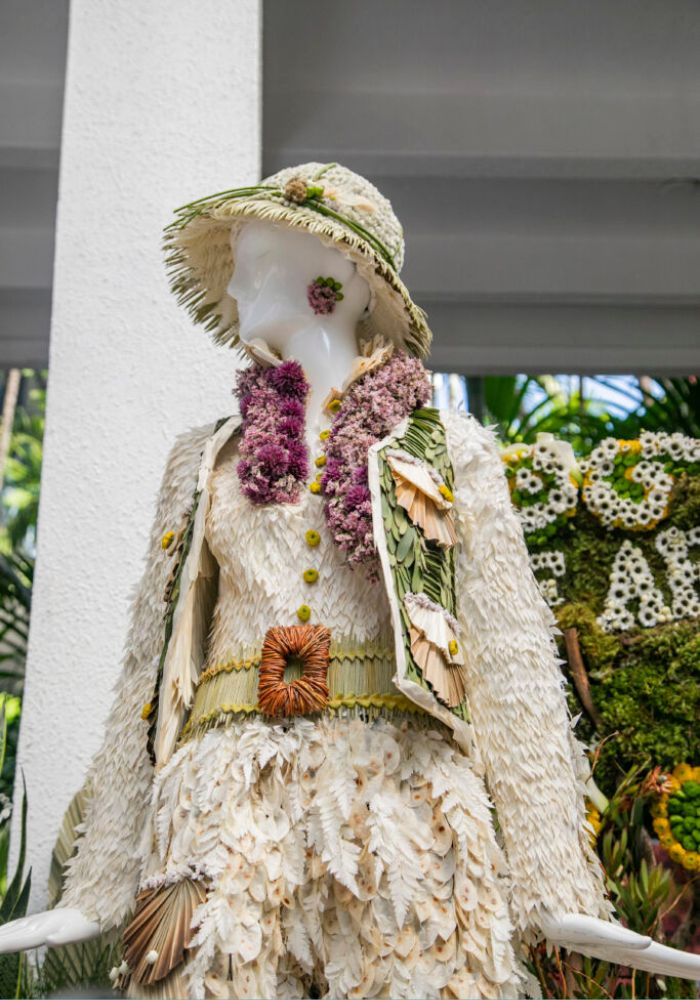 Amelia Earhart is famous for being the first woman to fly solo across the Atlantic Ocean in 1932. She's represented by Flower Power. The design by The Flora Buds transports us straight to Kyoto, Japan, where thousands of Sakura cherry blossoms bloom. Visitors from all over the world travel there each year to see the blooms: Sakura Hanami.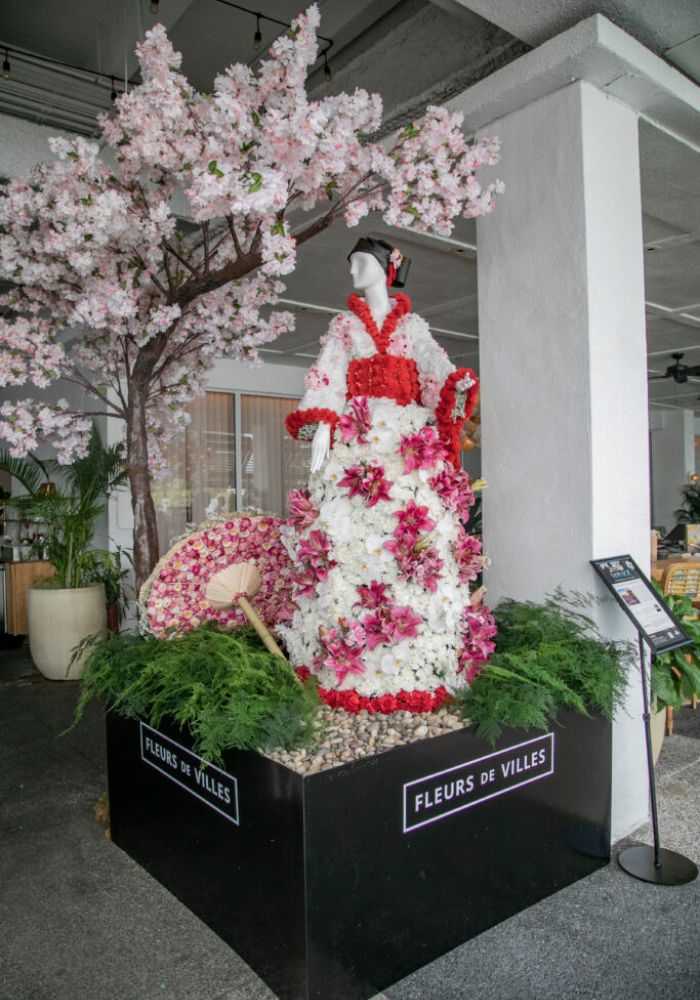 The Titanic - Caroline Astor by Blooms Social at The St. Regis Bal Harbour Resort
Known as the arbitress of the Gilded Age, THE Mrs. Astor, as she was called, reigned over New York high society for four decades. Her son created The St. Regis brand, with its first Hotel in New York City, and Mrs. Astor is known as the matriarch of The St. Regis brand, having introduced many of the hotel's rituals, such as the Afternoon High Tea. After she passed, it is said that it took three women to take her place in New York's high society.
Casablanca by Ingrid Bergman at The Ritz-Carlton Bal Harbour
The Ritz-Carlton Bal Harbour and Sandy Silvera take inspiration from the classic film Casablanca, with this floral rendering of Ingrid Bergman's character, Ilsa Lund. During World War II, Ilsa is on the run throughout Europe with her resistance-fighter husband. While trying to flee Casablanca, she runs into her former love, Rick Blaine, at his nightclub. Despite Rick and Ilsa's acknowledgment of existing love for one another, Rick ultimately helps Ilsa and her husband escape the city.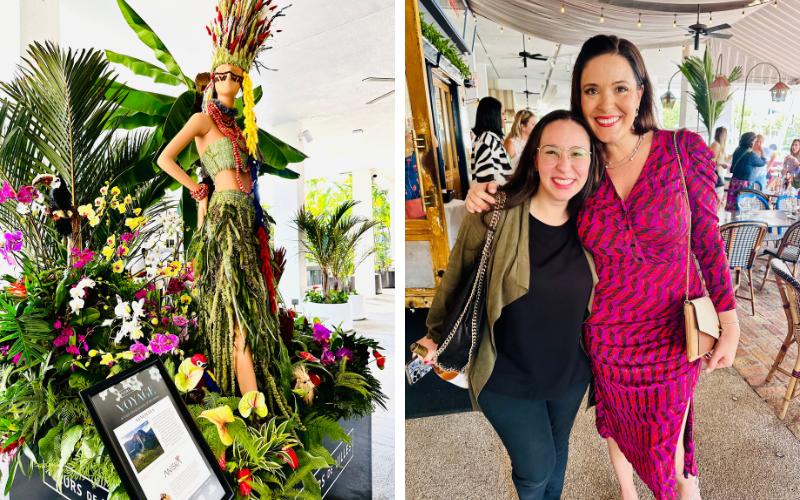 Corrine Heck:
"It was a tough job, but someone had to do it! Congratulations to each of the phenomenal designers today. It was hard to choose a winner, and oh, the drama to crown best in the show, but we did it! Congratulations to Aniska Creations!! Your attention to detail was amazing, and to our friends at Jet Fresh Flowers for providing all the beautiful blooms."
South Coast Plaza From April 19-23 for Fleurs de Villes 'Voyage'
Corrine Heck made us really curious about what this Fleurs de Villes 'Voyage' holds. A fresh floral journey of discovery to iconic global destinations, created by some of Southern California's top floral talent. The spectacular five-day floral extravaganza will feature over eighteen fresh floral mannequins and spectacular installations celebrating the cultures, people, and heritage of destinations all over the world. The floral artists will take inspiration from Mexico, South Korea, Paris, and Italy to name but a few – delivering a feast of cultural storytelling that will connect the world through flowers like never before.


‍
As well as Fleurs de Villes' signature floral mannequins, enjoy the stunning storefront installations on display at Canada Goose, REISS, and Mikimoto and snap a selfie by a beautiful flower-bombed Aston Martin. Shop for fresh blooms at the gorgeous pop-up weekend flower market, watch floral demos, and vote for your favorite mannequin for a chance to win a luxurious staycation at the Ritz-Carlton Laguna Niguel.

‍Be sure to visit the two beautiful fresh floral mannequins celebrating Fleurs de Villes 'Voyage' on display at The Ritz-Carlton Laguna Niguel and at the Tropical Conservatory at Sherman Library and Gardens!
900 Michigan Shops Fleurs de Villes Voyage
From 3 to 7 May Fleurs de Villes Voyage will have its show in Chicago.

Enjoy more than 15 floral works of art, including their world-famous floral mannequins, created by Chicago's favorite florists and inspired by timeless monuments, diverse traditions, and fashion from cities around the world.

Shop for fresh blooms from local florists at the daily pop-up market, and don't miss the daily workshops led by floral artists and brand partners taking place in the Fleurs de Villes JARDIN.

Collaboration between Details Flowers Software and Fleurs de Villes
Judges are chosen for the event from all facets of different industries. From the fashion world to theatre and floral arts. CEO and Founder from Details Flowers Software, Corrine Heck, will be the judge for shows this coming year! A few upcoming shows will be in Los Angeles, Chicago, and so many more that have yet to be announced! Go to Fleurs de Villes and find out where you can join these events.