Give Dorien van den Berg from Natural-Styling some room - big or small - and she will transform this into a naturally styled classy interior with the most beautiful flowers and plants. Like every designer, she can play with a wide range of flowers, but one flower in particular is her trademark: the lily. No wonder she has warm feelings for the stunning roselilies as well. Dorien tells us all about her passion for (rose)lilies and how she uses them in her designs.
Dutch Miss Lily
Perhaps you know Dorien van den Berg better as the 'Dutch Miss Lily'. It's a nickname she received from working so passionately and beautifully with lilies.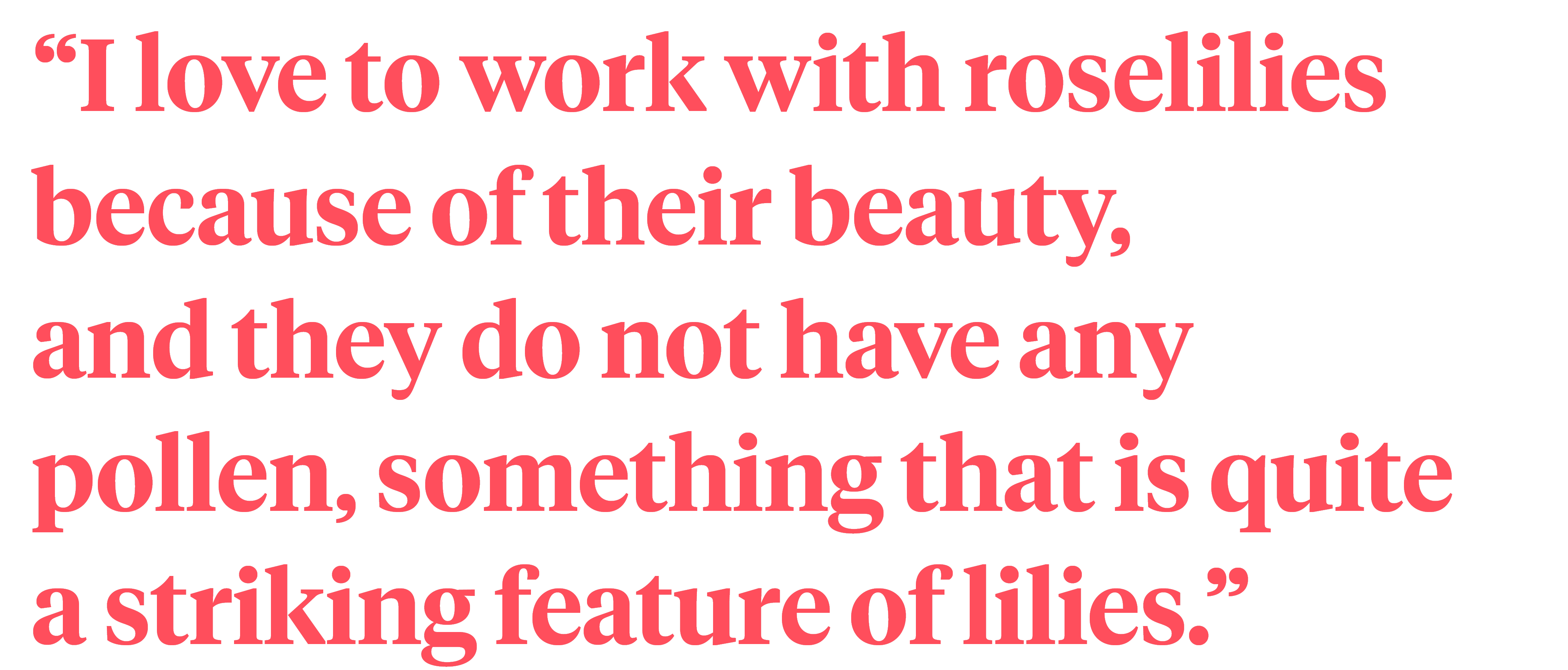 Dorien's work is known all over the world. She has visited more than forty countries doing everything in the field of floristry from teaching to decorating palaces. Nowadays she focuses more on developing a product concept-wise.
Dorien:
"I look at trends, themes, and zeitgeist when I create a theme for a booth at a fair, a retail sales concept, or a styling photoshoot. A product can be uplifted with the right attention and passion. I like to create a product with extra content, an added value like a story."
The History of Dorien
Dorien grew up between the bulb fields of the Bulb Region of the Netherlands. At the age of 14, she made her first floral design at the world-famous Keukenhof. This was no coincidence because this was also the place where she took care of the seasonal flower styling for 39 consecutive years. No matter where she goes on this planet, Dorien always comes back to the Netherlands, and she still lives between her beloved bulb fields.
Dorien:
"I have always loved working with passionate people. In our profession, working with growers, there are so many beautiful people. Like my first customer - Jan Paauw of Paauw Lilies - taken over by his son Wim-Jan Paauw from Dutch Lily Masters - still is. Just that is already a good enough reason to love flowers. No matter if you're young or old, flowers will always put a smile, amazement, and joy on someone's face."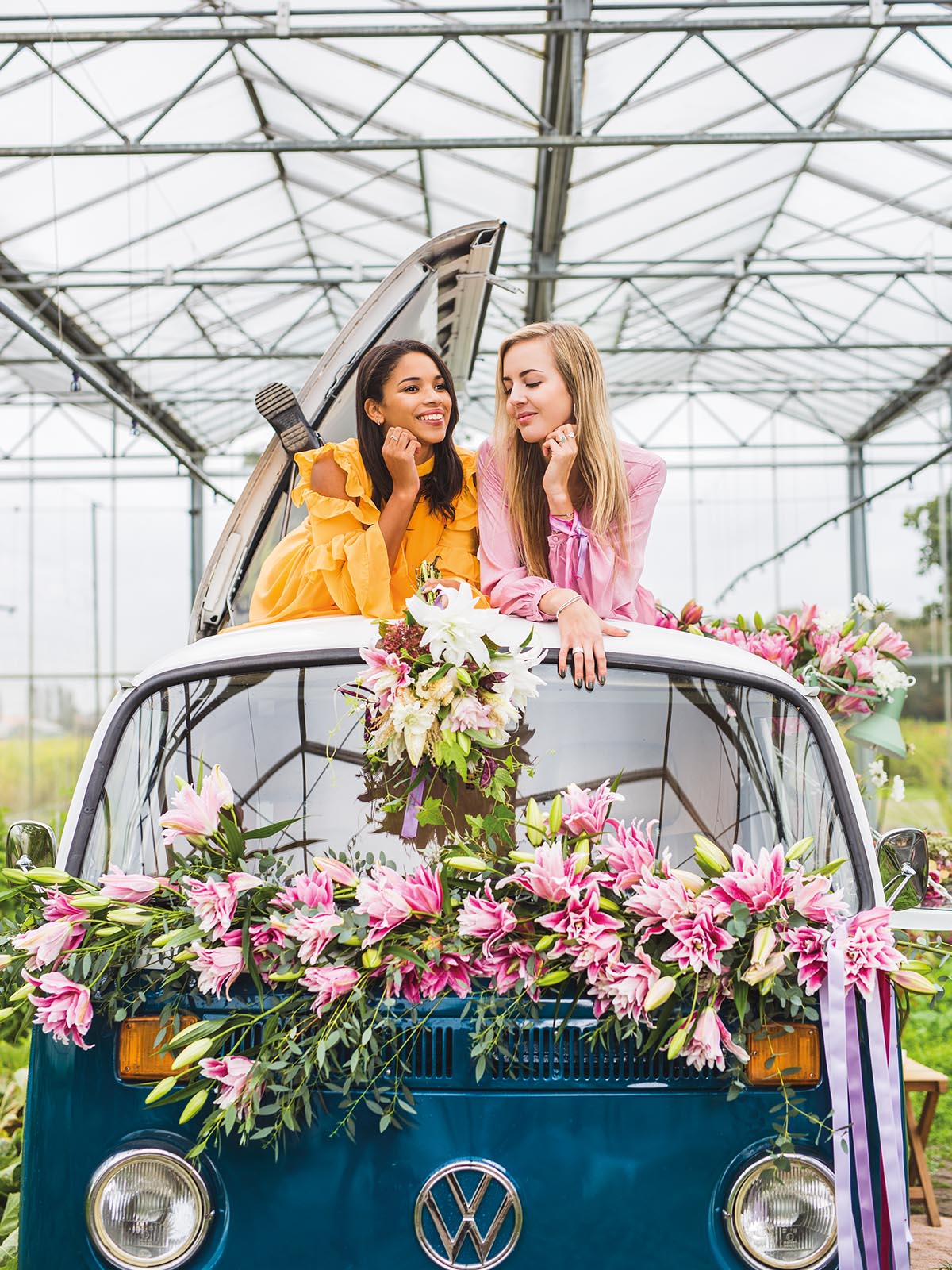 Miss Lily
How does one get the title 'Dutch Miss Lily'?
Dorien:
"First of all, I love flowers and plants. I even love flower bulbs. My love for lilies has arisen through the privilege of being able to work with the most astounding lilies, and peeking into the greenhouses of its nurseries.

I love the smell of flowers. I love the smell of lilies. I even miss its scent when it's not there in my house. I go out then and get me a bunch.

My unofficial title 'Dutch Miss Lily' popped up when I was on American television as a guest with Martha Stewart - a retail businesswoman, writer, and television personality. This was during a Dutch lily exhibition in Philadelphia. We showed the most beautiful lilies there. Both in Philadelphia and at our own Keukenhof we worked with 15,000 lilies of many kinds for every show. It was one big lily party; great times. Here is where Martha rewarded me with that title. And I cherish it."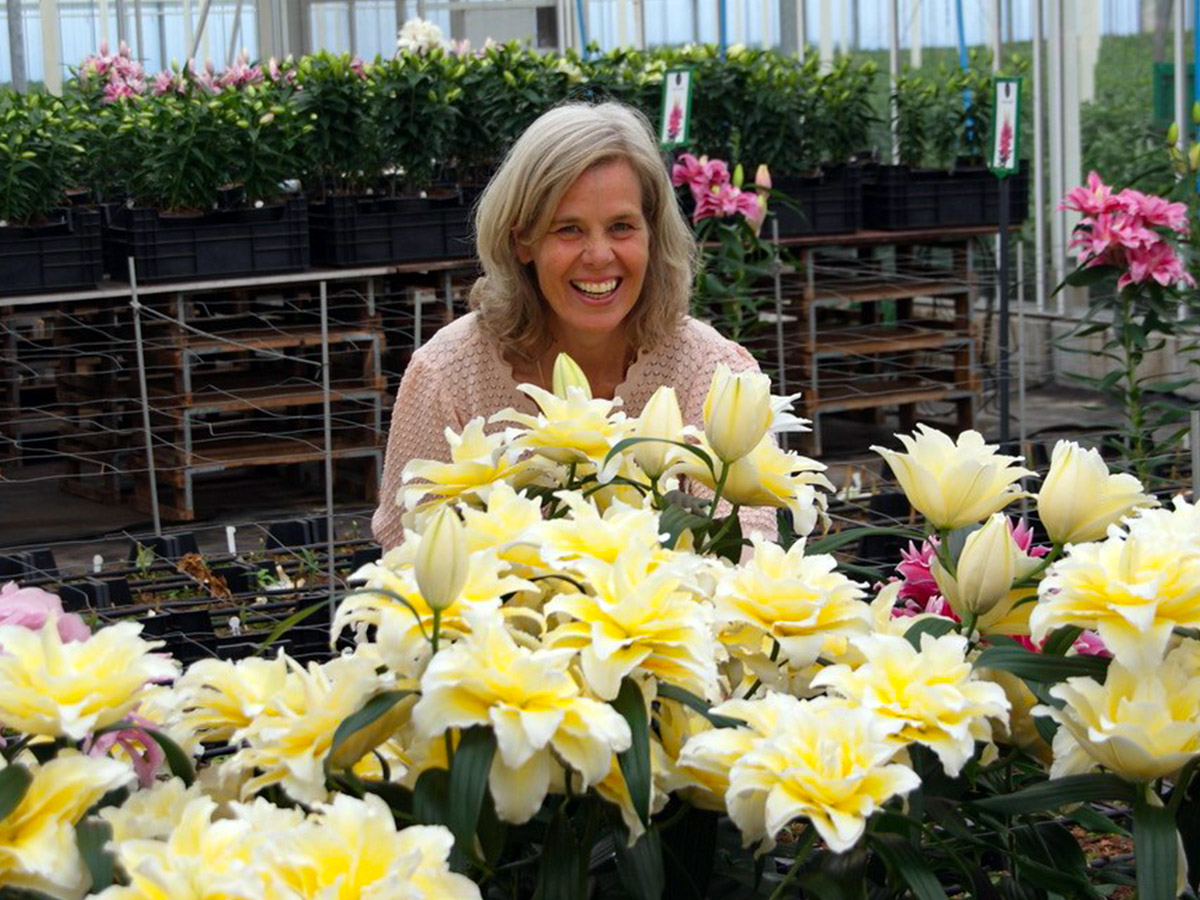 My First Roselily
Dorien:
"I remember the first time I saw a roselily. It was at the Keukenhof. It was rather odd that all the women there immediately fell in love with this flower, while the men had some different ideas about this novelty.

I love to work with roselilies because of their beauty, and they do not have any pollen, something that is quite a striking feature of lilies - especially when you have to do a photoshoot. This absence makes roselilies so easy to work with. It's an asset that the world needs to know about."
Dorien's Roselily Designs
Dorien van den Berg is on her way to becoming Dutch Miss Roselily as well. She has made some wonderful lily designs for the Roselily marketing organization that you should see. Luckily, she is willing to share some of her designs with us. Watch how today's trends and styles come together in a romantic setting.

Images courtesy of Roselily, unless otherwise mentioned. Header image by Frans Langelaan.