Sarah & Michael's Farm in Durham, NC, USA is an environmentally conscious grower of lilies, growing year-round and harvesting six days a week. Since 2013 they are also producing roselilies. Why and how? Let's find out in an exclusive interview with owner Michael Turner.
Sarah & Michael's Farm
Originally, Sarah & Michael's Farm grew multiple flowers, some seasonal or outside. Over time, Michael saw a need for lilies, which don't ship well because they are fragile and must be harvested early. Now the farm grows mostly lilies and roselilies, and some celosia and snapdragon (botanical name: antirrhinum).
Managing the farm is a huge task: staff plant extra bulbs for holidays like Mother's Day two months in advance and place bulb orders over a year in advance. During the spring, about 5,400 bulbs a day are planted. The lilies grow in crates in greenhouses with controlled heat, airflow, and humidity. No spray is needed for pests or diseases. In the summer, Michael selects lily varieties that do better in heat. He grows both Asiatic lilies (more brightly colored) and Oriental lilies (more perfumed smell), and five varieties of roselilies.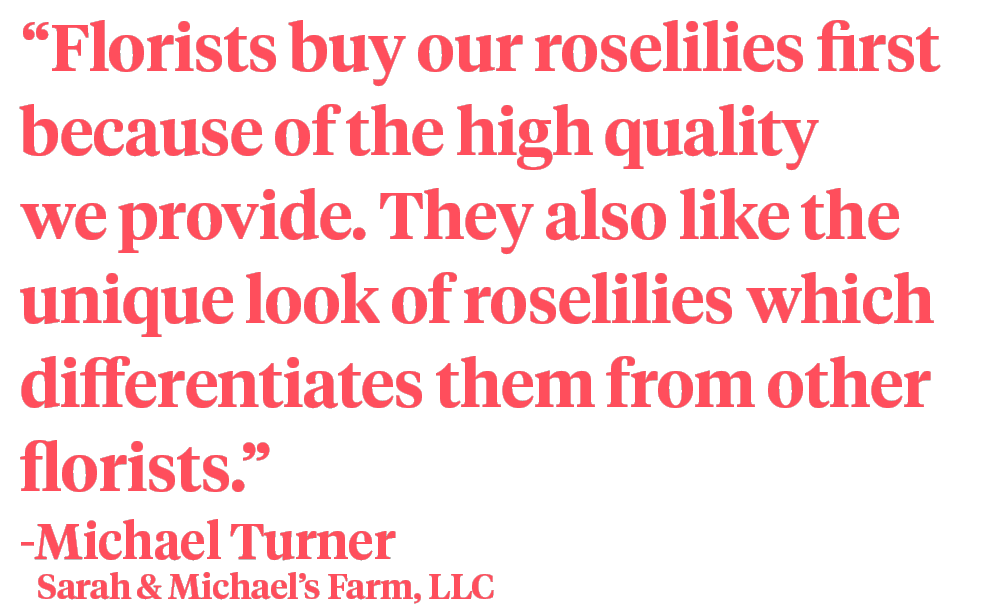 The Interview With Michael
We spoke with Michael Turner, the farm owner, about his business and, in particular, the striking assortment of roselilies. Roselilies are a hot item these days, so how does this go in the US?
Q: Can you tell us something about the history of the nursery.
Michael:
"Sarah & Michael's Farm was founded in 1997. It began as a seasonal outdoor cut flower business. I started growing lilies in our first greenhouse around 1999, and by 2008 I was exclusively growing lilies.

At the moment we grow roselilies and Asiatic and Oriental lilies as well as snapdragons and celosia. We focus on a very high-quality lily for the top end of the market."

Our current status is that sales have been strong, and they are still. Demand is good, coming out of the pandemic.
Growing Roselilies
Q: Why did you choose to grow roselilies in particular?
Michael:
"I started growing roselilies in 2013. I found it a new and exciting flower. And I still think they are very exciting. They are unique to the market, and of much higher quality than previously the double oriental lilies. Roselilies are mostly pollenless which is a huge plus."
Q: Which varieties of roselilies do you grow?
Michael:
"Currently we are growing Roselily Aisha, Angela, Anouska, Ciara, and Viola, all as cut flowers. Their production is similar to other orientals, but what I really find beautiful about roselilies is that they distinguish themselves with their very unique look, plus the fact that they have no pollen."
Q: Do American florists, floral designers, or consumers know roselilies?
Michael:
"We sell our roselilies directly to florists and grocery stores throughout the Southeastern US. Many florists ask for them specifically. They use them from everyday work to high-end weddings. Roselilies seem to have become a niche of Oriental lilies in general – not replacing Orientals but an important segment of those sales.

Florists buy our roselilies first because of the high quality we provide. They also like the unique look of roselilies which differentiates them from other florists."
Unique Flowers
With the growing interest in unique flowers, the sheer beauty of roselilies, and the pollen-free specs of these flowers, it looks like Sarah & Michael's Farm made not only a conscious but also a clever decision when they started growing these pretty flowers back in 2013. With careful planning and attention, Michael keeps a steady supply of roselilies coming. You might surely say that Michael Turner is a happy grower these days, ready for more success with his roselilies.