Tasty Floral Cakes Inspiration
Cakes are an important part of any celebration. Whether it's a wedding, a birthday, a baby shower; we all love to cut ourselves a slice of sugary deliciousness whenever we can. If you take a look around Pinterest or Instagram you will find more cake design trends than you can eat. Geode cakes, concrete looks, geometric wedding cakes, classic white tiers, moody or tropical themes; the list filled up with everything between super classy and ultra bombastic goes on forever. Today, however, we are putting the spotlight on different cake trends within an always beloved theme: Floral cakes! Cakes and flowers just go together. But if you think you can keep up by sticking a few flowers into your buttercream then it's time to brace yourself. You're convinced you've seen every floral cake trend out there, but it will only be a matter of time until you are proven otherwise because there is no end to the innovation and creativity of bakers and floral designers from around the world. Much like cake and flowers, they go together too.
Painted Floral Cakes
Insanely pretty painted florals by Cake Ink from Melbourne. If you're seeking to be wowed by more floral cake inspiration, checking out their Instagram account is definitely worth your time.
What about this one from Madama Cake? Completely hand-painted. And look at all those little details! You just want to take a bite out of all of this sweetness.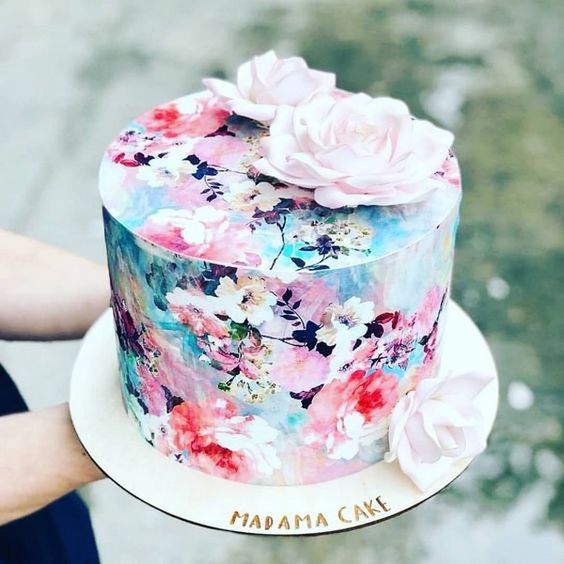 These beautiful tiered cakes were created with some palette knives and colored buttercream. The amazing florals almost look like an oil painting, don't they? Imagine sticking your fork into these!
Cakes With Preserved Flowers
If you look around, you will notice that the current trend favorite of working with dried or preserved flowers is translating into baking too. You will find a plethora of cakes adorned with beautiful dried grasses, leaves, and preserved flowers but also the old fashioned way of drying your own flowers by tucking them between the pages of a book is something that's popping up more often.
A masterpiece by Winifred Kristé Cake that looks so real, it's hard to believe that the flowers are actually made out of (edible) wafer paper. To see all the intricate little details on the edible paper flowers that she makes, snoop around her Instagram feed. She calls it "presenting refined elegance in the form of hauté edible art."
The talented Gabriel from Gabriel Diaz Cake Designer says: "All the heart eyes for this wedding cake trend!" Gabriel Diaz is known as one of the youngest and most well-known cake designers in Puerto Rico who stands out for offering his customers the perfect balance between great taste and stunning designs, as you can clearly see from the cake featured below. By flattening out the flowers as much as possible and sticking them onto the layer of fondant with edible glue, it almost looks like they were painted on.
Portrait Cakes
Portrait cakes aren't anything new, but these wonderful floral ones have most likely not been seen by most of us before. They are all artful in their own way. And as you will notice, in these cases the flowers are much more than a pretty embellishment; they are an extension of the portrait art and add an extra dimension to the already badass creations.
Venessa Liang about her cake creation: "The Floral Goddess - created for @billsflowers of course! Another fun combination of palette knife florals and carved buttercream. Faces are so hard! Cake confession incoming! At first, I regretted and stressed about that fact that the skin colour was pink. What was I thinking?! And then, I carved an asian nose, voluptuous black lips and large Iranian eyes. The yellow body was a reflection of myself when I was younger - wishing I was anything but myself but having to accept the glowing asian yellow skin tone despite what I wished. How silly is it that I considered what "skin tone" my fictional goddess' face on a buttercream cake had to be?! It doesn't fucking matter. She's beautiful."
Woodland Wedding Cakes
The woodland wedding cake theme is all about incorporating nature into your design. They fit right into rustic wedding themes, which are never complete without mason jars, birchwood, forest berries, and a barn reception. You can really let your creative juices flow with these types of designs and wow everyone with a unique cake. There are so many creative options to find with mushrooms, flowers, moss, berries, and twigs that it was difficult to only feature a few.
Woodland inspired cake by the talented artist Aisha from Roseraé Cakes. What started as a tiny little spark after telling a friend she would make her wedding cake - because you just have to have cake on your wedding day - raged into a burning passion for cake design, often inspired by nature and architecture.
Cakes With Plants
Succulents or cactus are versatile colorful plants that make a beautiful accent to any wedding cake, birthday cake, or baby shower cake. What's so great about incorporating these kinds of botanical beauties into your design is that they're a fit for all seasons and make for a perfect summer or tropical destination theme. Since they are incredibly heat-tolerant, you'll never have to worry about them wilting or drooping throughout the day.
Classic Designs
Black and white cake trends are pretty much timeless. The same applies to a naked or semi-naked cake spruced up with stunning florals. You just cannot go wrong with them. Whether it's a white cake or a piped cake, topped with sugar flowers or the real deal, there are few things to appreciate more than a decadent cake - both in style and taste. Cake trends come and go, but nothing takes the place of a delicious cake that satisfies more than one of your senses.
"As far as the design goes, my favorite element has to be the black cake with white sugar flowers. Cassidy of Flour & Flourish created the most impeccable white orchids, ranunculus, tulips and garden roses to adorn this classic cake with a modern twist. The black felt unexpected yet totally timeless, which I loved."
More Cake Inspiration
All of all this jaw-dropping deliciousness is hard to resist so we can't help but share an extra handful of baked masterpieces to satisfy our sweet-tooth. For more floral inspiration or finding your next favorite read, come follow Thursd on Pinterest.