Poinsettia in your Christmas Decoration? Or as a cut flower in your table design? Poinsettias have topped the list of the most popular flowering winter houseplants for many years. Whether used in modern, colorful displays or classic Christmas designs, you won't get through the last weeks of the year without spotting them. To enjoy the plant for as long as possible, you'll need to keep it in a bright, warm place protected from draughts, and follow these six top watering tips.
Floral Inspiration With Poinsettia
Poinsettias are less demanding than their reputation. With proper care, they keep their colorful bracts well into spring. By the way, did you know that the parts of the Poinsettia plant which look like petals are actually the leaves? And that they're called bracts? And because they're so large, they're the part that attracts the insects, whilst the yellow bit in the middle, which most people think is pollen, is actually the flower.
Poinsettias come in many different colors, shapes, and sizes. The color palette ranges from apricot, bordeau, creamy white, and salmon to orange, pink, and various shades of red to cinnamon and lemon yellow. In addition, there are numerous two-tone versions with attractive color gradients or speckles.
Poinsettias Can Be Used In Many Ways
1. Contemporary Christmas
A Poinsettia Christmas table design by The Urban Flower Firm. The company is run by Mark Upton and Charlotte Denton, and they're based in East London. The theme for the table was Contemporary Christmas. It was a simple festive design that could easily be achieved in your own home. The minimalism of Mark and Charlotte's design is outstanding as the use of light bulb vases for the cut flowers.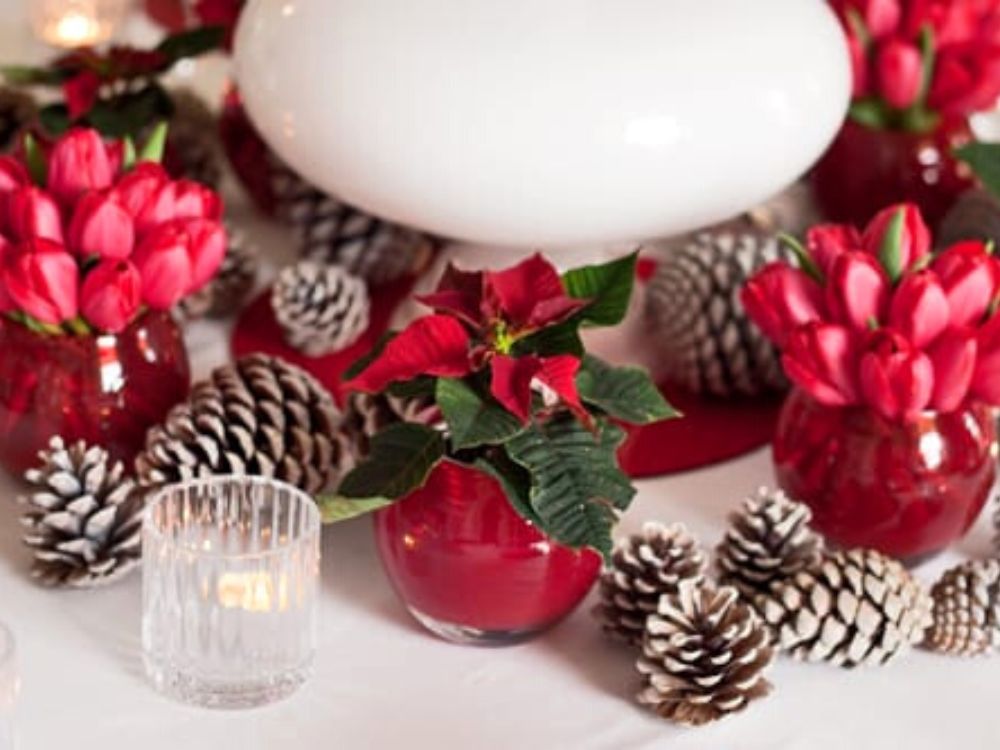 2. Vintage Christmas
The beautiful 'Vintage Christmas' design created by Paula Pryke takes you immediately to Christmas Eve. Using a collection of glass vases and candles, Paula created a vintage look inspired by the color of the red Poinsettias. The miniature Poinsettia plants hung from the branches and the cut Poinsettia decorating the place name holders look so cute and give the design a vintage feeling.
3. Restoration Christmas
Florist of Rebel Rebel, Maeread Curtin made this creation called Restoration Christmas. The theme behind the table was the vintage look, using repainted chairs, vintage crockery, and showcasing arrangements that had more than a nod to Constance Spry. The vibrant turquoise chairs perfectly complemented the pale peach Poinsettias. And Mairead had not only used miniature Poinsettia plants, but also the cut flower in the chair backs and table centerpieces.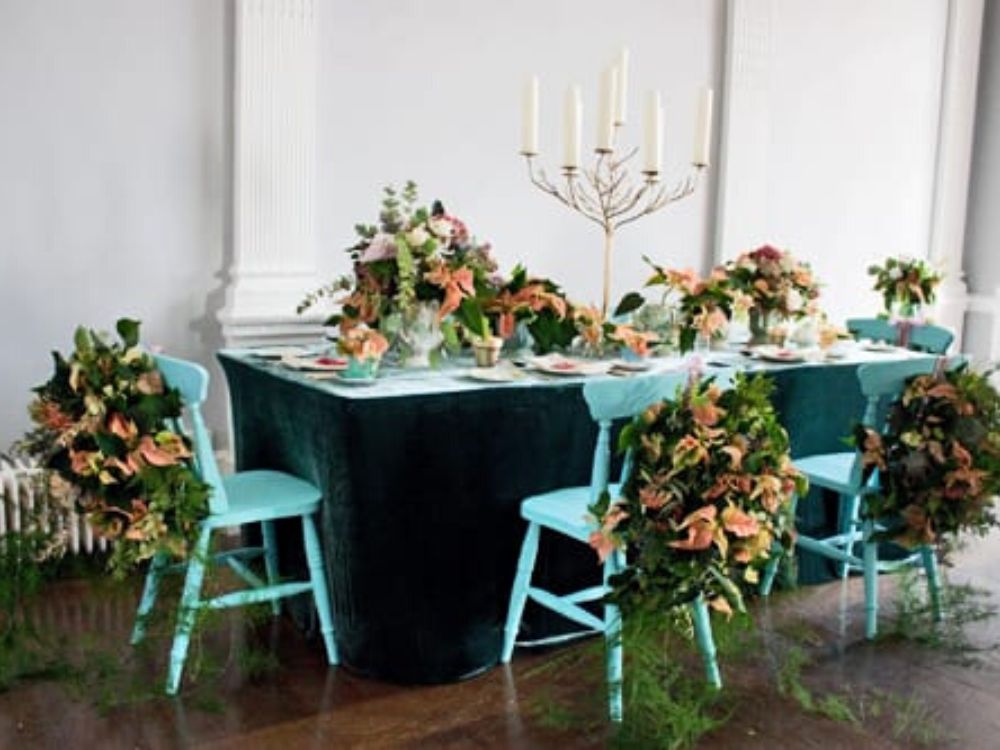 4. Twisted Christmas
Simon Lycett turned Christmas on its head with a striking, tongue-in-cheek Christmas 'Tree'. He used Poinsettias in varying colors together with neon green, yellow, and orange crackers, plus baubles. It certainly was a very colorful creation, with a twisted festive feel.
5. White Christmas
Floral inspiration with Poinsettia in symmetrical and opulence were the watchwords for Ian Lloyd's theme…a Winter Wonderland created using silver and glass.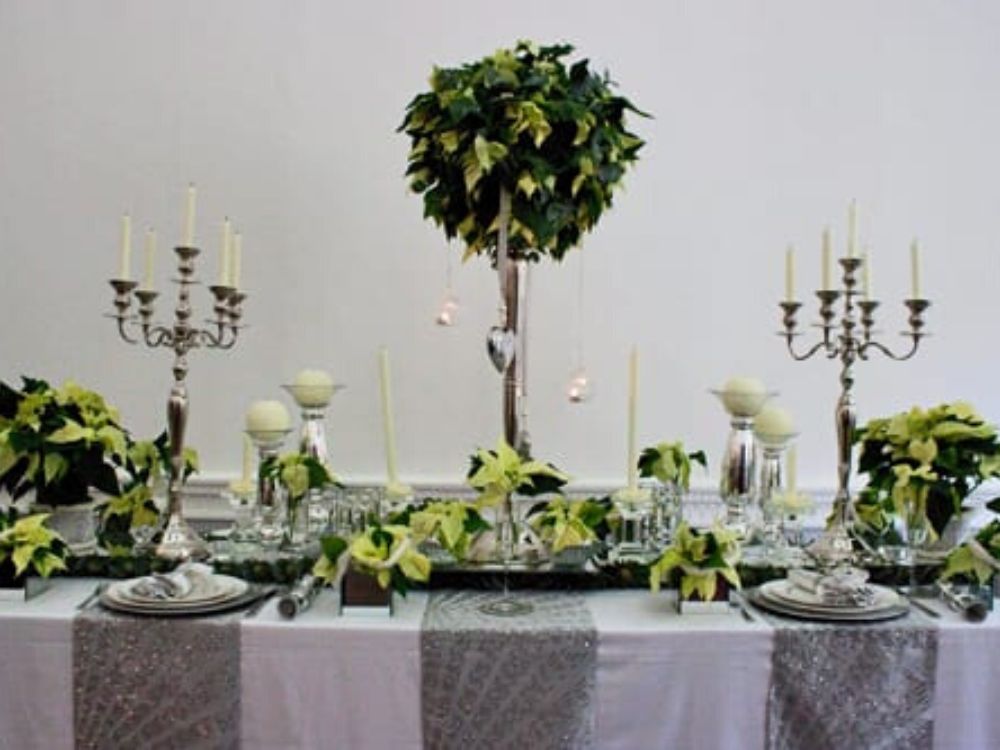 Creating Floral Moods
Elegant and natural at the same time, this opulent table centerpiece features cream-colored poinsettias, zigzag bushes (Muehlenbeckia Astonii), and Christmas roses (Helleborus Niger) in various sizes. In addition, there are moss, cones, spruce twigs, and echeveria, as well as snow spray and baubles in matching colors. White/pale green ombré taper candles provide an atmospheric glow.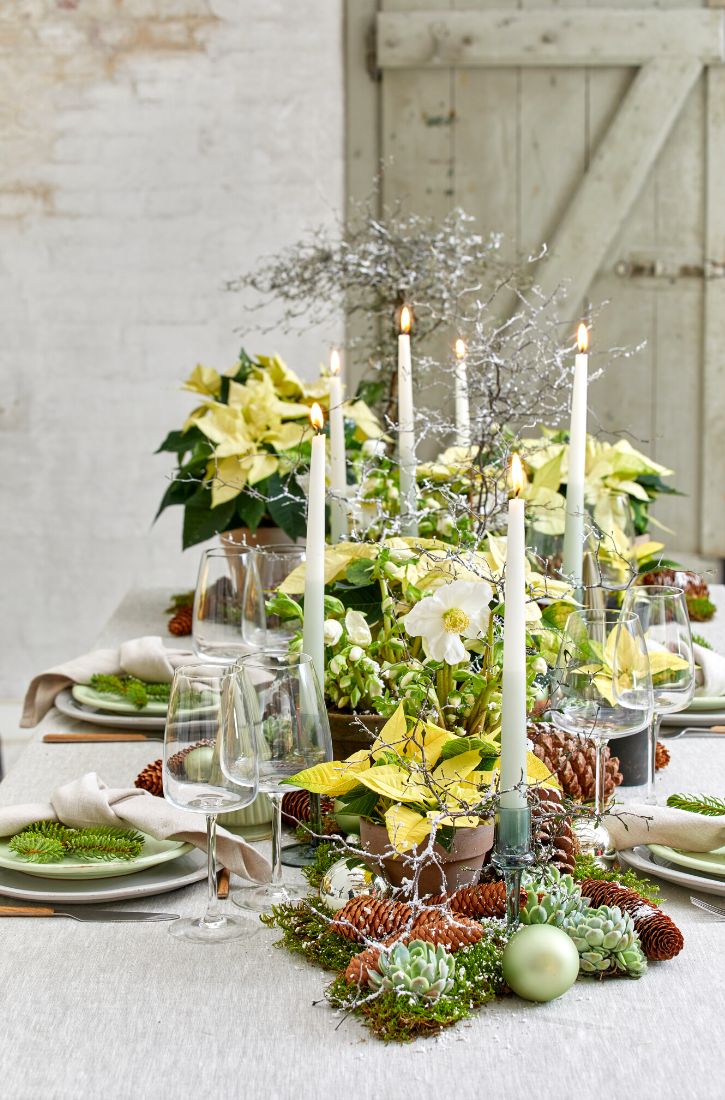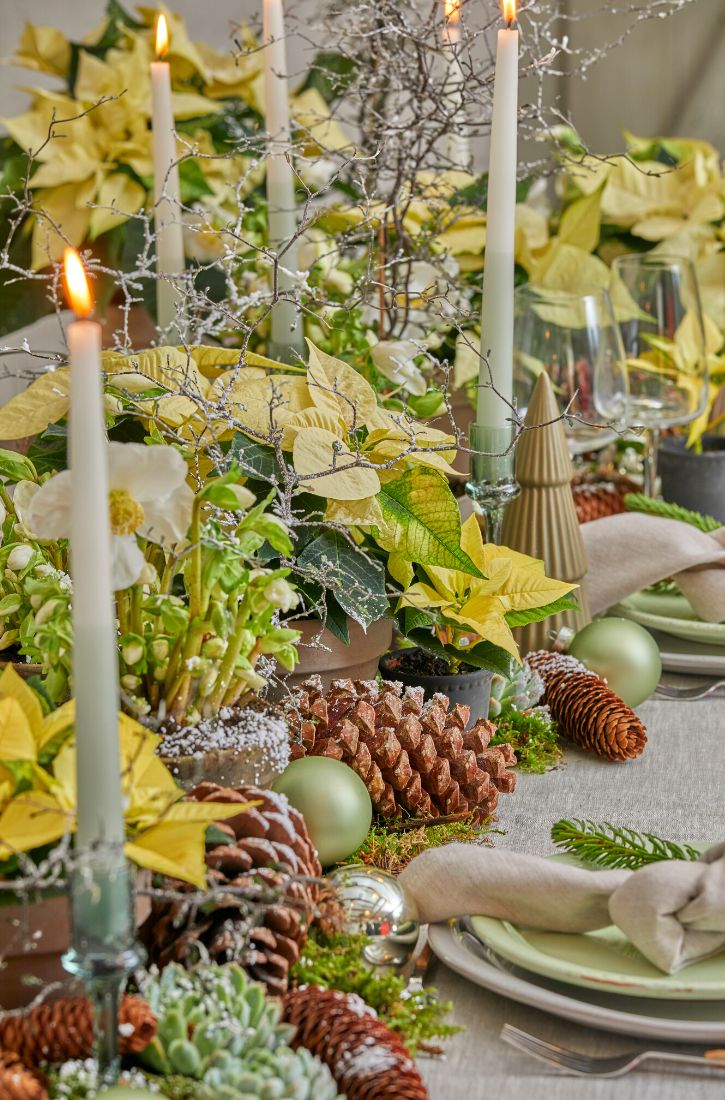 Floral Inspiration With Poinsettia As Cut Flowers
If you'd like to use Poinsettia as a cut flower, once you've cut off the stem from the plant, seal its end. You can do this either by running the stem over a candle flame or by submerging it briefly in boiling water. This stops the milky white sap from seeping out of the stem.
Here are a couple of tips for how to get the best from Poinsettia plants:

Water them carefully with lukewarm water every second day or so. But don't leave them sitting in water as this will rot their roots. Poinsettias thrive in a light, warm place at around 20 degrees Celsius. And whilst being near a radiator is OK, avoid direct sunlight.