Every year Marginpar gives the opportunity to a floral influencer to foresee the trends for the coming year. This year the floral trends are given to us by Britain's Joseph Massie, who is known for his insanely beautiful installations, love of wedding work, and technical mastery. He likes to share all this with the students at his Flower School, his hundred thousand followers on social media, and now with us.
Floral Trends for 2023
Here it is! The trend overview that florists, designers, and event stylists eagerly look forward to every time. Not only as the inspiration for the coming year but also on how to implement these ideas, these trend ideas are perfect to read.
Floral Trend: A Moment's Rest
Life feels alive again. After a few somewhat subdued pandemic years, with lives half lived, there is an ease to live once more. We've taken a new, deep breath. Life feels more accessible again on every front - whether we're considering traveling abroad, or meeting a friend for coffee, it is all possible once again. The burden is lighter. Things don't require as much heavy lifting. With this return to life can come chaos, so there is a reminder to still keep time for yourself - to not wholly forget the lessons learned during these more solemn times.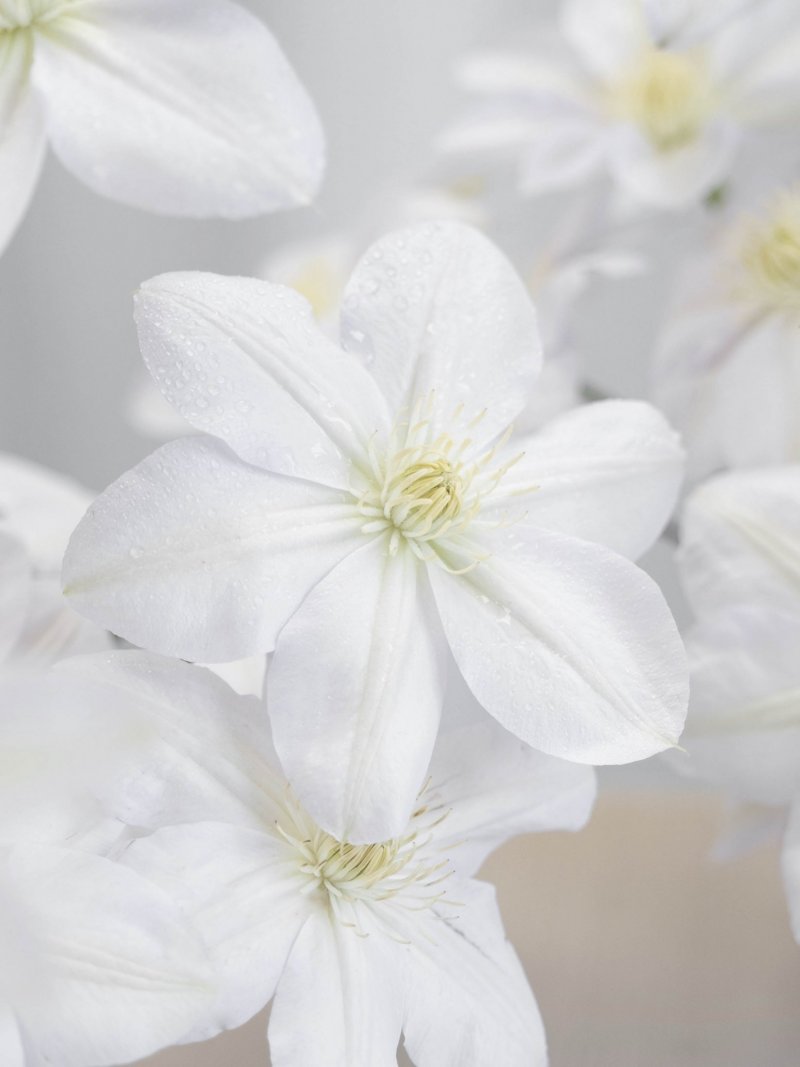 Prolific parties and wild weddings are back with a bang, but smaller, more intimate celebrations are filling floral diaries too. It's not so much the size of your celebration - it's fact you can have one, and the heart which you apply to the event will make it special.

Florally there are symmetries here - in both larger and smaller events - we're celebrating the idea that less can most definitely be more when curated with thoughtfulness and consideration. Struggling for inspiration? Make a big impression with small touches - try analogous palettes or mono-floral compositions, reveling in the beauty of one bloom. This is the way to make even the most intimate of gatherings memorable.
Neutrals - One of the Floral Trends
Classic, timeless, and forever in fashion - neutral blooms are the little black dress of the floral world. Whether your taste is for whiter-than-white blooms, or you allow yourself to segue into earthier tones, neutrals will forever be a classic trend within the floral industry.
Some of their popularity comes from necessity - white for sympathy, white for weddings - but there is something more to it than what tradition dictates. Neutrals represent comfort - a moment of rest for the eyes during a long day - and I believe that is fundamentally why they're ever popular.

Regardless of whether you're seeking a subtle note - such as the one that you might enjoy from a vase of Polianthes or Helleborus, or something, well, a little more dramatic, a neutral color palette can be trusted to deliver time and time again. Life is busy, life is crazy, life is full on - so long reign neutrals to provide us with peace and serenity.
And New Romantics Is Also One of Joseph Massie's Floral Trends
New Romance is an aesthetic that celebrates a simple, romantic way of living - a trend that is incredibly popular - through our weddings but also proliferating through all other aspects of floral design too. Let's be clear - this look is not wild - it's not messy - we're not talking about unstructured, inconsiderate stems sprawling every which way. Instead, we're cultivating an aesthetic consisting of only the most romantic, blowsy blooms.

It's true, some of these characters are indeed who you might expect them to be - garden roses, peonies, digitalis - but for this aesthetic to be successful, it's so necessary to pair these hefty blooms with more delicate, softer partners.
Joseph Massie:
"Look to use Astrantia, Clematis, and Scabiosa to add delicacy and nuance to any design - it's here in the details where you'll find the magic."
10 Floral Trends Read at Marginpar
This trend forecast exists of ten floral trends. You should definitely take a look at what else can inspire you in the coming time.