Five students from the Flower & Design education at Lentiz MBO Westland in the Netherlands had the chance of a lifetime to present their floral art during The Hague Fashionweek. One of the most important Dutch fashion meetups was decorated with five designs that connected the fashion and the floral world.
Floriculture and Fashion
Flowers, plants, and fashion have so much in common. Couture designers have always been inspired by nature's beauty, especially by the colorful flora that makes our planet a lust for the eye. Ever since the beginning of 'fashion' designers have found inspiration in the shapes and colors in floriculture.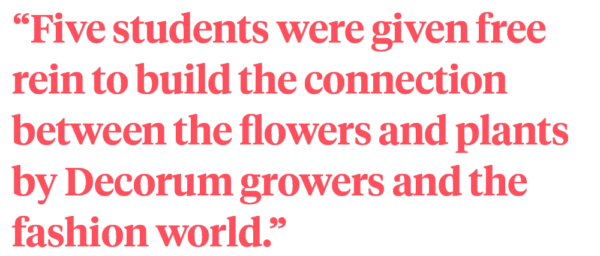 The Hague Fashionweek
Just like floricultural designs evolve and develop, so does fashion - and the use of natural materials. Especially in a world where climate change and earth warming are, literally, a 'hot' topic, designers at The Hague Fashionweek demonstrate the inspiration they get from nature itself, like the sustainably designed elegant roughness of Haruco-Vert. The crowd actually cheered loudly for the cork dresses by Marco-Stefano Pintus. Another sign of a different perspective towards a more inclusive world was the presence of a variety of models on the catwalk. A 60-year-old model elegantly showed the flowery dress and coat of the Windsister collection.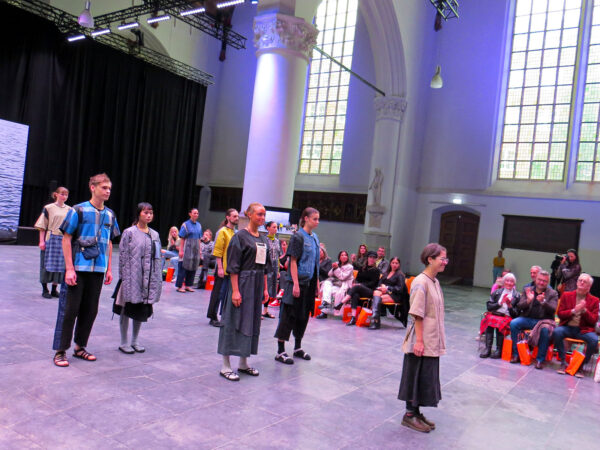 Decorum Featuring Lentiz MBO Westland
The beauty of haute couture was decorated by five students from the Flower & Design education at Lentiz MBO Westland. This is a broad education in the field of floral art and design with an emphasis on developing their students' creative, enterprising, and commercial talents.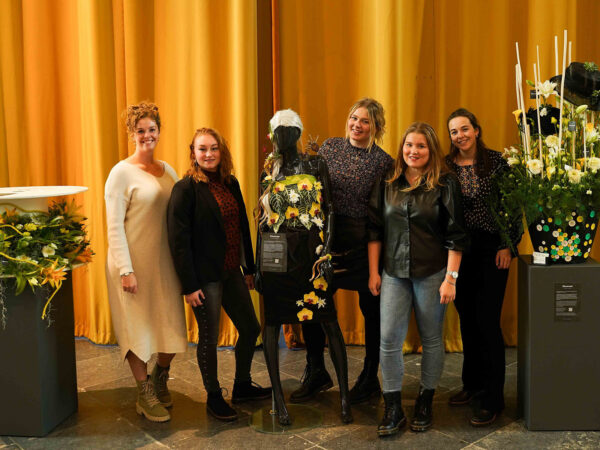 The five were given free rein to build the connection between the flowers and plants by Decorum growers and the fashion world. Decorum represents over fifty growers, marketing over 4,000 various products, so the choice was plenty.
Dewi Ots
Dewi Ots is a third-year student, whose big dream is to have her own flower shop in the center of Amsterdam one day. Dewi: "High-fashion makes me think of hats. In the Netherlands, a hat is a traditional garment during the Prince's Day celebration in September. It's a classy fashion item. In my piece, I made an upward move with a view to high-fashion and high-quality plants and flowers." For this design, Dewi used white and yellow flowers, like callas, lisianthus, double lilies, gerberas, freesias, helleborus, iris, asparagus plumosus, and succulent plants.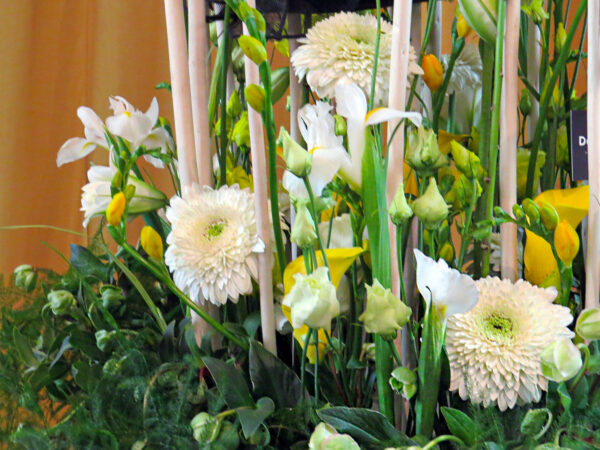 Silvy Lehner
Silvy Lehner is in her final year, prepping for her exams. She especially likes the creative side of designing with flowers and plants, showing that you can make up and then design anything. Silvy: "The first thing I thought of was 'everyday clothes'. And the question was immediately: how do I make this high-fashion? The colors green and yellow are the colors of the city of The Hague, the jacket stands for fashion, of course, and the creative part is in the use of flowers and plants that I have glued on the clothing. This makes the design a real wearable!" For this design, Sylvi used white, yellow, and cream chrysanthemums, along with leaves of aphelandra, dieffenbachia, and succulent plants.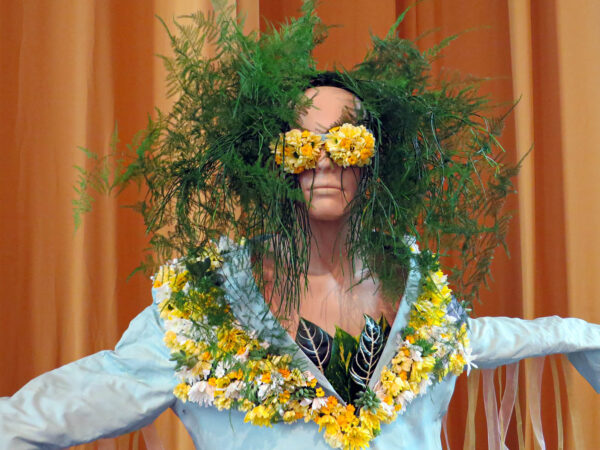 Gina van der Vet
The passion for flowers and plants started for Gina van der Vet in 2016 when she entered a floral contest. Her ultimate goal is to be a professional floral designer. Gina: "A dress is the ultimate fashion item for me. The paper mache used as a ground material stands for reuse. Sustainability is an important item in fashion and one of Decorum's core values too. One of the plants I could not fail to use was the aphelandra 'Fashionista' from Decorum. With its green and yellow leaf and a white grain in the leaf, this is also my wink to the city of The Hague. This plant is a must-have in your collection! For this design, Gina used phalaenopsis, chrysanthemums, succulent plants, bromeliads, and aphelandra.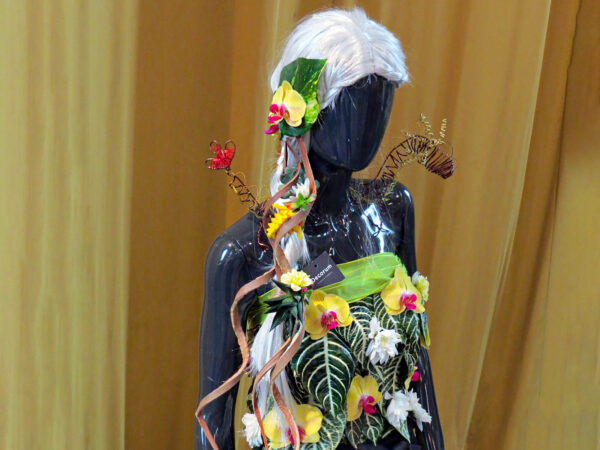 Deborah Bruinen
Deborah Bruinen is a third-year student at Lentiz MBO Westland, who shows her passion for flowers through her creativity; the possibilities with these products are endless. And you make a lot of people happy as well. Deborah: "How do you make clothes? Naturally. with yarn. This is one of the most basic elements of fashion design. On this life-size bobbin, I don't use wool or cotton, but real living flowers. All are arranged in a certain direction to depict movement because you want to be able to move in clothes. And flowers and plants live and move with the rhythm of nature. For this design, Deborah uses germinis, lisianthus, asparagus plumosus, guzmania, tillandsia moss, succulent plants, and parrot tulips.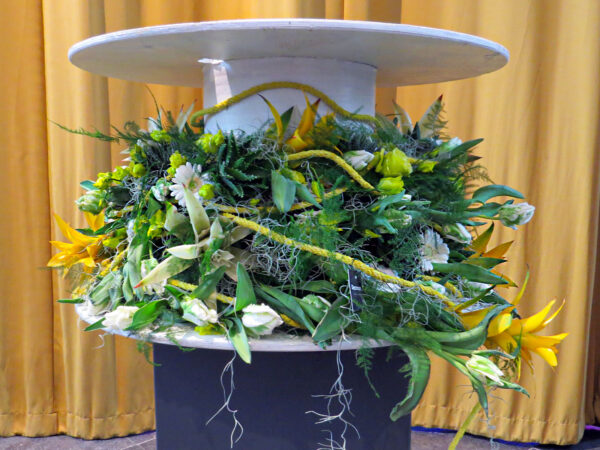 Marion Vrolijk
Marion Vrolijk can let her creativity run free when designing her beautiful pieces. She is especially fond of using non-ordinary materials. Marion: "Designing fashion items is about creative thinking, being different from others, and expressing yourself. I do the same with this piece. I have mixed different materials, like candle wax, wood, steel, flowers, and plants to make a special creation. I added the high-heels as a link to wearable fashion." For this design, Marion used freesias, helleborus, spider gerberas, lisianthus, spray roses, tillandsia moss, succulent plants, lagurus, ming fern, and asparagus plumosus.